Holly Jolly Giveaway: GoldieBlox STEM Kits
NOTE: The items in our GoldieBlox Prize Pack Giveaway were provided by the brand for the purposes of our Holly Jolly Giveaways. No money was exchanged, and all opinions are our own. We reached out to these brands for this giveaway series because they create products we love.
Goldie Squad, this giveaway is for you!
It's time to cozy up with some hot cocoa and discover your love of science and explore your creative side! GoldieBlox empowers girls to dream big through their YouTube shows like Fast Forward Girls and Curiosity Camp, Draw Her Life, and more. Through inventive art projects and stories from real women in STEM fields, GoldieBlox inspires girls to get hands-on with science and pursue their biggest dreams!
Their motto is STEAM + Fun = Endless Possibilities, and they're bringing the fun home to you through their newest line of activity and construction kits. From buildable purses to light-up cloud lamps, their new line of kits teach the basics of circuitry, engineering, chemistry, and more while helping you channel your creativity through crafts!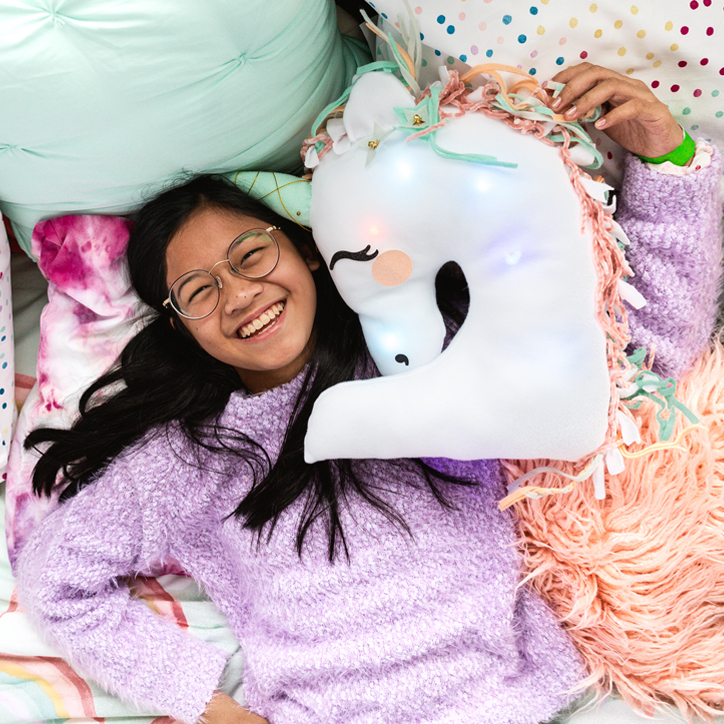 We're so excited to have teamed up with GoldieBlox for our Holly Jolly Giveaways this year! We're giving ONE lucky winner a chance to win a Light Up Unicorn Pillow Kit, a Crystal Growing Kit, and a Watermelon Mini Purse Kit. With these kits, you'll get to customize your own snuggly unicorn friend, learn the science of crystals, and use building bricks and bendable stitches to design your very own purse. They're sure to keep you creating and innovating all winter long!
Want to enter? Grab your favorite adult and have them fill out the form below!
GoldieBlox STEM Kits Giveaway: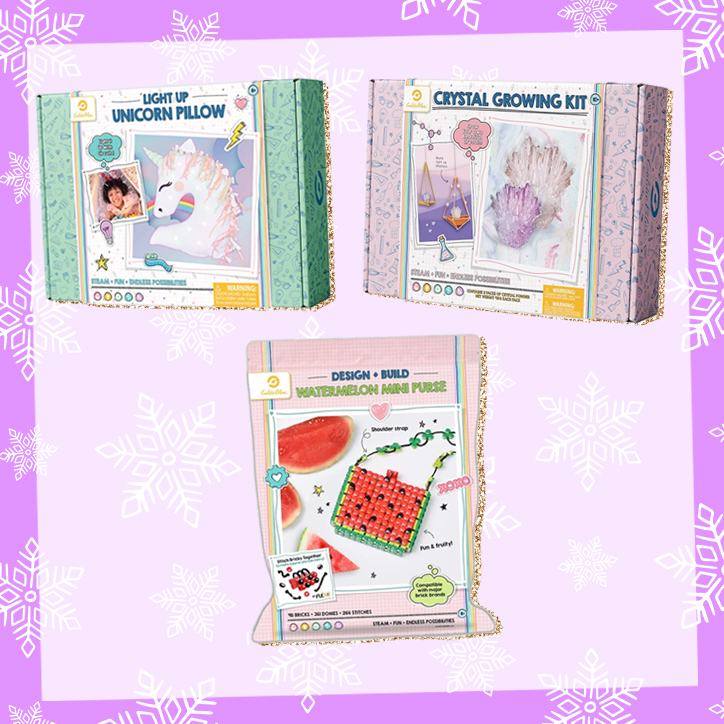 WHAT DO I WIN?:
ONE lucky winner will receive a GoldieBlox Prize Pack that includes:
– ONE (1) Light Up Unicorn Pillow Kit
– ONE (1) Crystal Growing Kit
– ONE (1) Design & Build Watermelon Mini Purse Kit
*Prizes generously provided by GoldieBlox
HOW DO I ENTER?:
Grab a parent or guardian and have them fill out the form below by November 27, 2020 at 11:59pm ET.
Giveaway runs from 11/20/20 at 12:00 pm ET through 11/27/20 at 11:59 pm. Open to US residents ONLY. Be sure to read the fully detailed rules HERE before entering.
THIS GIVEAWAY HAS ENDED AND THE WINNER HAS BEEN CONTACTED.
You must be 18 or older to enter. Please, only ONE entry per person. If selected as a winner, we will provide your parent/guardian with an affidavit to confirm that you are a valid winner who has permission to win. They will be REQUIRED to sign and return the affidavit to YAYOMG! to claim your prize. Prizes will not be mailed out without signed parental consent.
Need more holiday cheer (and free stuff!) in your life? Keep an eye on this link now through December 4th so you don't miss a single one of our Holly Jolly Giveaways!