Holly Jolly Giveaway: Exploding Kittens Game Night Stash
NOTE: The items in our Exploding Kittens Game Night Stash Giveaway were provided by the brand for the purposes of our Holly Jolly Giveaways. No money was exchanged, and all opinions are our own. We reached out to these brands for this giveaway because they create products we love.
Game nights are great, but our next Holly Jolly Giveaway is making them even better by adding sneaky vibes, a sprinkle of troublemaking, and a splash of revenge!
Our friends at Exploding Kittens have been causing a commotion during family gatherings ever since the release of their very first game. By combining simple gameplay with funny strategy and amped-up competition, their games have you doing everything from throwing burritos at your besties to destroying your teammate's towers. The delightfully chaotic energy of their games makes them some of the best picks for instantly making game night less lame. Move over, Monopoly! Who could resist joining in on the fun when you promise them high-energy hilarity all night long?
We teamed up with Exploding Kittens to give THREE lucky winners a chance to snag three of their newest games! Ready to enter? Grab your favorite adult and have them enter below for your chance to WIN!
Get the deets on the games below and find out why they're amazing picks for your next squad sleepover, family hangs, or holiday party!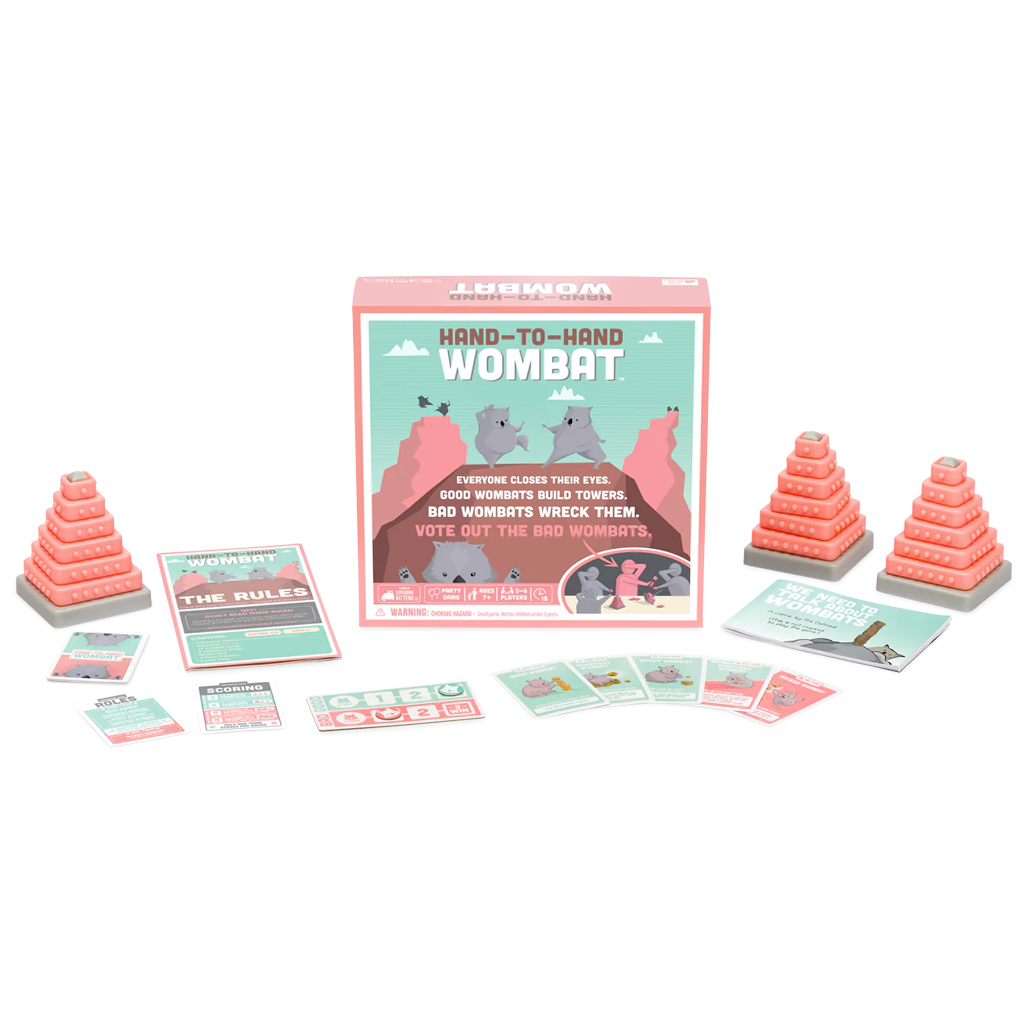 Hand-to-Hand Wombat:
WHO'LL ENJOY IT?: Troublemakers, mostly.
GAME DEETS: Good wombats build towers. Bad wombats wreck them. You and your team will need to build three towers in the correct order to win while a bad wombat ruins your towers and rearranges them when you're not looking.
You'll need to vote out the wombat set on sabotage, but can you tell acting shady when everyone's eyes are closed?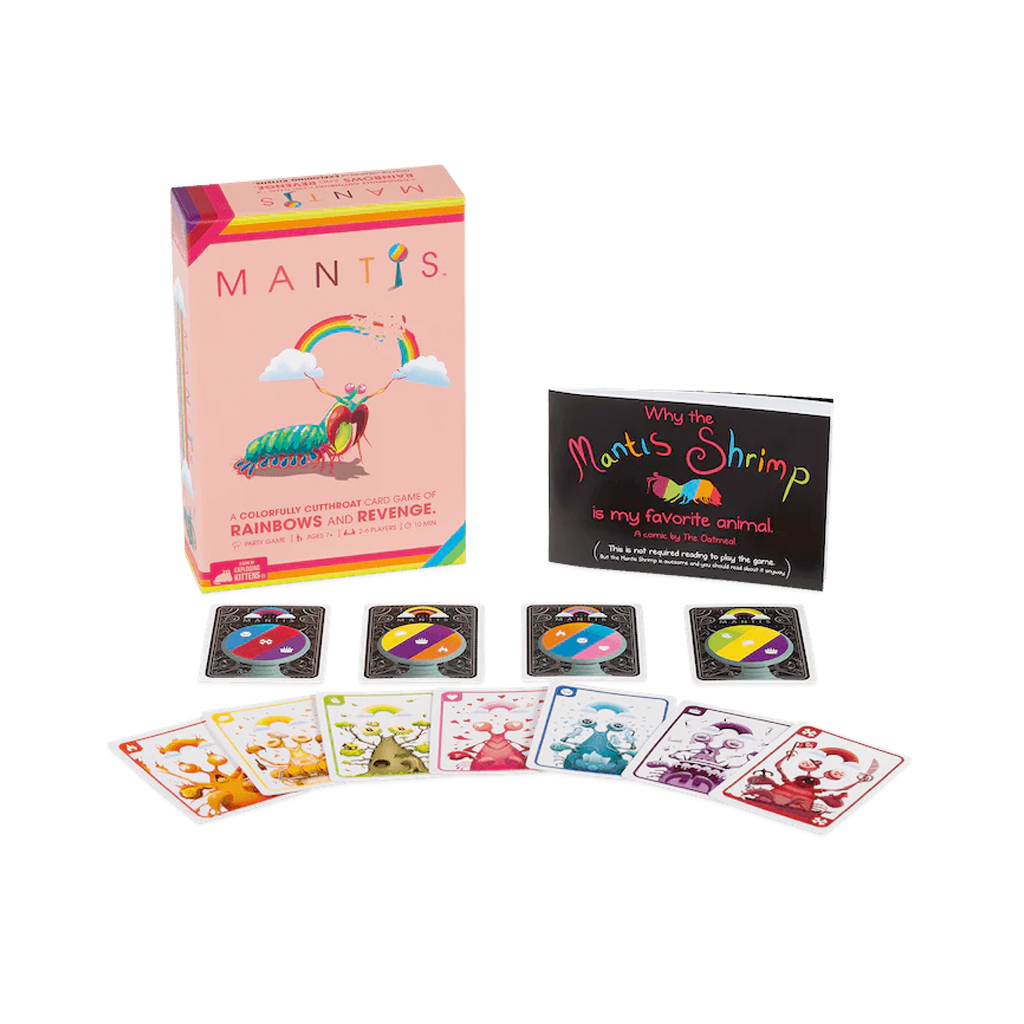 Mantis:
WHO'LL ENJOY IT?: Fans of rainbows and revenge.
GAME DEETS: If your game nights are more competitive than cozy, Mantis is the game you need to let those cutthroat vibes thrive!
There are only two rules – steal or score while trying to collect a set of matching cards. This deceptively simple game moves quickly, and you're never quite sure which cards you're grabbing. Just when you start feeling good about things, someone is swooping in to steal your stash!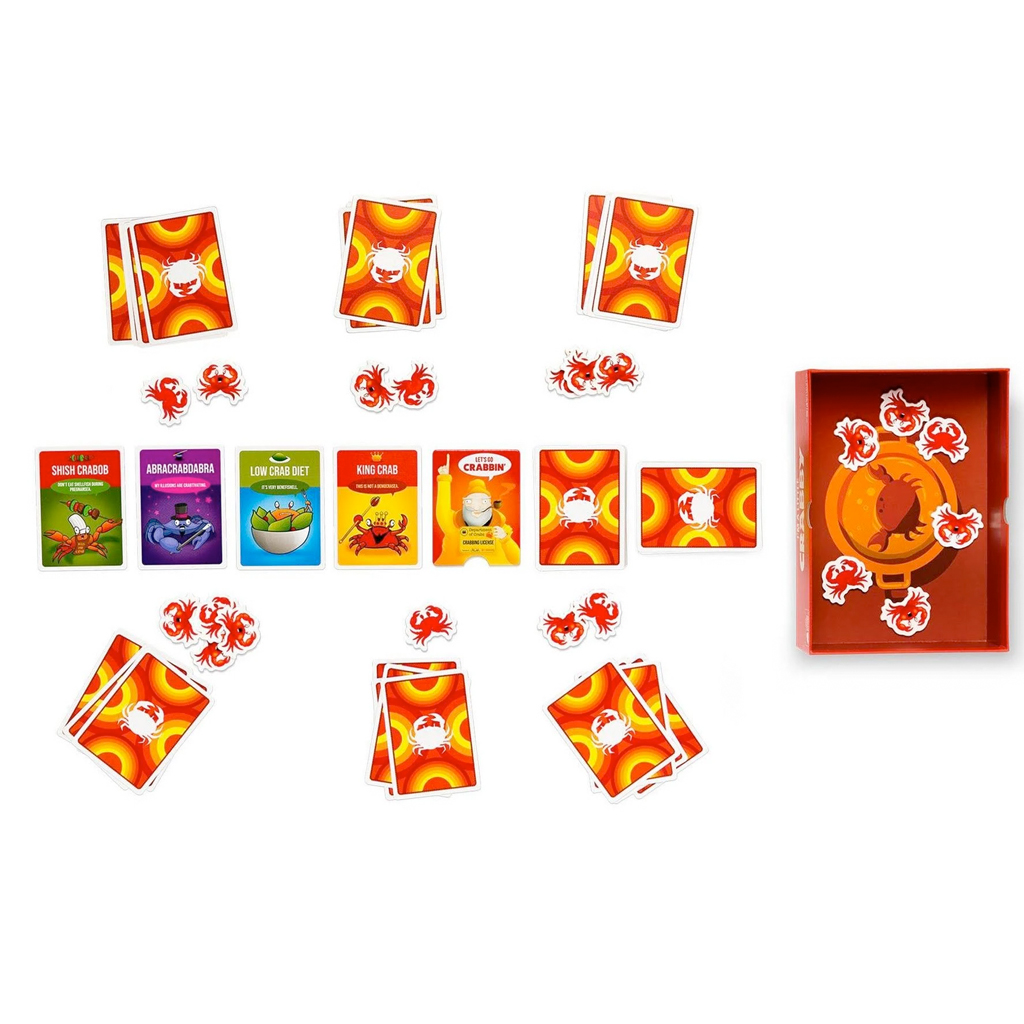 I'm a Little Crabby:
WHO'LL ENJOY IT?: Anyone who loves being a little sneaky.
GAME DEETS: The goal is simple: go crabbing to collect four of the same card before the other teams. But Exploding Kittens games are known for their hilarious twists that keep everyone laughing and make the easiest of tasks more challenging to complete.
Everyone in this game has a secret signal they can use to communicate with their teammate – like sticking out their tongue or scratching their nose. When you've made a match, you'll use your secret signal to let your teammate know. Try to be as sneaky as you can because your opponents are always on the lookout trying to take you down. If they spot your signal before your teammate does, you'll lose a point!
Exploding Kittens Game Night Stash Giveaway: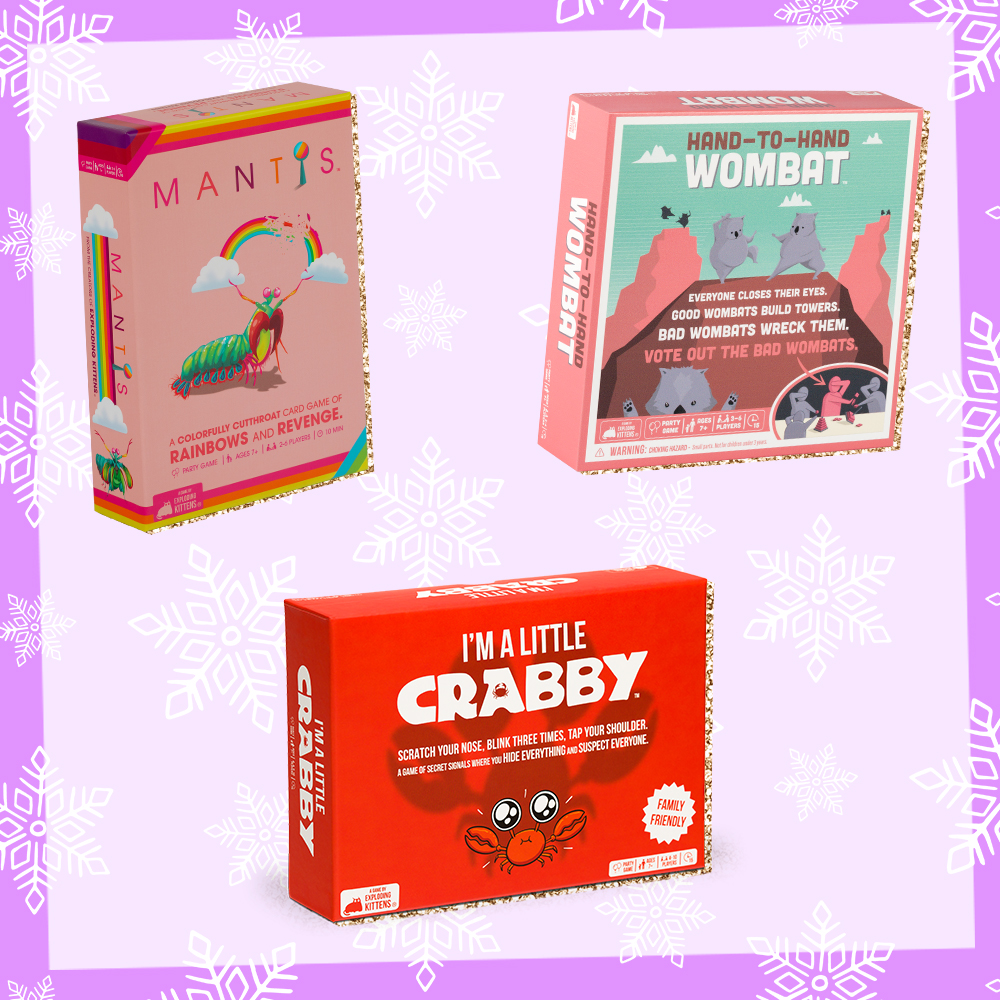 WHAT DO I WIN?:
THREE (3) lucky winner will receive an Exploding Kittens Game Night Stash that includes:
– ONE (1) copy of Hand-to-Hand Wombat
– ONE (1) copy of Mantis
– ONE (1) copy of I'm a Little Crabby
*Prizes generously provided by Exploding Kittens.
HOW DO I ENTER?:
Grab a parent or guardian and have them fill out the form below by December 9, 2022 at 11:59pm ET.
Giveaway runs from 11/25/22 at 12:00 pm ET through 12/09/22 at 11:59 pm. Open to US residents ONLY. Be sure to read the fully detailed rules HERE before entering.
THIS GIVEAWAY HAS ENDED AND THE WINNERS HAVE BEEN CONTACTED.
You must be 18 or older to enter. Please, only ONE entry per person. If selected as a winner, we will provide your parent/guardian with an affidavit to confirm that you are a valid winner who has permission to win. They will be REQUIRED to sign and return the affidavit to YAYOMG! to claim your prize. Prizes will not be mailed out without signed parental consent.
MORE HOLLY JOLLYS:
❄️GAME ON: Kickstart your dreams of becoming a pro gamer with this Ultimate ROCCAT Streaming Starter Kit!
?IT'S A ME!: Create your favorite Super Mario. characters – enter to WIN the Super Mario Aquabeads Creation Cube!
❄️TOTALLY BOOKED: Tis the season to be reading! Snag a stash of empowering new reads from Macmillan!