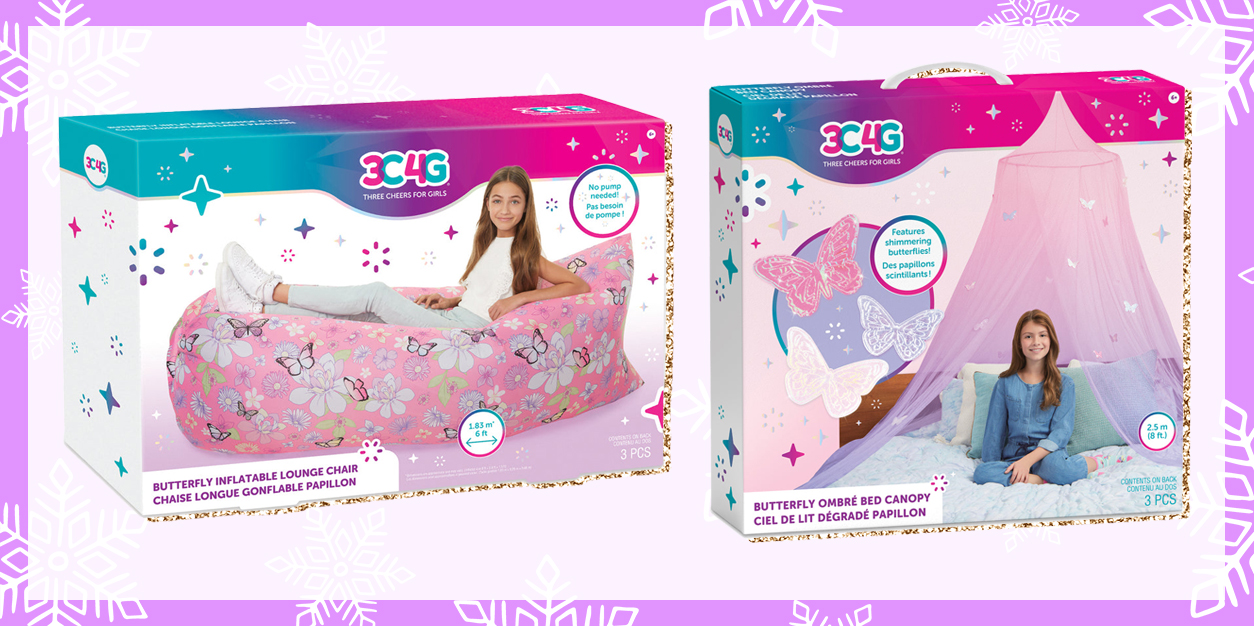 Holly Jolly Giveaway: 3C4G Butterfly Dreams Room Makeover Bundle
NOTE: The items in our 3C4G Butterfly Dreams Room Makeover Bundle Giveaway were provided by the brand for the purposes of our Holly Jolly Giveaways. No money was exchanged, and all opinions are our own. We reached out to these brands for this giveaway because they create products we love.
Amp your aesthetic and decorate your room in beautiful butterflies with our next Holly Jolly Giveaway!
Is your room in need of a major refresh? We teamed up with our friends at 3C4G to give you the room makeover you deserve! Deck out your bedroom in butterfly chic with pops of pastels, sparkling butterflies, and fabulous florals to transform your room into a cozy oasis.
Ready to enter? Grab your favorite adult and have them enter below for your chance to WIN!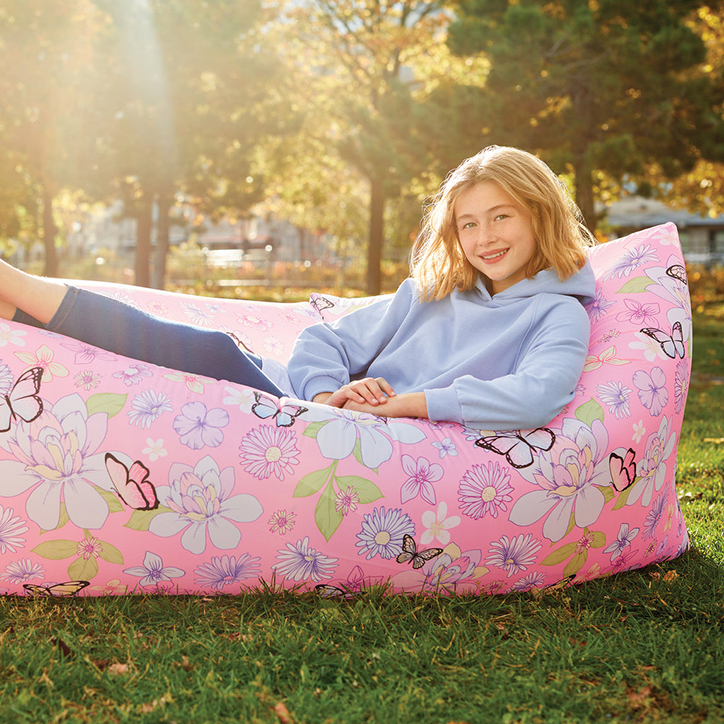 Butterfly Inflatable Lounge Chair:
Kick back on this super adorable inflatable lounge chair while you study, game, or scroll through your FYP. Covered in butterflies and flowers, this pastel chair will add cutesy vibes wherever you set it up.
It rolls up neatly into a travel bag, so you can easily carry it everywhere from sleepovers to park picnics!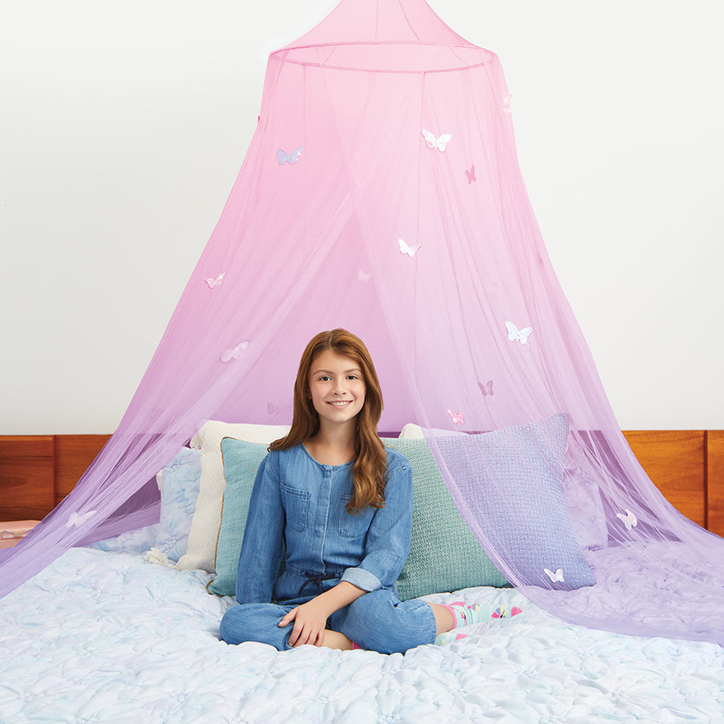 Butterfly Ombre Canopy:
You spend a ton of time in your room, so why not make it feel totally enchanting?
Hanging this ombre canopy over your bed instantly transforms your space from drab to magical. Pop on the shimmering butterflies for an instant splash of sparkle. Drifting off to dreamland never felt so serene!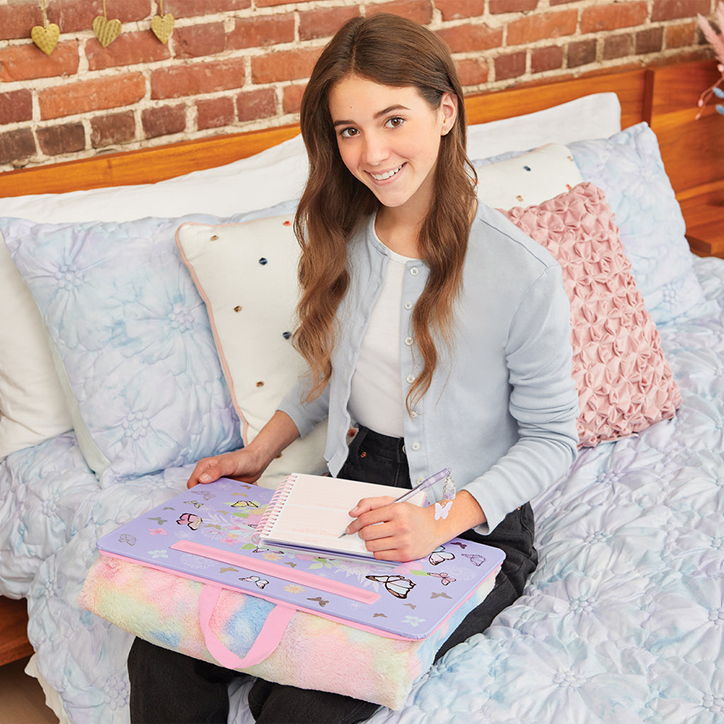 Butterfly Lap Desk:
A majorly cute study companion, this butterfly lap desk will be there through every worksheet completed, journal entry written, and series binged on Netflix.
Whether you're curled up with your computer taking quizzes or making notecards for vocab review, the soft, tie-dye cushion underneath will keep you comfy and radiate study chic!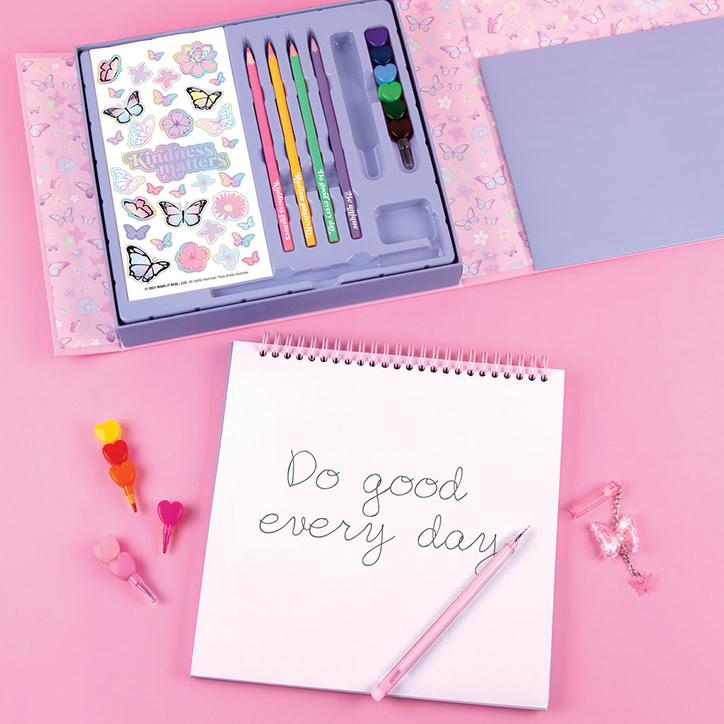 Butterfly Sketchbook and Drawing Set:
No bedroom makeover is complete without a way to unwind! Spending time doing something relaxing each day will help you decompress from your overloaded sched,ule and this Butterfly Sketchbook and Drawing Set is the perfect pick!
The softly colored drawing set comes with a spiral sketchbook, colored pencils, heart-shaped stacking crayons, a butterfly sticker sheet, and a charm pen – everything you need to switch up your vibe from "stressed out student" to "cozy & creat.ive"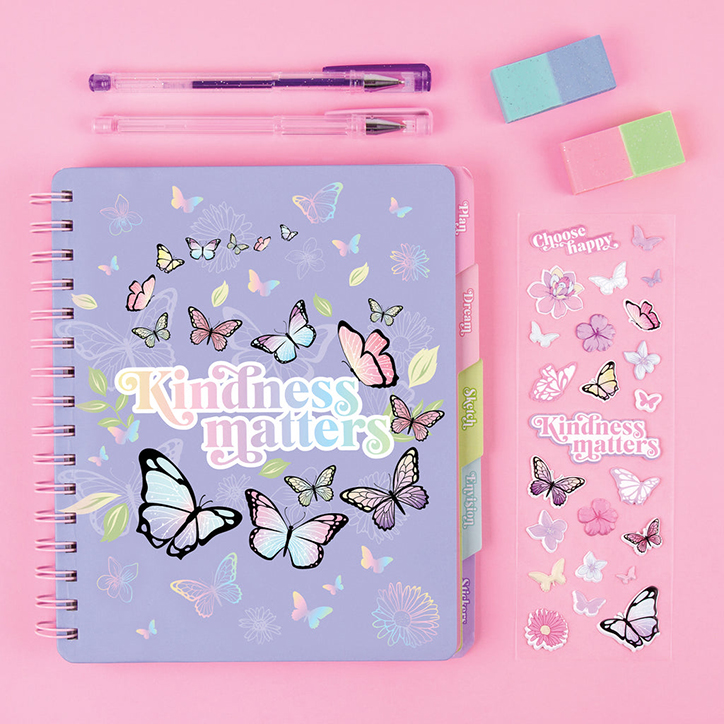 Butterfly Deluxe Journaling Set:
Journaling is one of the best ways to work through your emotions, express your feelings, and document your day. Doing it in a journal that matches your vibe only makes it that much better!
Part journal, part planner, this adorable butterfly notebook is broken down into sections so you can organize your calendar, detail your goals, create vision boards, and express your innermost thoughts. Plus, the included gel pens, erasers, and stickers mean you can make it cute and color-coded with ease!
3C4G Butterfly Dreams Room Makeover Bundle Giveaway: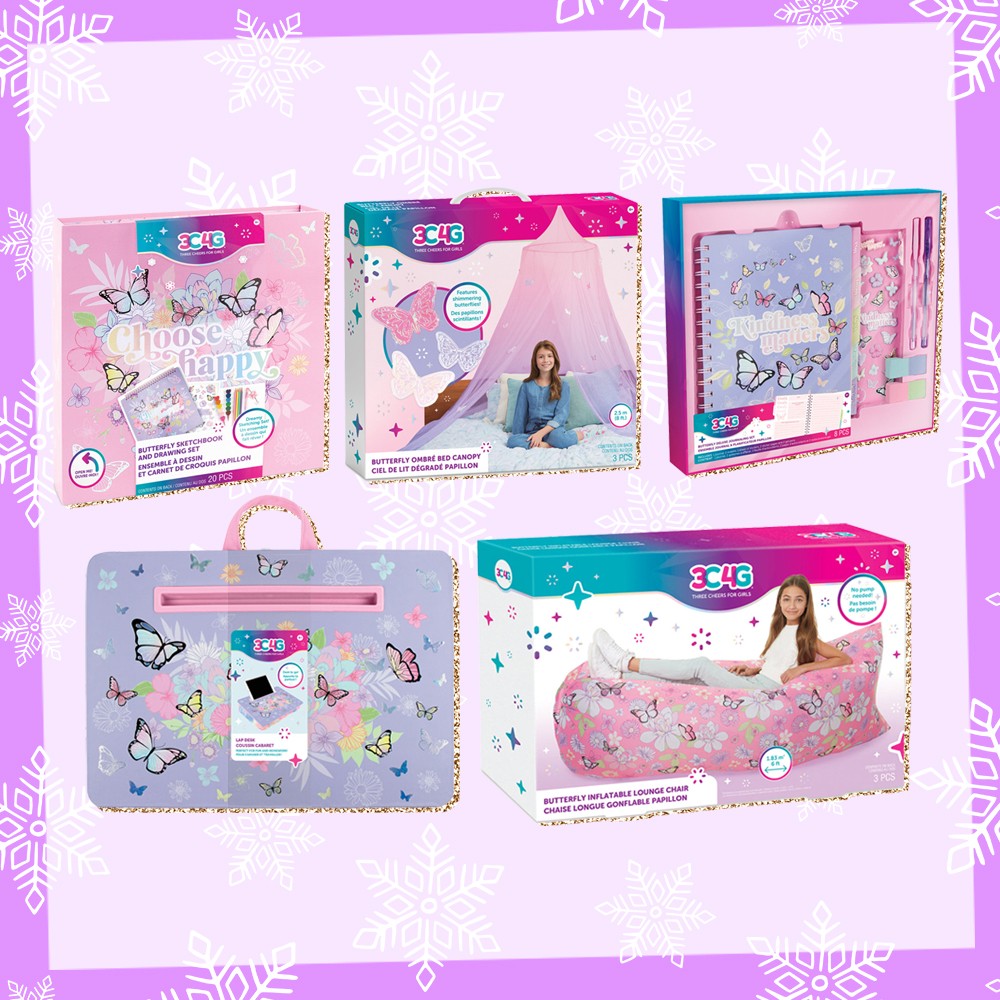 WHAT DO I WIN?:
ONE (1) lucky winner will receive a 3C4G Butterfly Dreams Room Makeover Bundle that includes:
– ONE (1) Butterfly Ombre Canopy
– ONE (1) Butterfly Lounge Inflatable
– ONE (1) Butterfly Lap Desk
– ONE (1) Butterfly Deluxe Journaling Set
– ONE (1) Butterfly Sketchbook and Drawing Set
*Prizes generously provided by 3C4G.
HOW DO I ENTER?:
Grab a parent or guardian and have them fill out the form below by December 07, 2022 at 11:59pm ET.
Giveaway runs from 11/23/22 at 03:00 pm ET through 12/07/22 at 11:59 pm. Open to US residents ONLY. Be sure to read the fully detailed rules HERE before entering.
THIS GIVEAWAY HAS ENDED AND THE WINNER HAS BEEN CONTACTED.
You must be 18 or older to enter. Please, only ONE entry per person. If selected as a winner, we will provide your parent/guardian with an affidavit to confirm that you are a valid winner who has permission to win. They will be REQUIRED to sign and return the affidavit to YAYOMG! to claim your prize. Prizes will not be mailed out without signed parental consent.
MORE HOLLY JOLLYS:
❄️DIY VIBES: Follow your jewelry design dreams with this collection of bracelet-making kits from Make it Real!
?FEELING BOOKISH?: Read your way through a stack of empowering stories – enter to WIN this book collection from Macmillan!
❄️WILD AT HEART: PLAYMOBIL'S Wiltopia sets are a must-have for environmental crusaders & animal lovers!