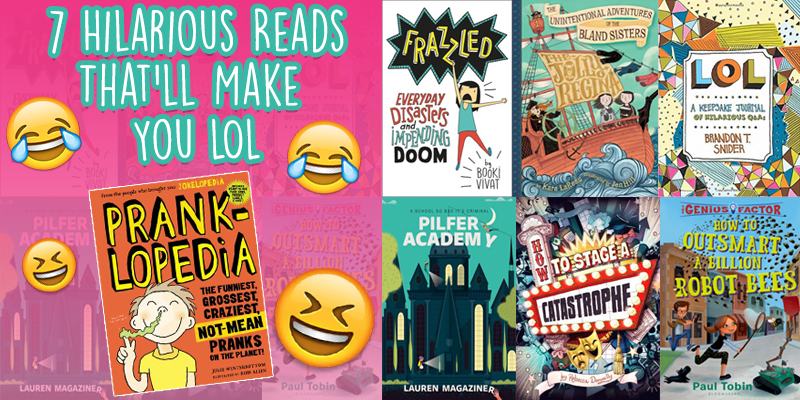 7 Hilarious Reads That'll Make You LOL
April Fools' Day is this Saturday and everyone is in the mood for crazy pranks and overall silliness. The spirit of April Fools' Day is all about the laughs, which is why we've put together a list of books that'll totally tickle your funny bone. Too busy pranking your mom this weekend to get around to these reads? Don't worry – these funny books will still be there all year long, so go have your fun!
Anytime you're looking for a serious LOL, try these 7 hilarious reads to boost your mood.
7 Hilarious Reads That'll Make You LOL: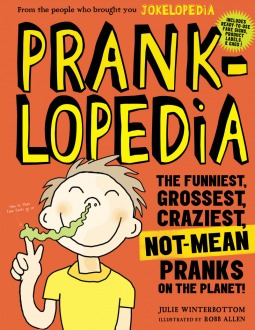 Pranklopedia: The Funniest, Grossest, Craziest, Not-Mean Pranks on the Planet by Julie Winterbottom
YAYOMG:
A book filled with all sorts of amazing pranks to pull on your friends and family? Yes please! The best part about the 70+ pranks in Pranklopedia is that they're all meant to be fun – not mean. Sometimes pranks can get a little mean spirited or go a little too far, which makes having a whole book full of ideas at the ready is a great idea. Snag this book to help you out with your big April Fools' Day plans or just for an overall fun read. Need more laughs and thrills? Be sure to check out Jokelopedia and Frightlopedia to fuel your wacky sense of humor all year long.
SYNOPSIS:
Pranklopedia is the young practical joker's secret weapon, a boisterous collection of over 70 guaranteed-to-amuse (or annoy) pranks to be pulled on friends, siblings, and parents. Discover the Homework Hoax, the Squirting Blister, the Movie Popcorn That Grabs You Back. Pull classic pranks on your siblings, like short-sheeting the bed. Freak out your friends with food pranks: a self-peeling banana, "misfortune" cookies, or ice cream that will make them scream (here's a hint—it involves instant mashed potatoes). And there are perfect pranks to pull on your parents, including a scheme to "freeze" the family computer.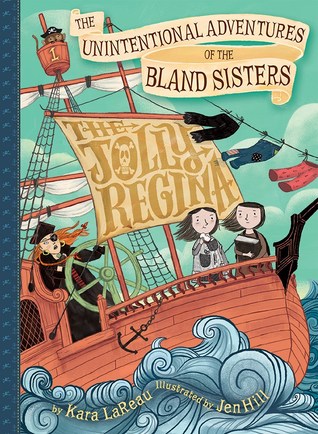 The Unintentional Adventures of the Bland Sisters: The Jolly Regina by Kara LaReau
YAYOMG:
We had the pleasure of reading this clever book before it's release in January (thanks Abrams for sending this one our way), but never posted a review for you guys. Shame on us! We're excited to feature this book on our April Fools' Day list because it's one of the funniest books we've read so far this year. With characters named Jaundice and Kale Bland – how could it not be? These two sisters aren't exactly looking for a big adventure, in fact, they avoid excitement at all costs. They're perfectly happy living dull lives, so when they get accidentally swept up in an adventure alongside a band of female pirates, they're not exactly thrilled about it.

The Jolly Regina is a quick read filled with a witty sense of humor, fun illustrations, and lots of clever wordplay. The best part? It's the first in a series, so there's more books headed your way soon!
SYNOPSIS:
This new series features the blandest sisters who ever embarked on a rollicking, swashbuckling, and entirely unintentional adventure.
In the spirit of A Series of Unfortunate Events and the Incorrigible Children of Ashton Place series, The Unintentional Adventures of the Bland Sisters will captivate middle-grade readers looking for humor, hijinks, and a swashbuckling good time. Meet Jaundice and Kale Bland, two sisters who avoid excitement at any cost. Together, they patiently await the return of their parents, who left on an errand years ago and have never returned.
One day, the Bland sisters are kidnapped by an all-female band of pirates. They're unwillingly swept into a high-seas romp that might just lead to solving the mystery of what happened to their parents. With whimsical illustrations and Roald Dahl–esque wit, The Unintentional Adventures of the Bland Sisters is the visually stunning, laugh-out-loud funny start to a new series for readers who are looking for an anything-but-bland adventure.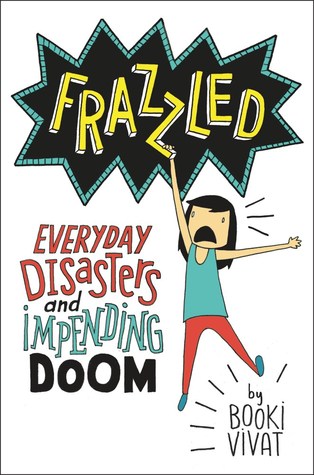 Frazzled: Everyday Disasters and Impending Doom by Booki Vivat
YAYOMG:
As soon as we decided to make a list of funny reads, we knew Frazzled would be on it. The main character, Abbie Wu, understands your struggles, worries, and overall sense of doom in a way no one else does. She knows nothing good ever happens in the Middles – and she's here to tell you how it really is. She gets how it feels to not quite fit in or to never really know what the heck your parents are trying to say. Paired with adorable illustrations, Frazzled dishes on the total crisis that is your first year in middle school. This book is the perfect companion for anyone who's ever felt awkward, anxious, left out, or like they're in a constant state of impending doom.
SYNOPSIS:
Meet Abbie Wu! She's about to start middle school and she's totally in crisis.
Abbie Wu is in crisis—and not just because she's stuck in a family that doesn't quite get her or because the lunch ladies at school are totally corrupt or because everyone seems to have a "Thing" except her. Abbie Wu is in crisis always.
Heavily illustrated and embarrassingly honest, Frazzled dives right into the mind of this hilariously neurotic middle school girl as she tries to figure out who she is, where she belongs, and how to survive the everyday disasters of growing up. With Abbie's flair for the dramatic and natural tendency to freak out, middle school has never seemed so nerve-racking!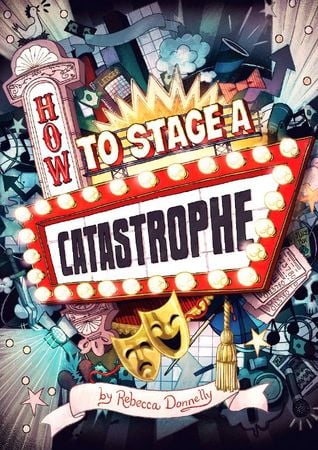 How to Stage a Catastrophe by Rebecca Donnelly
YAYOMG:
This book actually releases on April 1st – making it a perfect April Fools' Day read! Thankfully, our friends at Capstone shared a copy with us so we were able to give it a read early! How to Stage a Catastrophe has been described as "riotous", and we have to say we agree. This book is non-stop behind the scenes theater chaos, poorly planned mishaps, and just really embraces the awkwardness of growing up. Theater kids and drama students will feel totally at home with this amusing read. Even if you're not into theater, the race of three kids teaming up to save their local theater packs a big punch of moments that'll make you laugh and moments that'll make you say "aww".
SYNOPSIS:
Sidney plans to be the director of the Juicebox Theater when he grows up. For now, he handles the props, his best friend Folly works the concession stand, and his sister May hangs out in the spotlight. But the theater is in danger of closing, and the kids know they need a plan to save it and fast. When they join a local commerce club to earn money, Sid and Folly uncover some immoral business practices, and it gives them a great idea for saving the theater. That is, if you can call extortion a great idea. Hilarious and heartwarming, the mission to save a failing community theater unites a riotous cast of characters in this offbeat middle-grade novel.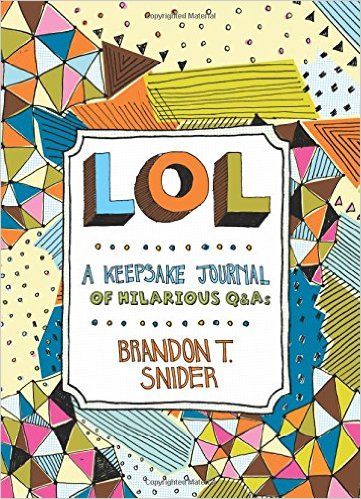 LOL: A Keepsake Journal of Hilarious Q&A's by Brandon T. Snider
YAYOMG:
A journal might not seem like the right fit for a funny book list – but hear us out. The LOL Q&A Journal is a total riot that'll keep you entertained not just for April Fools, but all year long. There's tons of hilarious writing prompts and questions to challenge your funny bone and ignite your inner writer. It's also a great source of funny questions and scenarios to discuss with your friends at the lunch table or a sleepover. Still on the fence? Check out our full review.
SYNOPSIS:
Kids—humor yourselves! Would you rather shave your head OR wear the ugliest wig in the world for a whole week? What's the most embarrassing thing that ever happened to you on social media? And what wild and crazy things "wouldja" be willing to do in public? Make yourself laugh with this keepsake journal packed with hilarious prompts, silly fill-ins, wacky doodle ideas, story suggestions, and cool questions and lists. It's YOUR place to be as funny and crazy as you want . . . with no boundaries.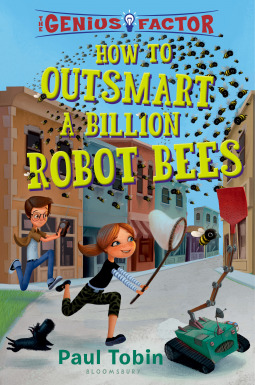 The Genius Factor: How to Outsmart a Billion Robot Bees by Paul Tobin
YAYOMG:
This book takes place on the other day of the year where things get a little crazy – Friday the 13th! It's actually a sequel to How to Capture an Invisible Cat, which is part of The Genius Factor series. If you haven't read the first book in the series, it's okay. You don't really need to in order to appreciate this one. (Though we recommend you pick it up if you're looking for even more laughs!) It's got the same cast of characters, but on a complete new and totally bizarre adventure, this time with Delphine as the main character. (A witty girl who loves science? Count us in.)
These books are perfect for kids who love a fast-paced adventure, inventing, and of course – laughing! While reading these books you can always expect the unexpected and expect to see a ton of imaginative inventions you'll want to recreate IRL. Thanks to our friends at Bloomsbury Kids for sending us this fun read!
SYNOPSIS:
It's Friday the 13th again, and for sixth grade genius Nate Bannister, that means doing three more not-so-smart things to keep life interesting. But he has bigger problems than his own experiments. His nemesis, the Red Death Tea Society, is threatening to unleash a swarm of angry bees on the city of Polt if Nate doesn't join their ranks. But then a new group of people with murky intentions shows up — the League of Ostracized Fellows — and they want Nate as their own, too. To top it off, he's convinced there's a spy in his very own school.
Nate must once again team up with his new, resourceful, friend Delphine to save the day. They'll need the help of Nate's crazy gadgets, such as his talking car Betsy and super-powered pets Bosper the Scottish terrier and Sir William the gull, if they hope to see another Friday the 13th. Because they might be battling more than just sting-happy bees and villains with a penchant for tea this time around.
Pilfer Academy by Lauren Magaziner
YAYOMG:
We're always looking for a reason to include Lauren's books on our site, but a list of funny books is where her work fits best. She's the queen of puns and clever names and her books will totally crack you up. If Pilfer Academy were an emoji, it would be ? for sure. Filled with kooky characters, wacky punishments, and a school where kids learn to become expert thieves, this book is sure to leave you laughing long past April Fools' Day. It'll also leave you craving ice cream, so be prepared! Looking for a full review of this hilarious read? Click here.
SYNOPSIS:
Troublemaking George has never heard of Pilfer Academy, a top-secret school for cultivating young crooks, until he's kidnapped as its newest student. The teachers are kooky at best, and naughty does not even begin to describe his sneaky, smart, and morally bankrupt new classmates. Between disguise classes, cracking safes, and DIY gadgets, George becomes an expert bandit and finds true friendship with Tabitha, his new partner-in-crime. But everything is ruined when George comes to a shocking realization: He is just too good-hearted to be a thief!
Unfortunately, not thieving is not an option at Pilfer Academy, and "misbehaving" students face Dean Deanbuggle's favorite punishment—the Whirlyblerg! In order to gain their freedom, George and Tabitha must pull the biggest heist the school has ever seen and reveal their true colors not as thieves, but as kind (and, okay, mischievous) kids.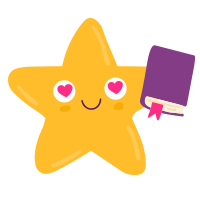 Ready to get your laugh on? Hit up your local library or favorite bookstore to pick up these funny reads. If you're playing along with YAYOMG! Book Bingo (or are looking for a reason to start), these books will help you mark off a bunch of different squares.