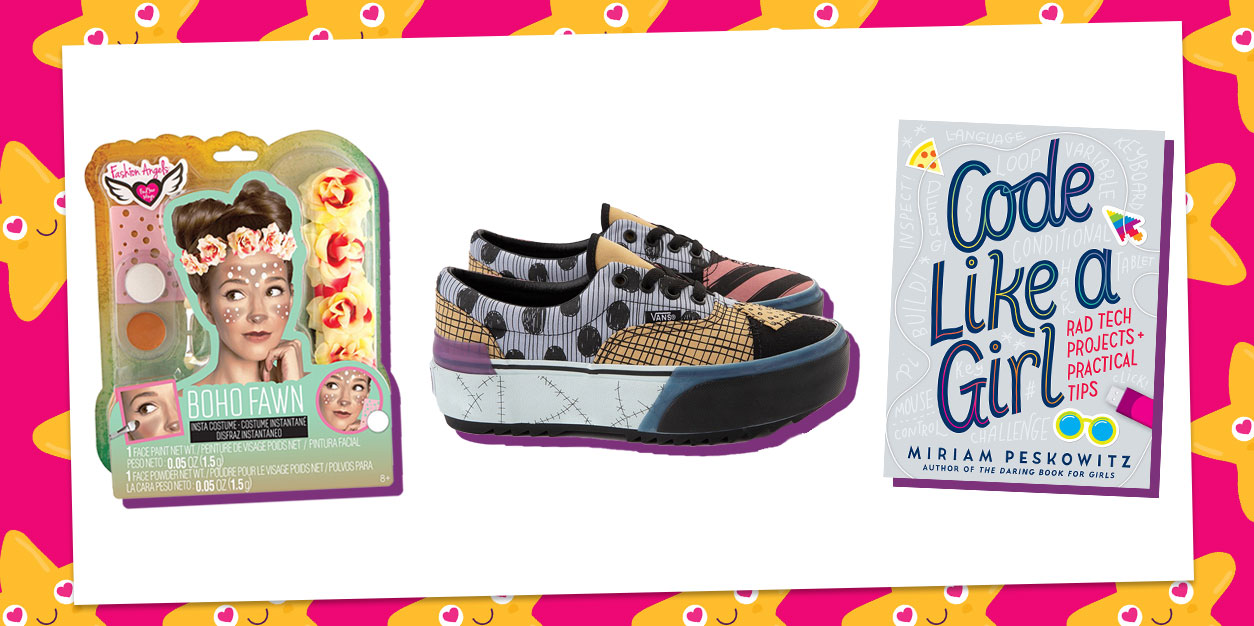 HEART EYES: Spooky Shows, Candy Science, and Little Kittens
HEART EYES is a monthly series on YAYOMG! where we keep you in the know about all the best new stuff that will have you twinning with your favorite emoji.?

*NOTE: Our HEART EYES roundup is hand-curated by the YAYOMG! Team. Some of our picks are items that we have received for free for reviews. Our recommendations are based on items we loved and think our readers will love. We do not use affiliate links.
Things are getting SPOOKY in the October edition of HEART EYES!
Fall is in full force here at the YAYOMG! office. Pumpkins are everywhere, the air is crisp, and we've swapped out our shorts for cozy sweaters. Embracing the Autumn vibes, we thought we'd sprinkle this month's issue of HEART EYES with a few Halloween picks along with our usual list of favs.
This month we're all about the Are You Afraid of the Dark? revival on Nickelodeon and the tasty Monster Batch donuts from Krispy Kreme. On the less spooky side of things, we're excited about the new Yooka-Laylee game, and a new book that's all about teaching girl power through coding.
Are you ready for it? Trick or treat your way through the 15 things we're obsessing over this month.
HEART EYES – October 2019: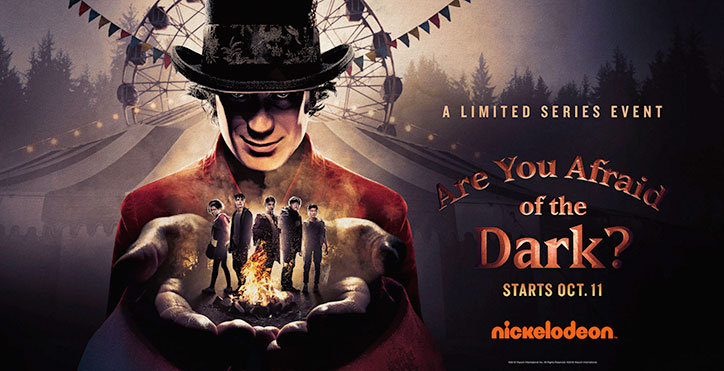 Are You Afraid of the Dark? on Nickelodeon:
As lifelong Nick kids, nothing screams Halloween to us quite like curling up with a bowl of fun-sized candy and hanging out with the Midnight Society.
Nickelodeon is bringing the scares this month by reviving Are You Afraid of the Dark? in the form of a miniseries. The 3-part series introduces brand new members of the Midnight Society and a new spine-tingling story about a creepy carnival that comes to life. Rather than only seeing The Midnight Society when they're gathing around the campfire, the new series gives us a glimpse into the lives of the TMS kids at school, at home, and how they handle the Carnival of Doom!
We can't wait to catch the 3-part series when it airs on Nickelodeon on October 11th, 18th, and 25th!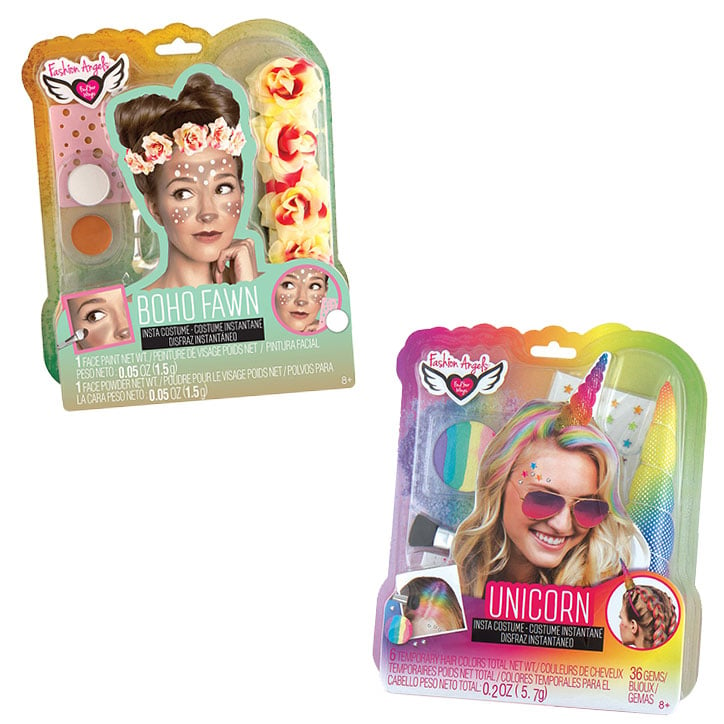 For a super simple, yet awe-inducing Halloween costume, you can't go wrong with an Insta Costume kit from our buds at Fashion Angels. These adorable kits come with everything you need to sport a glam look inspired by style of Instagram and Snapchat's animal filters.
Whether you choose to cute it up as an adorable Boho Fawn while watching your favorite scary flicks or go bold with the colorful Unicorn kit for the Halloween dance, you'll look amaze no matter what your plans! They also have Mermaid, Kitty, and Galaxy Girl kits, so you can your squad can look totally fab.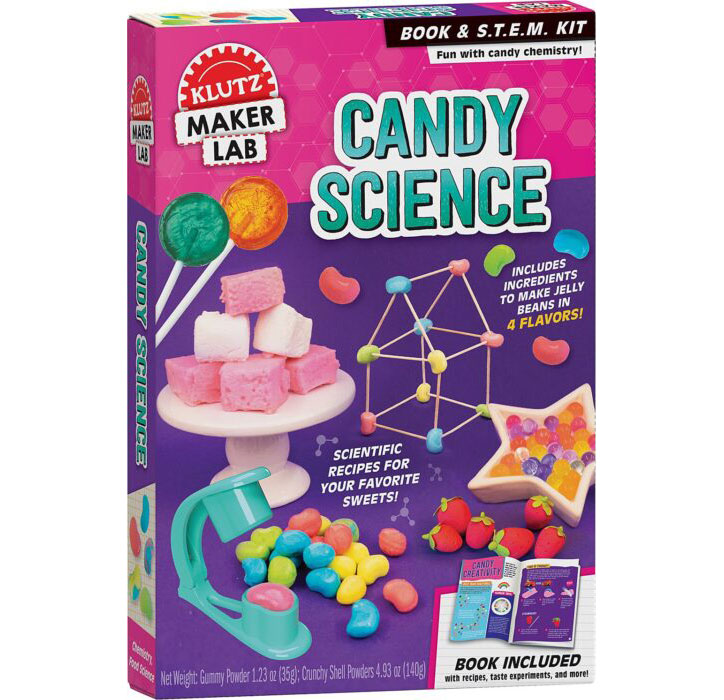 Since October is the unofficial month of candy, it's time to step into the lab, put on your mad scientist goggles, and discover the science behind candy!
Our BFFs at Klutz recently released a Maker Lab kit that allows you to do just that! Each kit contains everything you need to make four flavors of jellybeans, as well as an instruction book filled with experiments you can try using the stuff you already have in your fridge. Make squishy marshmallows, colorful fudge, and super sweet lollipops, all while learning science skills.
Turning your kitchen into a candy lab is a delicious scare-free way to make Halloween a total scream!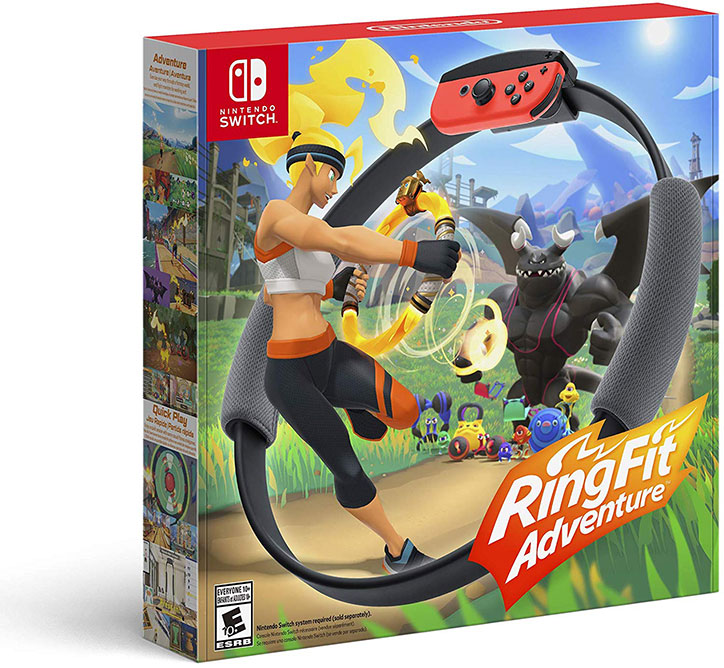 This may sound lame, but we are BEYOND excited about Ring Fit Adventure! As people who pretty much need to be tricked into doing any type of exercise more intense than a walk around the city, we love games that double as workouts. It's why we were fans of Wii Fit – it made exercise accessible and fun. We were thrilled to see that not only is Nintendo bringing a fitness game to the Switch, but they've added a fresh new take on the experience.
Ring Fit Adventure is a fitness-based RPG. Rather than simply pressing buttons to defeat your enemies, you'll use real-life exercises like jogging, squats, and yoga poses to slay a bodybuilding dragon. In addition to Adventure Mode, players can customize their own workout routine or try the fitness-based minigames to get their heart pumping. For Ring Fit Adventure, Nintendo also swapped out the balance board for the new Ring-Con and Leg Strap accessories to track your movements and progress, giving you a lot more freedom to move around.
Early reviews say that it's a lot of fun and a great way to stay active. We're looking forward to trying this one out when it releases on October 18th!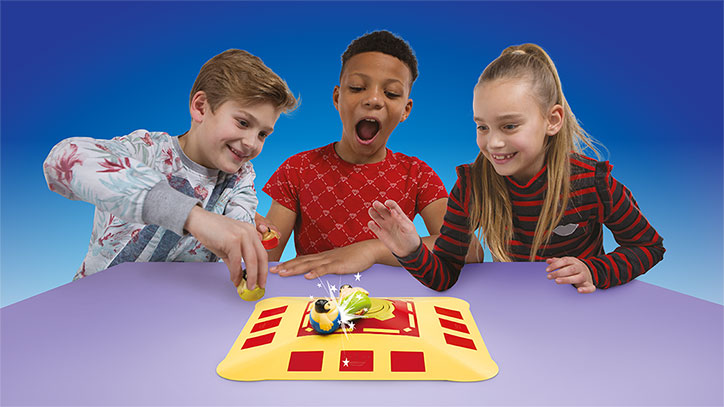 King of the Ring from YULU:
Do you have what it takes to be the last sumo standing? It's time to step into the ring and show off what you've got!
In King of the Ring, each player picks a sumo wrestler and battles to be the last sumo standing in the center of the podium when time runs out. You'll need to slide, smash, and push your sumo into the other players to try and knock them out of the ring without getting knocked out yourself. King of the Ring may seem simple in theory but makes for a high-energy competition between friends. We had a blast checking this one out!
It's an awesome pick for everything from sleepovers to family game night. We love the idea of making the stakes even higher by battling for who'll do the dishes or take out the trash. Or, if you play at a sleepover, you can give out prizes to the winners!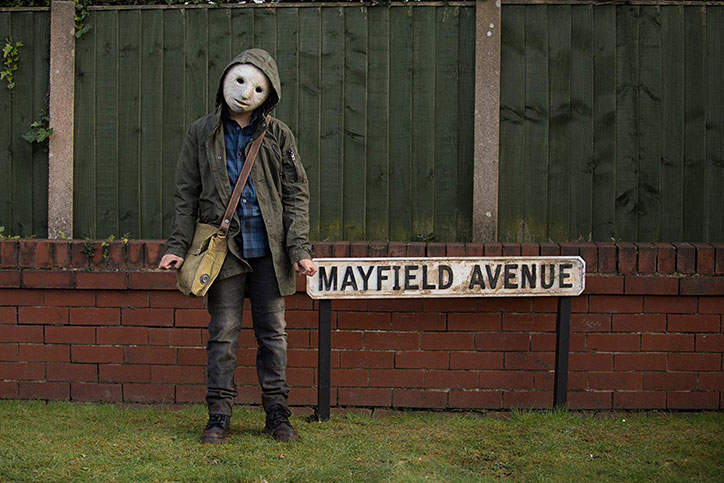 Creeped Out Season 2 on Netflix:
The second season of Creeped Out hit Netflix this month, and it's even better than the last! Each episode of this otherworldly anthology series features a new story that'll have you on the edge of your seat.
Similar to Black Mirror, Creeped Out is known for teaching a moral lesson about technology or social issues with each of its twisted tales. We love how this series is a commentary on everything from society's reliance and obsession with technology, like voice assistants like Alexa and Siri, and losing hours of your life playing your favorite video games. When horror hits close to home, it makes it even more terrifying!
If you haven't seen the first season yet, we highly recommend binge-watching with your besties during this spooky season!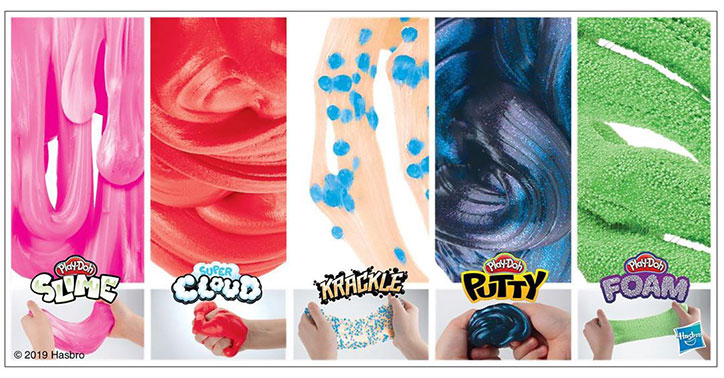 Play-Doh Compounds from Hasbro:
Everyone loved Play-Doh when they were a kid, but the older you get, the less and less you find yourself opening up a can of the moldable dough. That's why Hasbro is releasing new Play-Doh Compounds!
These slimy, fluffy, stretchy, crackly compounds are a play on the slime-trend, providing a gratifying experience right out of the tub.
Krackle is filled with beads that give the slime a satisfying texture and crunch and you stretch and squish it. Putty is firmer than ordinary slime and is swirled with metallic shine. Super Cloud is puffy and fluffy, which gives it an amazing squish. Foam has great texture and can hold it's shape, allowing you to mold it rather than just pull and squeeze. Perfect for slime challenges, ASMR, or just chilling out while you get your study on, we think you'll love Play-Doh Compounds!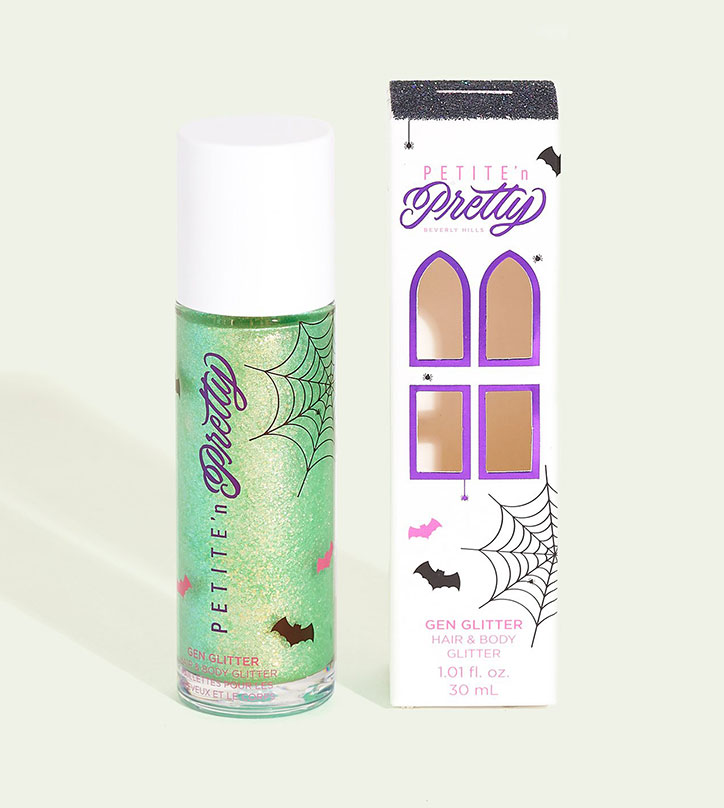 R.I.Pretty Gen Glitter from Petite 'n Pretty:
Petite n' Pretty has released a spooky twist on their best-selling hair and body glitter for this spooky season.
The ghastly green shade is perfect for adding frightening flair to your Halloween look. Whether you're going as a beautiful fairy or a ghoulish vampire, adding this sparkly shade to your body, face, or hair is a total treat. Scented with the same fruity Cloud Mine fragrance as the OG Gen Glitter, you'll smell great while you trek through the town on the hunt for candy!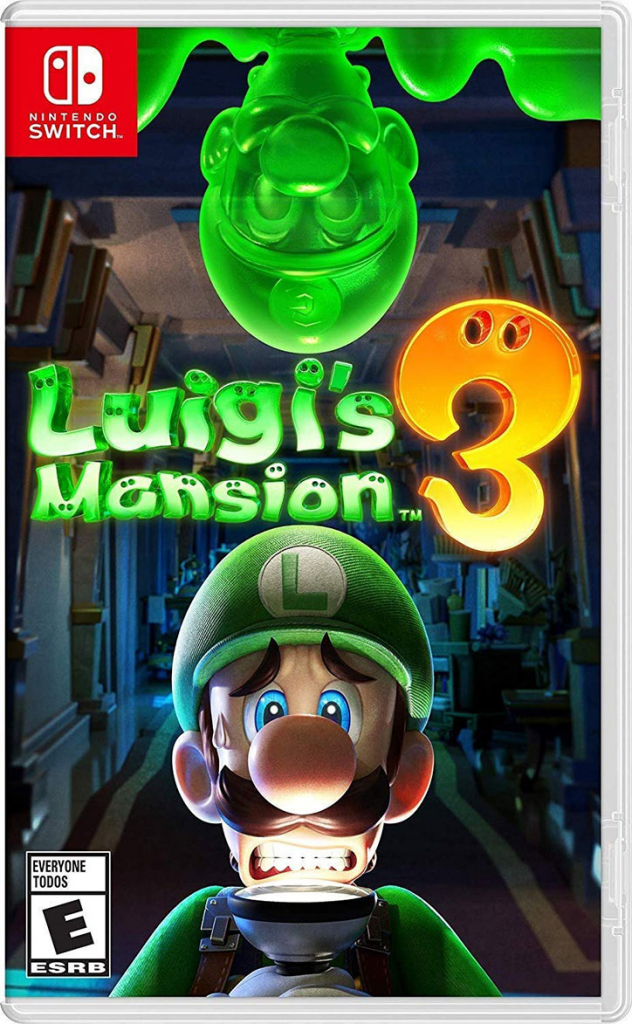 Nintendo had us hooked on the third installment of the Luigi's Mansion franchise with one simple word – Gooigi.
In Luigi's Mansion 3, Luigi and his Mushroom Kingdom buddies are invited on a getaway to a luxurious hotel. But when they arrive, their dream vacation quickly turns into a nightmare as they realize that they've been tricked by King Boo, who kidnaps Mario and the gang, leaving Luigi on his own to save the day.
To make things right, you'll have tiptoe your way through dark hallways of the haunted hotel on a puzzle-solving, ghost hunting quest. Using Professor E. Gadd's upgraded Poltergust G-OO, you can grab and slam ghosts or, more importantly, summon GOOIGI. That's right – this game has a gooey green (and coffee-flavored) version of Luigi who can sneak past spikes and reach dangerous places that Luigi can't. We haven't had a chance to play yet, but it's shaping up to be the best Luigi's Mansion game yet!
The game releases on Halloween, making it the perfect thing to do while you munch on all your hard-earned candy.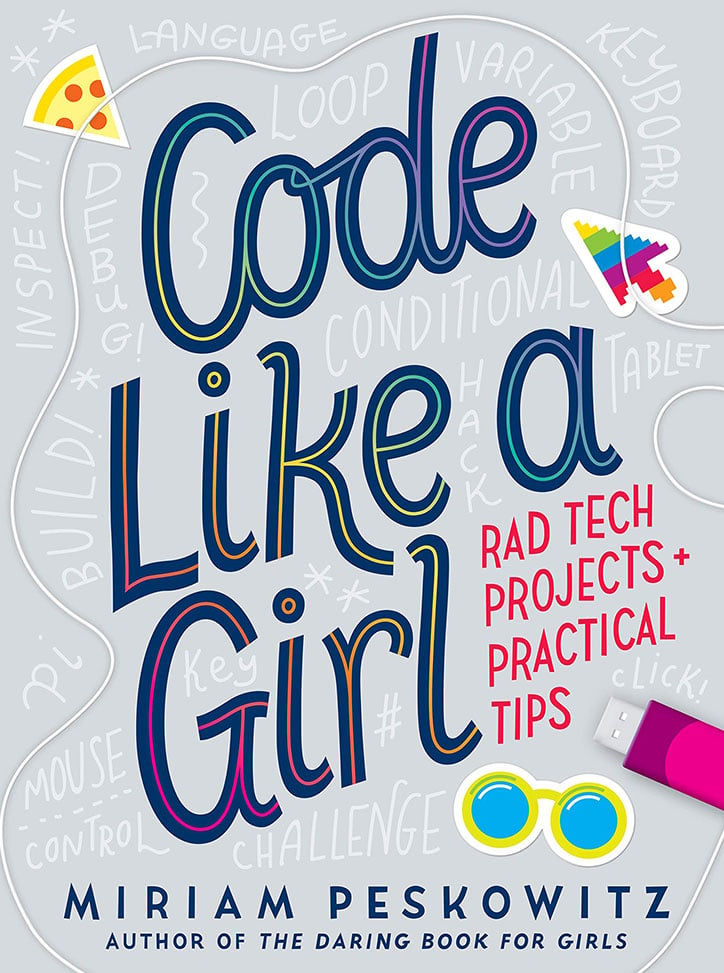 Code Like a Girl: Rad Tech Projects and Practical Tips by Miriam Peskowitz:
This fantastic book was released in August, but somehow managed to slip under our radar. Written by the co-author of The Daring Book for Girls, Code Like a Girl is more than just a book about learning to code. It's a confidence-boosting resource that teaches girls how to code while also showing them that coding is about creativity, self-expression, and a tool that can be used not just to build apps or make games, but to help you learn more about who you are.
Code Like a Girl features fun coding projects that start simple, like programming a card to send to a friend to more complex creations like digital fortune-tellers and smartphone gloves. You'll learn how to set up a Raspberry Pi and dabble in Python and Scratch while always being reminded that mistakes are a normal part of programming, and that trial and error is just a part of the process.
We think it's a must-have for any girl looking to practice their coding skills. You can grab a copy here to start your coding adventure!
Gabby Duran and the Unsittables on Disney Channel:
Based on the novel by Elise Allen and Daryle Connors, Gabby Duran is about to come to life as an out of this world Disney Channel series.
Gabby Duran is a 13-year old girl who moves to a new town with her ambitious news reporter mother and overachieving sister. Feeling out of place both at home and at school, Gabby tries her best to get expelled. The plan completely backfires, leaving the principal convinced that Gabby isn't a troublemaker, but a girl responsible enough to babysit his son.
Gabby quickly realizes that not only is the principal's son a shape-shifting alien but that her town is filled with extraterrestrial families trying to blend in as ordinary humans.
This hilarious and heartfelt new series is already picked up for a second season, so settle in for a wild ride!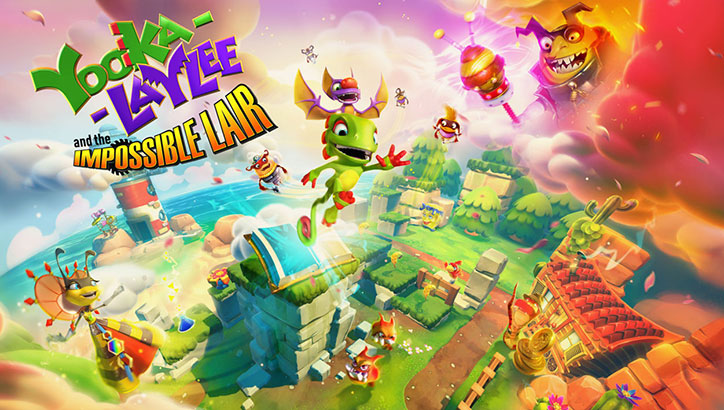 Yooka Laylee and the Impossible Lair from Team17:
In the original Yooka-Laylee we helped our heroes explore a vast 3D world, a throwback to classic 3D platformers like Banjo-Kazooie and Donkey Kong 64. For us, growing up playing these games on N64, playing through Yooka-Laylee was a nostalgic treat. That's why we were so excited to hear that a follow-up was in the works.
Yooka-Laylee and the Impossible Lair switches up the gameplay to a platforming adventure hybrid. Created by a lot of the original Donkey Kong Country team, you can absolutely feel the inspiration, but the game fully stands on its own. Every level is platforming at it's finest as Yooka and Laylee make their way through the Bee Kingdom, rescuing members of the Queen's Bee-talion and eventually taking on the nefarious Captial B. It's an incredibly fun adventure you won't want to miss!
Ready to play? Yooka-Laylee and the Impossible Lair arrives this month on Xbox One, PlayStation 4, Nintendo Switch, and PC! Want to know what your favorite Yooka-Laylee character says about you? Click here!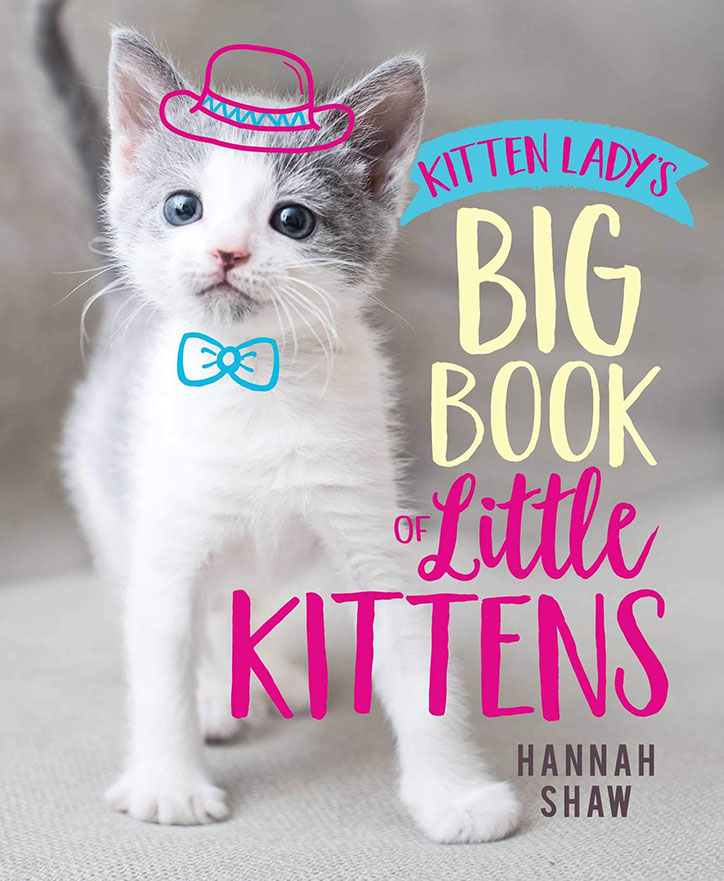 Kitten Lady's Big Book of Little Kittens by Hannah Shaw:
Take a break from the eerie October vibes by cozying up with some adorable kittens! This super cute book is filled with adorable kittens and helpful tips about caring for, fostering, and adopting kitties, all written by The Kitten Lady, aka, Hannah Shaw.
Hannah Shaw is an expert-level kitten rescuer and Instagram and YouTube icon who uses her platform to educate the world about how to take care of and foster kittens. Whether you just love looking at cute photos of cats or you're looking to learn more about how to take care of a kitten so you can prove to your family you're ready for a pet, this is the book you need. Every colorful page is filled with exciting kitten facts, helpful tips, and of course, ridiculously adorable pictures of kittens.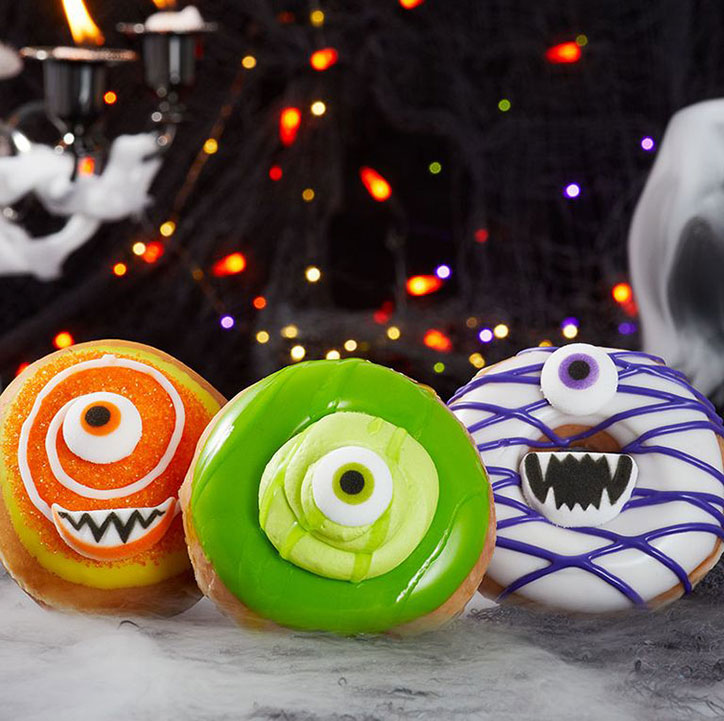 Monster Batch Donuts at Krispy Kreme:
One of these donuts is named SLIMON. We're not kidding.
Krispy Kreme always goes all out for their seasonal and holiday releases, and this year is no exception. For 2019, they've released the Monster Batch, which includes three new Halloween donuts.
First up, there's our boy Slimon. Covered in green slime and filled with a gooey lemon slime center, he's oozing with delicious flavor. There's also Mumford, who is an Original Glazed donut with a spooky twist, boasting hardcore mummy vibes and chompy teeth. Hypno-Henry is the sprinkled orange one with the icing swirl on the outside, and cake batter on the inside. No matter which one you choose, it's safe to say they'll be scary good!
Pro Tip: You can get a Krispy Kreme donut for FREE if you wear a costume to participating locations on Halloween!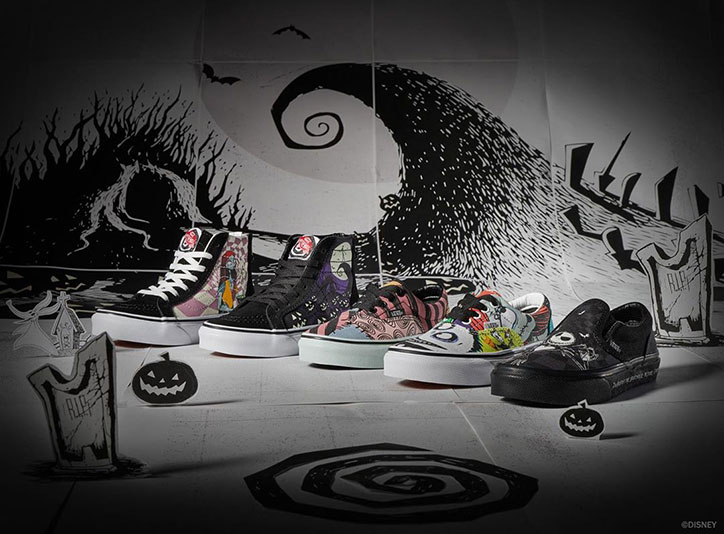 Nightmare Before Christmas Collection from Vans:
Instead of trying to decide if The Nightmare Before Christmas is a Halloween movie or a Christmas movie, we've got a solution for you. Grab a pair of the amazing new Nightmare Before Christmas x Vans kicks and rock them from October through December!
This amazing collab brings the iconic Tim Burton classic to life as a line of sneakers, hoodies, backpacks, and other accessories that are sure to inspire your spooky style.
Our favs from the line? The Sally inspired crew pullover, the slip-ons inspired by Jack Skellington's iconic suit, and Haunted Toy slip-ons with the super cute satin laces.
Looking for even more of our fav stuff? Check out the past editions of HEART EYES you may have missed!