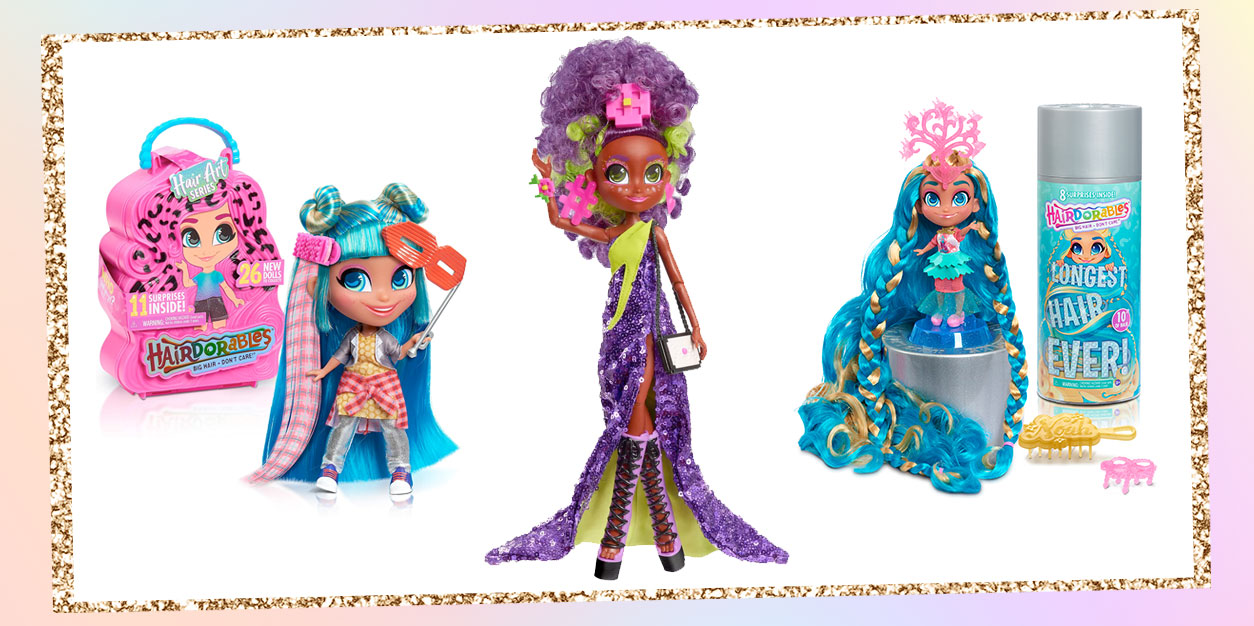 The Newest Hairdorables Are Serving Serious Hair Inspo + GIVEAWAY!
NOTE: We teamed up with Just Play for this Hairdorables Giveaway. All opinions are our own; we were under no obligation to give a positive review. Giveaway prizes provided by Just Play.
From fierce curly updos to crimped, colored clip-ins, one thing is for sure – the Hairdorables serve serious lewks and hair inspo with each new release!
Noah and the girls totally slay every style they try. From comfy sleepover vibes to garden party chic, their looks are always perfectly on point. Three new lines of Hairdorables just released, and they're some of the most fabulous yet! Hair Art focuses on patterned prints that express the girls' unique interests and personalities. Prom Perfect brings glamour, gowns, and glitter to the Hairmazing fashion doll line, and Longest Hair Ever gives the girls the Rapunzel treatment with seriously long locks you can braid and style!
We're obsessed with this stylish girl squad, which is why we teamed up with Just Play to give YOU the opportunity to snag an amazing Hairdorables Prize Pack! Grab your favorite adult and enter below for your chance to win!
Everything You Need to Know About the Latest Hairdorables Series: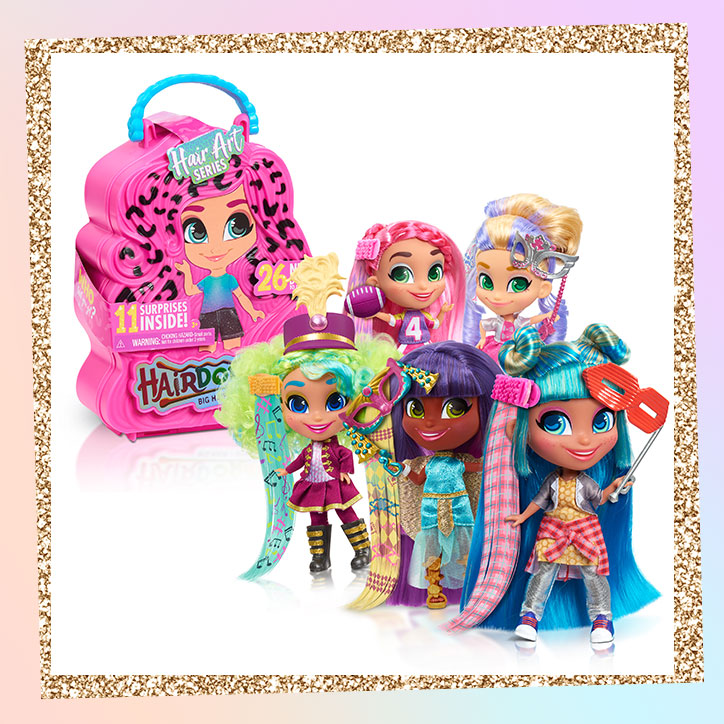 Hairdorables Hair Art Series:
The Hair Art series brings a splash of creativity to the world of Hairdorables! There are 26 new dolls to discover, each rocking two new fashion themes – Masquerade Through Time and After School Fun. You won't know which one you get until you open the colorful collector's case, which is filled with surprise accessories to discover. Will you find the ULTRA-rare Kat Mascot?
Each doll comes with a chunky name barrette with a patterned hair art clip-in attached. Each of these colorful hair extensions features super cute prints and patterns that tap into the doll's personality and style, giving them a next-level look!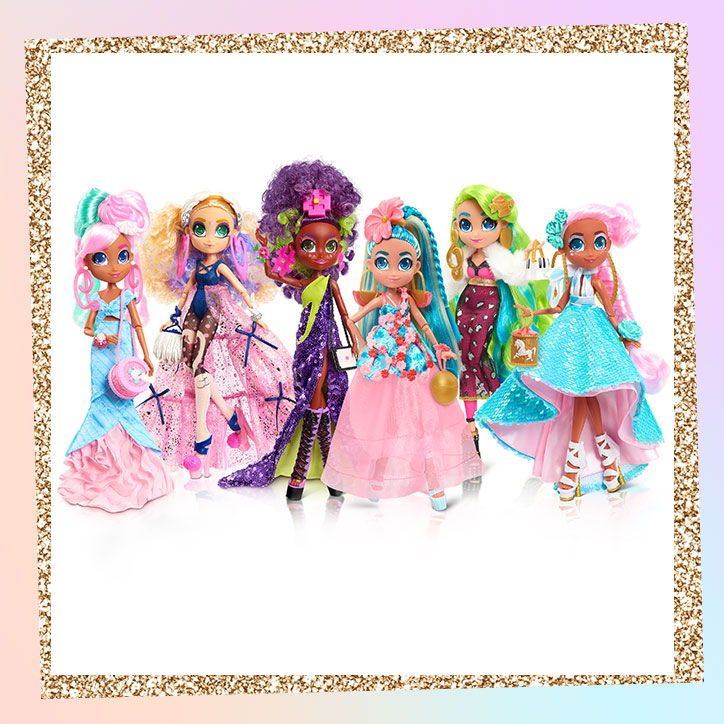 Hairdorables Hairmazing Prom Perfect Fashion Dolls:
Hop in the limo, break out the curling iron, and get ready to dance the night away – the Hairdorables are headed to prom!
Complete with elegant gowns and bold hairstyles, Noah, Willow, Harmony, Kali, Bella, and Dee Dee are stepping up their fashion game with some seriously glam prom styles. These girls don't just do prom – they've infused their personalities through every last frill, sparkle, and braid.
Each of these fully articulated fashion dolls comes inside a box that can be unfolded into a prom backdrop, perfect for snapping selfies of their memorable night!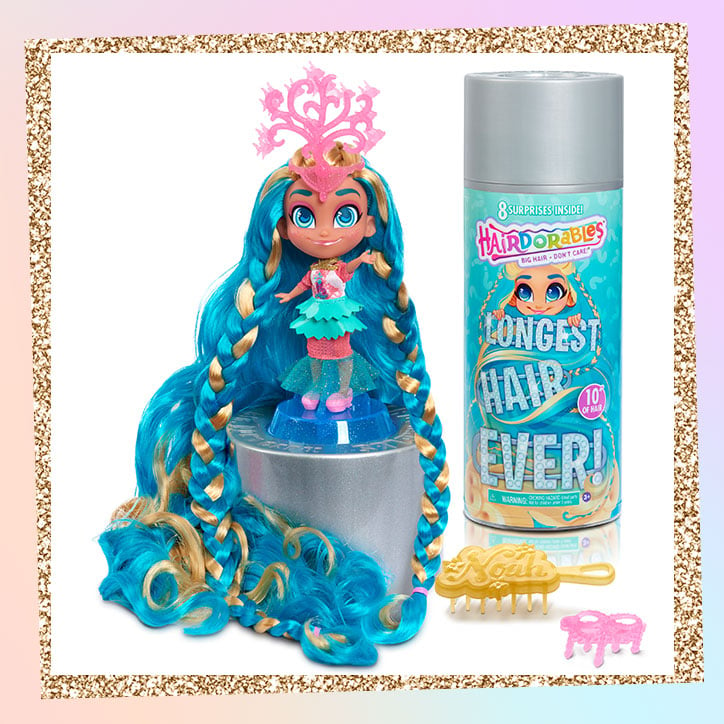 Hairdorables Longest Hair Ever
The Hairdorables have embraced the "Big Hair, Don't Care" vibe since the beginning, but you've never seen their hair quite as big as this!
In the Longest Hair Ever series, the Noah, Willow, Rayne, and Kali are getting a major hair upgrade! Nestled inside a hairspray inspired bottle, you'll find seven stylin' accessories waiting for you. Practice your hairstyling skills by brushing, braiding, and topping off the look with fabulous tiaras, headbands, and barrettes!
Hairdorables Giveaway: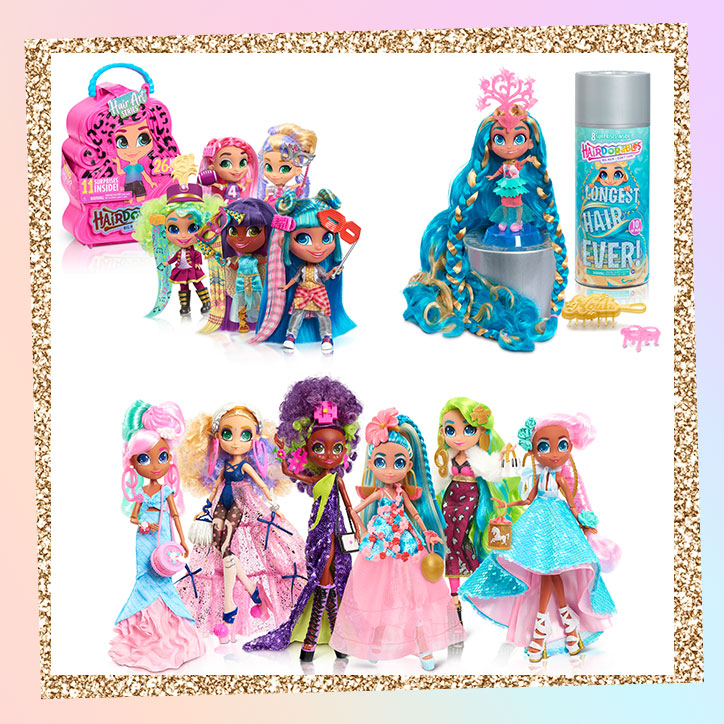 WHAT DO I WIN?:
ONE (1) lucky winner will receive a Hairdorables Prize Pack that includes:
– TWO (2) Hairdorables Hair Art Series Dolls
– TWO (2) Hairdorables Hairmazing Prom Perfect Fashion Dolls
– TWO (2) Hairdorables Longest Hair Ever Dolls
*Prizes generously provided by Just Play. These products come blind-boxed, and we cannot guarantee which products you will receive.
HOW DO I ENTER?:
Grab a parent or guardian and have them fill out the form below by September 3, 2020 at 11:59pm ET.
Giveaway runs from 08/20/20 at 12:30 pm ET through 09/03/20 at 11:59 pm. Open to US residents ONLY. Be sure to read the fully detailed rules HERE before entering.
THIS GIVEAWAY HAS ENDED AND THE WINNER HAS BEEN CONTACTED.
You must be 18 or older to enter. Please, only ONE entry per person. If selected as a winner, we will provide your parent/guardian with an affidavit to confirm that you are a valid winner who has permission to win. They will be REQUIRED to sign and return the affidavit to YAYOMG! to claim your prize. Prizes will not be mailed out without signed parental consent.
Need of even more girl power in your life? Check out our Run the World giveaway for your chance to snag a $100 Justice Gift Card and a poster signed by the girls! Or, try our DC Kids Giveaway to enter to win a stash of empowering superhero reads!