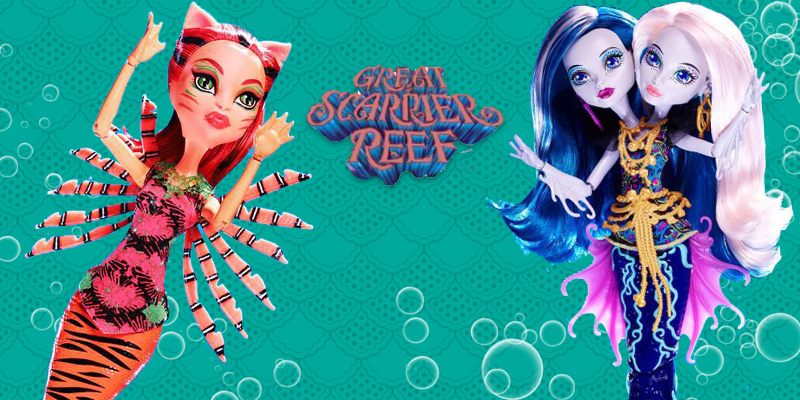 Great Scarrier Reef is the Next Monster High Movie!
Monster High is on a roll with the movies right now. Boo York, Boo York doesn't release until September, and they've already started to release info about the next movie, The Great Scarrier Reef!
When Lagoona Blue finally gets her Diver's License, her and the ghouls pile into her ship and go for a ride in the school's bottomless pool. Ghoulia is disappointed when she finds out everyone left without her, and ends up just hanging out by the pool by herself, listening to music and waiting for the Ghouls to return. Lagoona is determined to find out if the pool really is bottomless, and heads deeper and deeper to find out. Her ship becomes damaged and springs a leak when it's attacked by a kraken, and the ghouls must find a way to get back to the school. Ghoulia ends up finding the empty ship and grabs a snorkel and dives into the pool to find out what happened. Somehow along the way, the ghouls are transformed into mermaids and discover that there are merpeople and other unique sea creatures living in the deep depths of the pool, including a few new characters!

New characters include:
Posea Reef – Daughter of Poseidon
Kala Mer'ri – Daughter of the Kraken
Peri and Pearl Serpentine – Two-Headed Daughter of Hydra

The underwater aquatic theme gives The Great Scarrier Reef and entire new world to explore, so much different than anywhere the ghouls have gone before. The dolls look gorgeous as well! We're looking forward to collecting the new mermaid-ified versions of the ghouls, including Frankie, Lagoona, and Toralei – but even more excited for the newcomers! These are some of the most unique dolls we've seen to date – Peri and Pearl are a two-headed creature and Kala has four arms and lots of tentacles! It's awesome to see Monster High really pushing the limits with the dolls more and more as the series grows.
The Great Scarrier Reef DVD/Blu-Ray releases in Spring 2016, so if MH's history is any indication, you can expect to see the dolls a few months sooner, likely in the Fall/Winter.