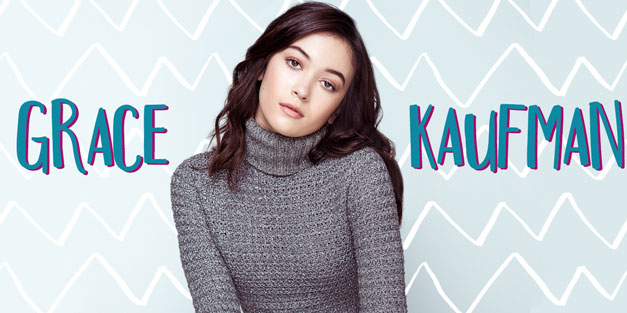 Grace Kaufman Shares Her Dream Co-Star, Life Advice, and her 2018 Goals
Grace Kaufman is just 15 years old, but she's already lent her voice to some of our favorite cartoons and landed a ton of roles in both TV and film. Grace loves taking on lots of different types of roles, showing off her talent for portraying lots of different kinds of characters on-screen. Off-screen she enjoys dancing, spending time with her friends, and even lends her time to the Autoimmune Walk every November.
You may recognize her from episodes of Gortimer Gibbon's Life on Normal Street, Jessie, and Lab Rats, but she's currently starring as Kate Burns on the CBS comedy Man With a Plan. Grace tells us about her role on Man With a Plan, her dream co-star, and advice she has for those days that are super tough to get through.
Get to Know Grace Kaufman:
You star as Kate Burns on Man with a Plan. Tell us a little about your character.
GRACE KAUFMAN: My character Kate is the oldest child of the Burns family. Being the oldest, she is the natural leader of her younger siblings and is not afraid to get a little mischievous!
Are you anything like Kate in real life?
GRACE: Yes I am! I have a younger brother, so I totally get how stressful yet fun it is to be the oldest child. I also feel like I am like Kate because although I may get into little battles with my family here and there, in the end, I love them and would do anything for them.
Who would be your dream co-star to act alongside?
GRACE: My dream co-star would be Carol Burnett. I have watched almost every episode of the Carol Burnett Show, and she is someone that I have looked up to since I was little. It would be an absolute dream to get to work with such a comedic genius. My little brother Henry got to work with her and Jim Carrey on the Carol Burnett 50th Anniversary Special! I was so jealous! Ha ha! I was really happy for him actually.
Three foods you can't live without?
GRACE: Pizza, sushi, and ice cream.
What are some things you like to do for fun?
GRACE: For fun, I love to draw, do photography and listen to my favorite music. And hang out with my friends of course. Sometimes just hanging out and laughing is the best thing, you know?
Can you share a dream or goal you have for the future?
GRACE: For the future, I have many dreams and goals. Ideally, I would love to continue to pursue my career as an actress in films and theatre. I love period films. I did a film recently called "Brave New Jersey" with Anna Camp and Tony Hale that took place in 1938. I love wearing the costumes of other eras. So I really want to do another period film soon! My other main goal is to remember to live positively and happily.
What's a subject you're interested in learning more about and why?
GRACE: I am very passionate about art and photography. I love both, so I'd love to study more about art history. My family is planning to visit Italy soon, so I think that will be a good opportunity to study that subject there!
Since the new year is upon us, so do you have any New Years resolutions for 2018?
GRACE: For 2018, I really want to push/apply myself more in my schoolwork and in my acting work. In addition to continuing my singing lessons, I'm going to get into the dance studio and take dance class more often!
Being a teen can be rough, any advice you want to share with your fans on how to make it through a rough day?
GRACE: Being a teen can be SUPER rough. I always have hard days where I feel down, but I constantly remind myself with every rough day there is a good day approaching. If you look at the simple things in life my advice would be to turn to those who love care for you. I also think that recognizing the beauty in life, such as a pretty flower or even looking up at the sky will comfort you and reassure you that everything is going to be okay. 🙂
If you loved getting to know Grace Kaufman as much as we did, be sure to give her a follow on Instagram – @imgracekaufman to stay up to date with her life. Inspired by Grace? We think you'll love getting to know Nickelodeon's Breanna Yde!