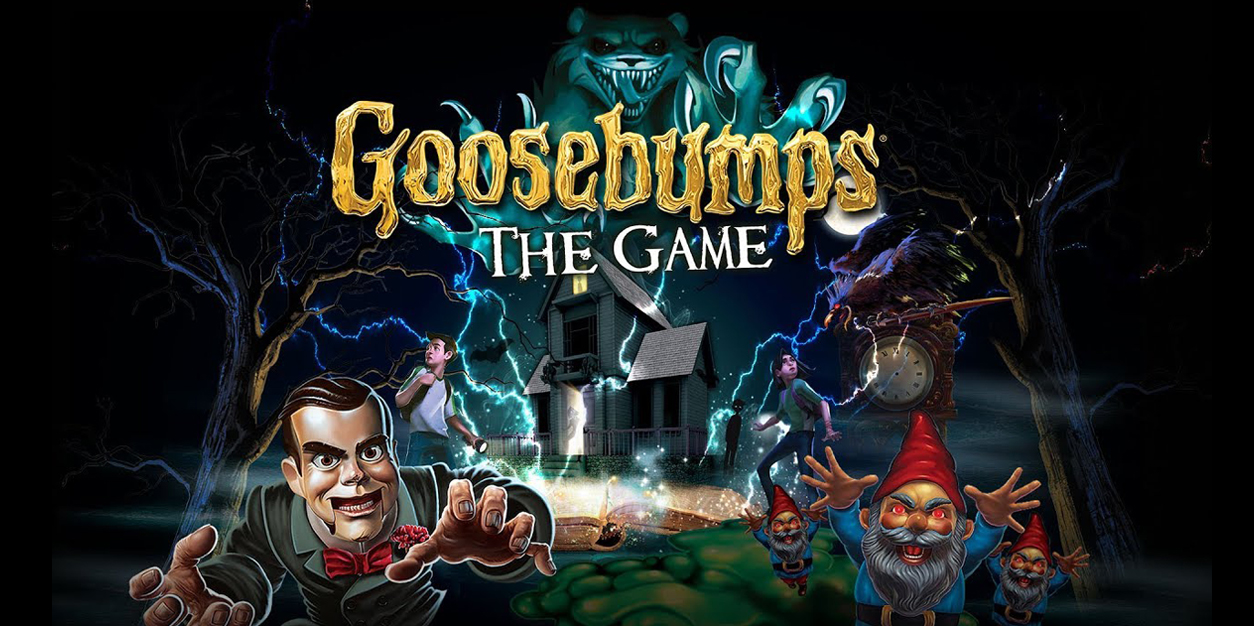 Goosebumps: The Game is an Eerie Adventure
Note: We received a complimentary review code in exchange for a fair and honest review of Goosebumps: The Game. All opinions are our own; we were under no obligation to give a positive review.
With Autumn vibes in the air and Goosebumps 2: Haunted Halloween hitting theaters this week, you might be in the mood for spooks and thrills. Look no further than Goosebumps: The Game, out now for Nintendo Switch from WayForward and GameMill Entertainment. Step into the mind of R.L. Stine as you play through an immersive Goosebumps story. Do you have what it takes to survive the creepy happenings, ghouls, and monsters lurking about your town?
Originally released back in 2015 for as a prequel to the first Goosebumps film, the game just got a fresh release on Nintendo Switch, just in time for Halloween! We went hands-on with this spine-chilling adventure, keep on reading for our review.
Our Goosebumps: The Game Review:


PLAY THE STORY:
Goosebumps: The Game brings the classic book series to life in an eerie point and click adventure that puts you in charge of the story. Choose your path, investigate your surroundings, solve puzzles, and take down iconic Goosebumps monsters as you unravel the mystery of the Dead House. It feels like a like a horror novel come to life with you as the star! Make your way through your monster-infested town, creep through the abandoned mall, and do whatever it takes to stop Slappy's evil plans.
Our advice? Be diligent and observant. Click on everything you can, as there is always useful information to be found in every scene. Fill up your inventory as you go by picking up every item you're allowed to – you'll almost always need them later. Always be on the lookout, there are lots of clues and secrets you'll encounter that you'll want to remember for later. The story is in your hands!


YOU'RE IN FOR A SCARE:
From the moment the game begins, it does a great job of making you feel a little uneasy. From the gray skies to the nearly abandoned town, you'll definitely feel unsettled as you creep down haunted hallways and unravel this terrifying tale. The game does a have a few jumpscares, but nothing you can't quickly recover from. Goosebumps: The Game is filled with references from the books in nearly every single scene. From the haunted camera in Say Cheese and Die to the iconic Slappy the Dummy, die-hard fans will love trying to find all the Goosebumps easter eggs.
The game is a lot of fun and enjoyable for anyone, but if you're familiar with Goosebumps lore, you can definitely use it to your advantage. Even without reading the books, you can deduce which items you'll need to take down each monster from the in-game clues.


SOLVE THE MYSTERY:
Can you figure out what's happening and stop Slappy's plan for revenge before it's too late? There are lots of different types of puzzles to keep you always thinking. Sometimes you'll have to figure out which items to combine together to get to a new place or defeat a monster. Other times you'll be face to face with ghost children who need your help getting closure to move on. One thing is for sure, you'll need to channel your inner detective for this one! Some puzzles are straightforward, yet others had us stumped for quite a while. Nothing is too hard though, and with a little trial and error and or revisiting old conversations and locations, you should be able to beat the game within just a few hours. We were pretty captivated throughout the entire gameplay experience. Even at the times we got stuck, we always found ourselves eager to find out what happens next.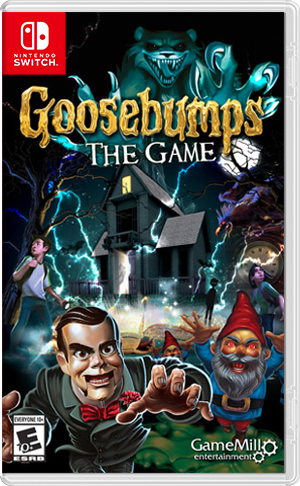 Goosebumps: The Game is out now for Nintendo Switch. The game is also available on Nintendo 3DS, PlayStation 3/4, XBox 360/XBox One, and Steam, so there are a ton of ways to play.
Now that you're in the Goosebumps mood, see if you can ace our Goosebumps: The Movie quiz!