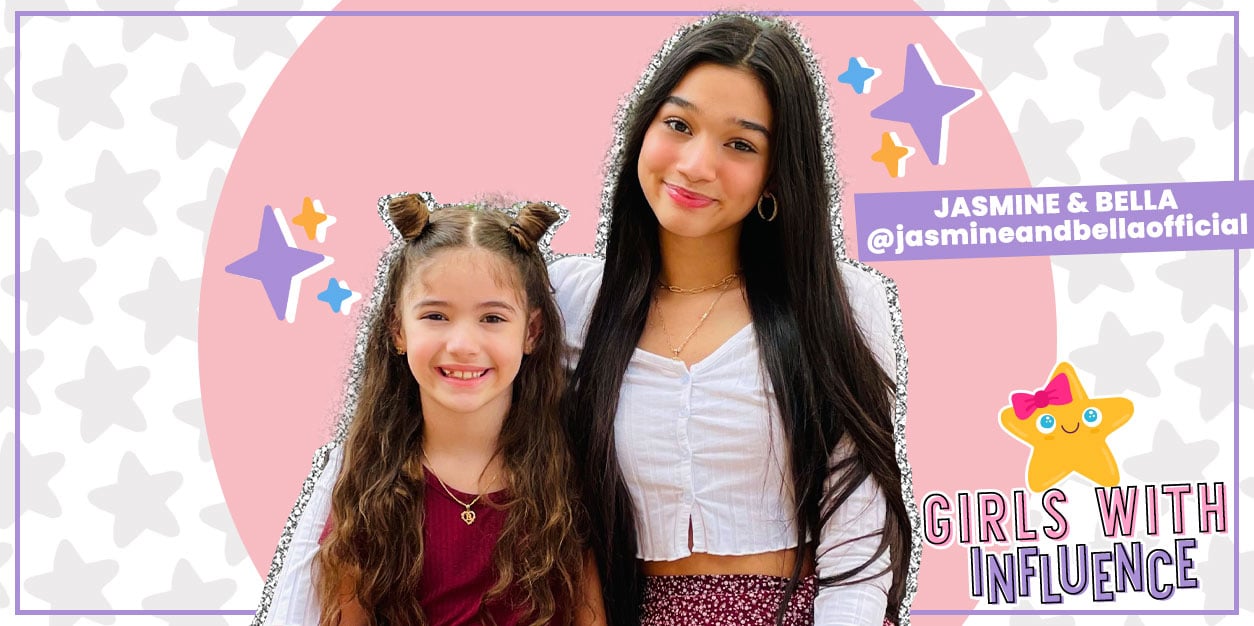 GIRLS WITH INFLUENCE: Jasmine and Bella Mir
GIRLS WITH INFLUENCE is a monthly celebration of girls who are making their mark across social media in a unique and positive way!
These sweet sisters are about to become your newest fav follow! In this month's GIRLS WITH INFLUENCE, we're spotlighting content queens Jasmine and Bella Mir, who you know best from their channel, Jasmine and Bella!
Their channel started like lots of your other favs, Jasmine and her mom were inspired by other creators they loved to watch together, and decided to start their own. They didn't take it super seriously at first though. It wasn't until Bella found out she had Type 1 Diabetes, and always turned to funny videos to cheer her up when she needed shots that they realized just how powerful and inspiring YouTube videos could truly be, and started creating lots of funny family friendly content together!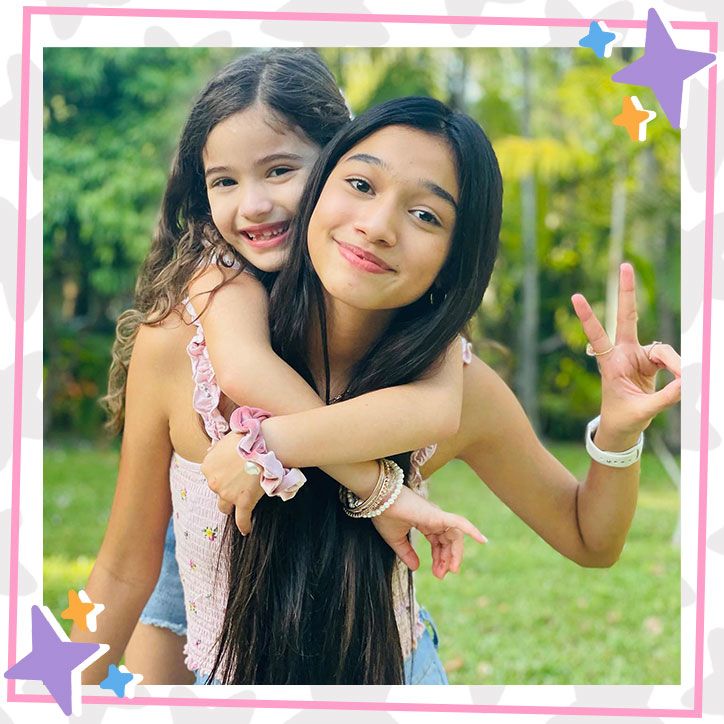 Over the years they've released countless videos across YouTube and TikTok with their mom, dad, and adorable golden retriever, Honey! From last to leave challenges and vids where they eat nothing but gas station food, to vlogs and funny shorts, this sister duo is unstoppable! Jasmine also has her own channel all about fashion, beauty, and teen life, which you can check out here!
Get to know Jasmine and Bella as they chat about their fav types of content to create, why they love making videos together, and more!
Get to Know Jasmine and Bella Mir: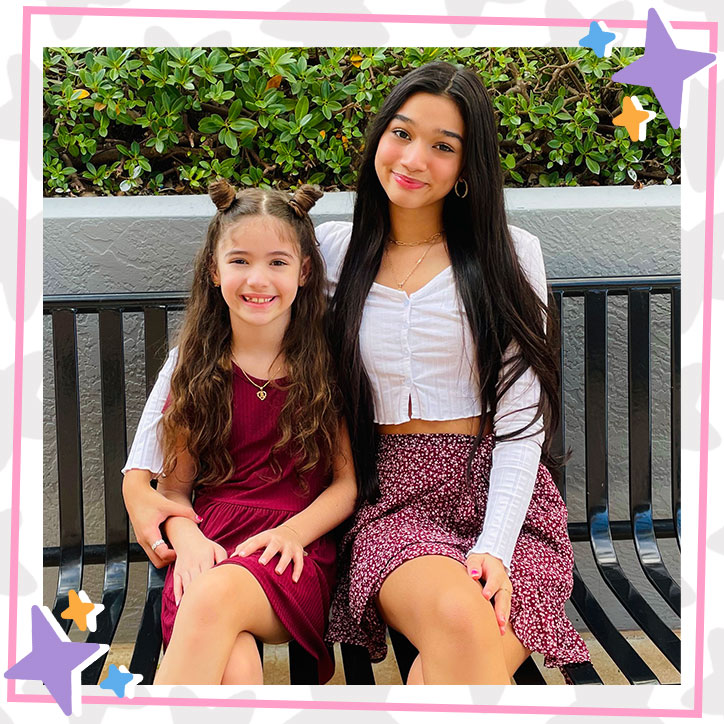 Tell us a little bit about YOU!
JASMINE: I really enjoy making YouTube videos, TikToks, and anything fashion/makeup-related. I also enjoy baking, singing, and dancing!
BELLA: My hobbies are making YouTube videos, dancing, singing, gaming, and making friends.
From TikTok dances to silly challenges, your channel is filled with so much fun content! What inspired you to start your YouTube Channel together?
JASMINE: My mom and I got the idea to make YouTube videos so we started our channel, but we didn't post much at first. Later, Bella got diagnosed with Type 1 Diabetes and she watched videos to cheer her up when she would get her shots. It was what brought her happiness during those difficult moments.
It was then we realized as a family that we wanted to do the same for others and make them smile with our videos!
What are your favorite types of videos to create? What do you love most about creating content as sisters?:
BELLA: I love leave challenges, vlogs, and fidget challenges!
JASMINE: My favorite videos to film are vlogs and pranks.
JASMINE & BELLA: We love that we get to connect with so many people from all around the world and make people happy! We also love that we spend time together and we make so many fun memories that we can look back on.
We hear you LOVE Disney! Tell us about your Disney favs:
JASMINE: My favorite princess is Jasmine. But I also love Ariel. My favorite movie is Tangled.
BELLA: My favorite Disney princesses are Belle and Cinderella. My favorite movies are Encanto, Luca, and Tangled.
JASMINE & BELLA: We both love riding roller coasters. Our favorite rides are Splash Mountain, Seven Dwarfs Mine Train, and Thunder Mountain!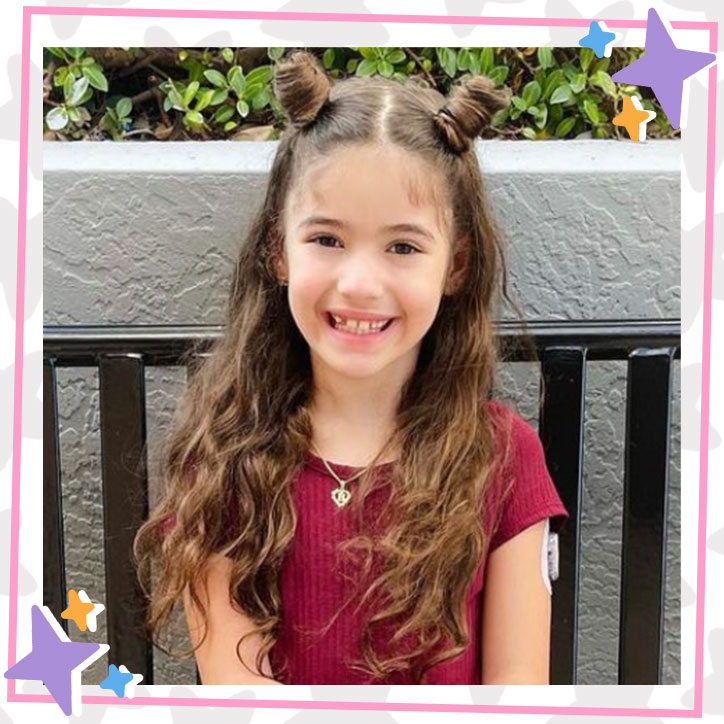 What advice do you have for other girls who want to start their own YouTube channels?:
JASMINE & BELLA: Remember to always be yourself and follow your dreams!
Our dream for the future is:
JASMINE: I would love to have a meet and greet with our fans!
BELLA: I would love to meet more fans and to start a gaming channel.
JASMINE & BELLA: Our goal is to reach 1 million subs! We want to also start posting more family content because we have a lot of fun filming challenges with our parents.
Fav YouTuber/TikToker:
BELLA: My favorite YouTubers are JKrew and Spy Ninjas. On TikTok I like Charli D'Amelio!
JASMINE: JKrew, Nicole Laeno, The LaBrant Fam, and Sydney Serena on YouTube. On TikTok, Avani.
Favorite Colors:
JASMINE: Pink
BELLA: Purple
Our Female Hero Is:
JASMINE & BELLA: Our mom!
Food You Can't Live Without:
JASMINE & BELLA: PIZZA!
Somewhere You'd Love to Travel:
JASMINE & BELLA: Paris and Hawaii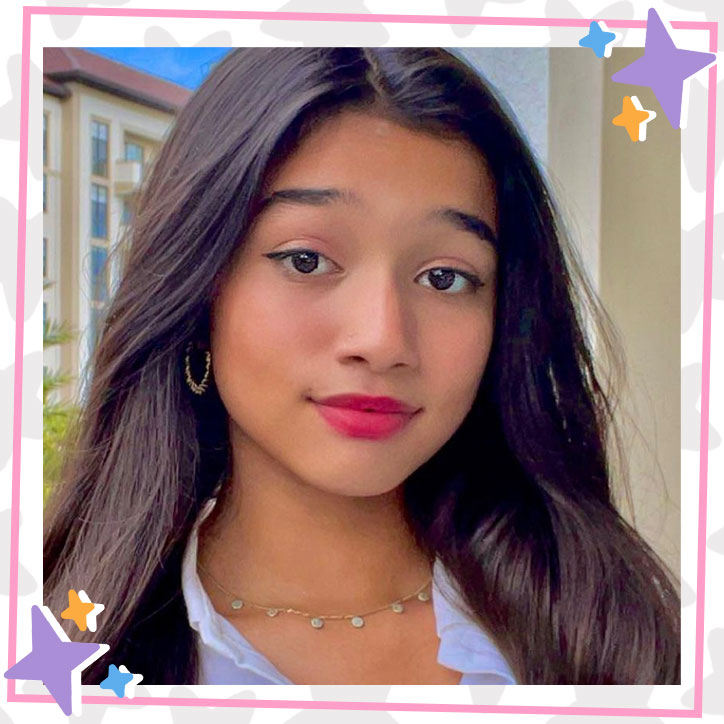 My Go-To Coffee Order:
JASMINE: An iced caramel drink/frappe
Video Game You Can't Stop Playing:
BELLA: Roblox
Best Candy:
JASMINE: Trolli Sour Gummy Worms
BELLA: Lollipops
Someone We'd Love to Meet:
BELLA: Ariana Grande
JASMINE: Doja Cat
Want to get to know even more of your favorite influencers and content creators? We caught up with the Couch Sisters, Pressley Hosbach, Kira McClure, and more HERE!