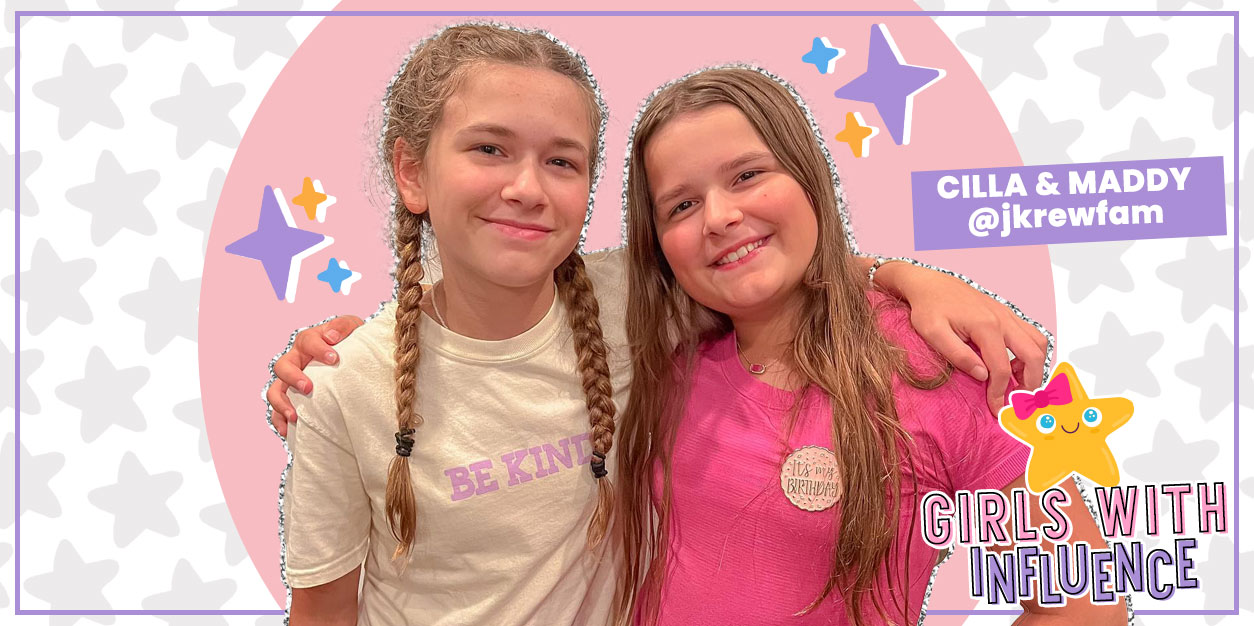 GIRLS WITH INFLUENCE: Cilla and Maddy
GIRLS WITH INFLUENCE is a celebration of girls who are making their mark across social media in a unique and positive way!
Today's GIRLS WITH INFLUENCE spotlight will have you racing to hit like and subscribe ASAP! If you watch more YouTube than actual tv, you might recognize sisters Cilla and Maddy from the hugely successful YouTube Channel, JKrew!
Filled with feel-good family fun, the JKrew channel is filled with challenges, pranks, vlogs, and other videos that keep their fans and followers laughing every Monday, Wednesday, Friday, and Saturday. Whether they're letting their puppies decide their day, recreating old family photos, or even opening a Boba Tea shop in their house, the JKrew Fam has taken YouTube by storm, recently hitting their million subscriber milestone and working with brands like Moose Toys, Nickelodeon, Paramount Plus, Tamagotchi, and Invisalign.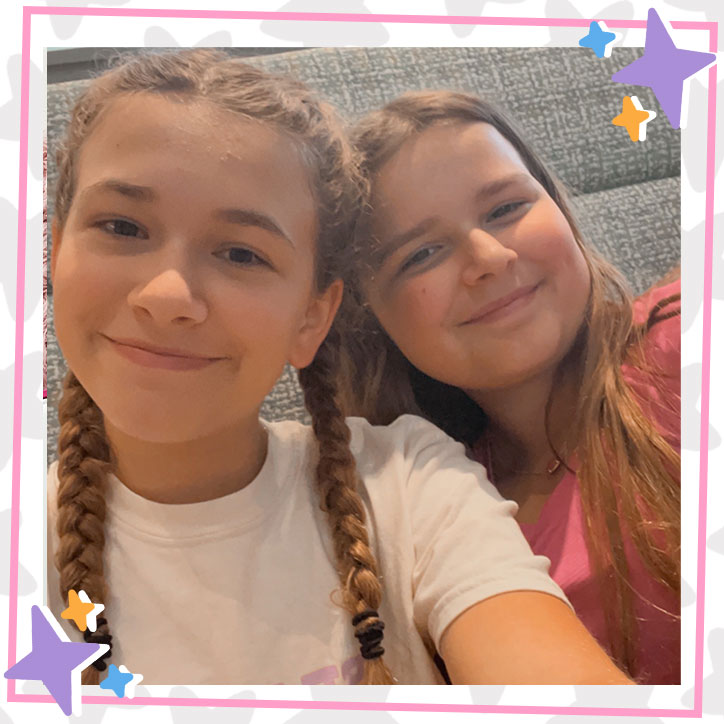 Cilla and Maddy love creating content together so much that they started their own channel that gives their fans a behind-the-scenes look at their life as sisters. They love to share vlogs about their vacations, try out TikTok life hacks, show off their shopping hauls, and more! You can also catch them playing around in Roblox on their gaming channel.
When they're not working on their latest videos, Cilla and Maddy love spending time riding horses together. Cilla is more laid back, and Maddy is more outgoing, but their different personalities only bring them closer together and help them create the amazing content you love.
Want to get to know them better? We caught up with Cilla and Maddy to find out their favorite types of videos to make, their love of horses, and their advice for their fans who are looking to start their own channels!
Get to Know Cilla and Maddy:
Tell us a little bit about YOU!
CILLA: I'm Cilla, and I'm 14 years old! I am very passionate about horses and caring for others. I'd much rather stay home and spend time with family and friends than always be on the move. I love to read, relax, and enjoy learning new things.
MADDY: I'm Maddy, and I just turned 12! I'm very outgoing, and I love makeup, shopping, horses, and dogs. I am always on the move and love going new places and being out and about. I am always looking out for my younger siblings and do my best to make sure I shower everyone around me with happiness and positive vibes!
From Roblox adventures to family pranks and silly sister challenges, there isn't anything JKrew hasn't tackled. What are your favorite types of videos to create? What do you love most about creating content together?
CILLA: My favorite types of videos to create are videos that include lifestyle vlogs about a day in my life. I love creating content together because I love spending time with my family.
MADDY: My favorite types of videos to create are videos that include shopping challenges, of course! When others are shopping for me, those ones are the best, LOL. I love creating content together because we all are so different, and it makes for an interesting video every time!
How do you find inspiration for your videos and keep your content fresh?
CILLA & MADDY: We get inspo from you all, our fans, as well as our favorite YouTubers.
We hear you've been spending a lot of time at your local stable – tell us about your love for horses!
CILLA: I've always loved horses because they make me so happy – the stable is my happy place!
MADDY: I've grown to love horses so much. Horses are so sweet, and I always smile when I'm around them. We share similar personalities.
What advice do you have for other girls looking to start their own gaming channel?
CILLA & MADDY: When it comes to starting a gaming channel, or any channel for that matter, the main focus should always be to have fun doing it and never give up!
Our dreams for the future are:
CILLA: My dream goal is to be an actress as well as a true equestrian.
MADDY: My dream goal is to establish a clothing line and travel around the world.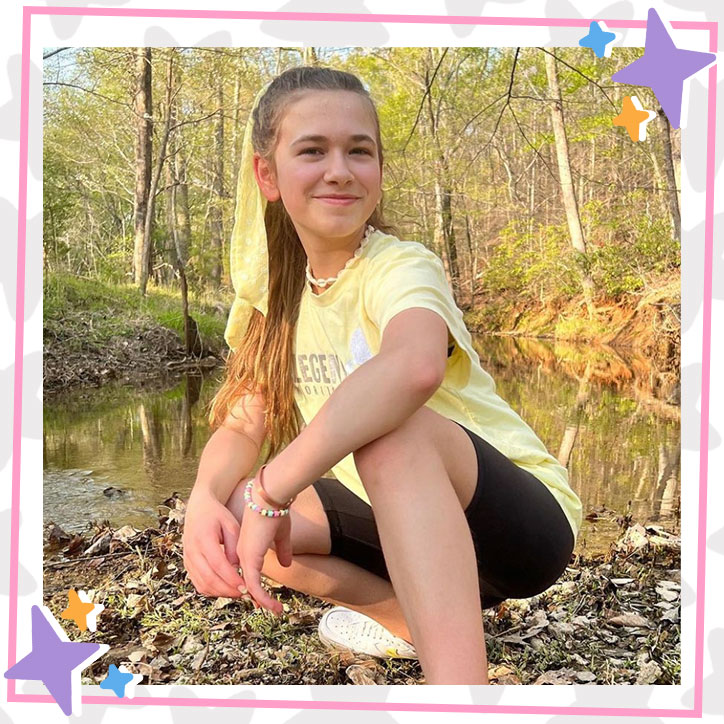 Fav YouTuber:
CILLA & MADDY: Our favorite YouTubers are the Norris Nuts, Jasmine and Bella, HJ Evelyn, Mavie Noelle, and This Esme.
Fav TV Show:
CILLA: My favorite tv show is Stranger Things.
Favorite Colors:
CILLA: My favorite colors are all pastel colors, but if I had to choose, it would be yellow & purple.
How I Make a Positive Impact:
CILLA: I make a positive impact because I always encourage others to try their hardest when times get tough.
How I Self-Care:
CILLA: I self-care by first starting with a clean room, facemask, and finishing with watching a movie with my favorite snack.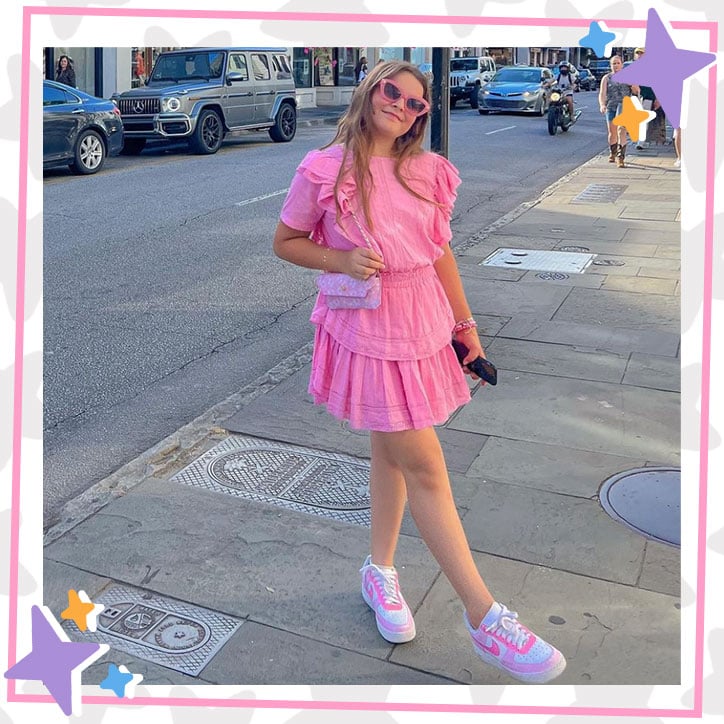 My Aesthetic Is:
MADDY: Preppy at the moment.
Somewhere You'd Love to Travel:
MADDY: I would love to visit Paris!
My Go-To Coffee Order:
MADDY: A caramel macchiato with extra caramel!
Best Places to Shop:
MADDY: LuluLemon, LoveShack Fancy, and Target.
Ready to meet your next must-follow? Our GIRLS WITH INFLUENCE series is all about your favorite influencers and content creators like Jasmine & Bella, Brielle Lopez, Indi Star, and more!