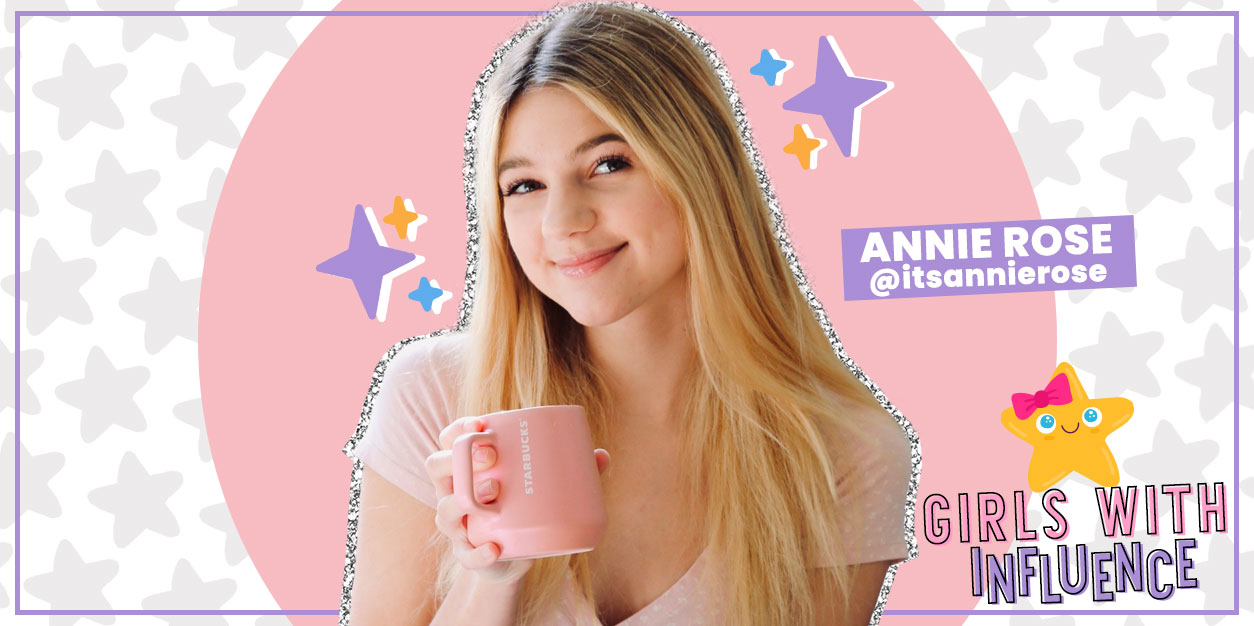 GIRLS WITH INFLUENCE: Annie Rose
GIRLS WITH INFLUENCE is a monthly celebration of girls who are making their mark across social media in a unique and positive way!
It's our first GIRLS WITH INFLUENCE spotlight of the year, and we can't think of anyone better to kick off the year with! Annie Rose is an influencer in every sense of the word, embracing every aspect of being a content creator and a role model for her fans.
Annie Rose has grown up on YouTube, sharing her life with the world through vlogs since she was 9 years old. Her channel has always been a place for self-expression, and through the years, her content and channel have evolved with her as both she and her fans have gotten older. From vlogs about teen life and travel to her new IGTV series about how to live productively and positively, Annie has been a force of influence in the social space, always playing by her own rules.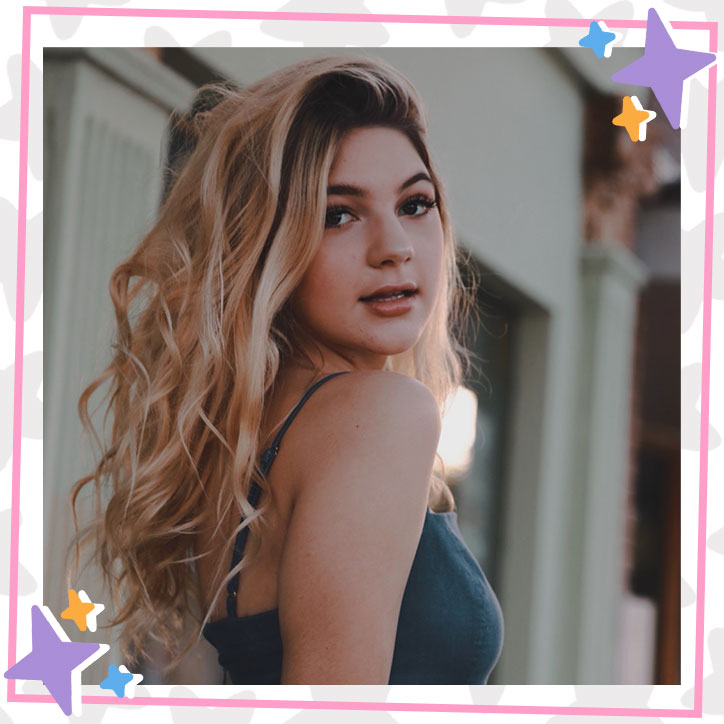 Outside of YouTube, she's just as driven, expressing herself creatively in every way possible – songwriting, poetry, and now through design. With her 15th birthday on the horizon, Annie started a brand new endeavor, Annie Rose Designs, where she's designing beautiful phone wallpapers, social channel art, and custom creations. No matter what she's working on, her message is clear – she lives life to the fullest and wants to inspire her fans to do the same.
Get to know Annie Rose as she chats about starting Annie Rose Designs, her future plans, and empowering her followers to live positively and follow their dreams!
Get to Know Annie Rose: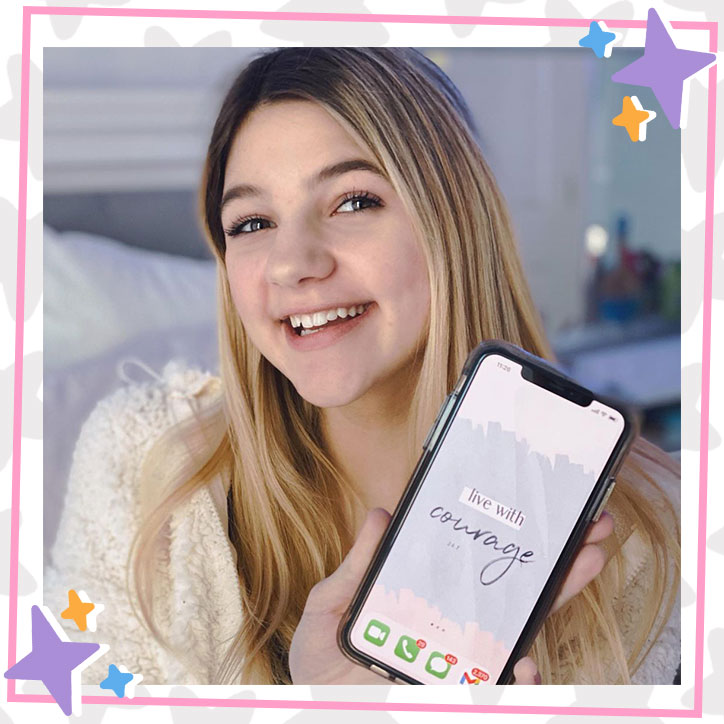 Tell us alittle bit about YOU!:

ANNIE ROSE: Hey guys! I'm Annie Rose. I'm 14 years old. I am a homeschooled, Christian, social media creator. I make content daily that expresses my life honestly and openly and promotes productivity, and hopefully motivates other girls to do the same!

I started on YouTube when I was nine years old and have since then branched off to create on IGTV, TikTok, do songwriting, modeling, public speaking, and now, graphic design. I'm super excited to be here talking with YAYOMG!
Congrats on the launch of Annie Rose Designs! Tell us a little bit about your brand new venture.

ANNIE: Thank you so much!!! The making of Annie Rose Designs was a good example of the fun and freedom of being an independent creator:

I have been creative in many different areas: From video editing to songwriting, painting and interior decorating. Of everything I do, digital design has come most natural to me. Editing videos turned into editing my Instagram photos, and I found I love creating a cohesive feed and making thumbnails, and creating seasonal channel arts and iPhone wallpapers.

Over the school winter break, I got the idea that I wanted to share my digital designs with other people. I had a 30 minute brainstorm meeting with my Momager, researched how to start a website, and launched the website within two weeks! When I was curating my design ideas for Annie Rose Designs, it felt like second nature to me since I've been designing for the majority of my life.
How did you realize you were ready to turn your passion for design into a business?

ANNIE ROSE: I'm a travel girl. I usually take every opportunity to spontaneously jump on a plane for work or go on a road trip with friends. I think that's because my best childhood memories were our yearly family trips to Ireland. Whenever life started to feel mundane, my mom and I would book a flight to LA or New York to find new inspiration. Well, when COVID hit, I didn't have that escape anymore. Everything in my life became sort of routine-like, and when school was finished for the holidays, I decided I needed to start a new project!

After that realization, the idea for Annie Rose Designs came effortlessly. It is a mix of everything I've loved (designing, colors, creating, reaching out to my followers) all in one project.
Your designs are gorgeous – where/how do you find your design inspiration?

ANNIE: Thank you! A lot of the inspiration for my designs starts with the colors. I'll go on a walk, observe a photo I like, or watch the sunrise and pay attention to the details in all the different colors. Once I've chosen a color palette, I'll sketch out random lines and scribbles just to see what happens. I also have a few text fonts and shapes that I use regularly so I'm not always starting from scratch. Sometimes I'll look on Pinterest for some extra inspiration.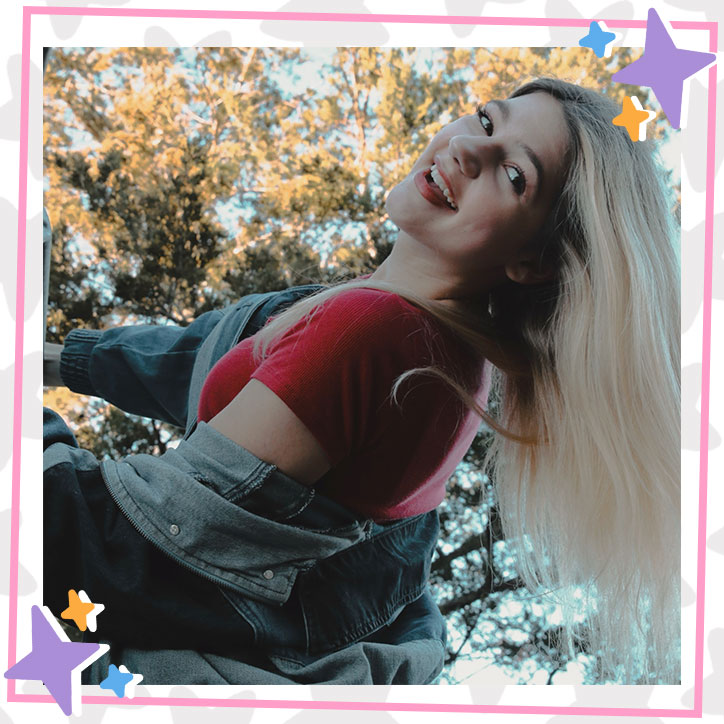 This is how I make a positive impact:

ANNIE ROSE: I like to inspire others to live a full and positive life by sharing my life online and creating and posting my videos, art, and music as an independent artist.

I recently started an IGTV series on my Instagram @itsannierose, and it's all about how to have a productive lifestyle.

I believe that you won't be sucked into drama, gossip, and other pointless things when you're living a good and busy life. I try and help others bring out the best of themselves, whether that is in school or as a friend or finding what they love to do, which can in turn increase enjoyment of relationships, promote happiness, and mental health.
My advice for other girls is:

ANNIE: Kind of like what I was talking about in the question above – don't let yourself be pulled into pointless things like drama and gossip. There's no good that comes from it. It's negative for you and the other people and only brings yourself and others down even more. I also want to encourage girls to build each other up! I premiere all my videos, and I am trying to find the time to be more invested in replying to Instagram and TikTok comments and DMs so that our community is growing closer and lifting each other up.

Lastly, if you want to do something, then don't wait for someone to give you permission! Work hard, research it online, get your parents on board, find a way to make videos or write songs or books or do a sport or design clothing. Whatever it is you want to do, there is a way that you can do it. It may not work out immediately, but if you take those positive steps, you will get there!
Best Way to Relax:

ANNIE ROSE: I work really hard to make sure I never get burnt out. My life can be pretty crazy, and that's why relaxation and rest are so important. My favorite thing to do to relax is to take a long hot shower and use all my favorite bath products – hair mask, face mask, lotion, and other pampering items! Then get into my comfy bed and watch a show or TikTok before going to sleep early so that I can get up early!
Songs I Have on Repeat:

ANNIE: A few songs I always have on repeat are:

1. Of course, driver's license by Olivia Rodrigo! She is so talented, and that song is amazing.

2. All Too Well by Taylor Swift (or really any old Taylor song)

3. I Miss You, I'm Sorry by Gracie Abrams

4. safety net by Ariana Grande

5. Anything by Lewis Capaldi! He's incredible.

These songs always inspire me to write new songs myself!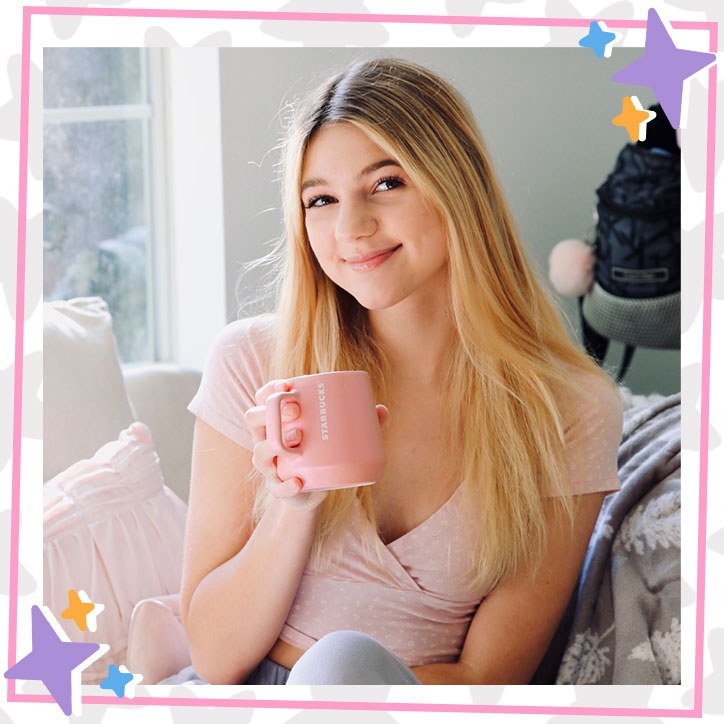 Something Your Fans Might Not Know About You:

ANNIE ROSE: Something my fans might not know about me is that I am very dedicated to school! When I was younger, I struggled with school because I didn't see the value in it, and I was so focused on learning everything about YouTube and video production and songwriting. That totally changed in 2020. I've become super dedicated to growing my education and I am even making my future plans to get into college!
I Am Most Curious About…

ANNIE: Something I'm super curious about is anything coffee related. I love coffee so much! Everything about making it, the smell, pouring in the creamer, and simply the taste. When I get my driver's license, I'm hoping to get a job as a barista simply to learn about the different types of coffee.
What's in my bag?

ANNIE ROSE: On a regular day, I like to carry light, so I have a small backpack. I usually have hand sanitizer, my wallet, my phone, lip balm, gum, and a pen just in case. If I'm going out all day, then I use a slightly larger backpack with a small makeup bag, hairbrush, a snack, and a change of socks. I know the socks are kind of random, but you'd be surprised how many times I take my shoes off and ruin my socks!
Want to know more about Annie Rose? Check out our other interviews with her by clicking here!