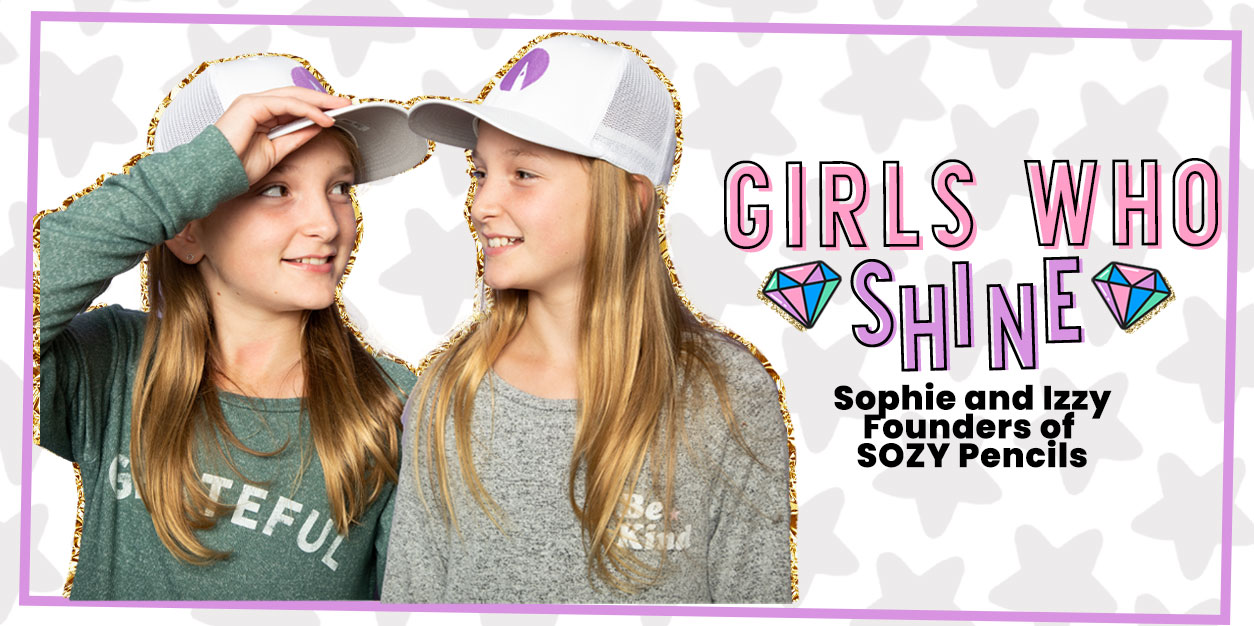 GIRLS WHO SHINE: Sophie and Izzy, Founders of SOZY Pencils
GIRLS WHO SHINE is a brand new series on YAYOMG! where we're spotlighting passionate young entrepreneurs, activists, innovators, and other girls who shine bright in a big way!
Today our GIRLS WHO SHINE series continues with a spotlight on Sophie and Izzy, the innovative sisters behind SOZY Pencils.
Last year, Sophie and Izzy found themselves bogged down during a study-sesh because they had to keep switching between their highlighters and pencils. They were working annotating a textbook, highlighting important passages while also trying to take notes, and were losing a lot of precious study time to swapping tools. They created an on-the-fly hack by taping a highlighter and pencil together, and that's how The Annotator was born!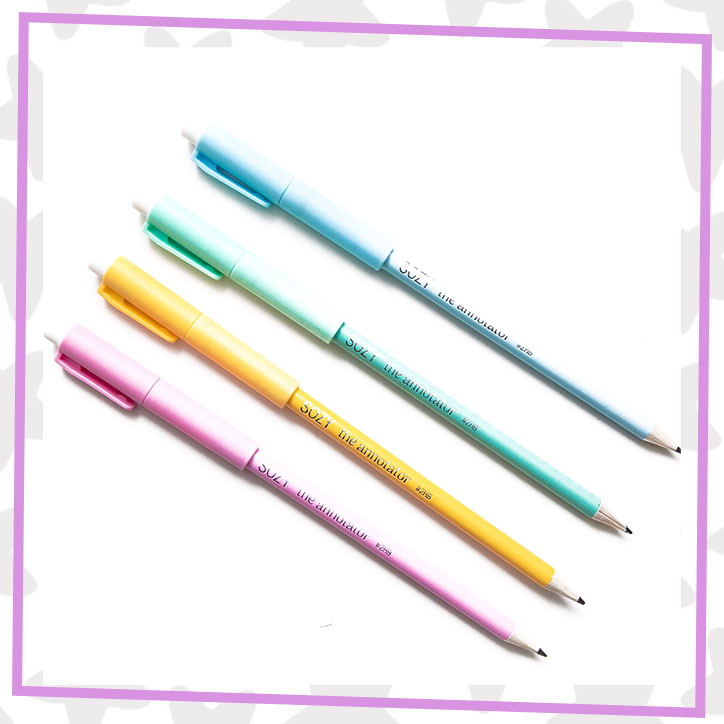 After seeing their idea, their family stepped in to help the girls turn their classroom woes into a real product! Like any great entrepreneur, Sophie and Izzy's invention solved a real-world struggle for students, making homework a little less frustrating.
Fast-forward to today, these twins sisters have made their dreams a reality. The Annotator is sold in over 40 stores, and the line continues to grow. In addition to the pastel and bright shades, they're working on perfecting a set of metallics in time for the holiday season. They also have a stationery line in the works. One of their biggest goals? Seeing an Annotator in the backpack of every student!
We caught up with these amazing sisterpreneurs to chat about SOZY Pencils and what it's like to run a business together!
Get to Know Sophie and Izzy: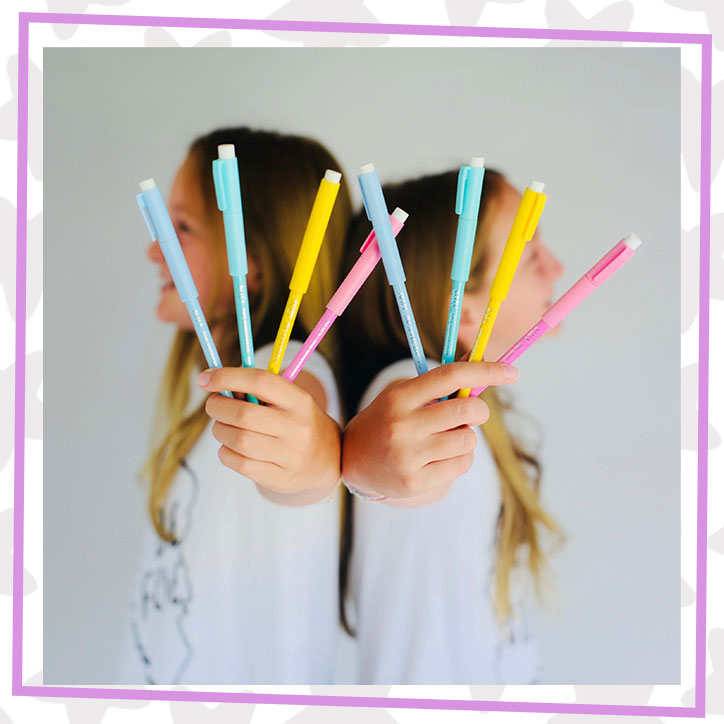 Tell us a little bit about YOU!

SOPHIE AND IZZY: A few fun facts about us:

We love to swim and play tennis.

Our favorite foods are: Spaghetti Bolognese and Ramen

Our favorite sweets are: Boba drinks and Reese's Peanut Butter Cups

Our favorite savory items are: Salt and Vinegar chips
What inspired you to create The Annotator?

SOPHIE AND IZZY: We were annotating a book in class and kept having to switch between a pencil and highlighter, and it was annoying: we couldn't keep up as it took long to switch between instruments.

So, Izzy taped a pencil and highlighter together and it saved time, it was efficient. My mom saw it, and she said let's just buy one, but it turned out it didn't exist, so we found an opportunity to invent one.
Take us behind the scenes a bit – what was it like bringing your product from idea to reality?

SOPHIE AND IZZY: We feel very proud of what we created and invented. We are learning so much about business. It's rewarding to see an idea we had for a product come to life. It's mind-blowing to see our product sold in 40 stores nationwide!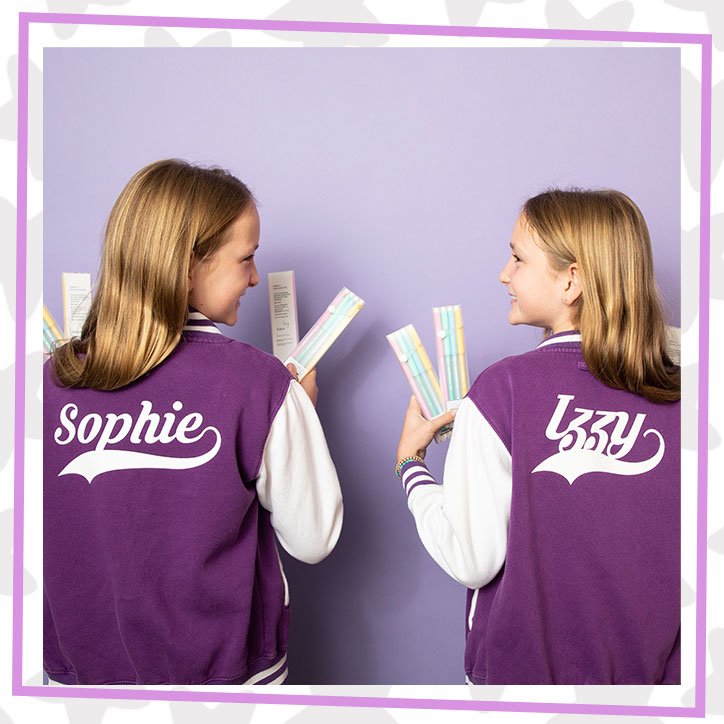 What do you love most about running a business with your sister?

SOPHIE AND IZZY: It's fun and we can experience it together. Also, we find that our ideas often complement each other.
Since it's back to school season, what's the best way our readers can use their SOZY Pencils to thrive this year?

SOPHIE AND IZZY: We love starting the school year with a fresh set of school supplies. The best time to use the Annotator by SOZY Pencils is when you are reading a book for school and need both to highlight important parts of the book and also make notes in the margins of something you want to remember. This way, you just use the one writing instrument.

Another great way to use it is when you are given an assignment (like Scholastic News articles) and have to read the article, highlight, and then answer the multiple-choice questions on the pack. This is the perfect instrument for that!
What's up next for SOZY Pencils?

SOPHIE AND IZZY: We are coming out with a metallic themed pack for the holidays and have worked on perfecting those colors for over 6 months now. Also, we plan to develop a whole stationery line geared towards students.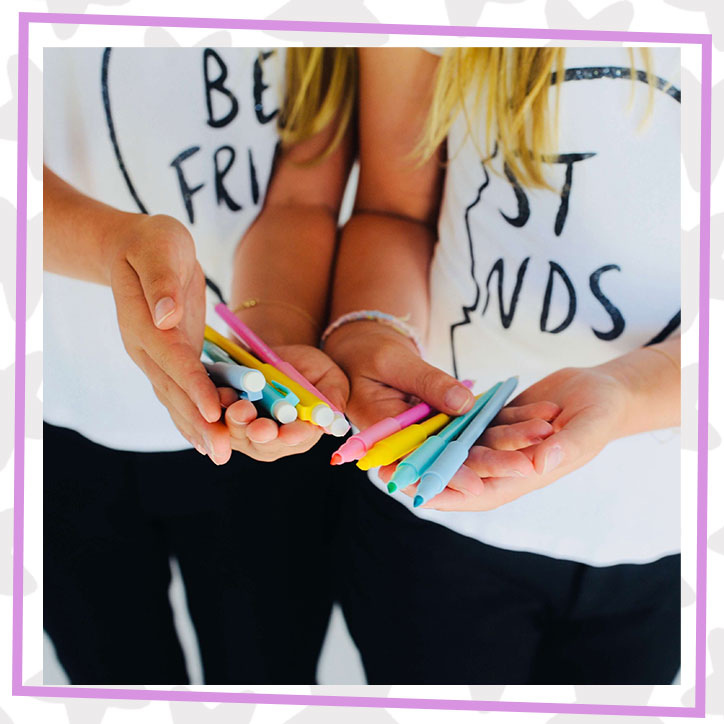 This is how we shine bright….

SOPHIE AND IZZY: We are all about positivity, optimism, and education. All of our messages are centered around kindness, respect, empathy. We are grateful for the education we received and hope to make an impact in this world!
Our biggest dream is…

SOPHIE AND IZZY: We are still figuring it out, but right now, Izzy hopes to be a writer or architect, and Sophie hopes to be a fashion or jewelry designer.
The women who inspire us are…

SOPHIE AND IZZY: Emma Watson, for her efforts on gender equality, Michelle Obama, because she's so strong and such an amazing speaker, and Greta Thunberg, as her initiative on climate change is so impressive.
The advice we want to share with other girls…

SOPHIE AND IZZY: Be confident about your decision and don't give up!

Make sure you think about your product from the customer's perspective. Meaning, how will your product help customers? How will they use it? What role will it play in their life?
We can't wait to see what's up next for these inspiring sisters! Want to snag a pack of Annotators for your backpack? Click here!
Catch up on our GIRLS WHO SHINE series by getting to know activist & philanthropist, Khloe Thompson and Isabella Barrett, teen entrepreneur & girl boss!