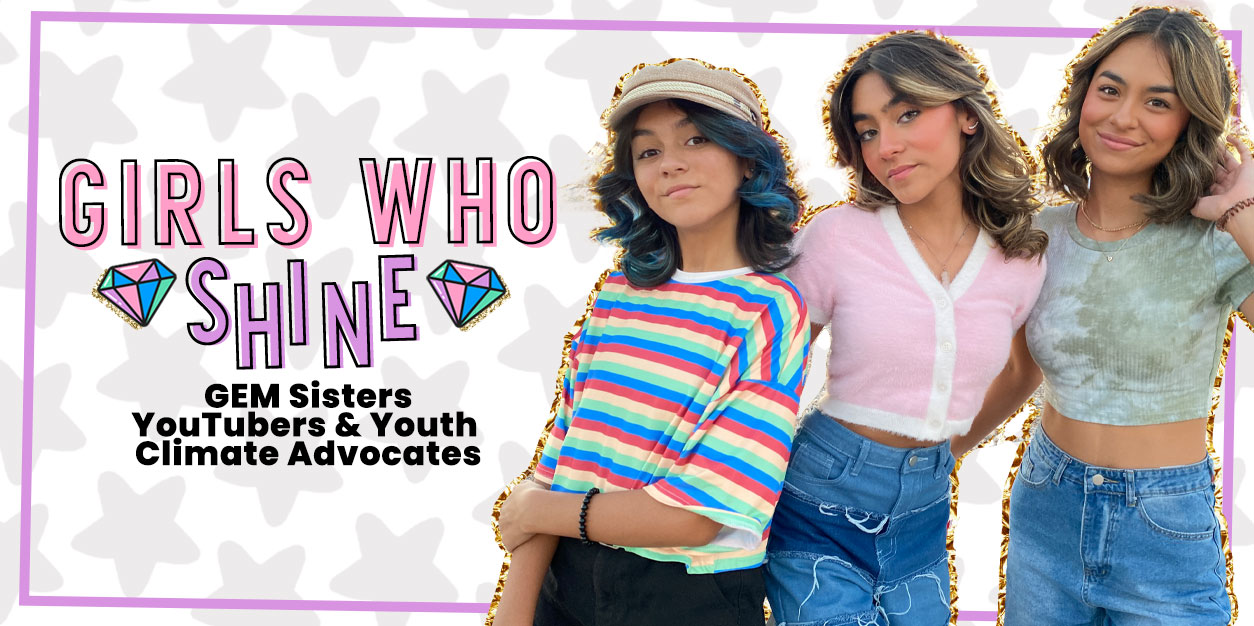 GIRLS WHO SHINE: GEM Sisters, YouTubers & Youth Climate Advocates
GIRLS WHO SHINE is a recurring series on YAYOMG! where we're spotlighting passionate young entrepreneurs, activists, innovators, and other girls who shine bright in a big way!
Our GIRLS WHO SHINE series continues today with social media queens and youth climate advocates Giselle, Evangeline, and Mercedes Lomelino of GEM Sisters!
This sister trio is known for bringing big laughs and silly sister moments to life on their YouTube Channel through funny challenges, skits, vlogs, and more. They've always been about making kids laugh and empowering their fans to be themselves. As they've grown up, they've become passionate about the issues facing kids today, especially saving the environment and the changing climate.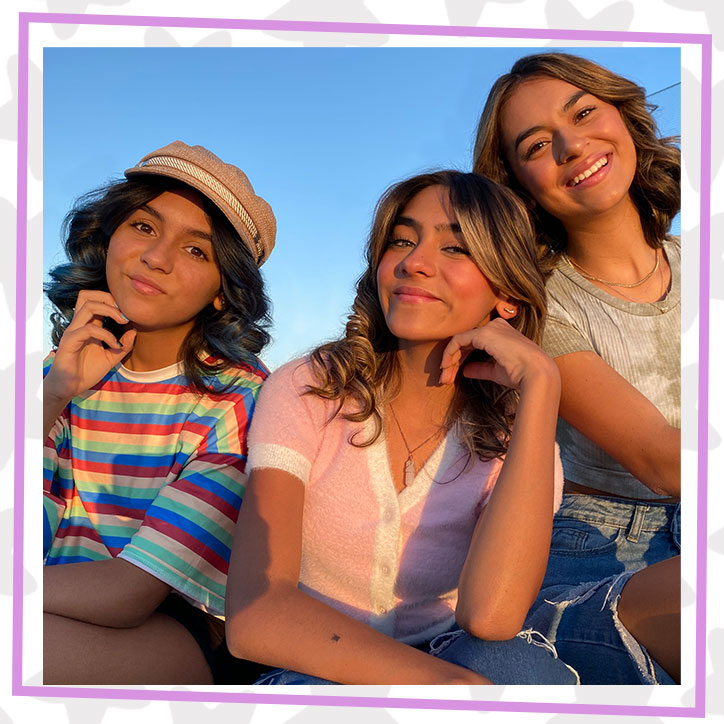 That's why GEM Sisters teamed up with The Big Green, a climate-focused initiative powered by pocket.watch. Using their platforms and their iconic sense of humor, GEM Sisters have created videos about eco-friendly alternatives, clean beauty, and hacks/DIYs. They even have a series on TikTok and Reels called Fundamentals of Being Green! Through their ultra-relatable content, they're able to showcase the importance of being green, living sustainably, and how their fans can join in at home to do their part.
Get to know Giselle, Evangeline, and Mercedes as they dish on all things GEM Sisters, partnering with The Big Green, and their advice for how YOU can make simple green swaps at home!
Get to Know GEM Sisters: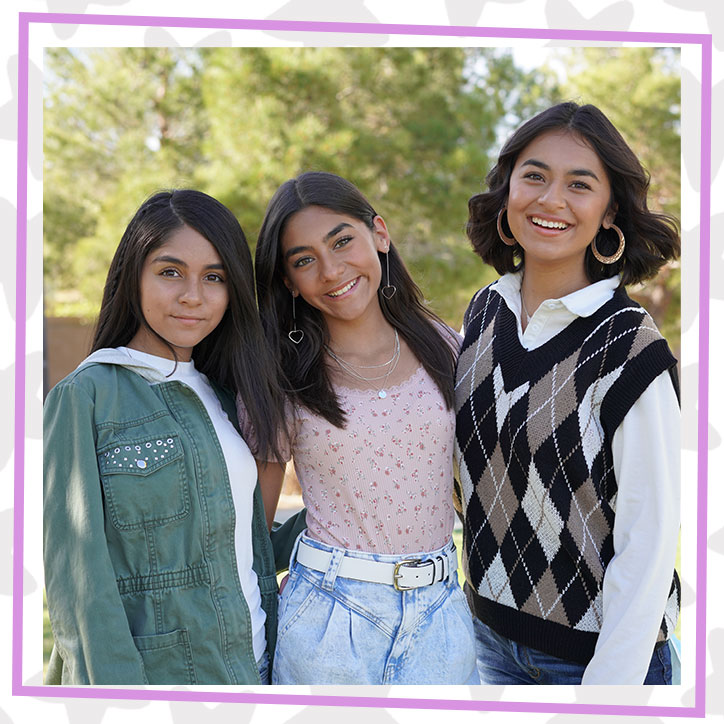 Tell us a little bit about YOU!

GEM SISTERS: We are HUGE movie fans and always love a good movie night! The pandemic has given us the perfect time to binge tons of our favorite series like all of the Marvel movies and The Twilight Saga.
You recently joined forces with pocket.watch to support their environmental initiative, The Big Green to empower your followers to get involved in the youth climate movement. What can you share about your collab?

GEM SISTERS: We are so excited to be a part of The Big Green to empower our audience to make a difference in the world by standing up against climate change. Our goal is to make fun relatable content to show our audience easy things they can do at home to save the planet.

Right now we have a series called the "Fundamentals of Being Green" on Tik Tok and Instagram Reels. We have entertaining weekly videos about environmental tips and hacks. We cover topics from sustainable fashion, to clean beauty, to sustainable alternatives and more!

We also post monthly videos on YouTube. This month we discuss the environmental impacts of the fashion industry and show how to thrift for back to school outfits. Next month we are making DIY eco-friendly Halloween costumes!
What are some ways that you practice eco-friendly living in your everyday lives?

GEM SISTERS: We love using glass jars instead of plastic water bottles for water. Glass jars are also great for storing nuts and dried fruits, and even as cute decor items. We are also huge fans of metal straws and use them everyday!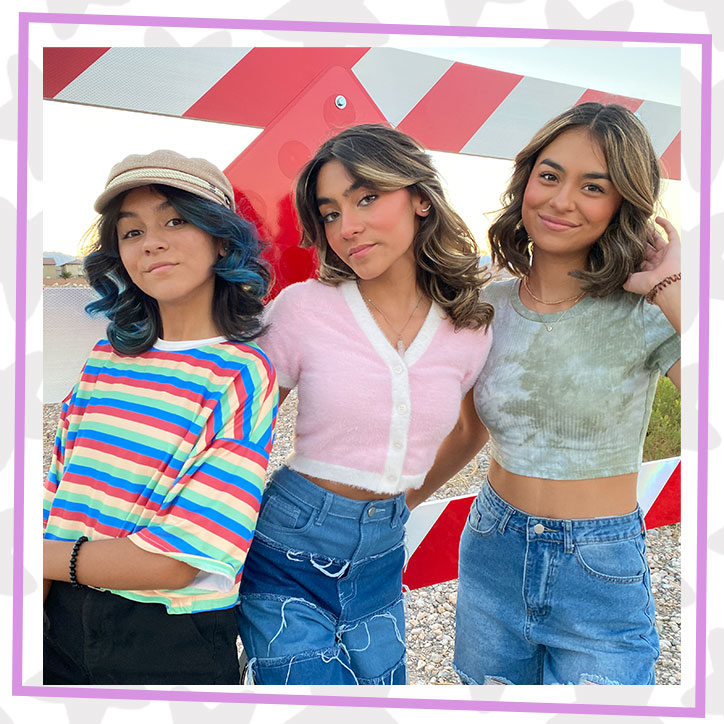 What are your best tips for other girls out there who are interested in living sustainability and doing their part to save the planet?

GEM SISTERS: Take it day by day! We have learned it is difficult to change bad habits. Try to switch one action or item for a more sustainable alternative. And spread the word about climate change to your friends and family. Give them ideas about how they can change their daily habits to be more green.
From YouTube to TikTok, you've always been social media queens! How do you use your socials as a tool for good?

GEM SISTERS: Ahh thanks! That's why we partnered with The Big Green to help encourage our GEMS to also use their social media for good. Be sure to use the hashtag #thebiggreen when posting your eco-friendly habits, so we can see what you're up to.
You recently celebrated your six year channelversary – where do you see GEM Sisters headed in the future?

GEM SISTERS: It's crazy to think we have been on YouTube for 6 years already! We see GEM Sisters growing both on and off YouTube with more Sister Detectives books and maybe even a movie.
This is how we shine bright…

GEM SISTERS: We shine bright by spreading laughter and positive vibes. Our main goal has always been to make families giggle and smile! We love that our platform gives us the ability to do that all around the world.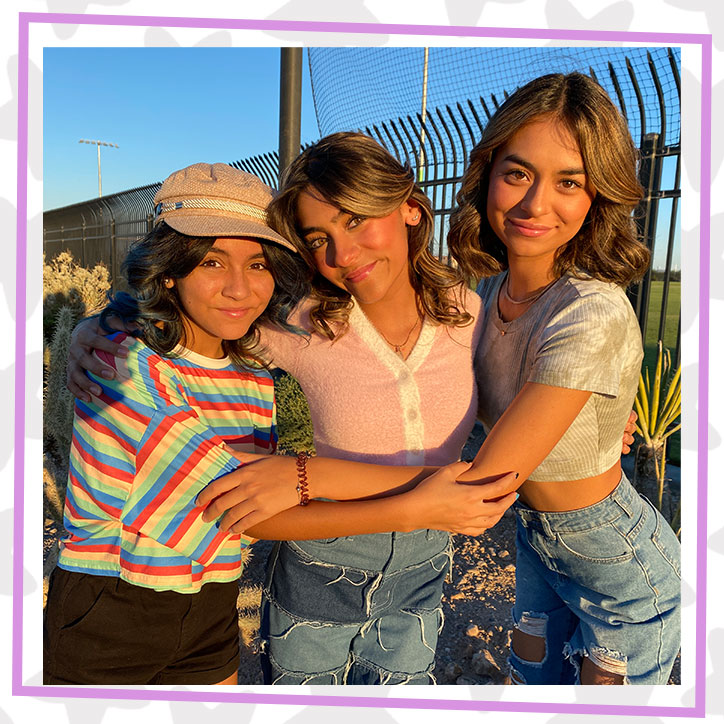 Our biggest dream is…

GEM SISTERS: Our dream has always been to promote diversity and to encourage our GEMS be their unique selves.
This women who inspire us are…

GEM SISTERS: The woman who inspires us the most is our mom. She has taught us how to love ourselves and be the hard working girls we are now. She has sacrificed a lot for us to go for our dreams and we can't express how thankful we are for her.
The advice we want to share with other girls…

GEM SISTERS: The advice we want to share with other girls is to always stay true to themselves. Everyone is different in their own way and that is amazing. We love to tell our GEMS, "You are special. You are unique. You are a GEM!" It's to remind them to be confident in who they are.
In addition to their GEM Sisters channels and Sister Detectives books, Evangeline and Mercedes want you to know about their new channel, too! They said, "Definitely check out our new YouTube channel "Mercedes and Evangeline." We have new music videos coming out on that channel, and we make lots of fun videos about being opposite besties!"