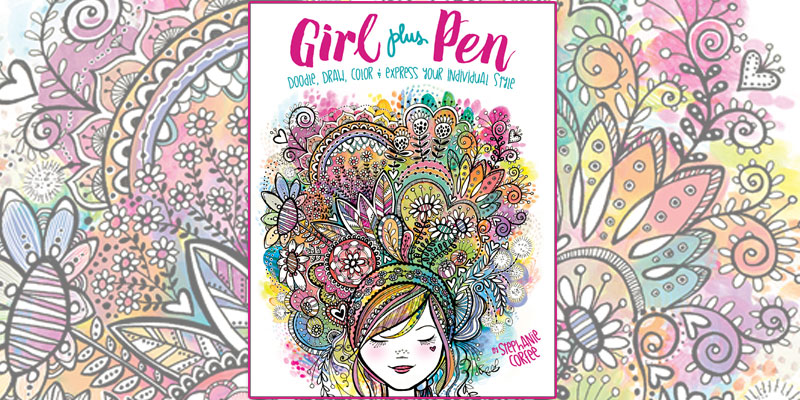 Girl Plus Pen: Doodle, Draw, Color, and Express Your Individual Style
If you're an active reader of YAYOMG, you probably know we're pretty obsessed with creative journaling and other types of books and craft kits that allow you to unleash your creativity and give you guidance to create things you'd never even dream you could do on your own. One of our favorite creators of these types of books is Stephanie Corfee, an extremely talented artist who does dainty, colorful doodles that really elevate your idea of what a simple doodle can become.

She has a few creative art books and coloring books available that you may have heard of, like "Creative Doodling and Beyond" and "Twirly Girly Doodles", which get your creative juices flowing by giving you prompts, tricks, and tips to create beautiful doodles by showing you how to play with line weights, create beautiful lettering, swirls, flowers, borders, frames, and more. Today, her latest book, "Girl Plus Pen" is finally available from Capstone Publishing, and we couldn't be more excited!

"Girl Plus Pen" continues this creative journey with lots of really cute doodle prompts. The cool thing about Stephanie Corfee's books compared to similar types of art books is that there's never any handholding. There's no step-by-step instructions. There's no telling you what to draw. She just provides a theme, like "Borders" or "Names", gives a few really cute examples/tips, and then it's up to you to run wild. Want to try and mimic what she did? That's cool. Rather do something of your own? That's cool do. It's really anything goes in "Girl Plus Pen".
The book also features a guide explaining which type of tools are best for each type of doodling. Things you probably have lying around, like mechanical pencils or gel pens are great for sketching things out and coloring in small details. Other fancier tools like watercolor pens or paint markers can take your doodles to the next level, and can be found at most craft shops for a pretty reasonable price. It really doesn't matter what you use those. Only have crayons? Not a problem! There's no rules when it comes to art, so feel free to use anything you feel most comfortable with.
"Girl Plus Pen" is a great book for any level of artist looking to practice, try new things, and explore a world of cutesy doodles that can be used to decorate pretty much anything you can draw on. For more DIY/Craft Projects, click here!