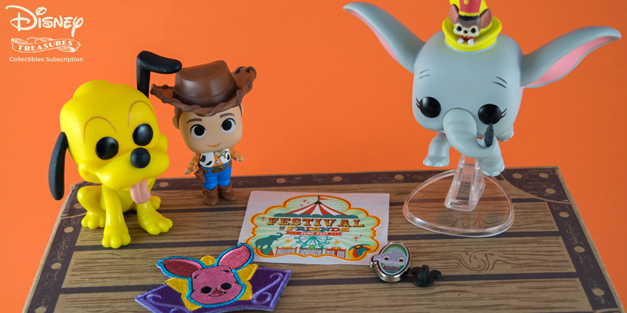 Funko Disney Treasures: Festival of Friends Celebrates Magical Disney Friendships
The second Funko Disney Treasures box has finally arrived, and this time the theme is Festival of Friends! The theme celebrates some of the most iconic friends, side-kicks, and companions in the Disney universe. They really knocked it out of the park with all the goodies packed inside this box.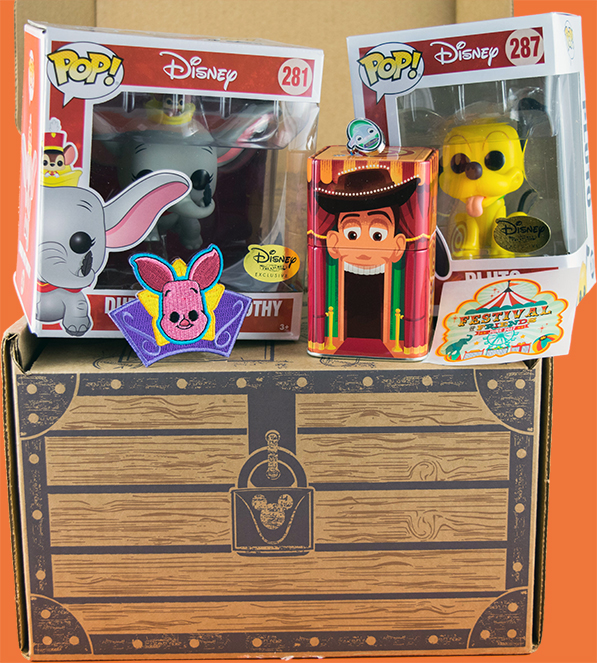 New to Funko Disney Treasures? Every other month, you receive a box that is stuffed with 100% exclusive Disney/Funko products for you to display and collect with pride. While the contents of the mystery items varies from Dorbz to Mystery Minis and pretty much any other Funko product, each box is guaranteed to always contain a POP! Vinyl toy. In the case of the Festival of Friends box, POP! collectors are in for a treat – there are TWO exclusive POP! figures in this box!
Enough of our rambling though, let's see what amazing treasures are waiting for you inside this box, and where this magical adventure will be headed next!
Funko Disney Treasures: Festival of Friends: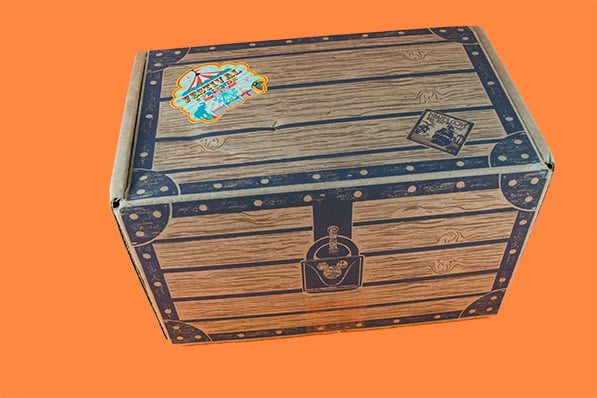 Like the Pirates Cove box back in April, the excitement begins when this awesome treasure chest arrives at your doorstep. We love it when even the box itself is part of the experience, and the Funko Disney Treasures subscription has one of the most fun boxes we've seen to date. Once you open it up, you're met with the very first goodies – your monthly patch, pin, and map filled with fun facts.

Rather than a postcard describing what's in your box, the Disney Treasures box provides you with a treasure map detailing each magical item. There's concept art showing off how the item was made and insider Disney facts about the characters, films, and parks. You'll also find out where the box is headed next!
In this case, the August box will be headed to the Tiny Town location on the map! Tiny Town will feature the best Tinkerbell POP! Vinyl figure we've ever seen, as well as lots of other surprises. Keep reading to see a sneak peek!
Patch, Pin, and Sticker: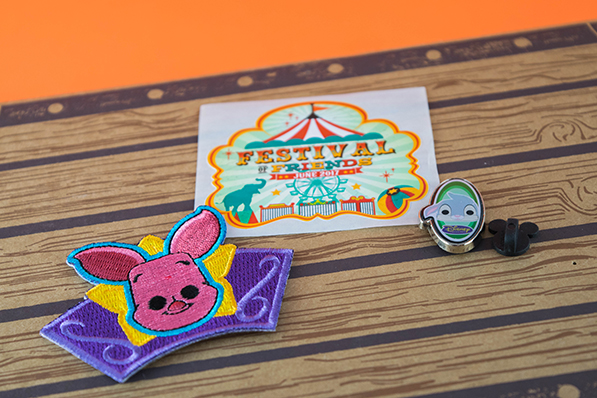 Every Disney Treasures box comes complete with a patch, pin, and sticker that suit the theme of the box. Since Festival of Friends is all about friendship and adventure, this box starts off with two iconic Disney besties who've been on many adventures together. The adorable patch features Piglet, Winnie the Pooh's #1 BFF (and top-notch worrier). It's super colorful and an amazing quality patch that you'll definitely want to show off to everyone you know.
The pin features Thumper, Bambi's totally loveable and always silly best friend. This pin is somehow even cuter than the Pirate Mickey pin from last month. We have a feeling this box is always going to out-do itself and really bring the excitement to the next level every single time.
Each box also contains a beautifully designed sticker, as you can see above.
Dumbo with Timothy POP! Vinyl: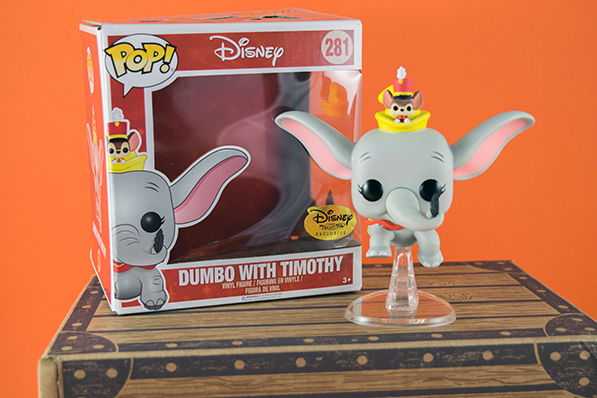 Dumbo and Timothy are a classic duo, almost as iconic as Mickey and Pluto, so it makes sense that they'd be the featured POP! in the Festival of Friends box. Every detail of this oversized POP! is perfect, right down to the tiny feather in Dumbo's trunk.
There are other Dumbo figures out there, but this is the only one that features both Dumbo's loyal companion Timothy the mouse as well as a flying position. It's also a Disney Parks inspired item, as every park around the world has a Dumbo attraction inside.
Woody Disney Mini Tin: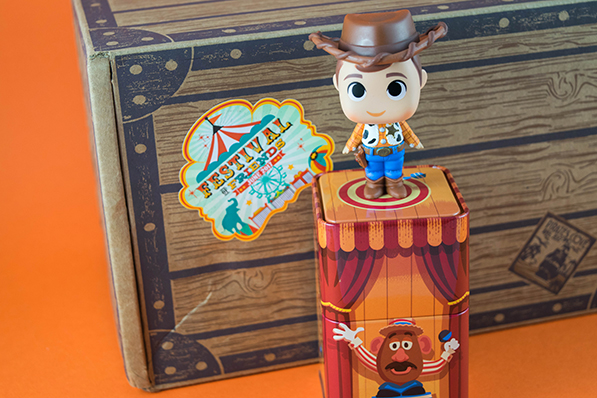 Howdy, howdy, howdy! Since the theme song for Toy Story is "You've Got a Friend in Me", it makes total sense that Woody found his way into this month's box. We're loving these Disney Mini Tins because the artwork on them is incredible (check out last month's here!) and we definitely hope that Funko includes lots of more of these in future boxes.
Rather than being themed to the Toy Story movies, this tin features scenes inspired by the super fun Toy Story: Midway Mania ride that totally suits the carnival theme of this box. All of Woody's little details are perfect, right down to the drawstring on his back and the metallic spurs on his boots, but we gotta say – we were a little sad that it doesn't say Andy under his boot. It doesn't make this figure any less adorable though, and it's actually our favorite item in the box.
Pluto POP! Vinyl: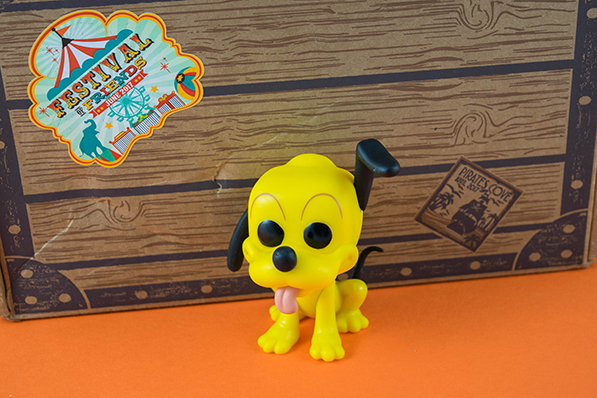 Like we mentioned earlier, this box came with not one POP! Vinyl Figure, but two! Mickey's loyal best friend Pluto looks beyond cute as a POP! – just look at his ears and tongue! The best part of this figure? Funko has never released a POP! of Pluto before, this is the first one ever!
This is the second Funko Disney Treasures box of the year and the second box to feature a completely new character POP! figure. If that's not a reason to sign up, we don't know what is. For toy collectors and Disney fanatics, this was a truly special surprise.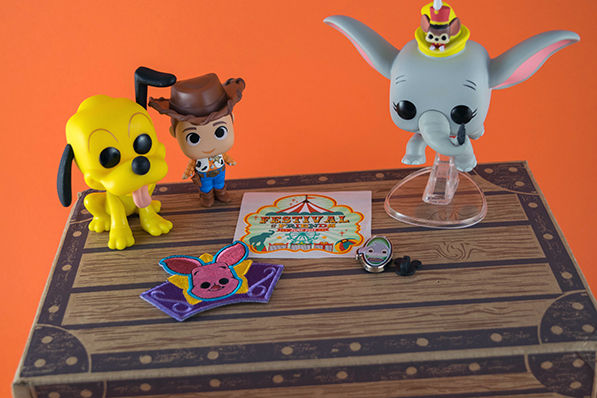 That's everything! Were you as thrilled with your box as we were? We've got to admit, this second box did not disappoint and we liked it even better than the first. Some things we hope for future boxes? Definitely wearables, more Dorbz Rides, and even more of our favorite characters. Besides Tink, our guesses for Tiny Town include the Dwarves from Snow White, Flick or Heimlich from A Bug's Life, and possibly Remy from Ratatouille. Pascal from Tangled would be a really cute choice too. While our guesses may not come true, we're definitely looking forward to the Tiny Town box this August.
Here's the concept image for the Tinkerbell POP!, look at all that fairy dust!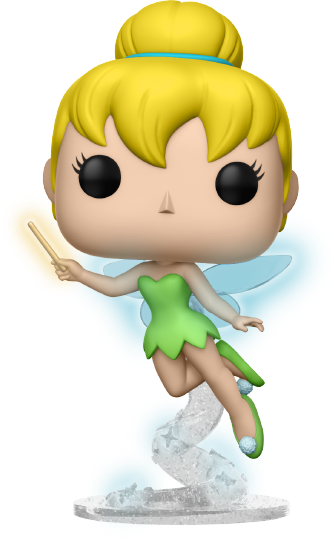 Want a Funko Disney Treasures box of your own? You can sign up for the Tiny Town box until August 1st. There are 3 different plans available, each around $30/box, with discounts for longer subscriptions. Each box contains over $50 worth of items, so it's a pretty great deal. Funko is also allowing subscribers to purchase past boxes while supplies last, so if you missed Festival of Friends or Pirate's Cove, you've still got a chance to snag them. Just don't forget to ask your parents first.
Love the excitement of opening up a surprise every month? Here's some other subscriptions we totally love.