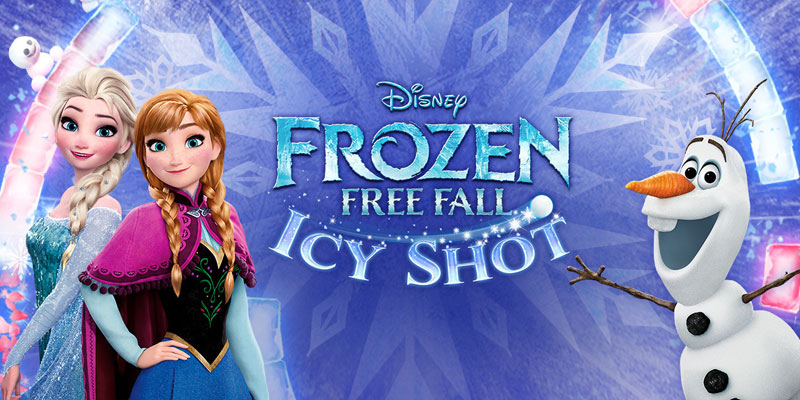 "Frozen Free Fall: Icy Shot" is Magical Puzzle Goodness
For the first time in forever, there's a brand new "Frozen" mobile game from Disney! "Frozen Free Fall: Icy Shot" is the second game in the "Frozen Free Fall" series, and it's even better than the first! (Or maybe we just think that because we're legit obsessed with Peggle?) Have a look here.
In "Frozen Free Fall: Icy Shot", you'll get to experience Arendelle like never before! As you complete each of the over 100 levels, you'll explore a new section of the kingdom and encounter icy new puzzles. (You can even play inside Olaf's Summer Dream!) If you've ever played "Peggle", you'll be able to jump right in without ever blinking an eye. If not, don't fret – Elsa teaches you how to use her magical icy powers to break the ice bricks and fling snowballs around in a flurry in order to save the ice covered Arendelle from eternal winter.
All you need to do is move the snowflake cannon, aim your snowball, and let it go! Compared to the original "Frozen Free Fall", this game has improved graphics and even has character voiceovers to make you feel like you're really there with Elsa, Anna, and the rest of the gang.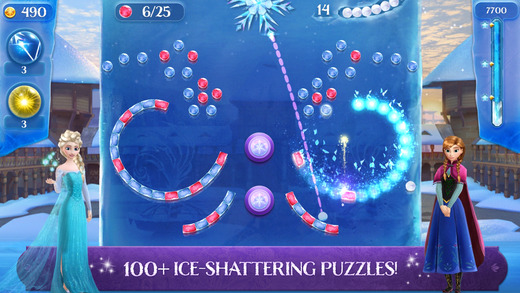 Along your icy puzzle journey you'll encounter Anna, Kristoff, Marshmallow, Olaf, and of course, the adorably mischievous Snowgies! There's lots of boosters and combos you can unlock and of course, the Free Fall celebration when you beat a level, which helps you rack up points to help you climb the leaderboard in magical style. Boosters include Colossal Snowballs that make your snowball huge, helping you knock out even more ice bricks at a time and the awesome Flaming Snowballs that melt away the ice and snow – probably the best Booster in the game.
In addition to the helpful Boosters, there's also a ton of power-ups you can unlock too! Use Boosters and Power-Ups together in order to get outrageously high scores!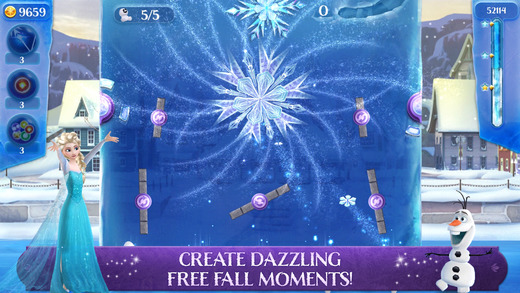 There's also an Oaken's Cloakens shop where you get a Free Spin each day in order to earn keys that can be used to unlock chests containing coins, power-ups, and boosters. The game DOES have in-app purchases, but if you're patient in waiting for your lives to refill and are okay with earning boosters rather than buying them, then you really shouldn't ever need to spend a dime. We're up to Level 30 so far and haven't made a single purchase, we've just been strategic about only using our boosters and power-ups on particularly tricky levels rather than using them as soon as we earn them.
"Frozen Free Fall: Icy Shot" is now available for FREE on the Apple App Store, Google Play, and the Amazon App Store, so why not give it an icy shot and see how you like it?