8 Free Comic Book Day 2017 Reads We're Excited For
Free Comic Book Day is basically the best day ever for anyone who loves collecting and reading comics. Never read a comic before? Free Comic Book Day 2017 is the perfect time for you start! Tons of comic book publishers put out small, completely FREE issues of their most popular or new comics to try and entice new readers. Grab a few different things and see what speaks to you. Just make sure to get there early, as these issues always fly off the shelves super fast! This year's event is this Saturday, May 6th.
Hundreds of comic book shops around the world participate in the event, meaning there's likely a shop near you that you can stop into and snag a bunch of free reads. While it's super exciting to get a bunch of stuff for free and get your hands on a bunch of new comics, there's more to FCBD than just the free comics thing. FCBD gets everyone from die-hard comics fans to brand new readers visiting their local comic shops, so why not consider supporting them while you're there? If you can spare a little bit of your allowance, it can truly help keep your local comic shop afloat.
There a ton of different FCBD reads being released for the 2017 event, but we picked a few we think you guys will love.
Our Free Comic Book Day 2017 Picks: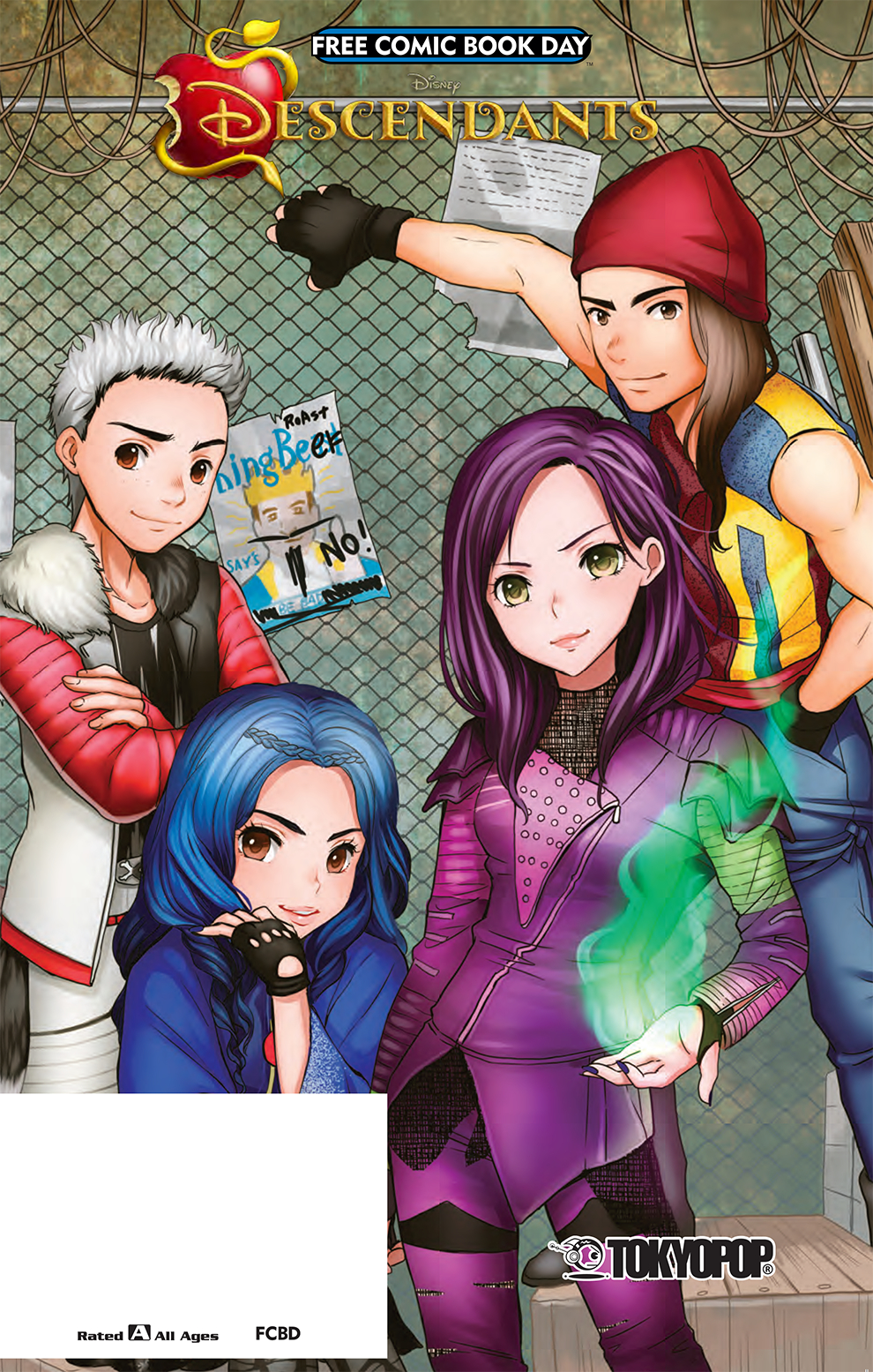 Descendants Manga – Tokyo Pop:
Would we even be us if a Descendants related thing existed and we didn't share it with you guys? Fans of the Descendants novels and movies are definitely going to want to pick up this Free Comic Book Day 2017 preview of the upcoming Descendants manga from Tokyo Pop. The manga series is based on the Descendants movie, so the story will be super familiar to fans of Mal, Evie, Jay, and Carlos – but who wouldn't want to see their adventures come to life in a whole new way? The illustrations are drawn in an adorable Japanese inspired style (even Maleficent looks totally cute!) and every panel is practically popping off the page with color. It's sure to be a wicked read that's rotten to the core! The first full volume releases in June, so you'll definitely want to hit up your local comic shop again to pick that up.
Need something to read in the meantime? Tokyo Pop publishes TONS of other Disney Manga, including Beauty and the Beast, Nightmare Before Christmas, Finding Nemo, and Alice in Wonderland.
Digging seeing the Villain Kids rocking a different art style? Check out the Descendants/Ever After High mashup we did!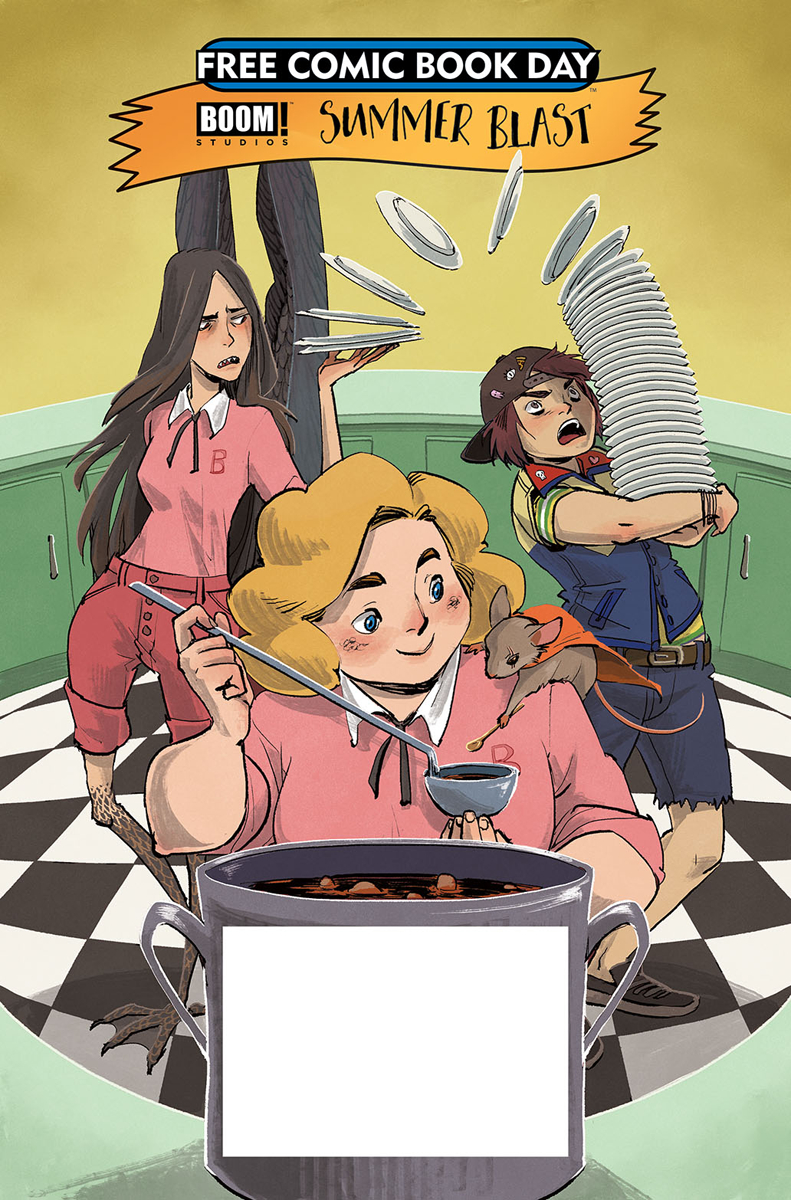 BOOM! Studios Summer Blast – BOOM! Studios:
BOOM! Studios publishes a ton of amazing comics you've probably read (or at least heard of). Adventure Time, Lumberjanes, Goldie Vance – do any of these ring a bell? Each year BOOM! uses their FCBD issue, the Summer Blast, to feature a short preview of a few different series they publish to help get new readers excited about comics. This year they're giving readers a peek into 3 amazing series – Mouse Guard, Brave Chef Brianna, and Coady and the Creepies.
Mouse Guard by David Petersen
Mouse Guard is beautifully illustrated and totally charming adventure of two young mice learning what it means to be a hunter. Fans of novels like The Rat Prince or Mice of the Roundtable will definitely love this read. It's also a great jumping off point for anyone looking to get into comics for the first time.
Here's what creator David Petersen told Free Comic Book Day about why he thinks Mouse Guard is so popular:
"On the surface, I think it's the blend of "cute" and "fierce." That's what I find draws a lot of new readers to my table or booth at conventions; they see the little mouse with the sword and a scrunched-up, determined face and they want to know more. On a deeper level, I hope it's because people relate to the very small overcome and triumph against all odds much larger than them." (Full interview here)
Brave Chef Brianna by Sam Sykes and Selina Espiritu
What can we say about this series that we haven't already? Brianna dreams of opening her own restaurant. When her father falls ill, he challenges Brianna and her 15 brothers to open up the best restaurants they can across all different cities. The only place she can afford to set up shop? Monster City. Not only will Brianna have to survive a new city on her own, she'll have to learn to cook for a whole new clientele – monsters! This series is so charming and funny, it's one of our most favorite reads. Want to get to know this series a bit better? Check out our interview with the creators!
Coady and the Creepies by Liz Prince and Amanda Kirk
This series packs a triple punch of LOLs, punk rock, and paranormal vibes. Hardcore ladytypes who love Lumberjanes will definitely want to check out Coady and the Creepies – and even BOOM! agrees. The Lumberjanes show up at a Creepies concert in this special issue to help introduce the series to new fans. We've got review of the first two issues for you here and here if you're dying to know more!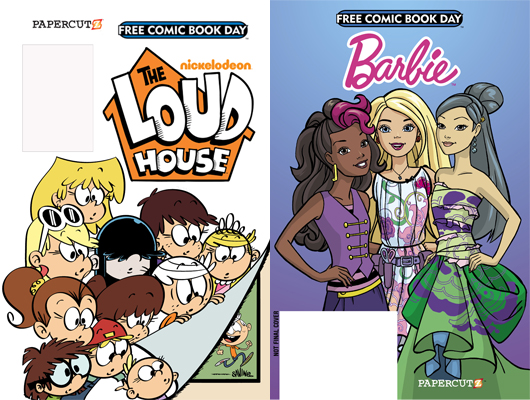 Barbie/The Loud House from Papercutz:
Papercutz is the #1 publisher of Kids' Graphic Novels, publishing both a mix of fun GNs based on your favorite shows/movies as well as original titles. Their books are always super fun to read and are made with kids in mind. Here's what you can expect from their FCBD offerings:
Barbie:
We're not sure if you know this, but Papercutz actually publishes THREE different Barbie stories, all of which are already available. There's Barbie: Fashion Superstar, Barbie: Puppy Party, and Barbie Starlight Adventures: The Secret of the Gems. Whether you're into space, fashion, puppies, or all 3 – there's a Barbie graphic novels series for you. That's one of the best things about Barbie, really. She can be anything she wants to be, and so can you – starting with those big dreams of becoming a kid who reads comics!
The FCBD issue features a sneak peek at Barbie's struggle to become a fashion designer and her journey to save the planet.
The Loud House:
Take a first look into the new Loud House graphic novel on Free Comic Book Day! The full book comes out on May 9th, so you'll get to see a preview of the issue before it comes out. Pretty cool. The Loud House graphic novels are written by show creator Chris Savino himself, so you're guaranteed to have authentic Loud House antics plastered between the covers. Pretty awesome! If you're a fan of the Nickelodeon series, you'll definitely want to snag this FCBD preview this Saturday.
Papercutz also just released a tween-girl focused line of graphic novels this week. The new line is called Charmz, and it's already got 3 titles you can pick up while you're at the comic shop for Free Comic Book Day 2017! Want to know more about Charmz and see how you can rock the characters' fabulous style? We created a Style Series just for that very reason!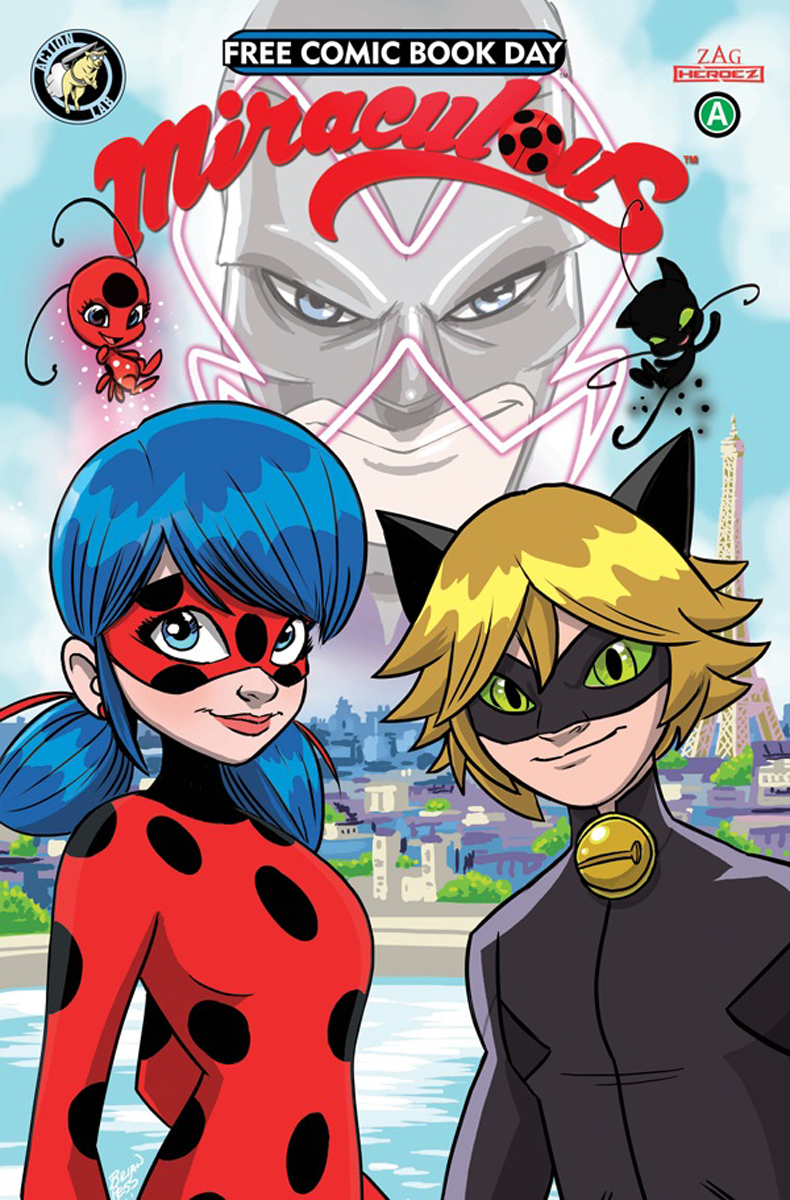 Miraculous Adventures from Action Lab:
Spots on, Miraculers! Last year we told you guys all about the original Miraculous comic from Action Lab, and now we're here to spread the word about something even more exciting. While the first comic series featured artwork and storylines taken directly from the cartoon, Miraculous Adventures is fully illustrated and features brand new stories. That's right – even more swoon-worthy moments between Marinette and Adrien, even more Chloe being a total mean girl, and even more action-packed awesomeness from Ladybug and Cat Noir. It's going to be amazing, and you can get a first look on Free Comic Book Day! The first issue doesn't hit shops til July, so you'll definitely want to try and snag this one early. Claws out!
While you wait, find out if you're a Ladybug or a Cat Noir by taking our Miraculous Quiz!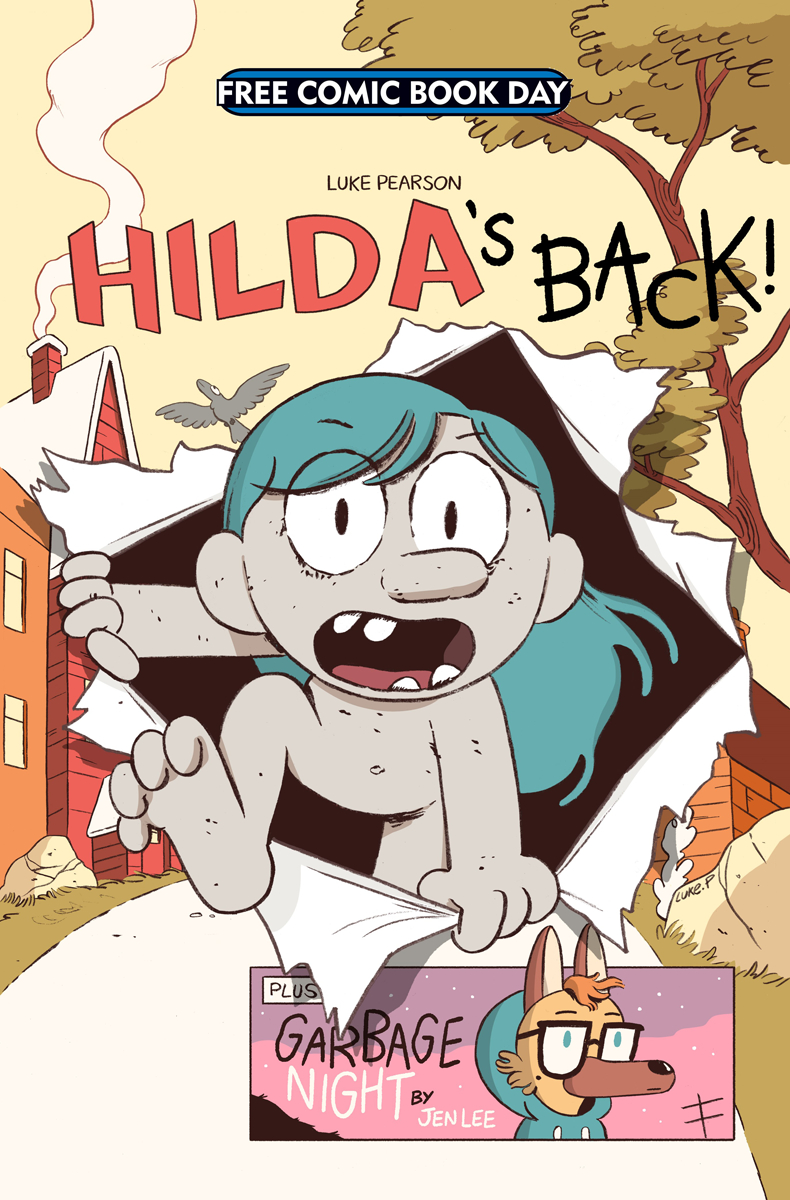 Hilda's back and she's still totally naked! If you're not a fan of Hilda, let us help you catch up. The last time we saw this silly blue haired girl, she woke up in a cave with no clothes and had been turned into a troll. She'll need the help of some serious magic, her mom, and some new friends to turn back into a human. Here's to hoping she finds some pants along the way! There's already a TON of books in the Hilda series by Luke Pearson, so if you love this preview, there's plenty more out there for you to enjoy. She's even getting her own Netflix cartoon in 2018!
TBH, we love Hilda, but we're total fangirls over Garbage Night. When we first saw the artwork for Garbage Night by Jen Lee, we basically BEGGED our friends at Nobrow to send us a copy. Thankfully, they're super nice and they did. We're totally obsessed with this story, and we think you guys will be too. We'll have a full review up on the site when it releases, but if you're into quirky animals, amazing art, and mysterious stories, you'll definitely want to check out the FCBD preview of Garbage Night inside the Hilda issue.
Monster High from Titan Comics:
Monster High fans, get excited! In this extra special FCBD issue, Monster High is having a science fair! Frankie is ready to use her electric powers to cause some buzz, Drac is going to study solar power, Lagoona is all about marine biology, and Cleo is so confident, she never backs down from a challenge. Unfortunately, Clawdeen struggles with her science project and runs away. Will Draculaura, Frankie, Lagoona, and Cleo be able to find her and help her before it's too late? If you're a fan of Monster High magazine, you know that there's scary great comics inside every issue. This gorgeously illustrated comic is a fangtastic way to experience Monster High in a way you never have before.
Can't get enough of these freaky fab ghouls? Check out more Monster High thrills here!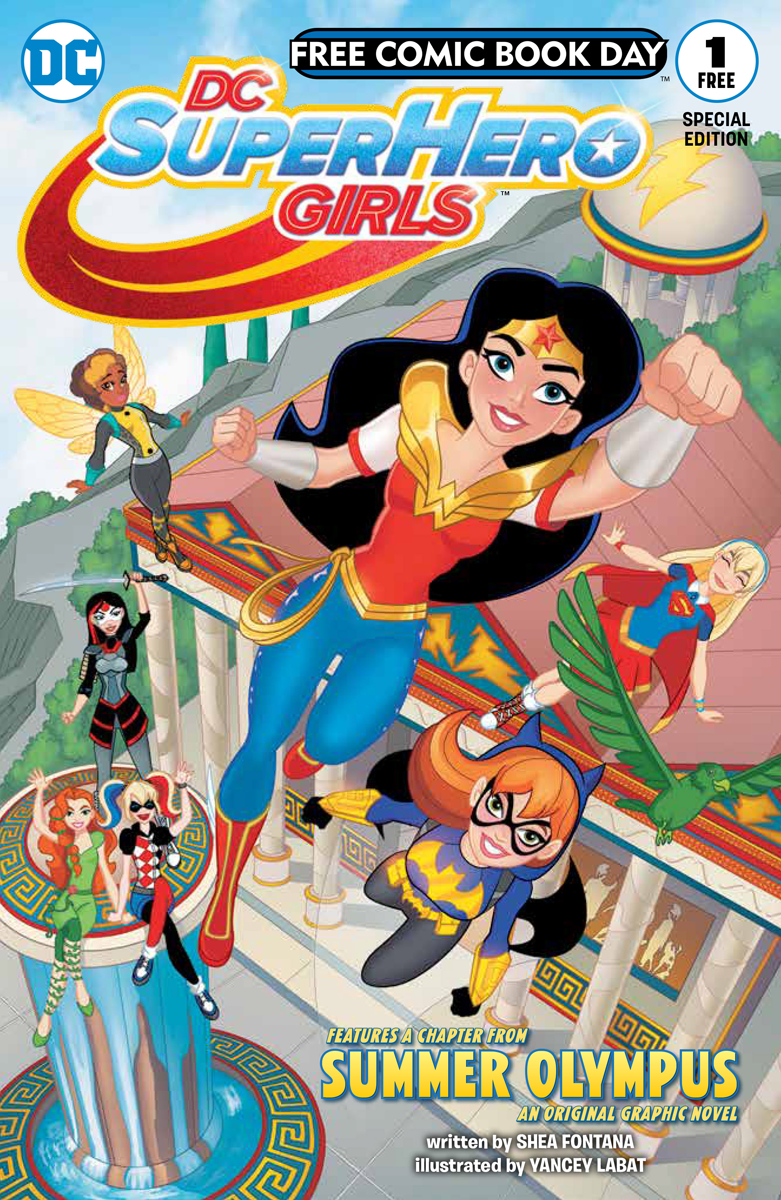 The DC Super Hero Girls: Summer Olympus graphic novel doesn't come out until June 27th, but if you hop into your invisible jet on Free Comic Book Day, you can snag yourself a free preview! Join Wonder Woman, Batgirl, Bumblebee, Harley Quinn, and the rest of the gang as they head off to visit Wondy's dad in Olympus. Unfortunately, the family reunion turns into more of a family competition, and things get pretty intense. Will the girls be able to handle this action packed reunion and will Wonder Woman give up her life at Super Hero High to go full goddess? You'll have to read it to find out!
Other amazing Free Comic Book Day reads releasing are Animal Jam, SpongeBob Freestyle Funnies, Legend of Zelda: Twilight Princess, Colorful Monsters, and more! Make yourself a list before you head out and be sure to check the Free Comic Book Day website to see which comic stores are participating in your area.
Make sure to introduce yourself, too! The staff at comic shops are always super knowledgeable and can help you find new things to read. They also love meeting blossoming new comics readers and chatting about their favorite books. Hitting up your local comic shop can be more than just a shopping trip – it can become your new favorite place to hang out, read, and make new friends. For more of our comic recommendations, click here!