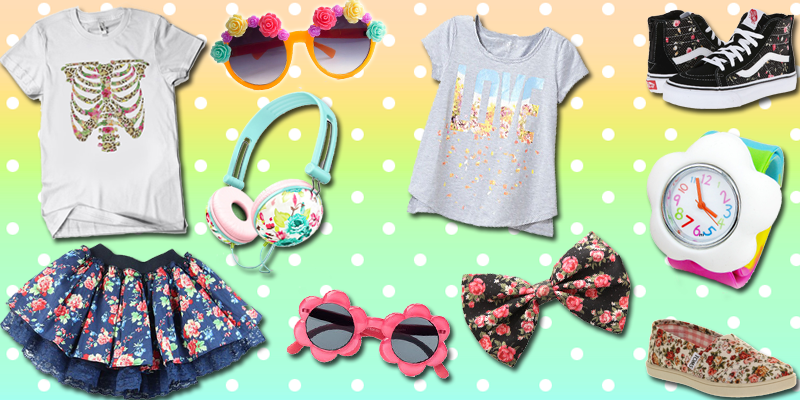 Flower Power Outfit
Imagine this scenario: School's out. Pool's open. You're finally free of homework and teachers for the next 8 weeks or so. Now all you need is the perfect, laid back summer look. How about our Flower Power outfit? It's casual, cool, and perfect for having a blast this summer break!

First up, the main pieces. There's lot of floral options for tops/bottoms – whether you're into tanks or tees, skirts or shorts, or even dresses – there's pretty much something out there for every style. We picked a cute ruffly skirt, and a rad ribcage tee.

If you're more into shorts and tanks or are headed to the beach, feel free to swap out for other pieces. No matter where you're headed- overalls are a pretty solid pick, and floral overalls are even cuter!
Like real flowers, floral outfits come in lots of different styles, so make sure to shake it up! You could probably rock a different flower power outfit every day for the entire summer!

You can tone down the look with solid color shoes or sandals – or bring it over the top with floral shoes!  (Those floral Vans high-tops are maybe the best sneakers we've ever seen!)

Headed to the park to run around with some buds? Try some floral high tops. Roasting s'mores in your backyard? Try floral flats (we're digging these Tom's). And of course, floral flip-flops are perfect for a day at the beach!

Go full on flower power with some floral accessories. Glam it up with a floral hairbow, rock it out with some floral headphones, accessorize with a flower watch, and top it all off with some floral nail art. It's kinda hard to paint flowers on your nails, but there's some sweet nail stickers and decals out there that are easy to use and look really cool!