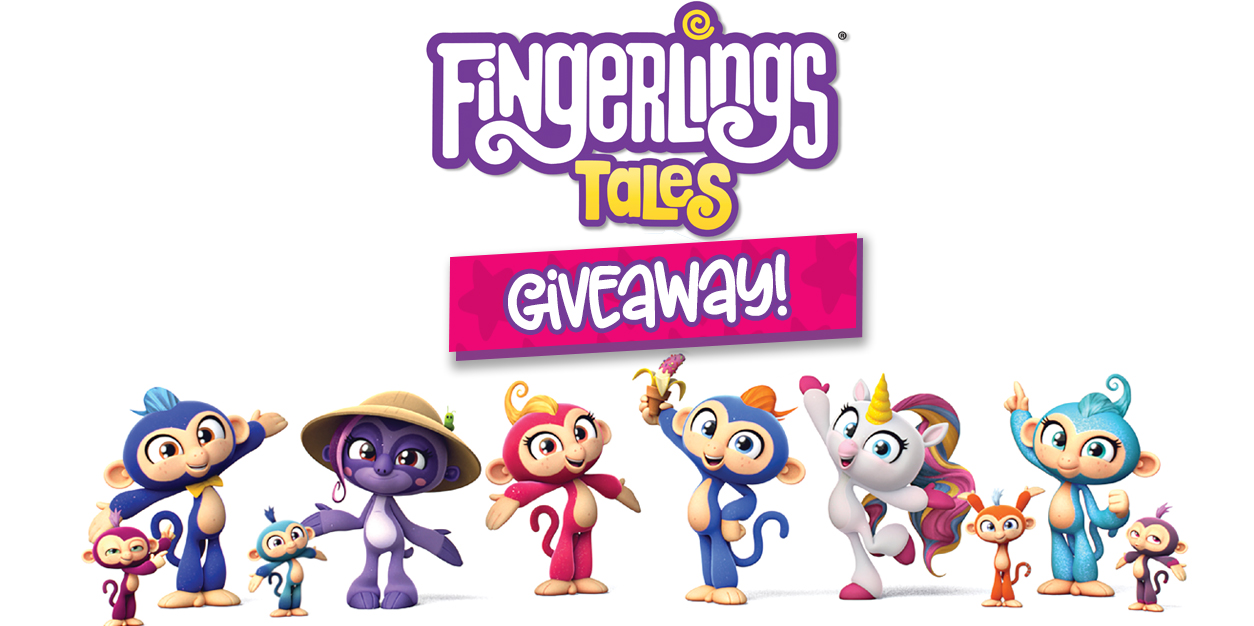 Fingerlings Tales: Win the Cast GIVEAWAY!
Note: We teamed up with WowWee for this Fingerings Tales giveaway. WowWee will be providing the prize to the winner. All opinions are our own; we were under no obligation to give a positive review.
If you're a Fingerlings fanatic, you're probably already in the know about the awesome new shows that were just released as a part of Fingerlings TV. Each of these three new series kicked off on YouTube and the Fingerlings website earlier this month, and there are already lots of exciting episodes for you to love! Fingerlings TV consists of three different shows, Fingerlings Tales, The Fingerlings Show, and Hangin' With Gigi. Each show brings the imaginative fun and utter cuteness you expect from Fingerlings, as well as some surprises!
Want to WIN THE CAST of these exciting new shows? Of course you do! We teamed up with WowWee to bring you a seriously irresistible giveaway that you won't want to miss. We're giving away a Fingerlings Tales Prize Pack that includes all the biggest stars: Boris, Bella, GiGi, and Marge! To make things even more enticing, the winner will also receive SIX of the brand new Fingerlings Minis blind bags.
Fingerlings TV: Everything You Need to Know:
Here's what you need to know about all brand new Fingerlings TV shows!
FINGERLINGS TALES
Fingerlings Tales is a vibrant new animated series that highlights the hilarious adventures of Bella, Boris, Gigi, Marge and all their friends! Get to know your favorite Fingerlings even better through each wonderfully charming 2-3 minute episode. Did you know Bella loves doing yoga and gymnastics or that Boris kicks-butt on the drums? The show celebrates fun and friendship of the Fingerlings toys and gives fans a peek into the harmonious world of Melody Village. Fingerlings Tales is full of heart, lots of laughs, and truly brings to life the silliness and uniqueness of the Fingerlings characters you know and love. New episodes each week!
THE FINGERLINGS SHOW:
The Fingerlings Show is a weekly live-action variety show starring Bella and Boris! This is probably our favorite of the three new shows because it's super funny and completely unpredictable – you never know what will happen next or which special guests will appear on the show each week! Being a variety show, fans can expect to see lots of dance parties, DJ battles, open-mic comedy acts, funny skits, and lots of hilarious parodies and pop culture references!
HANGIN' WITH GIGI
Gigi is one of the most popular Fingerlings both with fans around the world and as well as with her Fingerlings friends, so it's no surprise that she has become the star of her own show! Gigi lives to make new friends, and that's what Hangin' With GiGi is all about! In her new weekly series, Gigi video chats with some of the most popular toy influencers! Together they chat about their favorite things, passions, dreams, and more. It's sparkly, sweet, and brimming with Gigi's wild energy! So far GiGi has chatted with Mommy of the MommyandGracieShow, Holly of Kawaii Kunicorn, and Emily and Evelyn from TwoSistersToyStyle. There are lots more interviews on the way, so be sure to check back!
Ready for your chance to win the cast? Read below for how you can enter!
Fingerlings Tales: Win the Cast Giveaway:

WHAT DO I WIN?:
– TWO (2) Fingerlings Baby Monkeys, Bella and Boris
*Bella and Boris are part of the Original 6 Fingerlings! Both of these OG Fingerlings have been retired, and can no longer be found in stores!
– ONE (1) Fingerlings Unicorn – Gigi
– ONE (1) Fingerlings Sloth – Marge
– SIX (6) Fingerlings Minis Blind Bag Packs.
*Prizes generously provided by WowWee.
HOW DO I ENTER?:
Get permission from your parent or guardian and head to Instagram and complete the following steps by June 8th, 2018!
1. Follow @yayomgofficial on Instagram
2. Head to the post below and leave a comment tagging a friend you think would love to win!
Giveaway begins on June 1, 2018 at 01:30 am ET and ends on June 8, 2018 at 11:59pm ET and is open to US residents only.
– You must be 18 or older to enter. If you are under 18, you'll need to get permission from your parent/guardian to enter and again if you win.
*If selected as a winner, we will provide you with an affidavit to confirm that you are a valid winner who has permission to win. You will need to sign and return this affidavit in order to claim your prize. Entrants under 18, your parents will need to sign and return this document granting permission for you to win before we can send your prize. This step is non-negotiable and required to claim your prize.
Be sure to read the fully detailed rules HERE before entering.
THIS GIVEAWAY HAS ENDED AND THE PRIZE HAS BEEN CLAIMED.
For even more Fingerlings fun, click here!