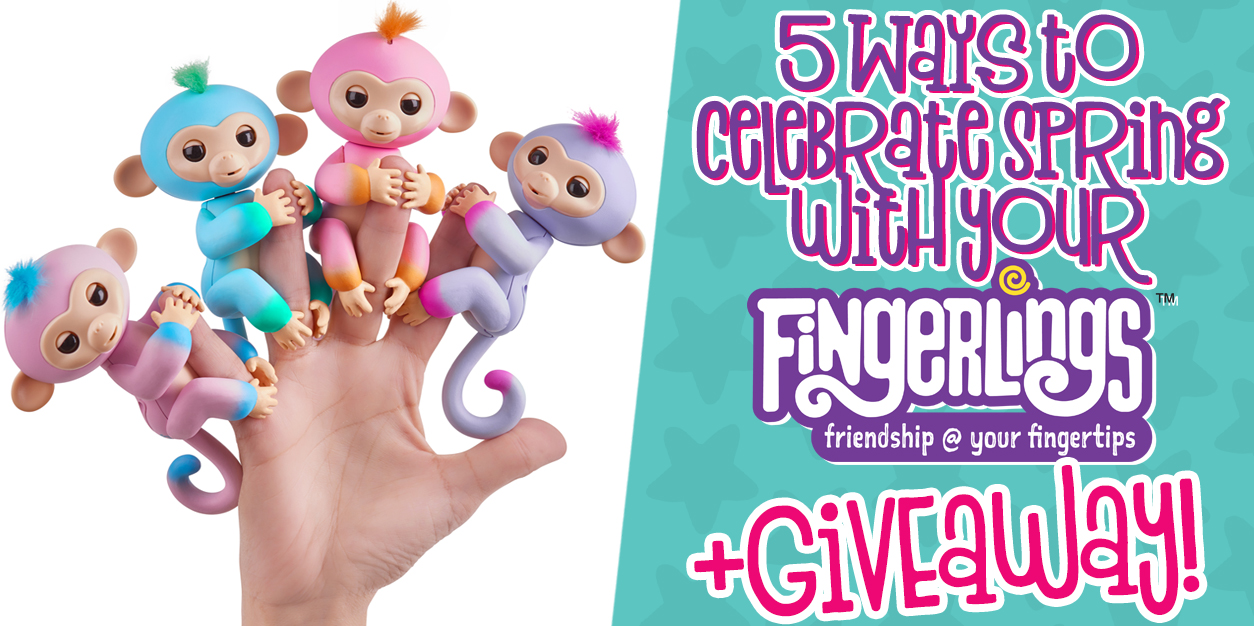 5 Ways to Celebrate Spring with Your Fingerlings + GIVEAWAY!
Note: We teamed up with WowWee for this giveaway. They provided us with samples of the product and will be providing the prize to the winner. All opinions are our own; we were under no obligation to give a positive review.
Spring has sprung, and while it's taking it's sweet time to arrive where we live, we're doing our best to channel those sunny vibes. We just can't wait for the warm weather, blooming flowers, pastel colors, and spending time outside with our besties. Our friends at WowWee are also feeling the Spring fever, which is why we've teamed up with them for a Fingerlings 2Tone Spring Giveaway! While ALL the Fingerlings make for fabulous friends and fun times, it's the 2Tones pastel colors that truly make them shine in the Spring season.
Since hanging out in the park, going for froyo, and taking sunny day selfies are much more fun with a friend by your side, we're giving away TWO Fingerlings 2Tones to one lucky winner! You can share one with your BFF and watch as the Fingerlings interact not just with you, but with each other!
Since each baby monkey has their own unique personality, we put together a few ideas for fun Spring activities to pair with the Fingerlings 2Tones to kick off a perfect friendship. Even if you don't win your prize, you can still rock all these ideas with your real friends too!
5 Ways to Celebrate Spring with Your Fingerlings:
Pack a Picnic:
Standing out in her vibrant pink and teal, Melon lives to go on picnics and soak up that Spring sunshine. Pack up a basket full of delicious sandwiches, carrot sticks, your favorite read, and of course, your Fingerlings, and you've got yourself weekend plans with your BFF. Plus, Melon will look super cute wrapped around the handle of your picnic basket, so be sure to snap a pic!
Try Something New:
Ava is the most daring of the Fingerling of the 2Tones bunch with a serious passion for adventure. With Ava by your side, you'll feel inspired to get out there and check out a new part of town, learn a new skill, and explore the great outdoors. Ava's adventurous spirit will help guide you and your besties to break out of your ordinary routine.
Head to the Park:
Sydney loves to swing and sing, so why not bring her somewhere she can do both? Hang her from a swingset, a tree branch, or a park bench and see how she reacts! After you've soaked up some sun and run around with your buds, you'll probably need a break. That's why we love to pack a blanket and craft supplies on our park visits. Nothing beats sitting in the shade and making friendship bracelets with your buds as the sun sets on a Spring day.
Grab a Snack:
Candi has quite a sweet tooth, so she's the perfect companion for snack breaks, Starbucks runs, and trips to the ice cream shop. No matter what sweet treat you like best, we think you'll have a blast enjoying a tasty snack with a Fingerlings friend by your side. If you're hitting up the ice cream shop, be sure to bring Charlie along. We hear he's a big fan of banana splits!
Color Coordinate Your Style:
The 2Tones all have fiercely unique styles, so why not match your outfit to coordinate with your Fingerlings friends? Spring weather is great for layering, which is a perfect way to rock two colors at once like your Fingerlings. For example, to match with Summer, try a pastel pink denim jacket layered over an orange cami. You'll look Spring ready, citrus-inspired, and 100% ready to take on the world!
Ready for your chance to win Fingerlings for your collection? Keep on reading below!
Fingerlings 2Tones Spring Giveaway:
WHAT DO I WIN?:
– ONE (1) lucky winner will receive TWO (2) Fingerlings 2Tones baby monkeys. Prize courtesy of WowWee.
*Colors/styles chosen at random when the prize is shipped out, sorry, no color requests.
HOW DO I ENTER?:
Get permission from your parent/guardian and fill out the form below by April 6, 2018! Giveaway begins on March 30, 2018 at 12:00 pm ET and ends on April 6, 2018 at 11:59pm ET.
You must be 18 or older to enter. If you are under 18, you'll need to get permission from your parent/guardian to enter and again if you win. Please provide THEIR email address when entering below. If chosen as a winner, you'll need to provide contact info where we can reach your parent/guardian if you win. They'll need to sign an affidavit permitting us to send your prize. Be sure to read the fully detailed rules HERE before entering. Note: WowWee will be sending your prize, so we will need to share your information with them if you win.
THIS GIVEAWAY HAS ENDED AND THE PRIZE HAS BEEN CLAIMED.
Good luck to everyone entering the giveaway! While you wait to find out if you've won, head over here to find out your Spring Horoscope!