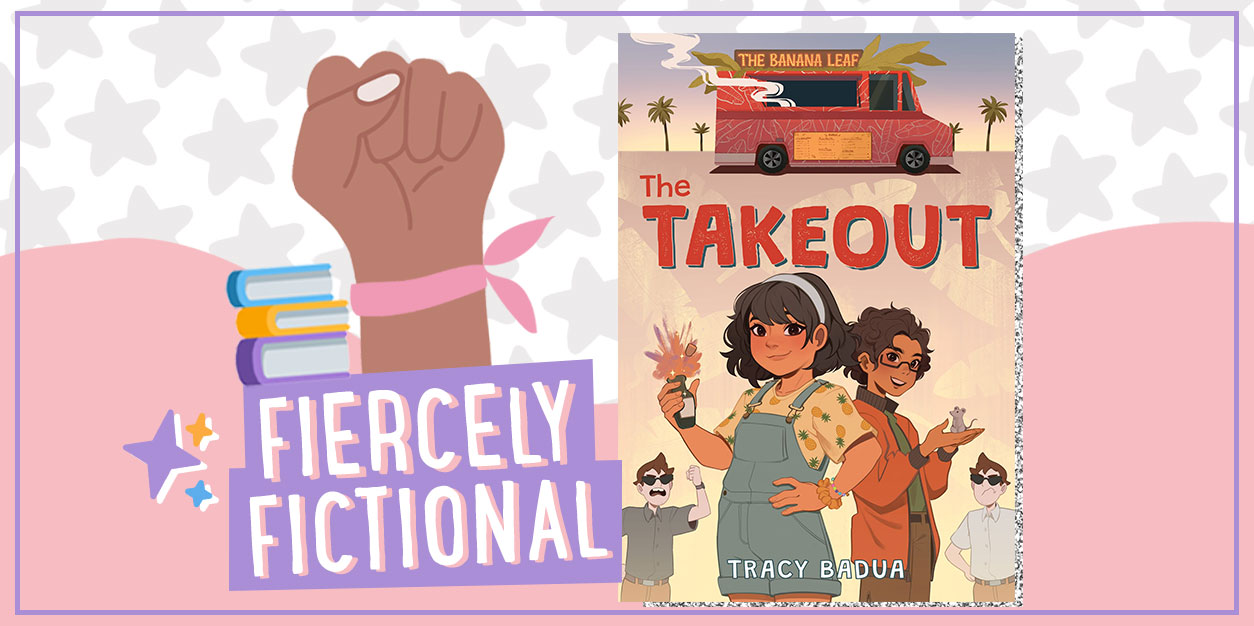 FIERCELY FICTIONAL: The Takeout
FIERCELY FICTIONAL is all about celebrating fierce, inspiring fictional girls we know you'll love. To us, "fierce" isn't just about slaying dragons or solving mysteries. It's about breaking free from your comfort zone, discovering your confidence, fighting for what you believe in, & discovering your emotional strength. Any girl can shine bright & be fierce, & in this series, we'll be connecting you with a new fiercely fictional character every month!
FIERCELY FICTIONAL is back, and we're introducing you to Mila from The Takeout, a magical new read about family, food, and finding your true self by Tracy Badua.
Mila Pascual helps her dad run The Banana Leaf, the Filipino-Indian fusion food truck he owns with his friend Mr. Ram and nephew Ajay. Mila loves working at the truck – imagining new recipe ideas, designing the menu board, and taste-testing everything. After a mid-year move to the ritzy Coral Beach, it feels like the food truck is the only place she can truly be herself, hiding parts of herself she doesn't feel fit with the beachy, cookie-cutter vibe of her new town.

Even at home, she doesn't understand her set-in-her-ways grandma, and with her sister staying behind in LA for college and her Mom in the Phillippines caring for her grandpa, Mila is feeling pretty alone. Thankfully, she finds a bond with a tight-knit group called the Seashell Girls over their fandom of the beloved twin celebrity chefs Chip and Chaz Darlington, aka the Fab Foodie Brothers. Mila idolizes the brothers, adding all their shows on the Cuisine Channel to the DVR and talking about them with anyone who will listen.
The Takeout: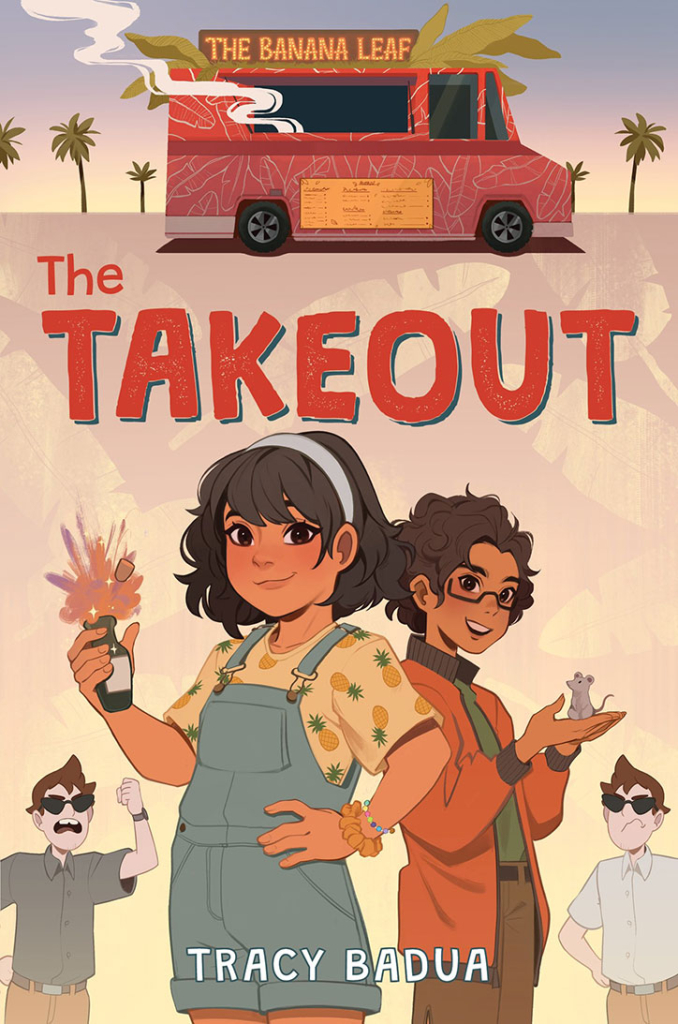 When a celebrity chef's new restaurant threatens Mila's family's food truck, she plans to expose them for the recipe thieves they are—even if that means dabbling in the Filipino folk magic she's tried to avoid. Fans of Tae Keller and Lily LaMotte will cheer for this charming story about food, family, and finding the place you belong.
Mila may have moved to Coral Beach months ago, but it still doesn't feel like home. She wants to belong, but a few awkward incidents with her new friends make her wonder if she'll ever neatly fit into the super-samey small town.
Mila feels the only place she can be herself is at her dad's Filipino-Indian food truck, The Banana Leaf. But when celebrity chef twins the Fab Foodie Brothers open a restaurant nearby, it turns out the food they are serving is exactly the same as The Banana Leaf's–right down to the recipes!
Suspicious of the similarities, Mila teams up with family friend Ajay to investigate. She soon realizes that she needs to take the beloved Fab Foodie Brothers down before they run her family's tiny truck out of town. But that means dabbling in the Filipino folk healing and magical traditions that she has shied away from her whole life . . . as well as alienating her new friends.
Does Mila have to choose between her family and fitting in? Or, like the best recipes, will a blend of the traditional and the unexpected mix into something truly special?
The Takeout
AUTHOR: Tracy Badua
PUBLISHER: Clarion Books
DATE: May 9, 2023
But when the Fab Foodie Brothers open a new restaurant in Mila's area, the food they're serving is identical to the cuisine that her family serves in their food truck – and her suspicions might just threaten her new friendships. Determined to discover what's going on, Mila and Ajay make it their mission to investigate and start digging into the celebrity chefs, only to discover this isn't the first time they've done something shady. To save The Banana Leaf and her family's livelihood, Mila turns to a side of herself she's been avoiding – embracing her Filipino heritage and creating albularyo potions, a form of traditional Filipino folk magic, to expose the Fab Foodie Brothers for the frauds they are. Will Mila have to choose between saving her family and keeping her friends, or will she find the perfect blend to balance it all?
Mila is super relatable, just trying to find her place within her family, her community, and her culture. She's extremely determined, a passionate foodie, and a total innovator when it comes to The Banana Leaf. Plus, her style is super fun, and she loves to express her foodie passions through her outfits and accessories!
We know you'll love this heartfelt read (and all the irresistible descriptions of food), which is why we're excited to share that author Tracy Badua is on YAYOMG! taking you beyond the pages of The Takeout and sharing 5 reasons she thinks Mila is totally fierce!
Five Reasons We Think Mila is Totally Fierce:

She values her family, even if they get on her nerves sometimes:
When her family moved to Coral Beach, her sister Catalina stayed behind to go to school, and soon, Mila's mother left to take care of her parents in the Philippines. Now it's just Mila, overly diplomatic Dad, and Grandma Flora, who wants everything a particular, pristine way.
Even with the distance, spotty internet and cell phone reception, and occasional squabbles, Mila loves her family and wants the best for all of them. So when there are threats to her family's food truck The Banana Leaf— Dad's dream and their main source of income—you know she's going to try her hardest to help.

She doesn't let fear get in the way of making friends:
Being the new kid is tough enough, but Mila has the added stress of being the new kid who doesn't fit the beachy-town mold and dabbles in Filipino folk healing practices that others might view as too weird.
Mila worries that she doesn't quite belong in Coral Beach. She manages to find common ground with the Seashell Squad, a fun group from school who have been friends almost since birth. They all love the Fab Foodie Brothers, twin celebrity chefs famous for their restaurant makeovers and fusion concepts. And though Mila might not feel comfortable showing her community her whole magicky self yet, she'll keep trying to navigate this new social scene and make friends anyway.

She's a loud and proud superfan:
Like everyone else in town, Mila idolizes the Fab Foodie Brothers, superstars of the Cuisine Channel, and she doesn't care who knows about it. She admires the brothers' work, analyzes their every restaurant makeover, and fills up her Grandma's DVR with their televised specials. Her love of the Fab Foodie Brothers is how she bonds with her new Seashell Squad friends.
Too bad she now suspects her beloved culinary heroes of stealing the recipes from her family's food truck.

She's got taste:
Mila considers herself the muse and taste tester of the Banana Leaf. She helps create their recipes, baking pandesal for new sandwich ideas and even coming up with a signature drink, the turon lassi. The turon lassi (which she secretly calls the Mila Special) is a refreshing, Indian yogurt drink inspired by a deep-fried Filipino snack and one of the Banana Leaf's top selling items.
Mila also has excellent taste in fashion. Her favorites are her taco earrings and a flowy dress with tiny pink and brown donuts printed all over it.
She means business:
Mila is always looking for ways to boost the family's food truck business. Besides creating new recipes, her tasks at the Banana Leaf include artfully drawing up the chalkboard menu and setting out the chutneys, banana ketchup, Mang Tomas, and other sauces at the condiment table. She also passes out samples to passersby and picks up trash so the seagulls don't swoop down and pester the truck's customers.
She's practically lived, worked, and breathed in the Banana Leaf since school let out for the summer, so she won't let anyone – maybe not even a couple of ultra-popular TV chefs – take them down.
📚Want some new fictional favs? Catch up on our FIERCELY FICTIONAL series and get to know even more fierce fictional characters!