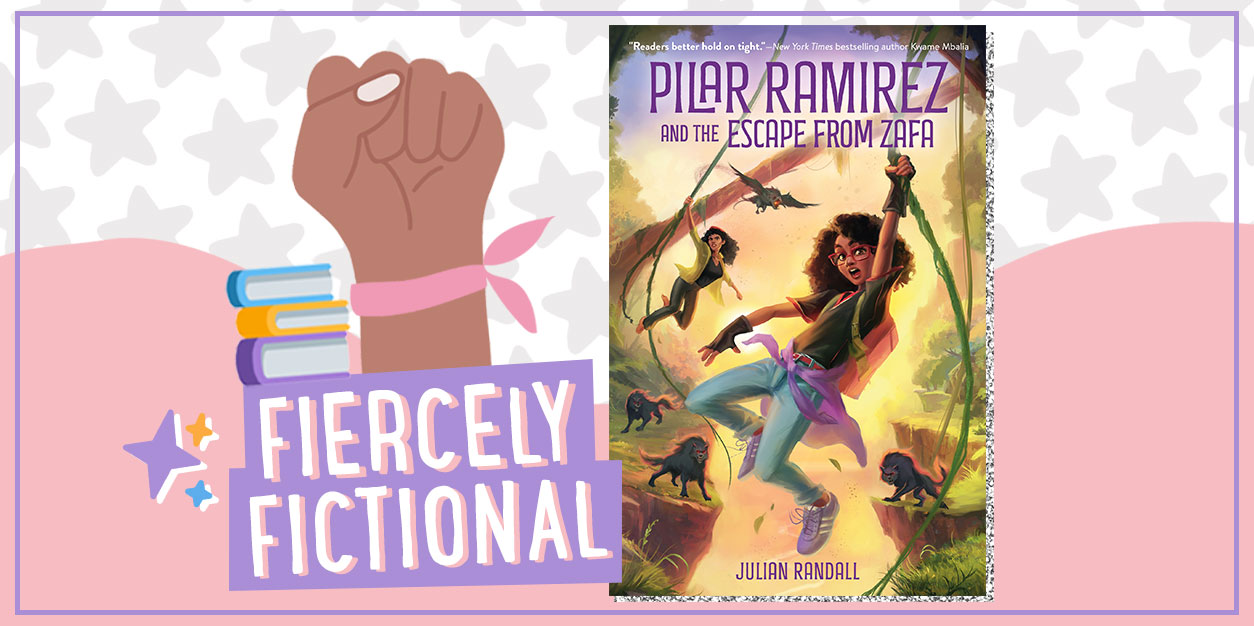 FIERCELY FICTIONAL: Pilar Ramirez and the Escape from Zafa
FIERCELY FICTIONAL is all about celebrating fierce, inspiring fictional girls we know you'll love. To us, "fierce" isn't just about slaying dragons or solving mysteries. It's about breaking free from your comfort zone, discovering your confidence, fighting for what you believe in, & discovering your emotional strength. Any girl can shine bright & be fierce, & in this series, we'll be connecting you with a new fiercely fictional character every month!
In this edition of FIERCELY FICTIONAL, author Julian Randall is here chatting about his brand new book, Pilar Ramirez and the Escape from Zafa, our newest fictional fav – and your next must-read adventure!
Let us set the scene: Pilar Ramirez is a twelve-year-old Dominican-American girl living in Chicago with her Mami and abuela. She's also a budding filmmaker, passionate about storytelling and figuring out the facts. One fact Pilar knows for sure is that even though her Mami and abuela always share stories about Dominican mythology and what it was like living under the ruthless dictator Rafel Trujillo before escaping to America, they always keep quiet about Natasha, her cousin who vanished in the Dominican Republic fifty years ago during this time of turmoil.
Why You'll Love This Read: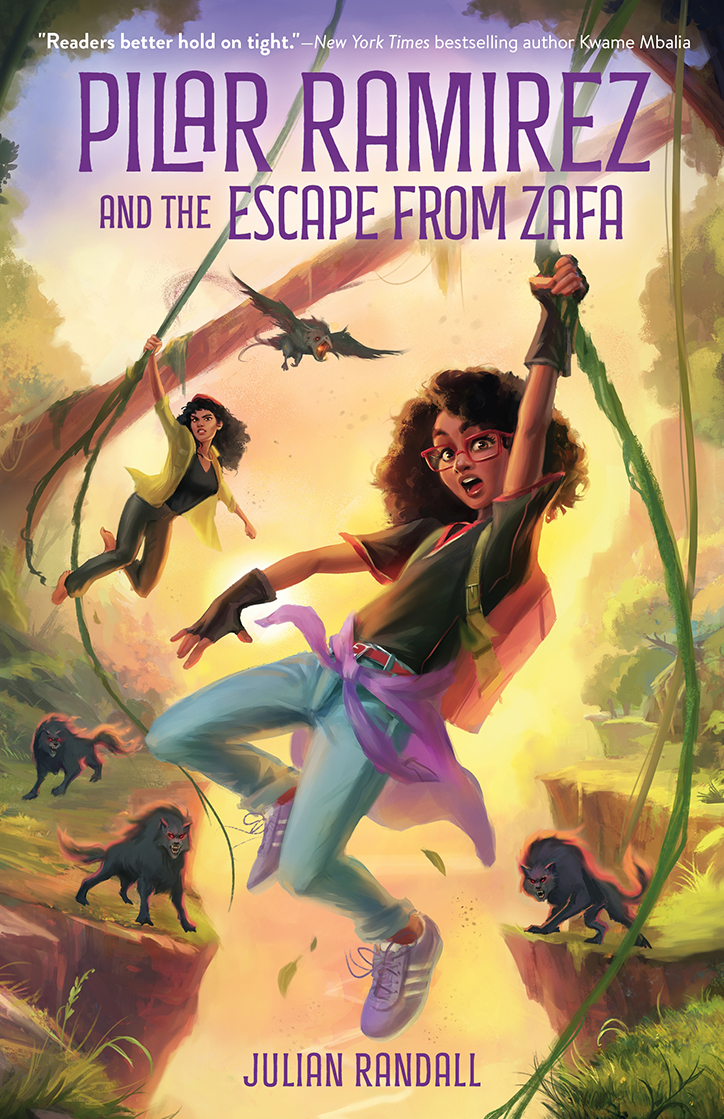 The Land of Stories meets Dominican myths and legends come to life in Pilar Ramirez and the Escape from Zafa, a blockbuster contemporary middle-grade fantasy duology starter from Julian Randall. Fans of Tristan Strong and The Storm Runner, here is your next obsession.
Twelve-year-old Pilar Violeta "Purp" Ramirez's world is changing, and she doesn't care for it one bit. Her Chicago neighborhood is gentrifying and her chores have doubled since her sister, Lorena, left for college. The only constant is Abuela and Mami's code of silence around her cousin Natasha—who vanished in the Dominican Republic fifty years ago during the Trujillo dictatorship.
When Pilar hears that Lorena's professor studies such disappearances, she hops on the next train to dig deeper into her family's mystery. After snooping around the professor's empty office, she discovers a folder with her cousin's name on it . . . and gets sucked into the blank page within.
She lands on Zafa, an island swarming with coconut-shaped demons, butterfly shapeshifters, and a sinister magical prison where her cousin is being held captive. Pilar will have to go toe-to-toe with the fearsome Dominican boogeyman, El Cuco, if she has any hope of freeing Natasha and getting back home.
Pilar Ramirez and the Escape from Zafa
AUTHOR: Julian Randall
PUBLISHER: Henry Holt & Co.
DATE: March 1, 2022
Determined to uncover the truth, Pilar convinces her oh-so-perfect sister Lorena to let her interview her sociology professor who studies disappearances from this era. She's super excited to interview him and possibly find some answers, but when she shows up in his office, all she finds is an empty room and a folder labeled with Natasha's name that only holds a single sheet of paper. A paper that sweeps her away to Zafa, a magical island where the Dominican myths and magic from her abuela's stories are all true. She quickly finds herself in the role of unlikely hero, teaming up with a new friend to save the island from dark forces that threaten the safety of Zafa's inhabitants and determined to release Natasha from captivity.
We know you're already on the edge of your seat – and we can't blame you! This pageturner hits shelves tomorrow, but today we're helping you find out more about this empowering read! Want to get to know more about Pilar and this exciting story, inspired by the author's real experiences? Keep on reading as author Julian Randall dishes on why Pilar is totally fierce!
Five Reasons We Think Pilar Ramirez is Totally Fierce:

She's Proud of Her Heritage:
Pilar comes from a Dominican-American family of mostly women – her Mami, her abuela, and her annoyingly perfect older sister Lorena!
Pilar's always fascinated by what it means to be Dominican, from her favorite foods, maduros and arroz con gandules, to music, to the Trujillo dictatorship that caused her family to flee to America.

She Doesn't Take Heartbreak for an Answer:
Pilar's spent the whole summer working on a documentary about her cousin, Natasha, who disappeared 50 years ago during the Trujillato. Mami and abuela have clearly been heartbroken about it all her life, but they're not the easiest folks to get talking about something so painful. So when Pilar hears that a new professor at the University of Chicago has been researching disappearances from the same time period she hops the L and goes to find him in his office.
When he's not there, she still pokes around porque that's what a good director does: find the story! What she finds instead is a folder with Natasha's name on it and only a blank sheet of paper inside. Pilar's heartbroken that she's come so close to finding answers, but she isn't heartbroken for long since that blank sheet of paper is actually a portal to another world!

Ain't Nobody Messin' With Pilar's Clique:
On the other side of the page, Pilar finds the world of Zafa – a land of Dominican mythos and magic!
Zafa is home to many mythical creatures and people, including the villainous boogeyman El Cuco and his right-hand enforcer, the hulking dog-man El Baca. But Pilar's got a squad behind her, including her new Ciguapa friend Carmen showing her the ropes.
Y Tambien, the resistance is led by 4 Galipote sisters, just as in real life the resistance movement to Trujillo was led by the 4 Mirabal sisters! The history of Dominican resistance, flair, and progress is the story of inspiring Dominican women, just like Pilar – and maybe just like you!

Pilar Know It's Always Chicago Over Everything:
Pilar is from the Logan Square neighborhood in Chicago, we're even from the same block! All her life the neighborhood has been changing. She's watched old homes and good memories turn into chain restaurants and gentrified apartment complexes. All this change even forced her best friend Celeste to move out of Chicago altogether!
Pilar's determined to keep the spirit of the old block alive. She's proud of where she comes from both in terms of being a Dominicana and also being from Logan Square! Pilar's a hero to me because I've always wanted to save the world wearing a Bulls shirt, but she actually did it!

Pilar Knows True Power is Being Free to Tell Your Own Story:
No matter what world or what situation, Pilar is always completely herself. She's an aspiring director and a powerful hero of a mythic island. The Trujillato's enforced silence upon the island, the same enforced silence that forced my own family to migrate from the island to avoid persecution by Trujillo's secret police, was once near-absolute. People feared speaking their minds, telling their stories. Pilar is a filmmaker because she knows that she can show people the amazing world she was born in and the amazing world she fell into. She can use her camera to help other people tell their stories just like her idol, the director Mira Paredez.
Pilar's power comes from many places, but ultimately, her power comes from telling her story, and what a story it is!
In need of even more fierce reads? Check out the rest of our FIERCELY FICTIONAL series here!