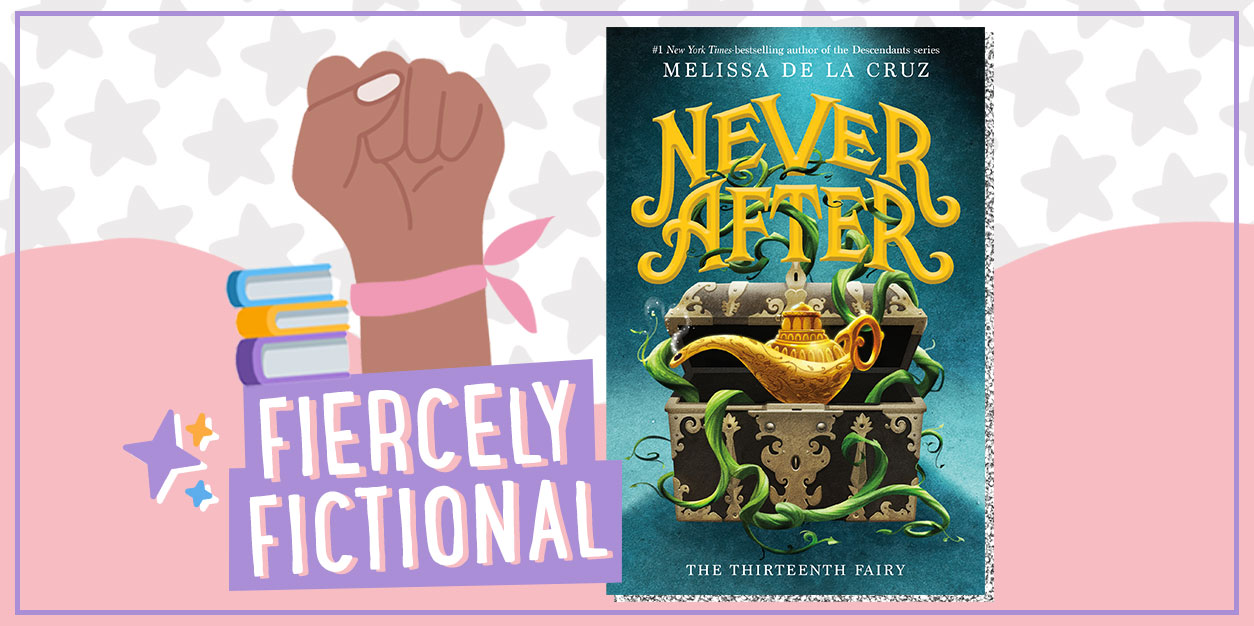 Fiercely Fictional: Never After: The Thirteenth Fairy
NOTE: This post is sponsored by Macmillan.
Readers, FIERCELY FICTIONAL is back, and we're here to shine a light on yet another inspiring fictional character. This time, we're taking you beyond the pages of Never After: The Thirteenth Fairy by author Melissa de La Cruz (yes – the author of Disney's Descendants novels!) to introduce you to Filomena Jefferson-Cho.
Filomena is pretty much your average middle school girl. She loves boy bands, British Kit-Kats, and brings a vegan bologna sandwich to lunch every day. She's got an overly-excited Pomeranian poodle, a beta fish she feeds every morning after brushing her teeth, and two of the most overprotective parents…EVER. She's also tortured at school by a group of pasta-loving cool kids she's deemed the Fettuccine Alfredos, made up of girls named after flowers and boys named after sports teams, who make it their mission to make Filomena feel miserable about everything from her test scores to her mixed-race heritage. The one thing that makes Filomena feel less alone? Reading and re-reading her favorite fantasy novels, the Thirteenth Fairy series.
Why You'll Love This Read: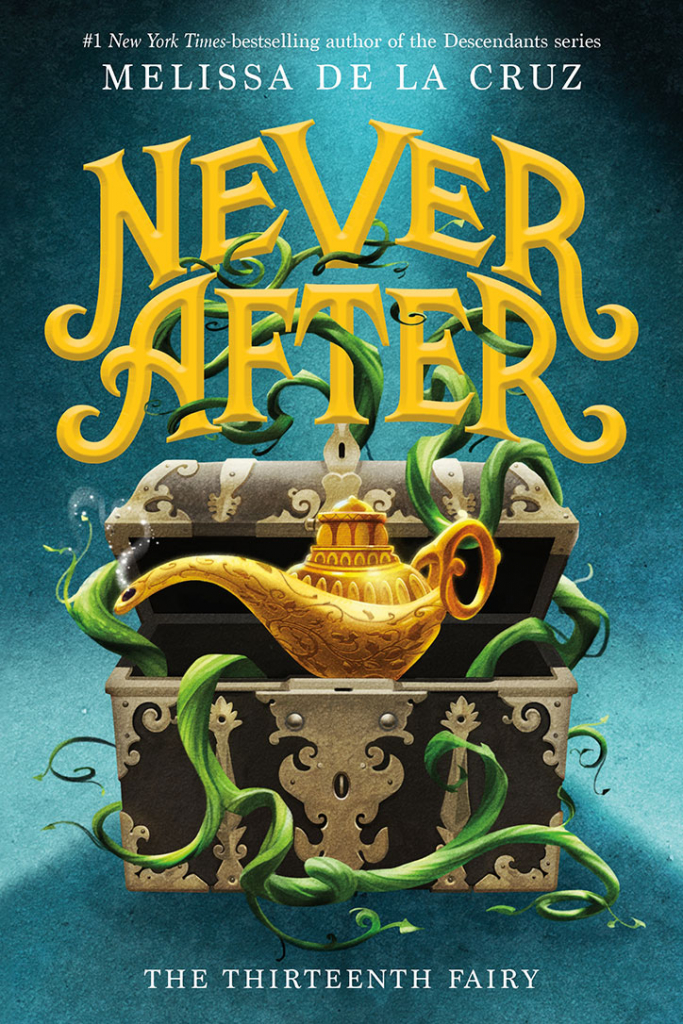 Discover a new middle-grade fantasy saga from the #1 New York Times bestselling author of The Descendants series, Melissa de la Cruz, where real life and fairy tales collide!
Nothing ever happens in Filomena Jefferson-Cho's sleepy little suburban town of North Pasadena. The sun shines every day, the grass is always a perfect green, and while her progressive school swears there's no such thing as bullying, she still feels bummed out. But one day, when Filomena is walking home on her own, something strange happens.
Filomena is being followed by Jack Stalker, one of the heroes in the Thirteenth Fairy, a series of books she loves about a brave girl and her ragtag group of friends who save their world from an evil enchantress. She must be dreaming, or still reading a book. But Jack is insistent—he's real, the stories are real, and Filomena must come with him at once!
Soon, Filomena is thrust into the world of evil fairies and beautiful princesses, sorcerers and slayers, where an evil queen drives her ruthless armies to destroy what is left of the Fairy tribes. To save herself and the kingdom of Westphalia, Filomena must find the truth behind the fairytales and set the world back to rights before the cycle of sleep and destruction begins once more.
Never After: The Thirteenth Fairy
AUTHOR: Melissa de la Cruz
PUBLISHER: Roaring Brook Press
DATE: December 1, 2021
PAPERBACK: October 26, 2021
The books feature a dashing hero named Jack Stalker and tell the true story behind the most iconic fairytales. Filomena can't WAIT to walk to the bookstore after school to pick up the thirteenth and final book in the series, only to find out that the author has disappeared and the book may never be published. Disappointed, Filomena heads home when she realizes a shadowy figure is following her. That's when her life takes a whimsical turn – her stalker is none other than Jack the Giant Stalker, and he needs her help finding his way back to Never After, which, as it turns out, has been a completely real place all along! As Filomena finds herself adventuring alongside the characters who've always been there for her in the middle of her absolute fantasy world, she knows things will never be the same. She literally gets to live out every reader's dream – being swept away into your favorite story and becoming the hero.
We won't spoil the adventure for you, but we think the Never After series is a total must-read, which is why this month's FIERCELY FICTIONAL is all about Filomena! Check out the book trailer above and keep reading for five reasons we think Filomena is totally fierce!
Five Reasons We Think Filomena Jefferson-Cho is Totally Fierce:

She's Super Relatable:
Do average grades, overprotective parents, and friend drama sound like familiar struggles for you? Filomena has all three. She knows what it's like to earn demerits for forgetting her laptop and parents who track her every move on her phone. She even had to stand by and watch as her only friend ditched her for the cool crowd – the same cool crowd who bullies her every single day.
But there's more to Filomena than anyone around her chooses to see. She's unique and witty, passionate and loyal, and she's about to discover a life-changing secret about who she truly is.

Fangirl Turned Heroine:
A main character who's a total bookworm? That's about as relatable as it gets! Filomena is majorly obsessed with her favorite book series The Thirteenth Fairy, which she's read a million times over and over. She pretty much knows it all by heart. It's her way of escaping the realities of her not-so-great life. From her backpack to bookmarks, she loves showing her support of the series by wearing her merch proudly and writing fanfic.
We totally get those fangirl feels – in fact, we're kind of fangirling over Filomena and this thrilling and hilarious adventure found between the pages of this seriously amazing read. But as the fictional world she's pined over her entire childhood comes to life before her eyes, she not only gets to explore the lush setting of her favorite book series – she gets to live it, and it turns out she's the hero the story has needed all along.

She Never Backs Down:
While you might think that Filomena is timid and cowardly for never standing up to her bullies, the truth is, we think that's pretty normal! If you've ever been through it, you know how awful and lonely it can make you feel.
But when faced with true danger in the fairytale world, Filomena trusts her instincts and never backs down from a chance to set things right or save the day. Whether she's reciting spells from memory or on a quest to find a missing genie lamp, she's quite fearless. (You might even call her fierce!)

Her Squad is Awesome:
For someone who considers herself friendless IRL, Filomena finds herself surrounded by a scrappy squad of loveable besties in the world of Never After. There's the heroic Jack Stalker, Alistair, Jack's always-hungry but ever-loyal sidekick, healing Zera with a kind heart, and confident (and always on-trend) Gretel, and even a gang of motorcycle-riding wolves.
There is no shortage of supportive friends in this story, and with the dangers that lurk ahead, like evil queens to defeat, hungry ogres to slay, and dragon trials to face, Filomena will need all the support she can get!
Want to find out where YOU fit within the fairytale realm? Take our quiz HERE to find out if you're most like Filomena, Jack, Alistair, Zera, or Gretel!

Her Story is Just Beginning:
Filomena's overprotective parents may ground her for gallivanting around Hollywood without permission and leaving her backpack in the fairytale realm, but when her friends pass through the portal in the Heart Tree and show up on her doorstep in search of Cinderella's stolen slipper, she knows her story has just begun!
We can't wait to find out what happens next – and we don't have to wait long! The second book, Never After: The Stolen Slippers, hits shelves on February 1st. (Just try not to get swept away to a fairytale world on your way to snag it at the bookstore.)
Still need to read Never After: The Thirteenth Fairy? Add it to your holiday wishlist or have your parents order a copy HERE!