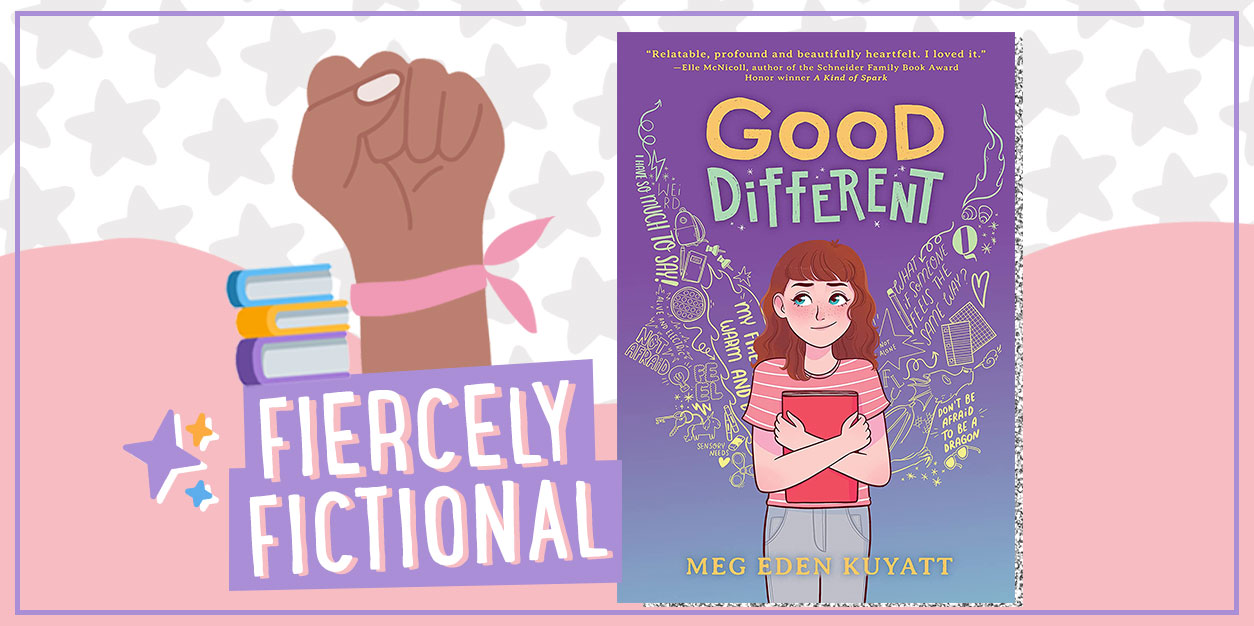 FIERCELY FICTIONAL: Good Different
FIERCELY FICTIONAL is all about celebrating fierce, inspiring fictional girls we know you'll love. To us, "fierce" isn't just about slaying dragons or solving mysteries. It's about breaking free from your comfort zone, discovering your confidence, fighting for what you believe in, & discovering your emotional strength. Any girl can shine bright & be fierce, & in this series, we'll connect you with a new fiercely fictional character every month!
In this month's edition of FIERCELY FICTIONAL, we're shining a light on Selah from Good Different by Meg Eden Kuyatt.
Selah Godfrey knows her rules for being normal, and she always, always sticks to them, especially at school. Her rules? Don't talk about dragons, always make eye contact, and keep her feelings locked deep inside – no matter how much they build up inside her throughout the day or overwhelm her and leave her crying in a bathroom stall.
Sela can't wait to get home from school every day so she can tear off her "normal" mask and recharge doing things she likes to do. Having to hide her feelings from the world isn't easy, but inspired by her grandpa's advice and a class assignment, she starts expressing herself through poetry from the perspective of the thing she relates to most, a dragon, which is how readers get to know Sela in this story in verse.
Good Different: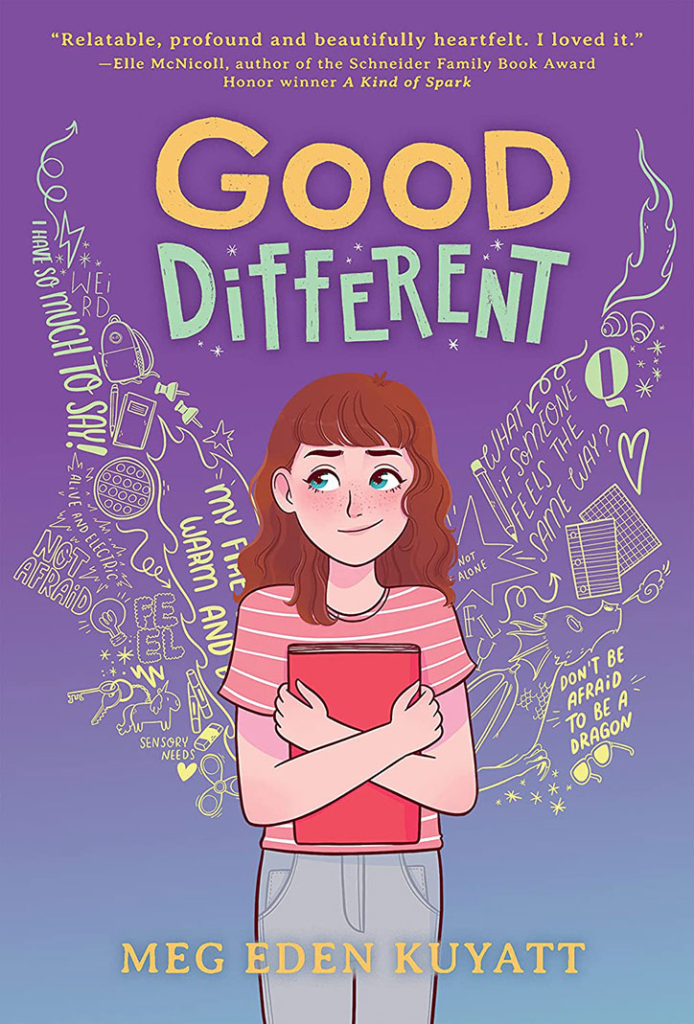 An extraordinary novel-in-verse about a neurodivergent girl who comes to understand and celebrate her difference.

Selah knows her rules for being normal.
She always, always sticks to them. This means keeping her feelings locked tightly inside, despite the way they build up inside her as each school day goes on, so that she has to run to the bathroom and hide in the stall until she can calm down. So that she has to tear off her normal-person mask the second she gets home from school, and listen to her favorite pop song on repeat, trying to recharge. Selah feels like a dragon stuck in a world of humans, but she knows how to hide it.
Until the day she explodes and hits a fellow student.
Selah's friends pull away from her, her school threatens expulsion, and her comfortable, familiar world starts to crumble.
But as Selah starts to figure out more about who she is, she comes to understand that different doesn't mean damaged. Can she get her school to understand that, too, before it's too late?
Good Different
AUTHOR: Meg Eden Kuyatt
PUBLISHER: Scholastic Press
DATE: April 4, 2023
Her teachers see her as a good kid, always behaving and getting good grades, but they don't know how hard that really is for her. No one knows how much loud classrooms, uncomfortable uniforms, or physical contact affect her, even when they have good intentions, like the classmate who braided her hair without asking, causing Sela to forget her rules and explode. Feeling lonelier than after her friends drift away, and the school threatens to expel her, Sela's world feels like it's falling apart. But an eye-opening trip to FantasyCon changes everything!
Sela meets other people who identify as neurodivergent and realizes that none of them are the same, each unique in their own way. After realizing she's not alone, Selah learns to advocate for herself and ask for accommodations that help her thrive – like earplugs for noisy situations, comforting weighted blankets, and even seeks out an official diagnosis! Discovering she is autistic helps her understand herself better and empowers her to embrace who she truly is, and how having a brain that works differently can be beautiful!
Asking for help can be scary for anyone, but Sela was determined to get an autism diagnosis and the accommodations she needed to thrive, and we think that's about as fierce as it gets! She even learned that there are many ways that her autism makes her special and that being a dragon isn't so bad after all. Sela's story is told in verse, amplifying every feeling Sela shares, making it feel like you're experiencing everything right along with her.
We know you'll love getting to know Sela in this relatable and heartfelt read, which is why we're excited to share that author Meg Eden Kuyatt is on YAYOMG! taking you beyond the pages of Good Different and sharing 5 reasons she thinks Selah is totally fierce!
Five Reasons We Think Selah is Totally Fierce:
She's willing to try new things:
The way Selah tries to survive everyday life as an autistic person in a neurotypical world isn't working. As long as she can remember, she's stuffed down her feelings and just tried to "survive" every day. Even her mother encourages her to "never cry in public." But when Selah hits a point where she realizes this doesn't work, she has to be brave and try a new solution.
Some of her ideas don't work at first (like her communication bracelets) or at all (her loud neighbors never respond to her poem), but that doesn't stop Selah from continuing to learn and try new things!

She finds ways to fly:
While Selah finds challenges, she also discovers tools that help her. Earplugs help her calm down in loud environments, correctly sized weighted blankets help her de-compress at home, and communication bracelets help her tell others how she's feeling when she's struggling.
While Selah begins the story by ignoring her differences and masking as a "Normal Person," she learns to accept and embrace what makes her unique, even if this means asking for help sometimes. Selah even realizes that her favorite dragon, How to Train Your Dragon's Toothless, needed accommodations to fly through his tail fin.
Through her journey, Selah learns there's nothing wrong with asking for help sometimes—and that accommodations can help her fly!

She pushes back against the idea that autism "looks" a certain way:
I have people tell me I don't "look" autistic, that they "would never guess." I have some people say I can't be autistic, or that ask "isn't everyone a little autistic?"
At FantasyCon, a local convention, Selah meets lots of people who identify as neurodivergent—and realizes they all look very different! To many people, Selah doesn't look autistic. For a while, her own mother is doubtful that she's "really" autistic, but Selah continues to ask for accommodation tools and doctor's visits to get a formal diagnosis. For her, this diagnosis is empowering, and helps her better understand herself.

She uses her poems to stand up for herself and others:
For a long time, Selah doesn't think she's allowed to say anything about her sensory challenges. She assumes these are things that everyone just "puts up with." But as she discovers she's autistic and that she has unique needs, she begins to wonder if she's not alone. She wonders if there are other classmates also struggling, but like her feel powerless to speak.
Selah finds that writing poems empowers her and gives her permission to say things that can sometimes be hard to talk about. With time, Selah decides to be brave and share those poems as a way to communicate with those around her about what she needs—and in the process, maybe help others who feel the same way too!

She finds joy in her autism:
Selah's autism presents quite a few difficulties in her everyday life. Her uniform is physically uncomfortable. Her neighbors' loud parties stir up her anxiety. Every day of school is an act of survival through sensory nightmares of loud students, crowded classrooms, and painful lighting. But her difficulties aren't the only part of her experience.
Selah comes to discover that the strong feelings her autism invokes also allow her to experience great joy. She describes being "a part / of everything…like the whole world / is having a sleepover/ inside my body"—a feeling that can be overwhelming but also incredible, allowing her to experience deep empathy for others and intense engagement with her passions. In the end, she says: "I hate the idea / of feeling less / than I feel now."
📚Is your bookshelf in need new fictional favs? Catch up on our FIERCELY FICTIONAL series and get to know even more fierce fictional characters!