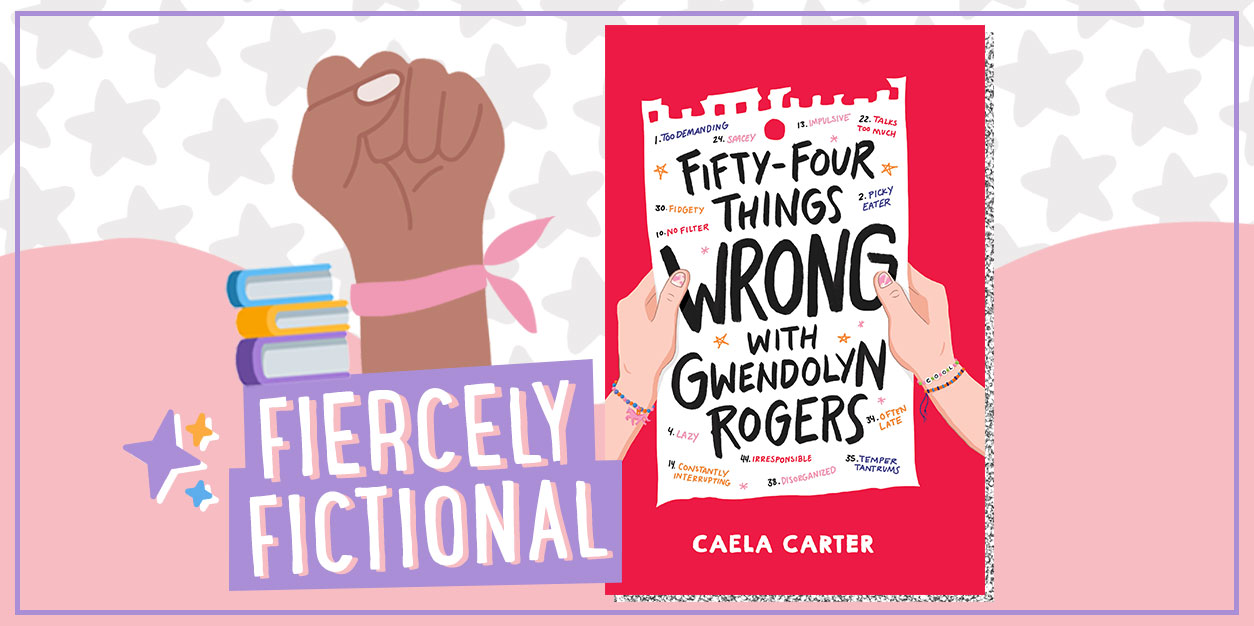 Fiercely Fictional: Fifty-four Things Wrong with Gwendolyn Rogers
NOTE: This post is sponsored by HarperCollins.
Picture this – you're cozied up in a blanket fort, lost in your latest read, totally connecting with the story's main character. Maybe they're a little flawed or rough around the edges, but you can't help but find them relatable or inspiring in some way, leaving you ready to re-read the story before you even hit the final chapter. We've been there too, which is why we created this new YAYOMG! series called Fiercely Fictional!
Fiercely Fictional is all about celebrating the fierce, inspiring fictional girls we know you'll love. To us, "fierce" doesn't just mean slaying dragons or solving mysteries. It's about breaking free from your comfort zone, discovering your confidence, fighting for what you believe in, and discovering your emotional strength. Any girl can shine bright and be fierce, and in this new series, we'll be connecting you with a new fiercely fictional character every month, starting with Gwendolyn Rogers from the new book, Fifty-four Things Wrong With Gwendolyn Rogers.
Why You'll Love This Read: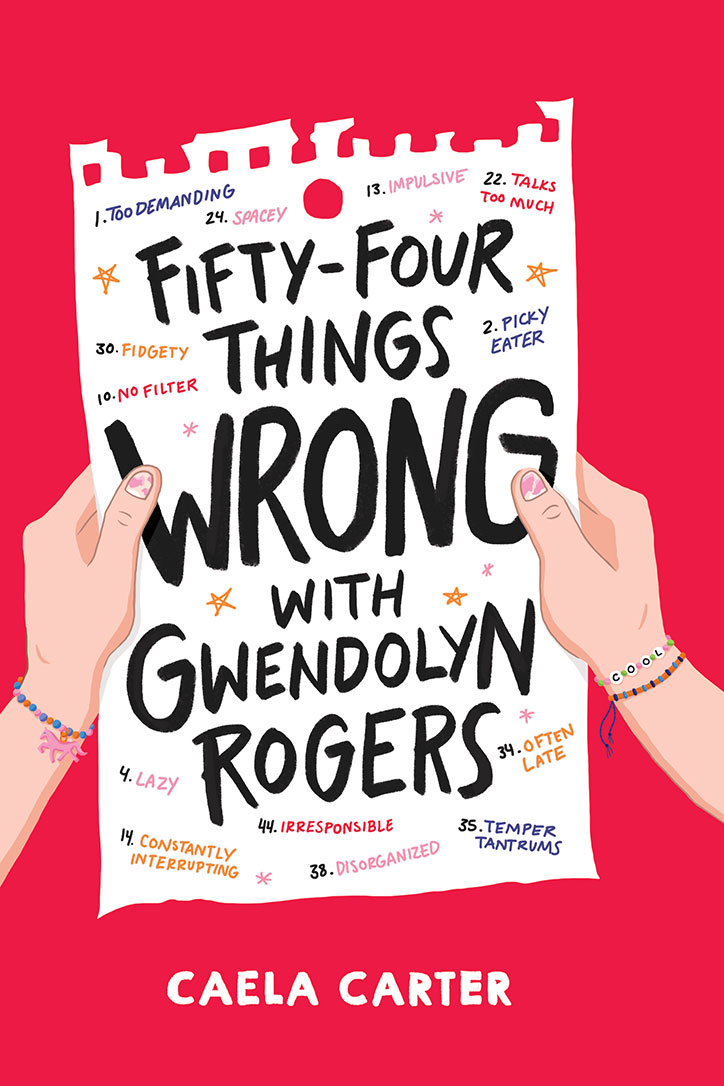 From the critically acclaimed author of the ALA Notable and Charlotte Huck Honor Book Forever, or a Long, Long Time comes a moving own-voices story that shines a light on how one girl's learning differences are neither right nor wrong…just perfectly individual. For fans of Alyson Gerber, Cammie McGovern, and Kathryn Erskine.
No one can figure out what Gwendolyn Rogers's problem is—not her mom, or her teachers, or any of the many therapists she's seen. But Gwendolyn knows she doesn't have just one thing wrong with her: she has fifty-four.
At least, according to a confidential school report (that she read because she is #16. Sneaky, not to mention #13. Impulsive). So Gwendolyn needs a plan, because if she doesn't get these fifty-four things under control, she's not going to be able to go to horse camp this summer with her half-brother, Tyler.
But Tyler can't help her because there's only one thing "wrong" with him: ADHD.
And her best friend Hettie can't help her because there's nothing wrong with Hettie. She's perfect.
So Gwendolyn is hopeless until she remembers the one thing that helped her mother when her own life was out of control. Or actually, the twelve things. Can these Twelve Steps that cured her mother somehow cure Gwendolyn too?
Fifty-four Things Wrong With Gwendolyn Rogers
AUTHOR: Caela Carter
PUBLISHER: Quill Tree Books
DATE: October 19, 2021
In Fifty-four Things, Gwendolyn is a smart and independent fifth-grade girl, but according to a school assessment (and a bit of eavesdropping), she believes there are exactly fifty-four things wrong with her – like being impulsive, too loud, and disorganized. She keeps this list with her wherever she goes, hidden in her shoe or folded up under her pillow, learning to believe that she IS a problem rather than HAS a problem, and blames herself for everything that goes wrong. She tries her hardest to be "good," doing her best to avoid being any of the things on her list so that her mom will let her go to horse camp this summer – but it isn't easy when every single emotion she feels and action she takes feels so out of her control.
Gwendolyn's frustrations and learning differences are an important part of the book, but they're not her only qualities! She may not be able to see it, but she's kind and creative, passionate and strong. Despite her challenges, Gwen is a great kid who just needs a little support from the right people – just like a lot of us! That's why we perfect choice to kick off this brand new series.
Five Reasons We Think Gwendolyn Rogers is Totally Fierce:

She's an Animal Lover:
From her pet fish, Zombie and Marshmallow, to her hamster, Mr. Jojo, Gwen is a total animal lover!
She was even the only patient enough to handle Dandelion, the most troublesome horse at the stable where she used to ride. Gwen saw a bit of herself in Dandelion – she needed a little extra attention and understanding, but she was a great horse, and Gwen developed a real connection with her while being her caretaker because she knew how it felt to be a bit misunderstood.

She's a Loyal Friend:
The relationships in her life are extremely important to her – Tyler, her half-brother, Hattie, her bestie, and even her mom.
Even though she sometimes says or does the wrong thing, Gwen would never intentionally hurt the people in her life – they're everything to her. She appreciates the way Tyler always re-braids her hair and values the way Hettie never seems to see her differently, and the way that her mom always seems to be understanding with her, even when she's frustrated. When Gwen's actions occasionally cause a fight or misunderstanding, she always does everything she can to make things right.
After learning that her friend Marty came out as gender non-binary, she's their most supportive ally, showing readers everywhere how simple it is to be supportive just by listening and doing your best to understand someone who's life is different than your own.

She's Endlessly Creative:
Whether she's writing in her journal or coming up with fresh twists on old games, Gwen sees the world a little differently and is always creative and filled with amazing ideas.
When her friends get stuck in a rut of scrolling through their phones and watching videos during hangouts and sleepovers, Gwen is the one they turn to for a way to transform their dull hangout into an unforgettable experience – and she always delivers!

She Proves There's Nothing Wrong With Needing Help:
Gwen tries SO hard to behave so she can earn checkmarks for her behavior rather than phone calls home to her mom. But every time she inevitably forgets her pencil, unintentionally yells at someone she cares about, or accidentally ignores an important lecture in class, she feels hopeless and looks to her list of the fifty-four things she believes to be wrong with her as the reason she can't ever seem to get it together.
She makes detailed plans with her mom, giving up sugar, trying new routines, and even attempting to work a 12-step program in secret, but it isn't until her mom asks for a favor getting an appointment with an amazing doctor that Gwen finally realizes that she can't (and shouldn't have to) do things alone.
Dr. Nessa is kind, always listens, and truly seems to get her. She knows that Gwendolyn is desperate for a diagnosis and a solution to her struggles but shows her the importance of figuring out the correct diagnosis, proper treatment, and being patient on her journey to find a plan that works. Patience isn't always easy for Gwen, but knowing she has someone on her side that supports her makes a BIG difference.
Plus – Dr. Nessa helps her realize that some of what she believes to be her worst qualities. when used to her advantage. are what make her truly unique!

She's Doing SO Much for Visibility:
There are millions of neurodiverse people in the world – and lots of them are kids! Being able to see your own struggles reflected on the page isn't just relatable, it makes readers feel less alone. Gwendolyn's story may be fictional, but it rings true for so many kids out there.
Even if you've never felt like Gwen, being able to experience her life through her story is such a great way to learn to be understanding and supportive of your neurodiverse friends – like how Thaís always brings a spare pencil to help Gwen in class. A small action like this goes a long way!
Did you know that symptoms for neurological and social disorders like ADHD, SPD, and Autism often show differently in boys and girls? This can be a huge contributor to why it can be frustrating for girls to get properly diagnosed, and we love that author Caela Carter took the time to highlight this in the book to help Gwen feel less frustrated and inform readers.
Ready to get reading? Fifty-Four Things Wrong With Gwendolyn Rogers by Caela Carter is now available from HarperCollins!