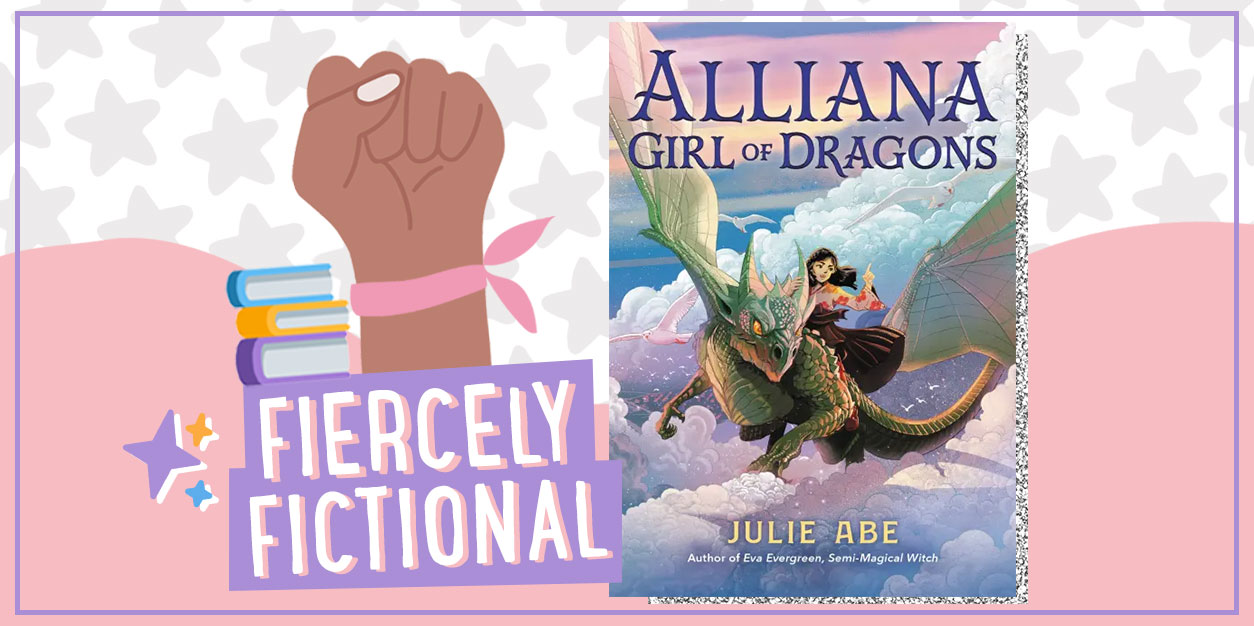 FIERCELY FICTIONAL: ALLIANA, GIRL OF DRAGONS
FIERCELY FICTIONAL is all about celebrating fierce, inspiring fictional girls we know you'll love. To us, "fierce" isn't just about slaying dragons or solving mysteries. It's about breaking free from your comfort zone, discovering your confidence, fighting for what you believe in, & discovering your emotional strength. Any girl can shine bright & be fierce, & in this series, we'll be connecting you with a new fiercely fictional character every month!
In this edition of FIERCELY FICTIONAL, we're introducing you to Alliana from Alliana, Girl of Dragons, an enchanting new novel by Julie Abe inspired by the Japanese Cinderella story set in a whimsical realm.
Alliana's tale begins with a bit of tragedy, and she finds herself at the whim of an evil stepfamily. Overworked and underappreciated, they take advantage of her at every turn, forcing her to repay her debts to them by running and cleaning the family inn (which used to belong to HER parents, FYI), hemming ballgowns, and even stealing from her. The only light in her life is her step-grandmother Mari who always treats Alliana with kindness and encourages her dreams.
Alliana, Girl of Dragons: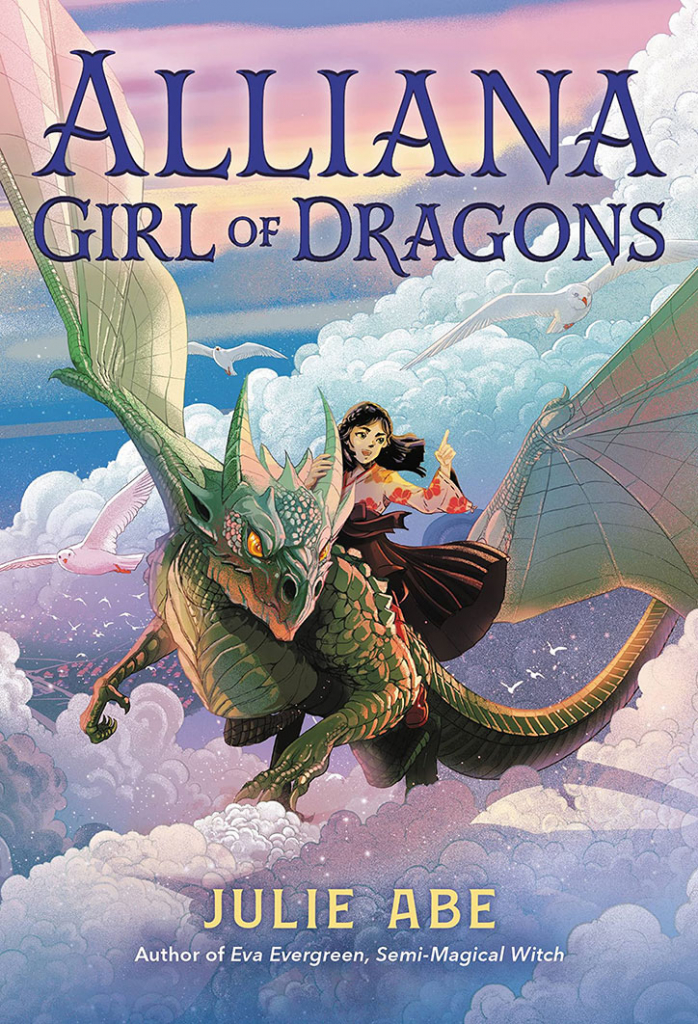 For fans of Shannon Hale and Gail Carson Levine, comes an enchanting fairy tale retelling of the Japanese Cinderella, set in the magical world of Eva Evergreen, Semi-Magical Witch.
Once upon a time, Alliana believed in dreams and fairy tales as sweet as spun-sugar clouds. Alliana wished on shooting stars, sure that someday she and her grandmother would be able to travel to the capital city to see the queen. Then her grandmother passed away—and those dreams disappeared in a disenchanted puff.
Now Alliana's forced to attend to the whims of her wicked stepmother—with long days of cleaning her stepfamily's inn as her skin burns raw or staying up until the crack of dawn to embroider her stepsister's ball gowns. Until she meets two beings who change her life forever—the first is a young nightdragon who Alliana discovers she can magically talk to. And the second is Nela, a young witch.
Nela needs Alliana's help navigating the mysterious abyss, filled with dangerous beasts, a place Alliana knows by heart. Alliana sees Nela's request as a chance to break free of her stepmother's shadow and to seize a chance at a life she's barely dared to hope for—but there's a risk. If caught, Alliana will be stuck working for her stepmother for the rest of her life. Can Alliana truly make wisps of dreams into her own, better-than-a-fairy-tale happily ever after?
Inspired by the Japanese Cinderella story and set in the same world as the Eva Evergreen series, this story can be read as a standalone.
Alliana, Girl of Dragons
AUTHOR: Julie Abe
PUBLISHER: Little, Brown Books for Young Readers
DATE: August 2, 2022
All her life Alliana has wished on shooting stars that she'd one day get to travel with Mari beyond their small town to the capital city to meet the queen. But when Mari passes away, it feels like all of Alliana's dreams fade away with her. With endless chores and no other way to repay her debts, things seem grim for Alliana, especially since she's forbidden to attend the ball – her only hope of being selected for the elite academy that could help her escape the darkness.
While out foraging for herbs, Alliana finds herself in an area unprotected from the dangerous beasts who roam the land and ends up rescuing a baby dragon. She names him Kabo and quickly discovers that she can hear his thoughts and communicate with him. When she meets a young witch named Nela who needs Alliana's help and special abilities, she embarks on a risky magical quest that could change her life where she learns the importance of found family, life-changing friendships, and the importance of never giving up hope.
If you think Alliana's adventure sounds simply enchanting, we've got exciting news to share. Author Julie Abe put together a list of all the reasons she thinks Alliana is totally fierce, just in time for the release of Alliana, Girl of Dragons, which just hit shelves today!
Five Reasons We Think Alliana is Totally Fierce:
She feels like she comes from nothing, but that won't stop her from accomplishing her dreams:
Alliana lives in a dusty, nowhere town on the forgotten outskirts of Rivelle Realm, with her stepmother and step siblings, where she's trying to repay her debts to her stepmother.
Though she dreams of going to the capital city and seeing the queen, her idol, she's willing to fight (with her brain!) to make her dreams happen, even as much as her step-family tries to get in her way.

She is super resourceful:
Alliana can take scraps of fabric and make it into something worthwhile. When Alliana's stepmother refuses to let her go to the ball, Alliana is sure that she's going to be stuck at home. After all, she can't show up to the biggest ball the countryside has ever seen in her ratty innkeeper uniform.
However, with a pinch of creativity and sheer willpower, Alliana finds a way to sew up a dreamy dress of her dreams.

She'll always protect her family, even those not connected to her by blood:
Even though she's orphaned, Alliana finds the people who make her feel like she has a home, wherever she goes!
First, there's Grandmother Mari—not related to her, but the kindest, gentlest soul who encourages Alliana's dreams. There's also Nela, a young witch who, despite how powerful she is, looks to Alliana for her knowledge about the local area, and fully trusts Alliana's input. And, if there's ever a time in need, Alliana will do anything she can to help them in the way they've helped her.

She doesn't have much, but she loves what she has:
Alliana cherishes her close friendships more than the jangly bracelets her stepmother tries to flaunt. Even if she mostly has her stepsiblings' castoffs, she takes great care of her belongings—especially her dear Grandmother Mari's old sewing box, which her stepfamily considers useless.
Alliana truly believes that things don't have to be pricey or brand-new to be special, and she loves what she has.

She stands up for herself:
Even though Alliana has struggled through working off her debts to her stepmother, she definitely doesn't let herself become small in the face of opposition, especially when it would mean things like losing a chance to go to the ball of her dreams, a chance for future to change for the better.
Even if it'll require a lot of work on her end, Alliana will soar to new heights as she tries to achieve her goals!
Does your bookshelf need more girl power? Catch up on our FIERCELY FICTIONAL series!