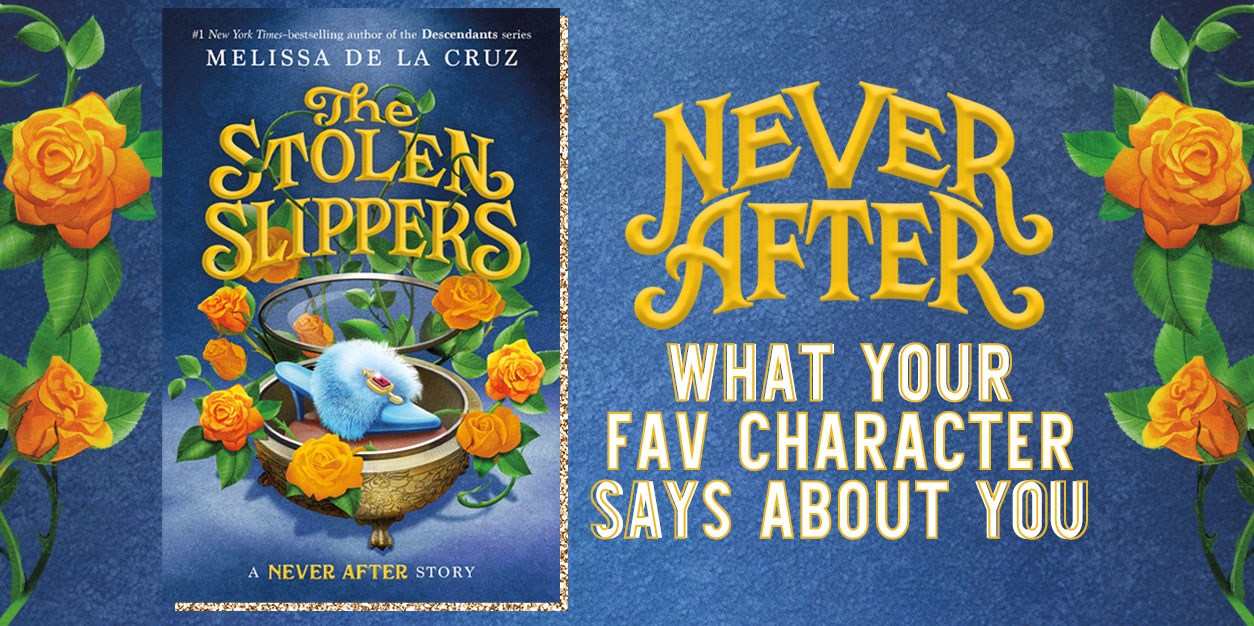 Here's What Your Fav Never After Character Says About You
NOTE: This post is sponsored by The Never After Chronicles.
The Never After series flips fairytales upside down, not just re-telling the tales, but revealing the truths behind the stories you thought you knew. In both The Thirteenth Fairy and The Stolen Slippers, bookworm turned unlikely heroine Filomena Jefferson-Cho must team up with the characters from her favorite book series to save the fairytale world she's been fangirling over for years.
This fairytale saga by Melissa de la Cruz perfectly blends reality and fantasy, adventure and humor, and sprinkles in some super fun twists for a can't miss series you need to add to your shelf! Sounds amazing, right? It totally is, but it isn't just the danger and adventure that make these books great – it's the charming, loveable characters.
Discover a new middle-grade fantasy saga from Melissa de la Cruz, the #1 New York Times bestselling author of The Descendants series, with Never After: The Stolen Slippers, where real life and fairy tales collide!
Tossed back into the not-so-familiar fairy-tale world of Never After, Filomena Jefferson-Cho and her friends set off on another adventure . . . this time in search of Cinderella's glass slipper. Or rather, glass slippers.
It turns out the classic story of Cinderella is full of lies—starting with how Cinderella herself is far from the innocent heroine everyone thinks she is. She is manipulative and cunning—willing to do anything to be the princess of Eastphalia. The real heroines of her story are her "wicked" stepsisters, Hortense and Beatrice, who aren't actually wicked at all!
With the help of the dashing Jack Stalker, adorable Alistair, and glamorous Gretel, Filomena must track down the slippers, which may be the key to a certain mysterious prophecy . . . And when Filomena and Beatrice get tossed into the Beast's dungeon, all hope seems to be lost. Will the conniving Cinderella shatter everyone's hopes for a true un-twisted ending? Or will Filomena and her friends secure the happily ever after Cinderella's stepsisters deserve?
Never After: The Stolen Slippers
AUTHOR: Melissa de la Cruz
PUBLISHER: Roaring Brook Press
DATE: February 1, 2022
Filomena, Jack, Alistair, and Gretel are a squad you wish you could be a part of. We love how relatable they are and how tightly-knit their friendship becomes with each and every quest. With every challenge they face, we see that sometimes even the dashing heroes can have their doubts and awkward sixth-grade book-lovers are stronger than they seem.
From the charming Jack Stalker to the fabulous Gretel, here's what your fav Never After character says about you and how they can inspire your most enchanting year yet!
Here's What Your Fav Never After Character Says About You:

Filomena Jefferson-Cho:
If Filomena is your fav, your biggest adventures probably happen within the pages of your favorite book – and that's okay, as long as you don't let it hold you back. When we first meet Filomena, she lives a pretty low-key life, but soon discovers that she's braver and more capable than she ever dreamed possible – and you are too!
Make this year amazing by channeling your inner-Filomena energy and finding that inner courage you didn't know you had. Being brave doesn't only mean being the hero or saving the day. Courage can be putting yourself out there, trying new things, and exploring a side of yourself you've always wondered about! Your dreams don't have to be a fairytale – you can make them come true!
Your Most Enchanting Trait: Courage
Fairytale Charm: ✊
Activity To Try: Anything! Use your newfound bravery and endless curiosity to empower your year by breaking free from your comfort zone. Always dreamed of playing guitar, trying out for the lead in the play, or eating sushi? This is your year to give it a shot! You'll be surprised just how much your confidence grows as you put yourself out there.
Never After Quote to Inspire You: "The quickest way to fail is to succumb to your doubt and fear. If you never try, you'll never know if you could have succeeded, which makes it certain that you'll fail."

Jack Stalker:
In The Stolen Slippers, we discover that our dashing hero Jack Stalker is deeper than we thought. As the story reveals more about our vine-equipped hero and his tragic past, we discover his softer side. He keeps his feelings buried deep, but once they bubble to the surface, he's taken by surprise when his friends are there to support him.
Like Jack, you appear charming and cool on the outside. Everyone loves you, and you're able to charm your way into anything, from an extra credit assignment after a bad grade to asking your crush to the school dance – but it's important to feel those feels! This year, we think you should embrace the side of yourself that's been hiding in the shadows of your dashing personality. Show the world who you truly are, and like Jack, your friends will show up to support and celebrate you.
Your Most Enchanting Trait: Charming
Fairytale Charm: ?
Activity to Try: Find a low-key creative outlet! As the dashing & adventurous type, you're always in motion, but this year, we're challenging you to take time to reflect and find yourself. Try journaling, painting, songwriting, or anything else that allows you to slow down and express your emotions.
Never After Quote to Inspire You: …sometimes you can't predict how you'll deal with something – until you do. Sometimes you can even surprise yourself with your own courage and strength."

Alistair:
If the adorable Alistair is your fav, we can't blame you! His big heart and optimistic outlook are simply irresistible! Alistair feels like an instant-bestie on the page because he IS! He's trustworthy, supportive, and would do anything for his friends. He's always ready for a delicious treat and to welcome a new friend into his heart.
Like Alistair, you've got this whole kindness thing down to a science, so why not channel that kindness into empathy this year by giving back? Make this a year to volunteer, and we guarantee you'll come out feeling grateful, proud, and sweeter than ever.
Your Most Enchanting Trait: Kind
Fairytale Charm: ?
Activity to Try: Lend your time! Whether you choose to lead a study group at school or volunteer at an animal shelter, small actions can have a big impact. Tap into your talents and it'll be easy to find a way to put it to good use. Plus, every little act of kindness can spark another – and if that's not magic, we don't know what is!
Never After Quote to Inspire You: "I believe in you…we all do. But you have to believe in yourself, too. Because in the end, that's what matters most."

Gretel:
Our girl Gretel is fierce in every sense of the word – she's fearless, she's unique, and she's fabulous! With her trusty fabric scissors by her side (and a pair of fab shoes on her feet!), she can take on any challenge that comes her way. She isn't afraid to take risks or put herself out there and has a deep love for her family and friends.

Let Gretel empower you to make this your fiercest and boldest year yet! Become the leading lady of your life by making the most of every moment and learning from your mistakes rather than dwelling on them.
Your Most Enchanting Trait: Fierce
Fairytale Charm: ?
Activity to Try: Taking the lead! Whether it's through a student government position, being the captain of a sports team, or even starting your own book club, find something to channel all that fierce energy into. You'll quickly find that this year goes from ordinary to enchanting as fast as taking a portal from reality to fairytale land!
Never After Quote to Inspire You: "It's okay to be different from other people, even your own friends."
Want to find out your fairytale vibe and discover if you're a dashing damsel, a supportive sidekick, or the ultimate underdog? CLICK HERE to take our Never After inspired quiz! Ready to get your read on? Never After: The Stolen Slippers by Melissa de la Cruz is now available!