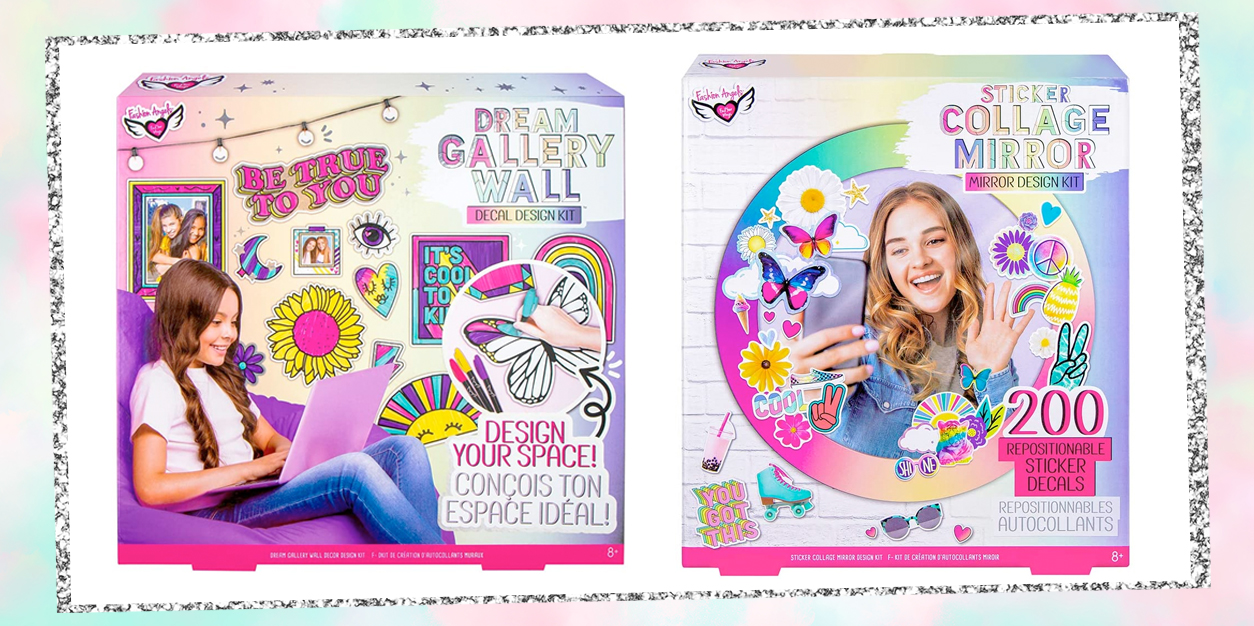 Design Your Dream Room With These Fashion Angels Kits + GIVEAWAY!
NOTE: We teamed up with Fashion Angels for this Room Makeover Giveaway. All opinions are our own; we were under no obligation to give a positive review. Giveaway prizes provided by Fashion Angels.
Is your room in need of a major refresh? We're here to help!
From study time to late-night Netflix marathons, your room is where you spend most of your time, so it should be a comfy sanctuary where you feel free to relax and be your true self. While a bedroom overhaul may be out of reach, some simple changes can really make a big difference and change the overall vibe of your space. Rather than a fresh coat of paint or pricey new furniture, try adding some twinkly string lights, bold decals, or fluffy pillows in your favorite color. Small changes like these can help add to the aesthetic and make your room feel new again. That's why we're sharing some of our favorite Fashion Angels DIYs that will help you channel your creativity and transform your room into your dream hangout space!
Ready for the room refresh of your dreams? We teamed up with Fashion Angels to give ONE lucky winner a chance to snag all four kits on the list! Grab your favorite adult and have them enter below for your chance to WIN!
These Fashion Angels Kits Will Help Transform Your Room into Your Dream Hangout Space: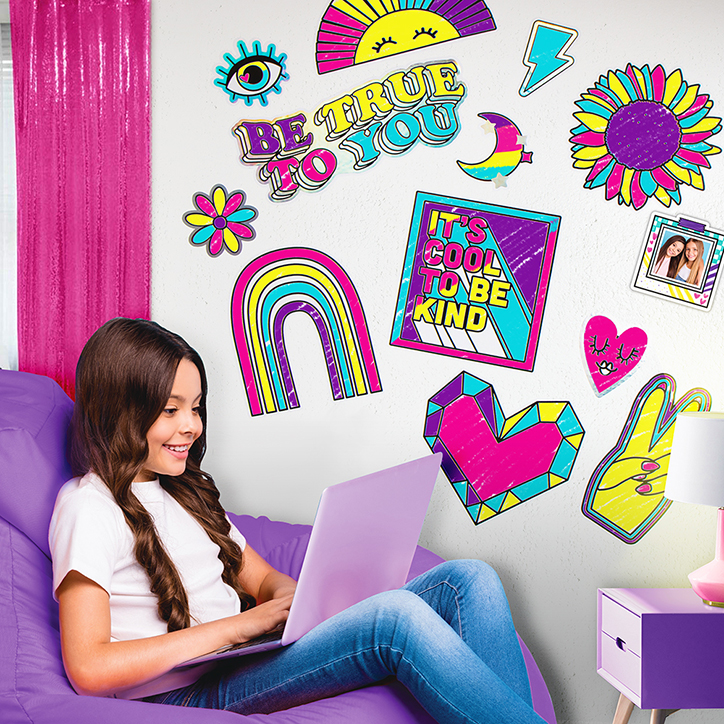 Dream Gallery Wall Decal Design Set:
UNWIND IN STYLE: If your room could use a glow-up, this is the kit for you. Step into the role of designer and bring colorful vibes to your walls with these DIY decals. With 15 decals to choose from, you can use them all and make it bold, or keep it subtle by just selecting a few favs. It even comes with an inspiration guide to keep your creativity flowing as you bring your ideas to life!
WHY YOU'LL LOVE IT: Give your room an amazing makeover and de-stress while doing it! Coloring is a great way to unwind after a big exam or get sleepy before bedtime. You won't just be making your room totes gorgeous, you'll feel refreshed and fab once it's done, too.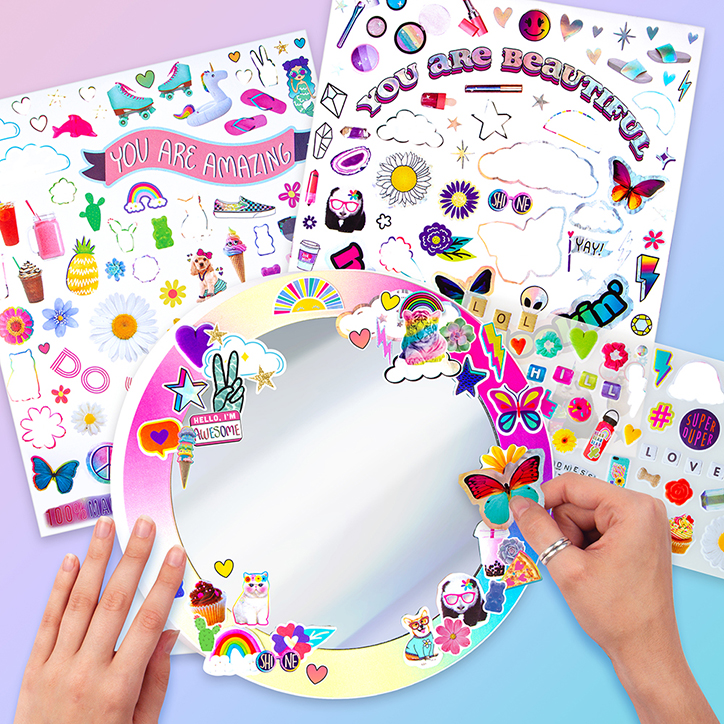 Sticker Collage Mirror Design Kit:
UNWIND IN STYLE: This mirror design kit comes with everything you need to create a glam sticker collage and bring your personality to life in your room. Plus, it's super simple – all you need to do is choose your fav stickers and stick them on. You don't need a ton of time or amazing art skills to transform this mirror into the cutest part of your room!
WHY YOU'LL LOVE IT: Since you're in charge, you can design the aesthetic for your collage, making it perfect for mirror selfies! With over 200+ vinyl reusable stickers in adorable designs like aliens, roller skates, and gummy bears, you can switch it up anytime you're itching for a style refresh.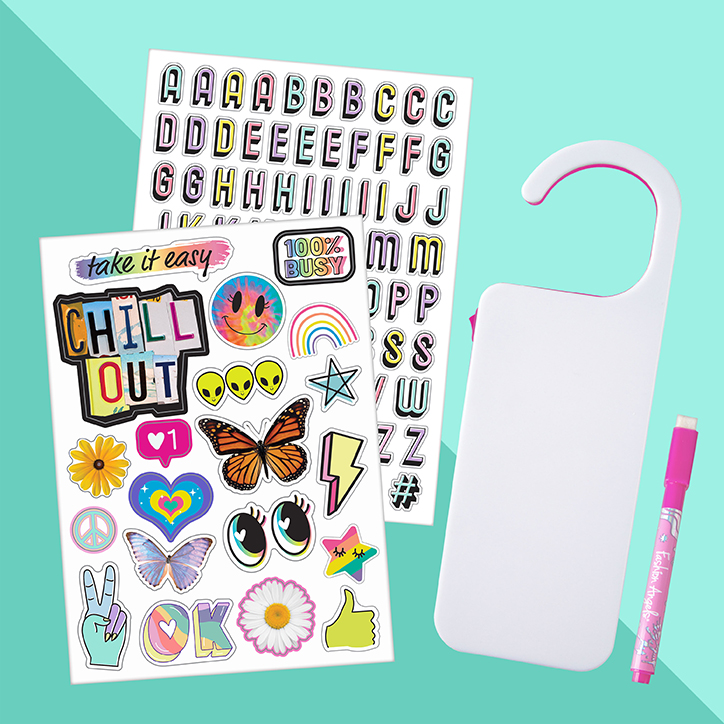 Design Your Own Light-Up Door Hanger Kit:
UNWIND IN STYLE: Light up your room and express yourself with this amazing kit! Like the Mirror Collage above, this Door Hanger kit helps you add flair to a dull room through lots of trendy & colorful stickers. From daisies and peace signs to all the letters of the alphabet, you can create anything you can dream up!
WHY YOU'LL LOVE IT: In addition to all the amazing stickers, this Light Up Door Hanger doubles as a dry-erase board. Keep your family in the know about when you need quiet time to study or when it's okay for younger siblings to stop in.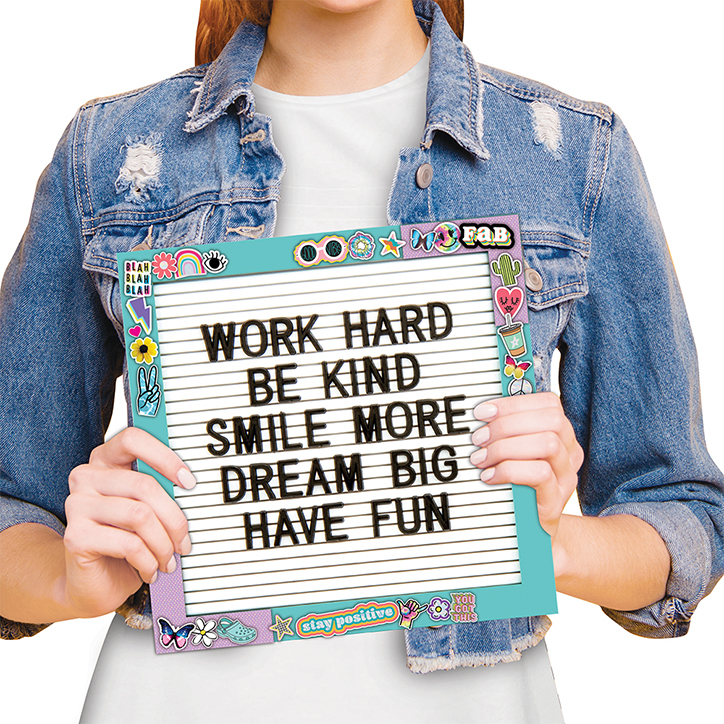 Spell It Out! Letter Board Design Kit:
UNWIND IN STYLE: No room makeover is complete without a way to let your personality shine through, which is why we're loving this Letter Board Design Kit. With tons of stickers and lots of letters, it's an amazing way to add a splash of YOU to your room and let the world know what you're thinking.
WHY YOU'LL LOVE IT: Use your letterboard as a place to write important reminders or your fav song lyrics and inspiring quotes for a surge of good feels every time you walk in the room! Plus, they make great background decor for all your social shares!
Fashion Angels Room Makeover Giveaway: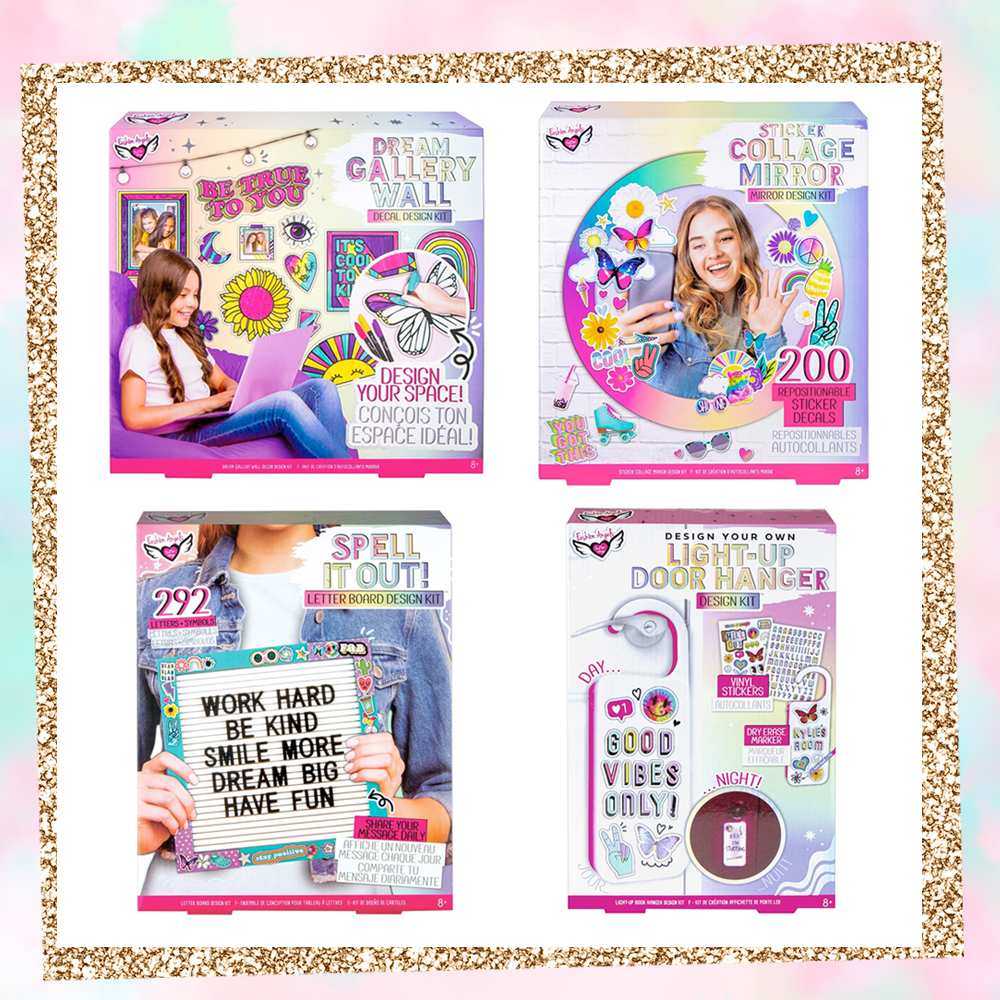 WHAT DO I WIN?:
ONE lucky winner will receive a Fashion Angels Room Makeover Prize Pack that includes:
– ONE (1) Dream Gallery Wall Decal Design Set
– ONE (1) Sticker Collage Mirror Design Kit
– ONE (1) Design Your Own Light-Up Door Hanger
– ONE (1) Spell It Out! Letter Board Design Kit
Prizes generously provided by Fashion Angels
HOW DO I ENTER?:
Grab a parent or guardian and have them fill out the form below by September 23, 2021 at 11:59pm ET.
Giveaway runs from 9/09/21 at 12:00 pm ET through 9/23/21 at 11:59 pm. Open to US residents ONLY. Be sure to read the fully detailed rules HERE before entering.
THIS GIVEAWAY HAS ENDED AND THE WINNER HAS BEEN CONTACTED.
You must be 18 or older to enter. Please, only ONE entry per person. If selected as a winner, we will provide your parent/guardian with an affidavit to confirm that you are a valid winner who has permission to win. They will be REQUIRED to sign and return the affidavit to YAYOMG! to claim your prize. Prizes will not be mailed out without signed parental consent.
In need of even more ways to chill out this school year? We're giving away a stash of Klutz kits that'll empower your creativity and help you dazzle up your supplies with a much-needed glow-up!