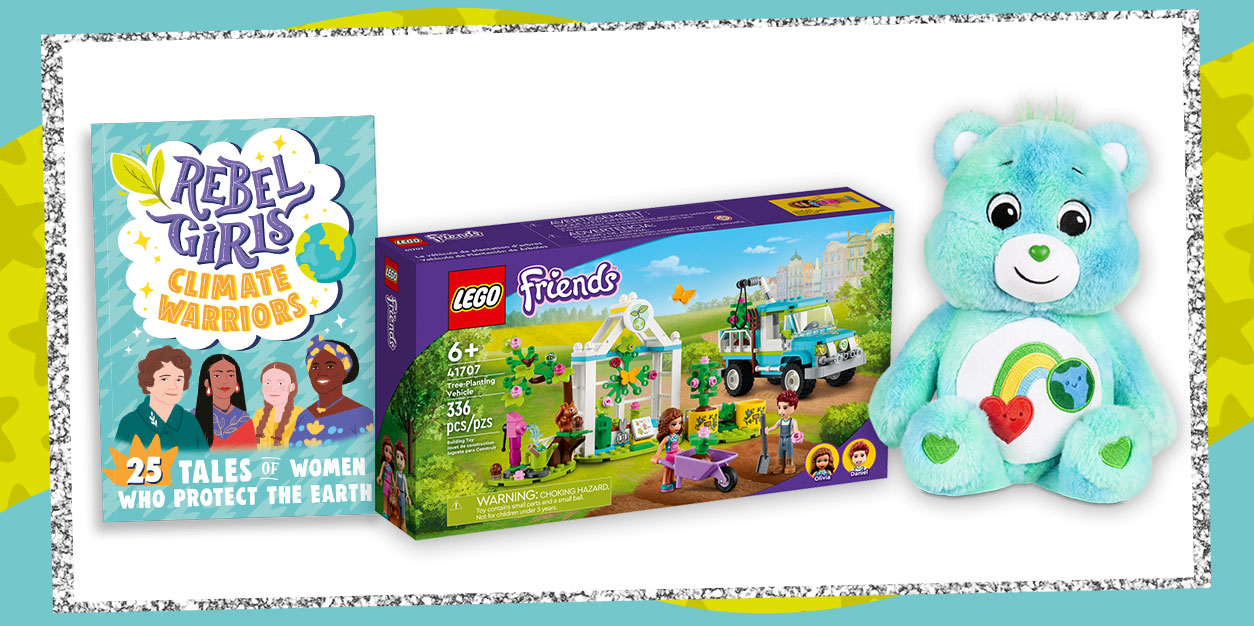 Celebrate the Planet With Our Earth Day GIVEAWAY!
NOTE: We teamed up with LEGO, Rebel Girls, Workman Publishing, Basic Fun, Little, Brown Books, & National Geographic Kids for this Earth Day Giveaway. All opinions are our own; we were under no obligation to give a positive review. Giveaway prizes provided by the brands.
With Spring in full force, you've likely been spending more time outside surrounded by blooming flowers, chirping birds, and all the ways that nature comes to life during this season of renewal. But have you ever wished you knew more about the Earth and how you can do your part to keep it thriving?
If so, we're here to help! We put together a list of some amazing toys, reads, and activities to spark your curiosity and help you learn everything you need to know about the amazing planet we call home. From books about the history of how the Earth was formed and reads about climate-focused eco-activists who have changed the world for the better to a LEGO Friends build that will inspire your interest in plants and flowers, our picks are all about empowering you to learn more, get involved, and learn lots of interesting facts about the planet and its ecosystem and wildlife.
Getting hands-on with the science of how the planet works gives you everything you need to know to keep it protected, so we paired each of our picks with an Earth-based activity for you to try!
Since you know we LOVE giveaways, we teamed up with LEGO, Rebel Girls, Workman Publishing, Basic Fun, Little, Brown Books, and National Geographic Kids for the ULTIMATE Earth Day giveaway. One lucky winner will have a chance to WIN every item on the list! Want it to be you? Grab your favorite adult and have them enter below for your chance to WIN!
Celebrate the Planet with These 7 Earth Day Finds: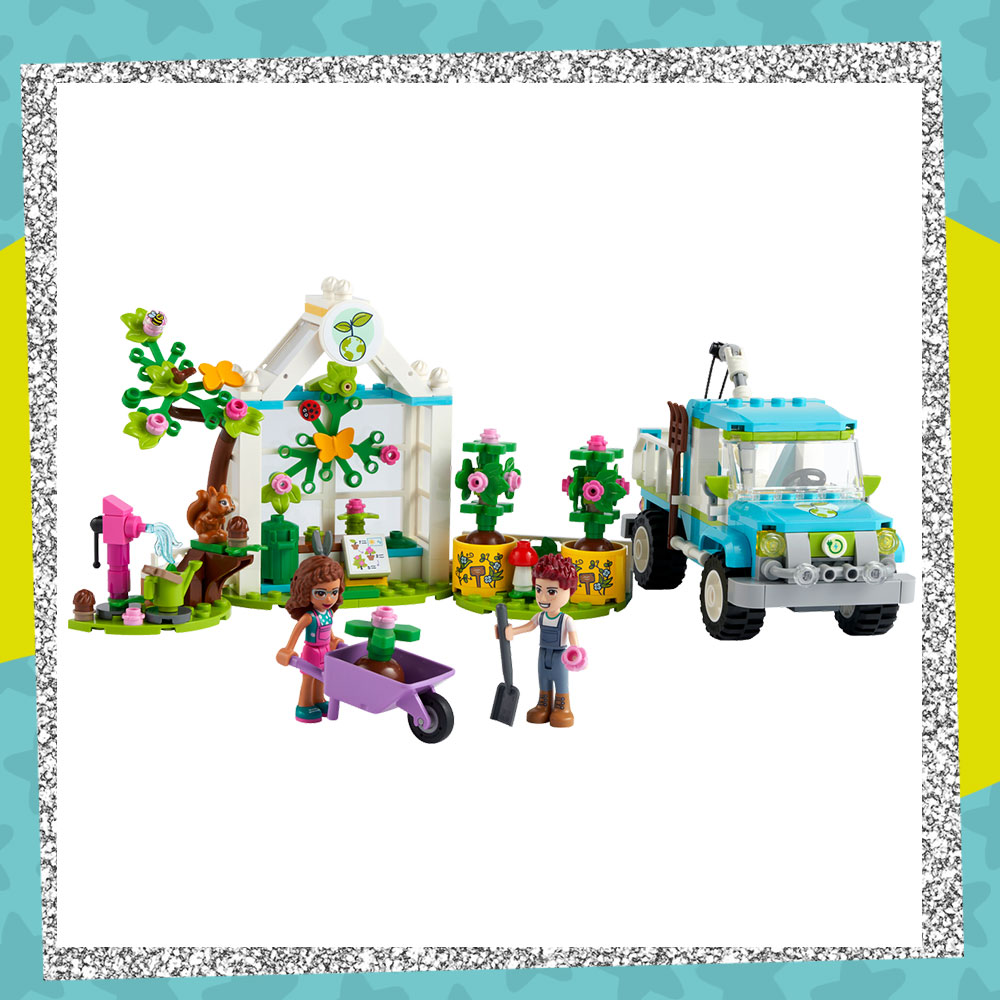 LEGO Friends Tree-Planting Vehicle:
THE DEETS: Build your own tree nursery and electric pickup truck with the LEGO Friends Tree-Planting Vehicle!
LEGO Friends are all about empowering kids to find their passions and explore their creativity through each and every build. After bringing this set to life, use it as a jumping-off point to learn more about wildlife and nurture your love of nature.
ACTIVITY TO TRY: Use the LEGO Friends as inspiration! Gather up a few friends and ask your principal if you can plant a tree or butterfly garden outside your school.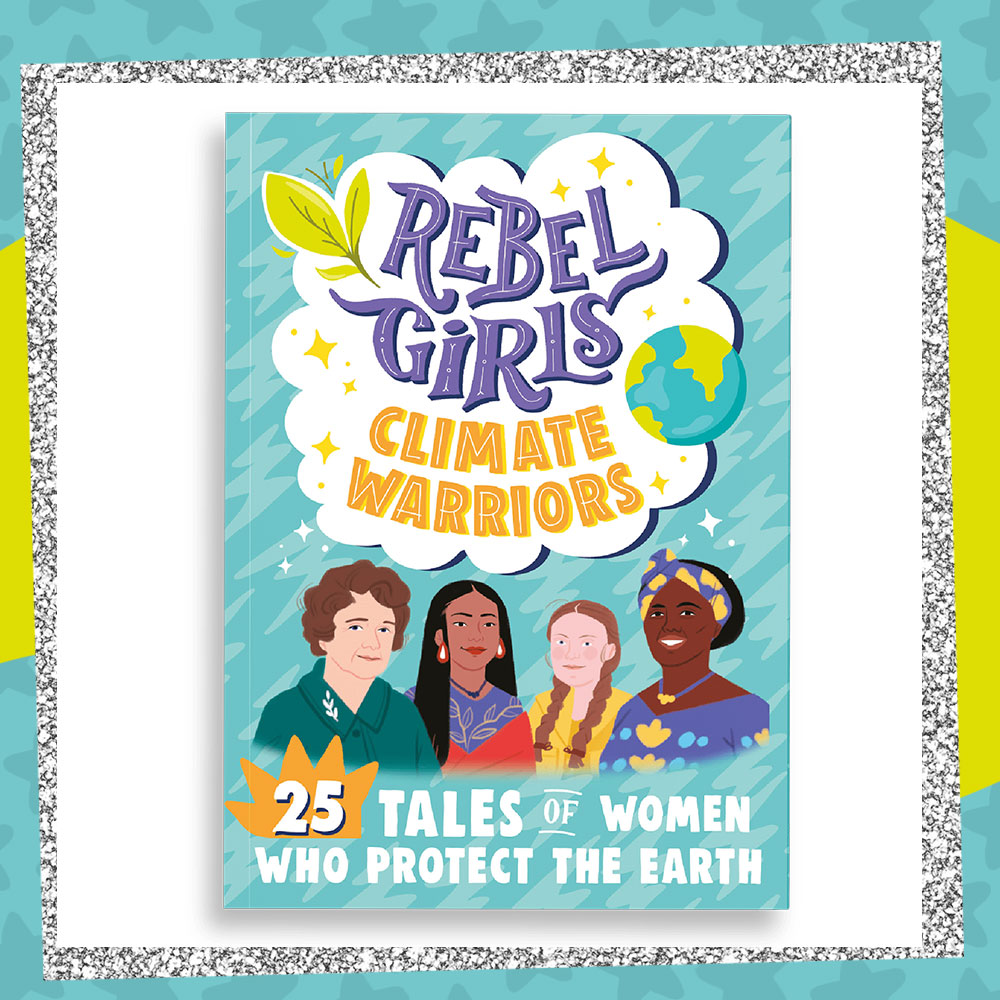 Rebel Girls: Climate Warriors: 25 Tales of Women Who Protect the Earth:
THE DEETS: In Rebel Girls Climate Warriors: 25 Tales of Women Who Protect the Earth, you'll read about the world-changing work of women who've dedicated their lives to protecting the Earth.
Join the frontlines of the global climate movement with Greta Thunberg, study finches and owls alongside self-proclaimed birdgirl Mya-Rose Craig, and help send an impactful environmental message by camping out in the branches of a majestic redwood tree with Julia Butterfly Hill.
These fairytale-style stories about these empowering planet protectors will inspire you to follow in their footsteps and fight back against polluters and make an eco-positive change in your own life.
ACTIVITY TO TRY: Lead the eco-friendly charge in your community by organizing a trash cleanup event or starting a recycling club at school. It's never too late to become a climate warrior!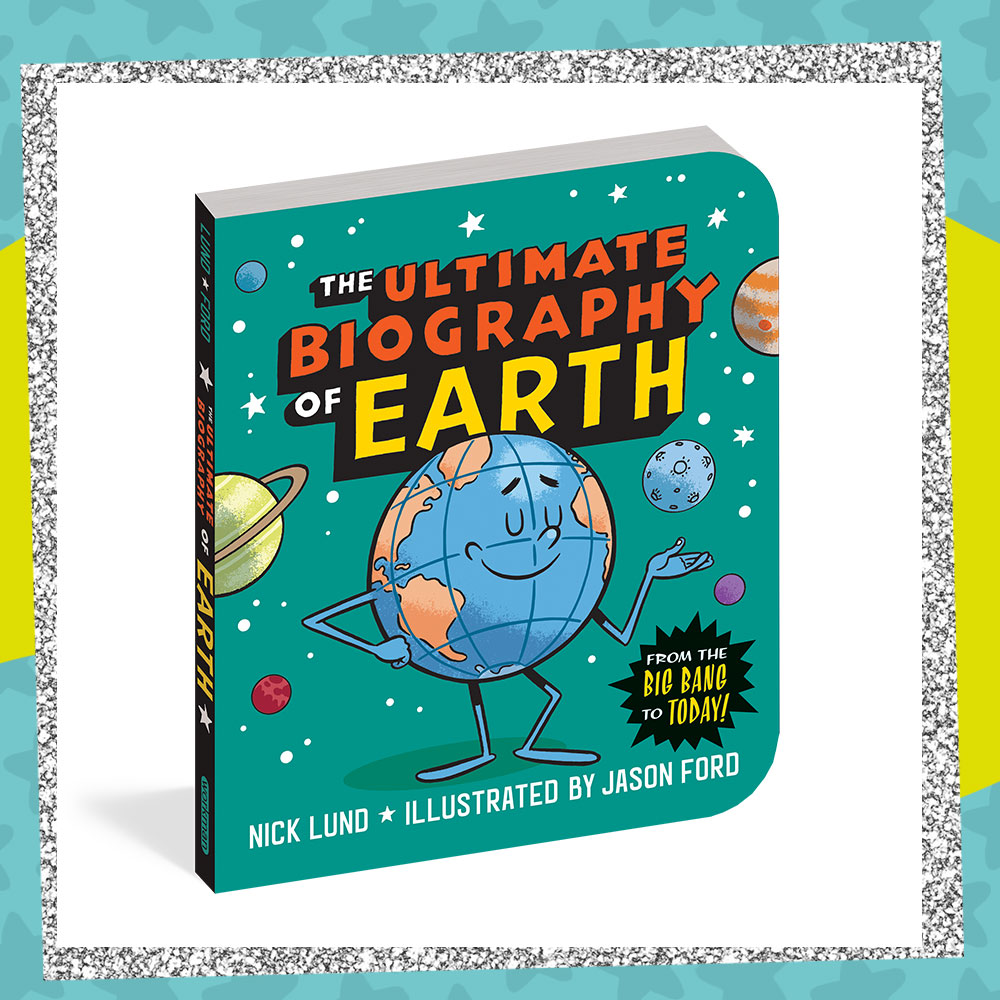 The Ultimate Biography of Earth: From the Big Bang to Today:
THE DEETS: Fully illustrated and filled with facts, the Ultimate Biography of Earth is here to share the whole story from past to present! Starting with the Big Bang, your adventure kicks off at the beginning of the universe, taking you through 4.5 billion years of the best place in the galaxy – aka EARTH!
Navigate your way through the chaotic Hadean eon all the way to the Cenozoic Era (that's today!) through this science-fueled page-turner on everything you didn't know you needed to know.
ACTIVITY TO TRY: Have your friends over for a day of upcycled DIYs! Turn old shirts into tote bags, snack on organically grown treats, and share some of your newfound Earth knowledge.
When you're ready to retire this read, donate it to a younger sibling, thrift store, or library to keep the knowledge flowing (and help it avoid landing in a landfill!)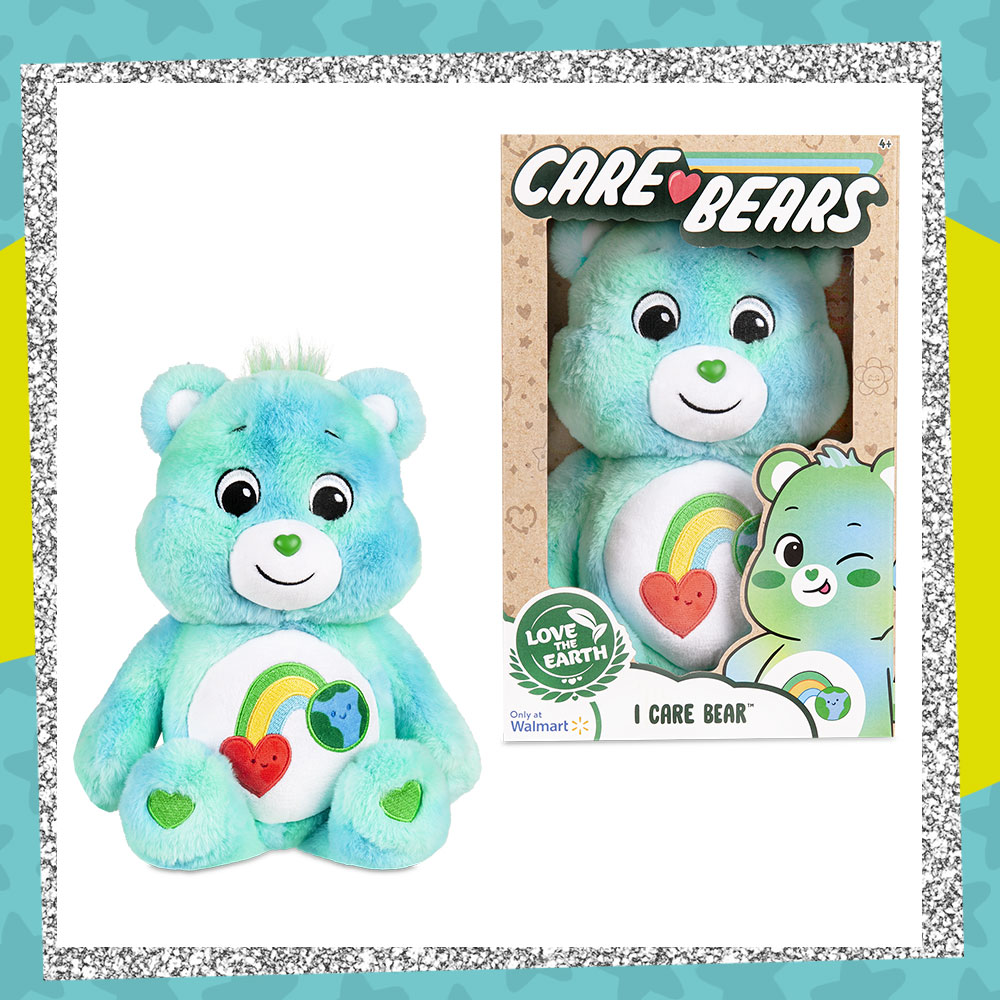 I Care Bear:
THE DEETS: The first-ever eco-friendly Care Bear has arrived, and it's irresistibly cute and impossibly soft to snuggle. I Care Bear features an extra-special belly badge that encourages his friends to recycle, reduce waste, and do their part to keep the Earth clean for generations to come!
Made from recycled materials and eco-friendly packaging, this nature-loving bear is ready for endless bear hugs!
ACTIVITY TO TRY: Show your care like I Care Bear by making eco-friendly choices whenever you can. Going to the park? Pack your reusable water bottle and ask your parents if you can ride your bikes rather than drive!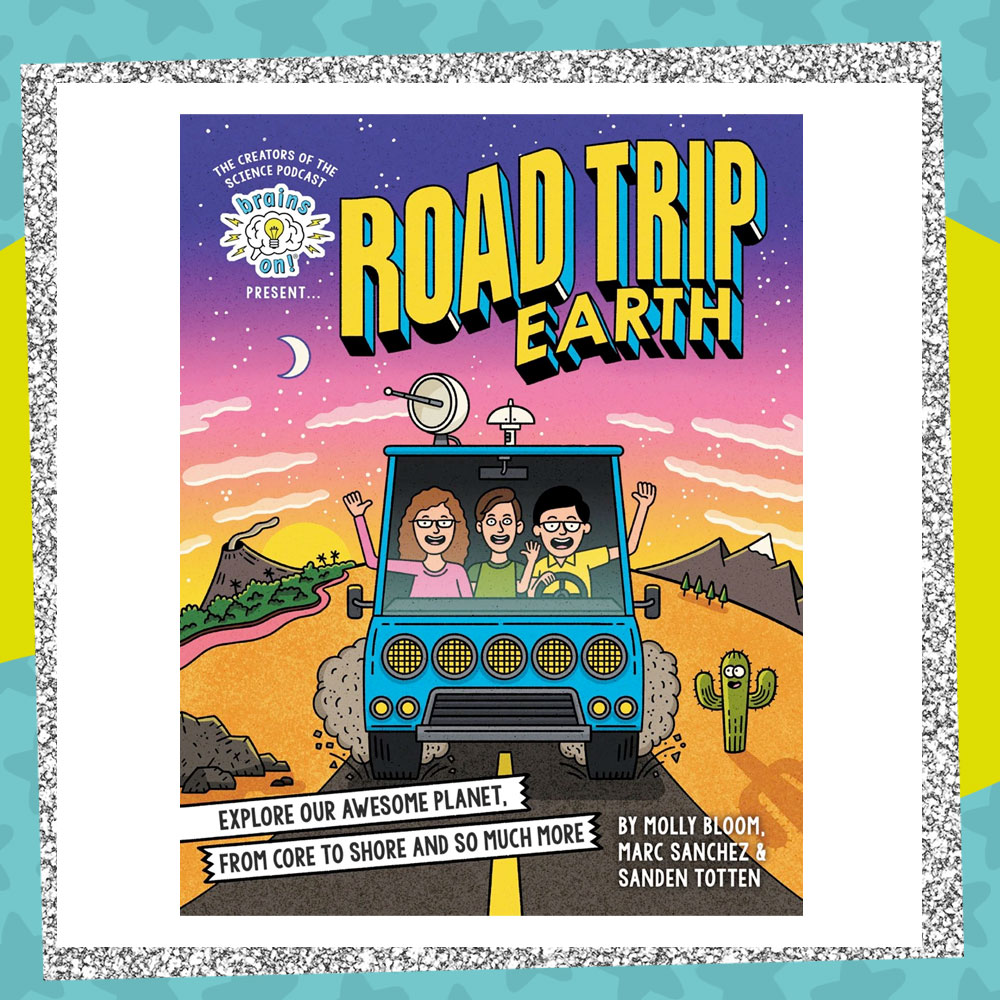 Brains On! Presents…Road Trip Earth: Explore Our Awesome Planet, from Core to Shore and So Much More
THE DEETS: Like your knowledge with a side of LOLs? The Brains On! podcast squad has got you covered. This illustrated adventure takes you inside, around, and through the planet, packed with scientific research, lots of puns, mind-boggling trivia, and awesome artwork, all with one goal – taking YOU on the ultimate journey through the Earth.
Hop in their high-tech ride to uncover the coolest facts, strangest mysteries, and most incredible marvels the Earth has to offer. Discover the fascinating reasons why the ocean is salty, the science behind volcanic eruptions, and finally find out why no two snowflakes are the same!
ACTIVITY TO TRY: One of the best ways to understand the Earth is to get hands-on and explore. Fascinated by sea creatures? It's time to plan a day at the local aquarium. Can't get enough of birds? Your local state park is filled with them. Love flowers? Try planting a garden and watching each phase of a plant's life as it grows.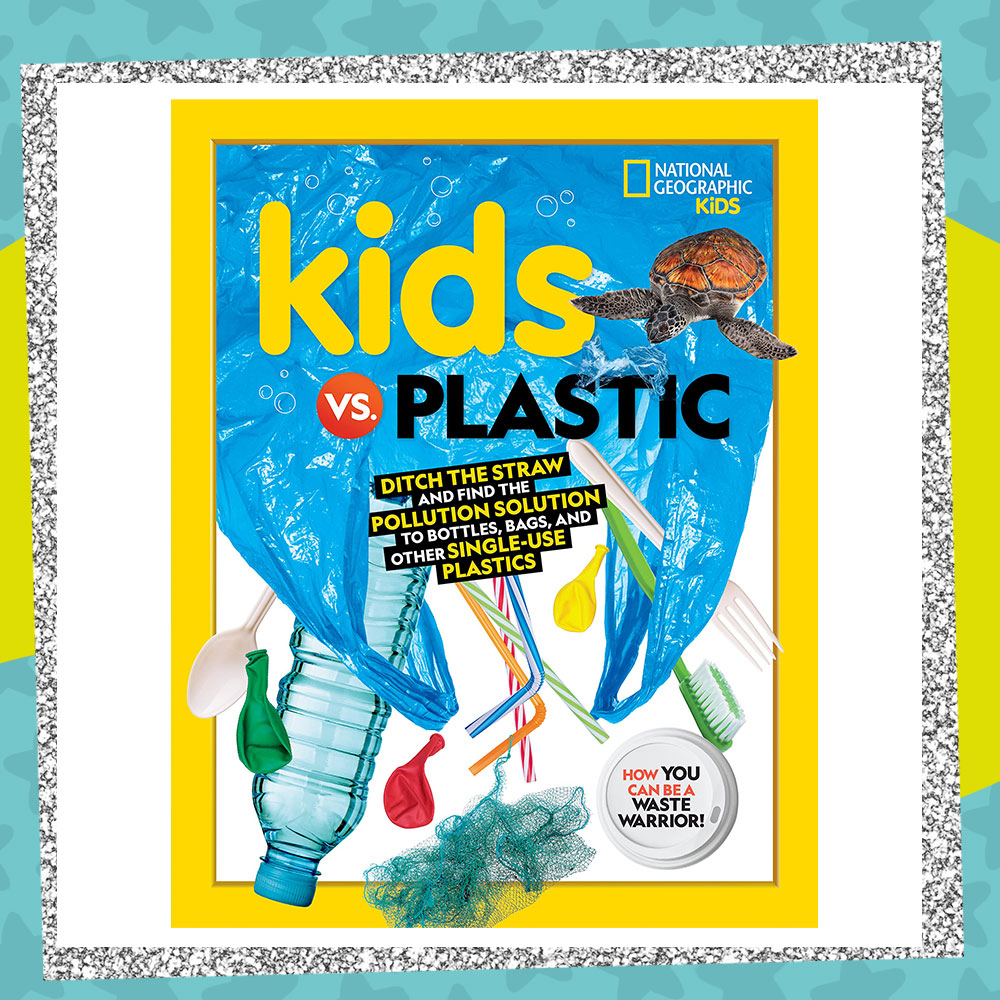 Kids vs. Plastic: Ditch the Straw and Find the Pollution Solution to Bottles, Bags, and Other Single-Use Plastics:
THE DEETS: Plastic is in pretty much everything you use all day long. From your toothbrush to your phone case, plastic is absolutely everywhere. But did you know that plastic takes a REALLY long time to break down and can be harmful to the environment?
Don't worry! There are ways you can make easy swaps in your everyday life to become greener and help be a part of the pollution solution. Filled with interviews with experts and researchers as well as tips & tricks you can use in your everyday life, Kids vs. Plastic will help you learn everything you know about living sustainably and ensuring a healthy future for our planet!
ACTIVITY TO TRY: Continue your research! National Geographic Kids created a Kids vs. Plastic website dedicated to helping kids discover even more advice, DIY ideas, and info you can use to become a waste warrior!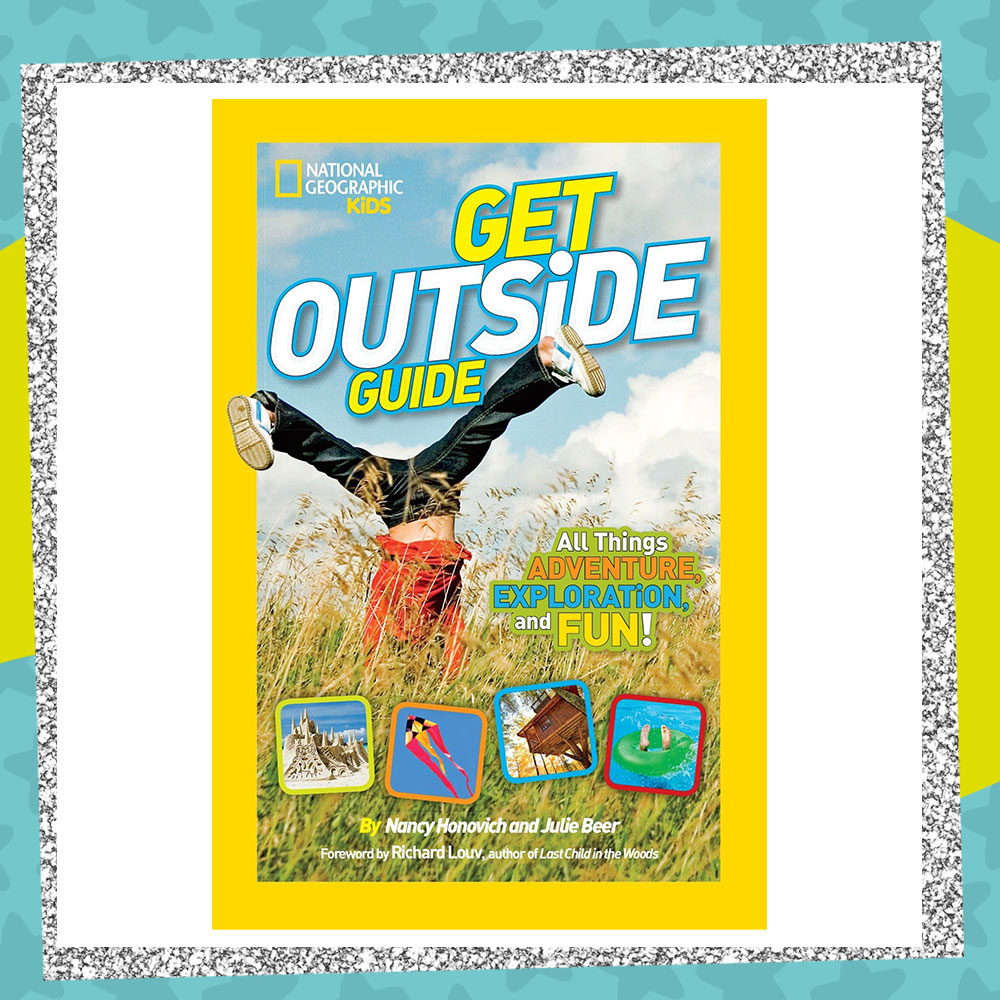 National Geographic Kids Get Outside Guide: All Things Adventure, Exploration, and Fun!:
THE DEETS: Stumped for ideas for how to get outside as the weather gets better? Let this super-fun read be your guidebook for all things outdoors!
Filled with activities and projects for every season, the Get Outside Guide will have you exploring state parks, building backyard birdbaths, and appreciating everything the Earth has to offer! The book is broken down by habitats and filled with fun facts, so you'll learn the science behind what makes this world so great as you check each and every activity off your list.
ACTIVITY TO TRY: Challenge yourself to go outside more! Make a list of ten things you'd like to do outside each month, and then do them. Whether it's to fly a kite, make your own sidewalk chalk, or go cloud spotting, the more time you spend in nature, the more connected you'll feel to the Earth.
Earth Day Giveaway: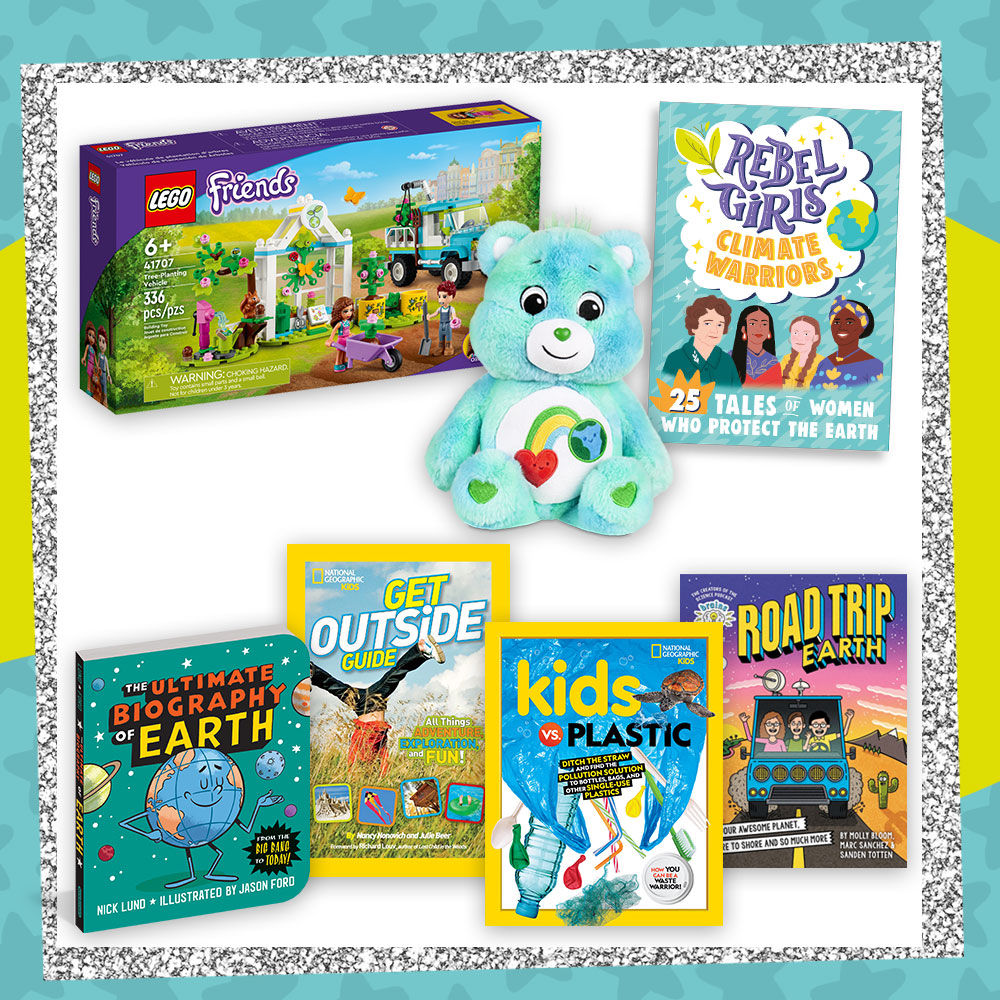 WHAT DO I WIN?:
ONE lucky winner will receive an Earth Day Prize Pack that includes:
– ONE (1) LEGO Friends Tree Rescue Vehicle from LEGO
– ONE (1) copy of Rebel Girls: Climate Warriors by Rebel Girls
– ONE (1) copy of The Ultimate Biography of Earth by Nick Lund and Jason Ford
– ONE (1) Care Bears I Care Bear Plush from Basic Fun
– ONE (1) copy of Brains On! Presents: Road Trip Earth by Molly Bloom, Marc Sanchez, and Sanden Totten
– ONE (1) copy of National Geographic Kids: Kids vs. Plastic by Julie Beer
– ONE (1) copy of National Geographic Kids: Get Outside Guide by Nancy Honovich and Julie Beer
*Prizes provided by LEGO, Rebel Girls, Workman Publishing, Basic Fun, Little, Brown Books for Young Readers, and National Geographic Kids.
HOW DO I ENTER?:
Grab a parent or guardian and have them fill out the form below by May 6, 2022 at 11:59pm ET.
Giveaway runs from 04/22/22 at 10:00 am ET through 05/06/22 at 11:59 pm. Open to US residents ONLY. Be sure to read the fully detailed rules HERE before entering.
THIS GIVEAWAY HAS ENDED AND THE WINNER HAS BEEN CONTACTED.
You must be 18 or older to enter. Please, only ONE entry per person. If selected as a winner, we will provide your parent/guardian with an affidavit to confirm that you are a valid winner who has permission to win. They will be REQUIRED to sign and return the affidavit to YAYOMG! to claim your prize. Prizes will not be mailed out without signed parental consent.
? Looking for even more ways to celebrate Earth Day? You'll love this recipe for Garden Plot Veggie Dip!