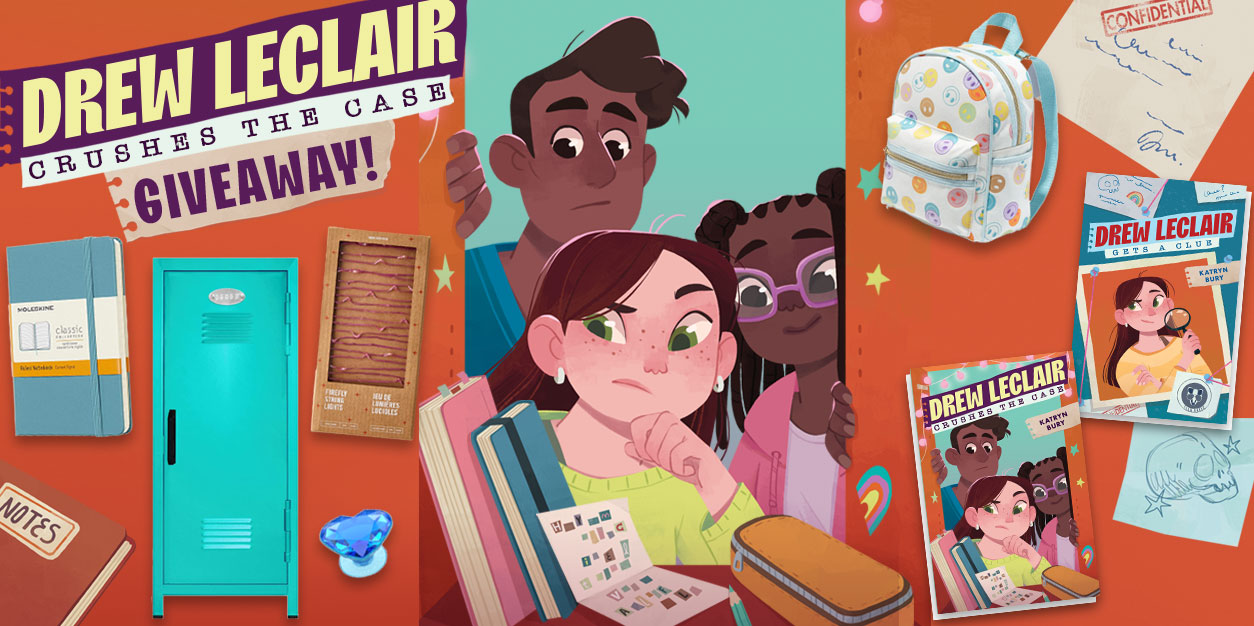 Crush the Case With Our Drew LeClair GIVEAWAY!
NOTE: This post is sponsored by HarperCollins.
Seventh grader Drew LeClair has one mission: get good grades, stay out of trouble, and do NOT get suspended!
After her super-sleuthing skills in Drew LeClair Gets a Clue landed her in major trouble both with her dad and at school, Drew isn't taking any more chances. It was fun bonding with her friends to catch a cyberbully and piecing together evidence like her hero, criminal profiler, and true-crime podcaster, Dr. Lita Miyamoto, but she's not willing to risk it all when punishment is the prize for solving crimes.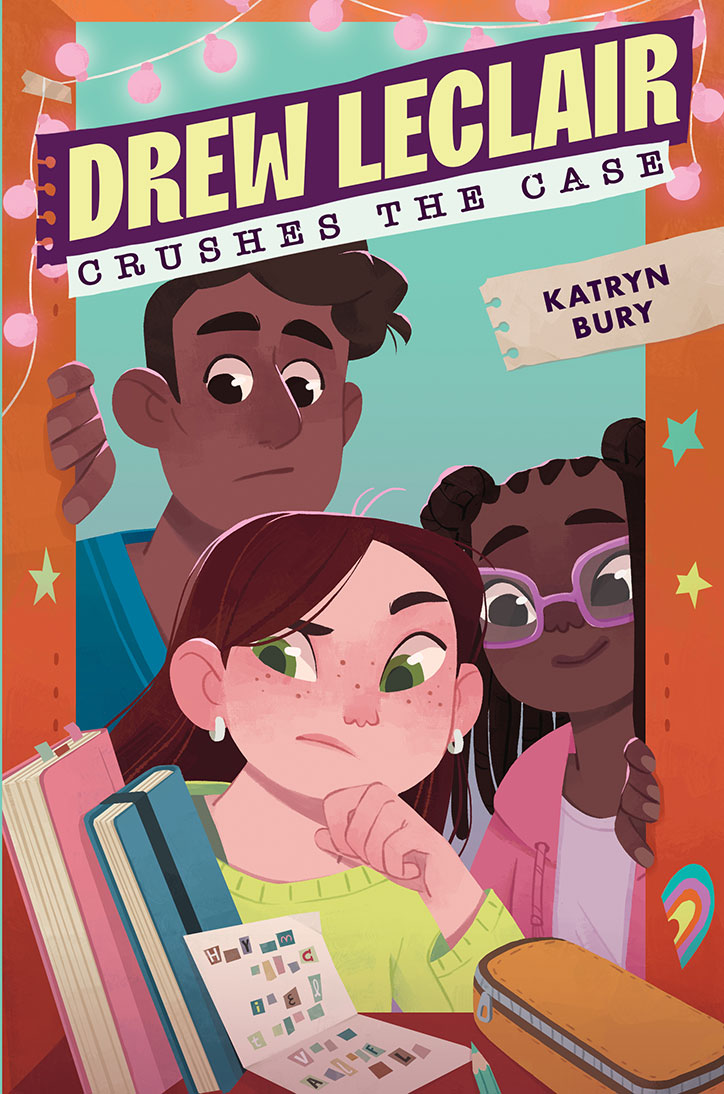 Fan-favorite detective Drew Leclair returns to crack the case of a sneaky locker thief in this heartfelt sequel to the critically acclaimed middle grade mystery series that's been called "the perfect story for readers ready to progress from Nancy Drew." (SLJ, starred review).
After breaking school rules the last time she solved a mystery, Drew Leclair has a new mission: get good grades, stay under the radar, and do not get suspended.
But when Drew finds out that there's a thief breaking into the P.E. lockers and leaving behind cryptic ransom notes, it's hard to resist cracking a new case. Especially when one of the victims is her best friend Shrey's crush, and he's practically begging her to get involved.
Can Drew catch the thief red-handed while staying out of trouble? And what does it mean when everyone around Drew is obsessing over crushes and the upcoming Wonderland dance, and Drew would rather work on her latest crime board?
Drew LeClair Crushes the Case
AUTHOR: Katryn Bury
PUBLISHER: HarperCollins
DATE: April 18, 2023
In the second book in the series, Drew LeClair Crushes the Case, she's trying the whole regular kid thing, staying under the radar, and leaving the mystery-solving to the experts – that is, until she finds out there's a sneaky locker thief on the loose at school and they're leaving cryptic locker notes after every job. Drew tries hard to follow her new rules and not get sucked into a new mystery, but after the culprit targets her BFF Shrey's crush, Drew knows she has to step in, break out her crime board, and crack the case – even if it means getting in trouble. Plus, she could use a distraction from the fact that her mom is in town and doesn't see her crime-solving skills as anything more than a childish fantasy.
As the rest of the school buzzes over the excitement over the upcoming Wonderland dance, Drew does what she does best – assembling crime boards, building suspect profiles, snacking on pastries from her dad's bakery, and crafting glitter-bomb traps until she can finally figure out who's behind the string of locker thefts. But what does it mean that Drew would rather put her detective skills to the test instead of swoon over the school dance?
It would be a crime for you to miss this mystery-filled series, which is why we teamed up with our friends at HarperCollins for a giveaway! ONE lucky winner will win a Drew LeClair Crushes the Case prize pack featuring both books and other fun goodies inspired by the story!
Ready to enter? Grab your favorite adult and have them enter below for your chance to WIN!
Drew LeClair Crushes the Case Giveaway: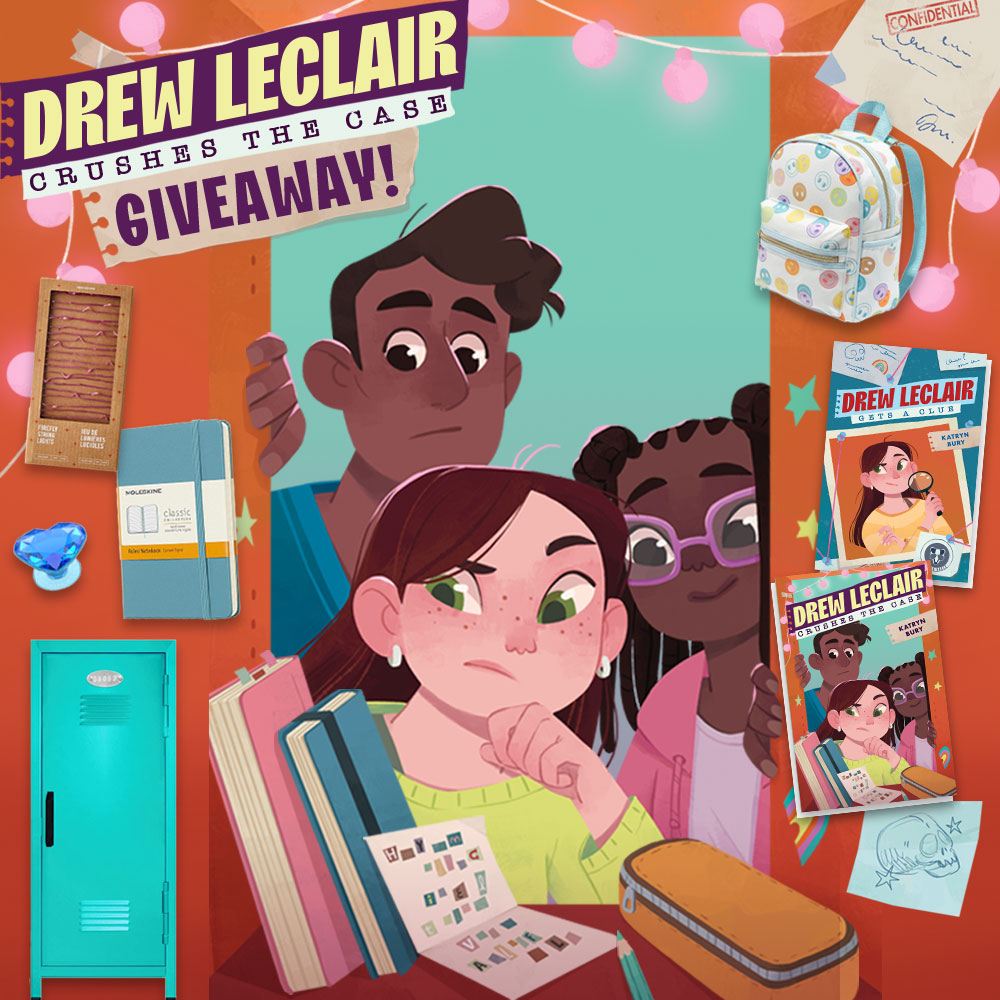 WHAT DO I WIN?:
ONE (1) lucky winner will receive a Drew LeClair Crushes the Case Prize Pack that includes:
– ONE (1) copy of Drew LeClair Gets a Clue by Katryn Bury
– ONE (1) copy of Drew LeClair Crushes the Case by Katryn Bury (Paperback)
– ONE (1) Mini Locker with Lock & Key (Teal) from Magnetic Impressions
– ONE (1) set of Firefly Pink String Lights from Urban Outfitters
– ONE (1) Dichroic Crystal Heart PopGrip from PopSockets
– ONE (1) Rainbow Happy Face Print Mini Backpack from Claire's
– ONE (1) Hard Cover Pocket Notebook (Reef Blue) from Moleskine
*Prizes provided by HarperCollins & YAYOMG!
HOW DO I ENTER?:
Grab a parent or guardian and have them fill out the form below by May 18, 2023 at 11:59pm ET.
Giveaway runs from 04/18/23 at 10:00 am ET through 05/18/23 at 11:59 pm. Open to US residents ONLY. Be sure to read the fully detailed rules HERE before entering.
THIS GIVEAWAY HAS ENDED AND THE WINNER HAS BEEN CONTACTED.
You must be 18 or older to enter. Please, only ONE entry per person. If selected as a winner, we will provide your parent/guardian with an affidavit to confirm that you are a valid winner who has permission to win. They will be REQUIRED to sign and return the affidavit to YAYOMG! to claim your prize. Prizes will not be mailed out without signed parental consent.
EVEN MORE Drew LeClair:
🔎 QUIZ: Find out your best sleuthing skill! Take our Drew LeClair-inspired quiz!
📚Drew LeClair Crushes the Case is now available from HarperCollins!