Disney Infinity Next – Spring 2016 Update
The awesome team behind Disney Infinity held their very first "Disney Infinity Next" live stream yesterday. It was similar to a Nintendo Direct, where the Disney Infinity team gave the world a glimpse into what to expect next in the massive world of Disney Infinity 3.0!
The awesome thing about the Disney Infinity Next is that in addition to announcing and showing off new figures, levels, and gameplay, they also took the viewers behind the scenes into the artist studio and showed a sneak peek of how it's all designed and created. Gotta love that Disney magic! Here's a quick re-cap of what's up and coming in the Spring 2016 season.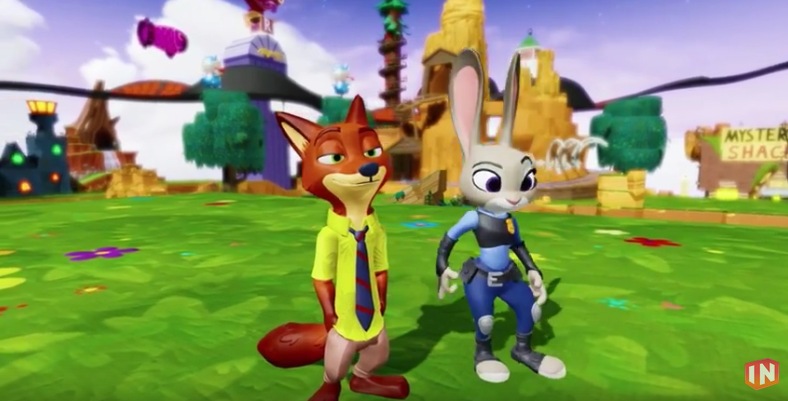 Zootopia:
Nick Wilde and Judy Hopps from Zootopia are making their way into Disney Infinity 3.0! (And there's a Zootopia Power Disc Pack too!)
Like his character in the film, playing with Nick in the game brings to life his snarky, laid back vibe. He's got a huge popsicle stick you can use to whack people with, and a little elephant side kick he can call out to help him take down bad guys. Judy Hopps has got speed, jumps, and kicks – just like you'd expect to see from a her kick-butt bunny character. The team really did a great job in bringing these characters to life on both the big screen and the game, and the best part is – they're already available!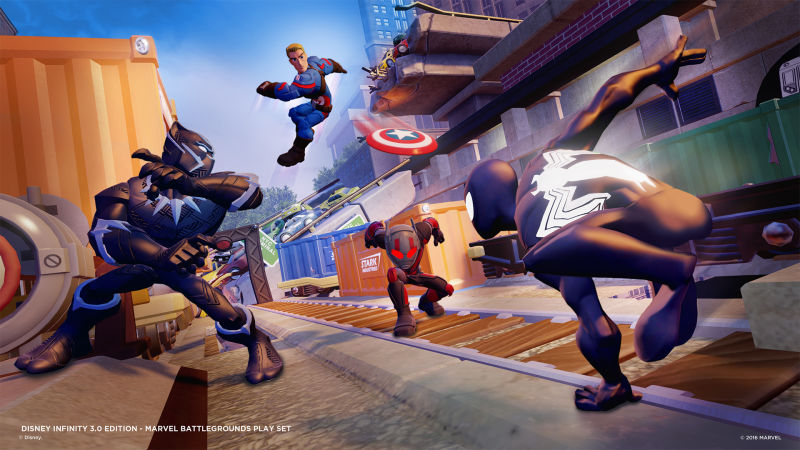 Marvel:
Marvel is getting the biggest update this time around, and it's coming in the form of the Marvel Battlegrounds Play Set. For the first time ever, you'll be able to battle against your friends inside the Marvel universe. Up to 4 players will be able to pick a character and jump into battle in the form of a brawler-style game infused with story bits – kind like Smash Bros meets Power Stone. There's a bunch of different battle stages to choose from, each inspired by different Marvel franchises. As you play, they can get destroyed and rebuilt as something else, keeping your battles fresh and exciting each time you play.
There's also 4 brand new characters being added:
Civil War Captain America – he's got an updated look and new moves that are in line with the movie. But don't worry, original Cap and all the other existing Marvel figures will be compatible with Marvel Battlegrounds!
Black Panther – he's super fast, agile, and has great martial arts attacks.
Ant-Man – just like the movie and the comics, he can shrink down to confuse his opponents and sneak attack!
Vision – the power of flight gives him a huge advantage during battle.
They didn't mention the black suit Spidey by name, but he definitely made an appearance, so it's safe to say he's probably headed our way soon as well. Marvel Battlegrounds will be available starting March 15th.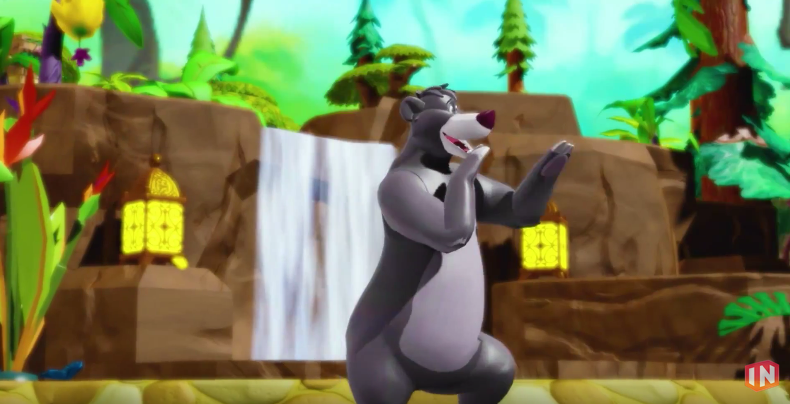 Jungle Book:
Baloo is coming! Just look at him! He's the perfect portrayal of everyone's big jolly bear! (And the clips from the Disney Infinity Next were giving us serious Banjo Kazooie vibes) He's just as cool as you'd hope he'd be, complete with a big belly attack! He can use palm trees and fruit to attack and he's even got sweet dance moves. They didn't announce Baloo's release date just yet, but with The Jungle Book hitting theaters in April, it's safe to say that Baloo will be hitting Infinity around the same time.
Those were the 3 major announcements from the live stream, though they did manage to slip in one final small update at the end…we'll be seeing characters from Finding Dory and Alice Through the Looking Glass later this year. (We're guessing Summer, since the movies come out in May and June.)