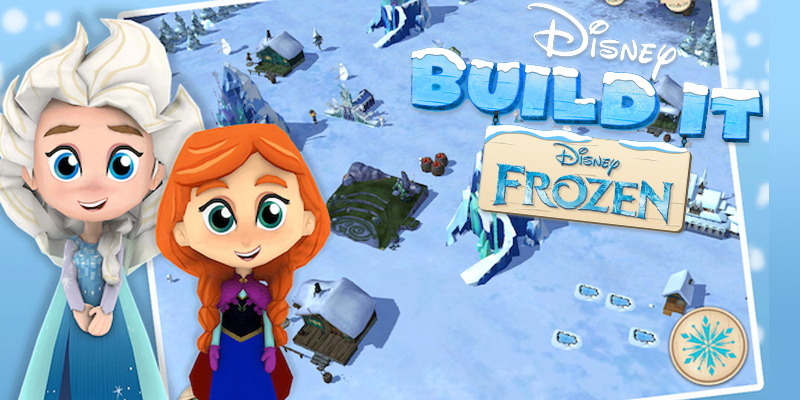 Disney Build It: Frozen
Have you ever wished you could live inside the beautiful world of Arendelle? Thanks to Disney Build It: Frozen from Disney Interactive, now you can! (Sort of!) Check out the trailer!
Build your own Arendelle inspired world inside of a snow globe by adding ice castles, buildings props, and even your favorite Frozen characters like Anna and Elsa! Choose from 5 different locations inspired by the movie – North Mountain, the Forest, Troll Valley, Arendelle Castle, and the town of Arendelle. Each location has a different setting, giving your town lots of different looks and vibes. Build a quaint little forest town, and icy kindgom, or anything else you can dream up.

The more you build, the more magical snowflakes you'll unlock. The magical snowflakes turn into additional scenery pieces like snowmen, trees, lakes, mountains, and more. You can customize the different parts of your buildings with color crystals and choose the different decorative elements like roofs and decorations. After building, you can choose a Frozen character to add to each place. Once added to the scene, the characters begin to walk around and explore. Sometimes they'll request specific buildings that you can help them create to make them happy. Each town you build lives inside of a different snow globe that you can name, collect, and even shake up to watch the snow fall!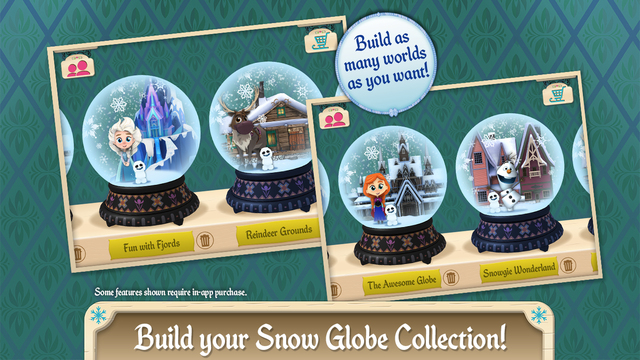 The game is $3.99, and there are a few in-app purchases available too. The in-app purchases aren't necessary to play the game, but if you want to collect all the possible decorations, characters, and locations you'll need drop a little cash. There are currently 3 sets available for $1.99 each, or you can grab the special bundle that includes all 3 for $3.99, so you can save a little money.
Disney Build It: Frozen
is now available on
iOS, Android,
and
Amazon
devices.