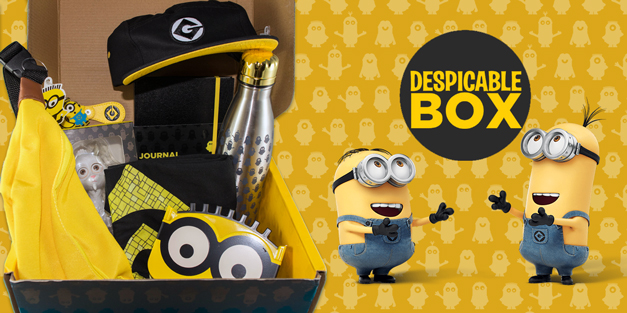 The Despicable Box is Perfect for Minion Lovers
Bello! Gru and the Minions have been hard at work hatching a new despicable plan. The Despicable Box is a brand new subscription box that'll help you take your Minion obsession to the next level. A collab between Illumination Entertainment and CultureFly, the Despicable Box delivers totally awesome Despicable Me inspired gear to your doorstep each month.
Don't worry, though. This isn't anything like Miss Hattie's Box of Shame. Every Despicable Box is overflowing with limited edition swag based on Despicable Me and Minions, allowing you celebrate your love of unicorns, bananas, and general evilness in a whole new way.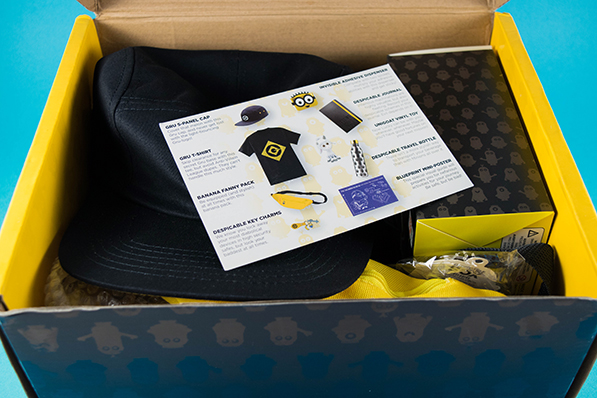 CultureFly was kind enough to share the very first Despicable Box with us. Grab your fluffiest stuffed friend and take a look at what we found inside!
Despicable Box Unboxing: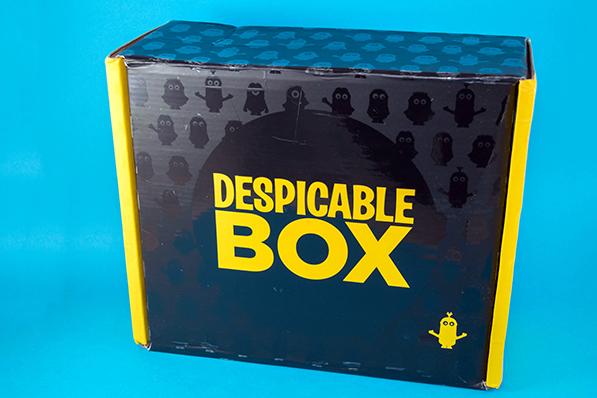 Like CultureFly's other boxes, each of these items in the Despicable Box is exclusive to subscribers only. No matter how well-crafted your evil plans may be, you'll never be able to find these items in stores. Since Despicable Me 3 hit theaters in June, this first box focuses on the new movie as well as just a general love of all things Minion.
If you love shouting from the rooftops about all your fandoms, the items in this box will allow you to deck out your life in a hugely yellow way.
Lucky the Unigoat Vinyl Toy: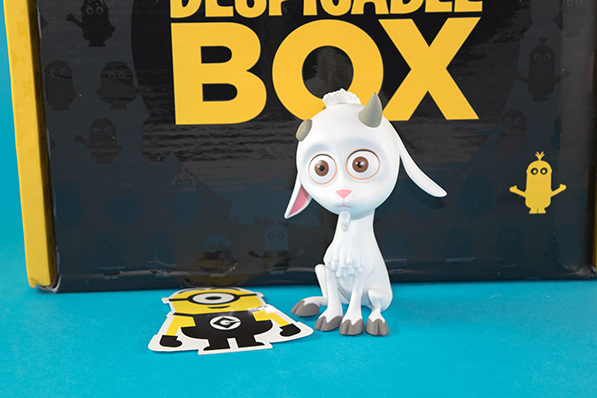 Who wouldn't want their very own Unigoat to cuddle and love forever and ever? If you've ever sold off or lost your favorite stuffed toy like Agnes, Lucky makes for a great new companion. Display him proudly on your toy shelf or desk for a daily reminder that anyone can be a unicorn if they really try.
Banana Fanny Pack: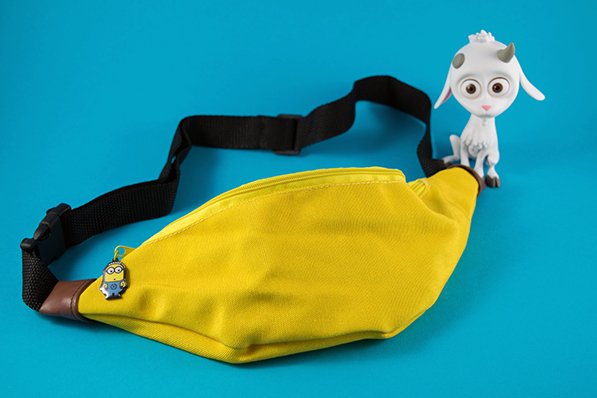 Would a Despicable Box even be complete without a banana reference? Show off your Minion pride and exude total confidence as you strut down the street wearing this handy banana fanny pack. It comes complete with a cute Minion zipper pull and two areas to stash your most important stuff, like a banana snack for later.
Minion Tape Dispenser: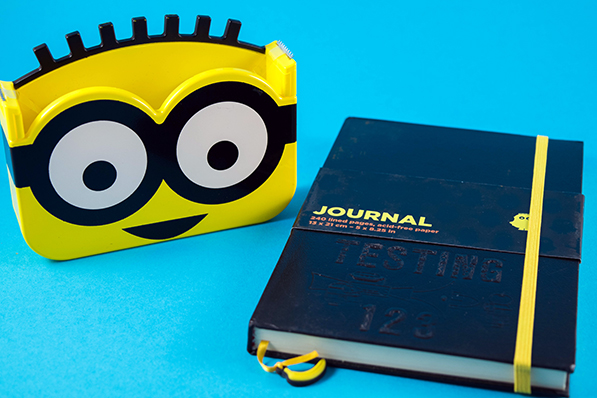 Whether you're working on a dream board for your evilest plan or just your most recent banana heist, this double sided Minion tape dispenser can help you stick things to other things. Or you know, just tape pictures of Minions to your wall. The front pops off so you can easily replace the tape when you run out, making it an extremely loyal desk companion.
Despicable Journal: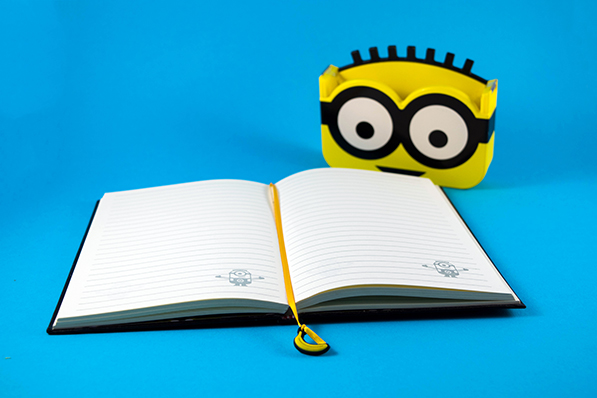 Write down your homework assignments, list out your favorite Minion antics, or get your bullet journal on. No matter what you use this notebook for, just know that the Minions have got your back – there's one on every page. The cover is embossed with a Fart Gun blueprint, the inside covers boast a really cool Minion pattern, and there's even a banana page holder so you'll never lose your place. The notebook itself is really sturdy and well made, we were impressed.
Minion Water Bottle: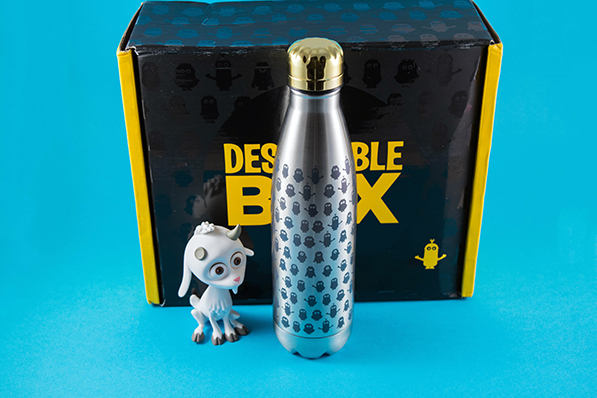 This is probably our favorite item in the box. While we're huge notebook buffs, this water bottle is just so cute and well-crafted. It's designed similarly to a S'well Bottle, which can go for around the price of this entire box. It's a great value and you'll look totally awesome drinking out of your new Minion covered bottle.
Gru Industries T-Shirt and Hat: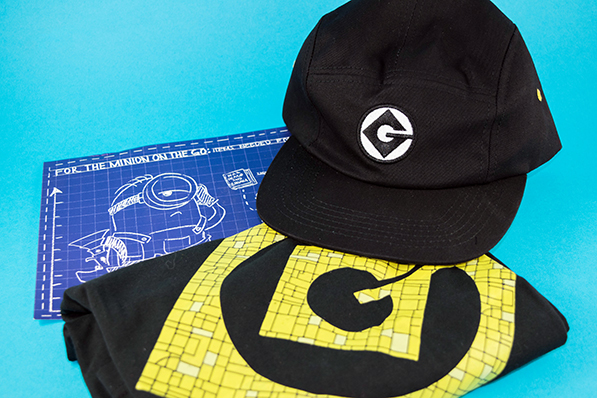 This hat and t-shirt combo will let you show the whole world you're on team Gru, just like the Minions! The shirt is soft and comfortable and the hat is adjustable, making them easy to rock under your overalls or even the oddest shaped heads.
Minion Keychain: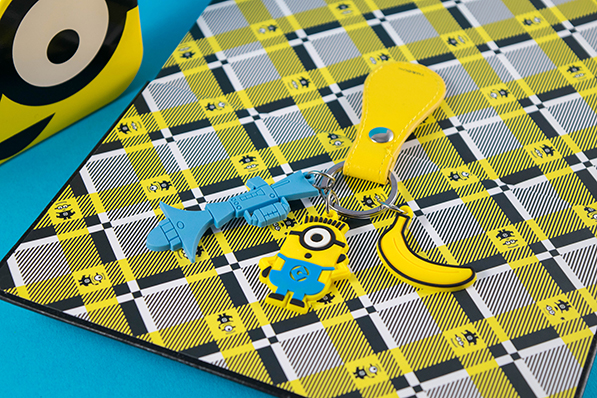 We've been on the hunt for a fun new keychain recently, so the Despicable Box really came through on this one. This keychain has a leather Gru Industries fob and three charms – a fart gun a minion, and a banana, of course!
Evil Blueprint Mini-Poster: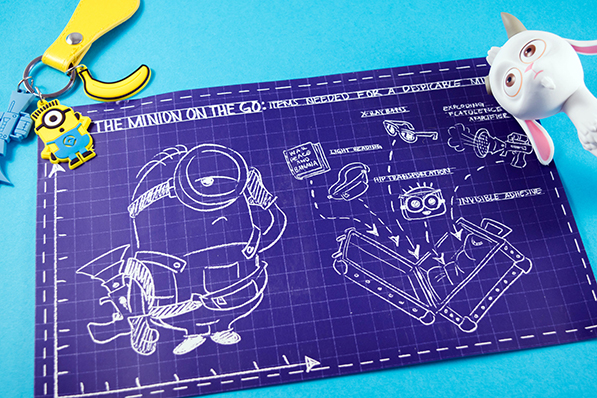 This despicable mini-print will always remind you to plan ahead, whether it be for a big invention or a school project. Plus, it features some of the items from the box. It's printed on sturdy paper and will look great hanging in your locker or evil lair.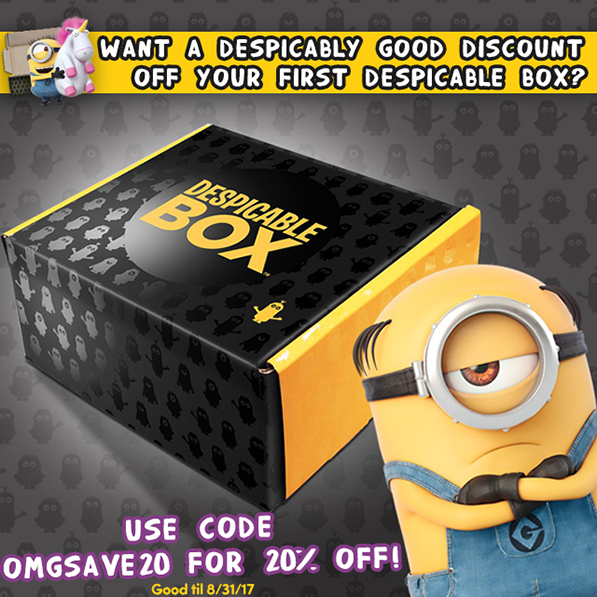 So, how much will it set you back to get your evil on? The Despicable Box has two subscription options:
Quarterly: $42.99 per box + S/H – recurs seasonally, 1 box every 3 months
Annual: $38.99 per box + S/H – recurs annually, 4 boxes per year
Exciting news! CultureFly shared a coupon code with YAYOMG! readers to help you guys save some sweet cash. Use code OMGSAVE20 at checkout for 20% off your first box. The code will expire on 8/31/17, so act fast!
For more info on pricing, shipping, and to order your box, head on over to the Despicable Box website.
In addition to the Despicable Box, CultureFly makes lots of other awesome boxes including Shopkins Direct, the Animal Jam Box, and the Pusheen Box! Check 'em out!
Note: We received this product for free from CultureFly in exchange for a fair and honest review. We were under no obligation to write a positive review.