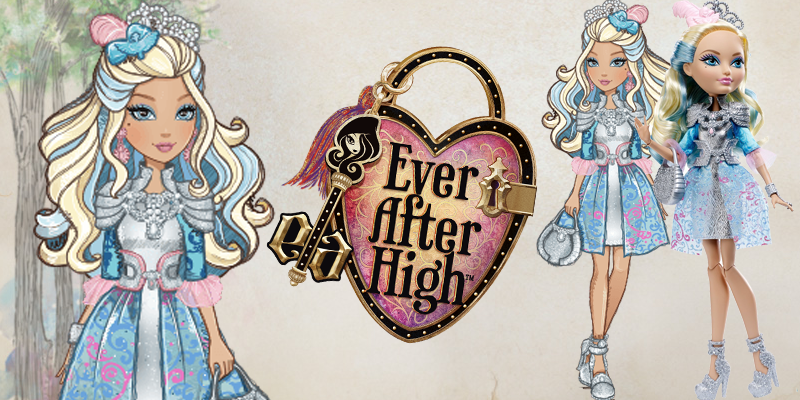 5 Reasons Darling Charming Totally Kicks Butt
Until now, Darling Charming has been a bit of mystery to Ever After High fans. We knew she's sister of Dexter and Daring Charming since she's a part of the book series – Dexter is actually her twin! Back in December we got our first sneek peak at Darling's appearance when the cover of "A Semi Charming Kind of Life" – the 3rd book in series – was revealed, and fans have been eagerly awaiting more info on her character and how she'll play into the Ever After High storyline. If you're into the book series, you'll be happy to know that you don't have much longer to wait. It releases on July 7th!

Images of the Darling Charming doll was finally shared on the Ever After High's Instagram account last week – and her characters was added to everafterhigh.com a few days ago. (Fingers crossed we'll see her in a lead role in an episode soon!)
Now that we know more about Darling (and her totally gorgeous doll – I mean, just look at her!), here's 5 reasons why she totally kicks butt!

1. She's not your ordinary princess
Darling doesn't like being a damsel in distress. She struggles with her destiny because she doesn't want to be saved – she wants to do the saving! She hates when people treat her like she's helpless, so she wants to show the world that girls totally kick butt and princesses can be heroes too!

2. She's got killer style
She rocks pastels like a total Royal, even though her attitude is fitting of a Rebel. We love when characters totally mix it up – especially since she works her knight armor into her girly style! Also, time slows down when she flips her hair – because she's just that fabulous.

3. Her roommate is Rosabella Beauty
Her roommate is destined to be the next Beauty – as in Beauty and the Beast! Hopefully seeing more of Darling means we'll see more of Rosabella too! (her doll comes out in July – so that's something!) Plus, Rosabella's storyline ties in with Dexter's since his parents want him to be the next Beast, but he's totally crazy for Raven. Dramaaa!

4. She surrounds herself with other girls who kick butt
Her best friends are Rosabella Beauty and Raven Queen. Two girls who fight for what they believe in, even if it's the unpopular opinion. #squadgoals

5. She's the White Knight
That's right – the White Knight who protects Wonderland is not just a girl, but Darling Charming herself! No wonder her favorite class is Hero Training!
Now that you've been showered with reasons why Darling totally kicks butt, we hope you love her just as much as we do!