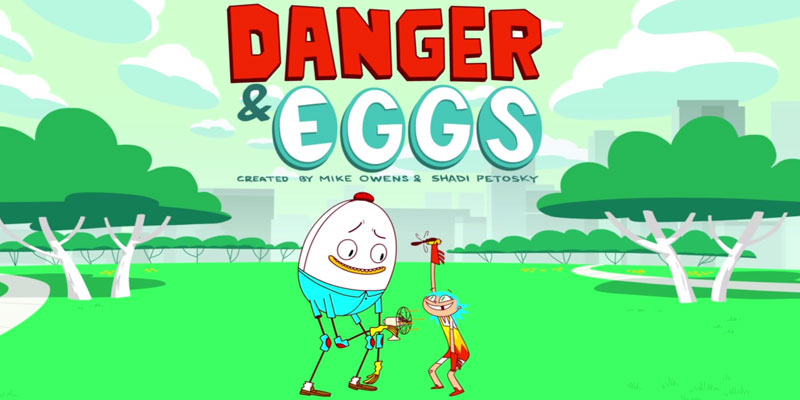 Danger & Eggs is Your Next Favorite Cartoon
Hooray! Danger & Eggs is getting a full series! It was one of the shows that aired during Amazon's Fall Pilot Season in November, and now, thanks to you, it's been picked up for an entire season. If you haven't yet experienced the amazingness that is Danger & Eggs, here's what you're missing. (Actually, there's only one episode so far, so you really haven't missed much and have plenty of time to catch up – don't worry!)

D.D. Danger is a fearless girl who dreams of becoming a stuntwoman. She kicks butt in pretty much every way, from her hilarious, energetic personality to her super cool teal hair. Her best friend, Phillip, is kinda different, though. He's a talking egg who's extremely cautious and has a lot of anxiety. He's not really a risk taker, but honestly, if you were an egg who could crack at any moment, would you really take a ton of risks? Probably not. Even though they're both over the top, the characters are extremely relatable and you'll find yourself able to connect with the dreamer in D.D. and the insecurities of Phillip.

The pilot episode shows D.D. and Phillip tackling the worlds most insane waterslide together. D.D. is always eager to have fun and try new things and Phillip's hesitations usually help prevent them from getting into trouble. They're a well balanced duo. The show is filled with weird moments, hilarious slapstick inspired comedy, and lots of clever and ironic jokes. It's a cartoon that doesn't talk down to kids and treats them like adults, which is pretty much what makes all the best cartoons, well, the best. Once the full season becomes available, we can definitely see Danger & Eggs quickly jumping to the top of our list of favorite cartoons, and we're sure you'll feel that way too!

The full series was just announced, so there's no info yet on when it'll become available, but we've got our fingers crossed that it will be sometime in 2016!