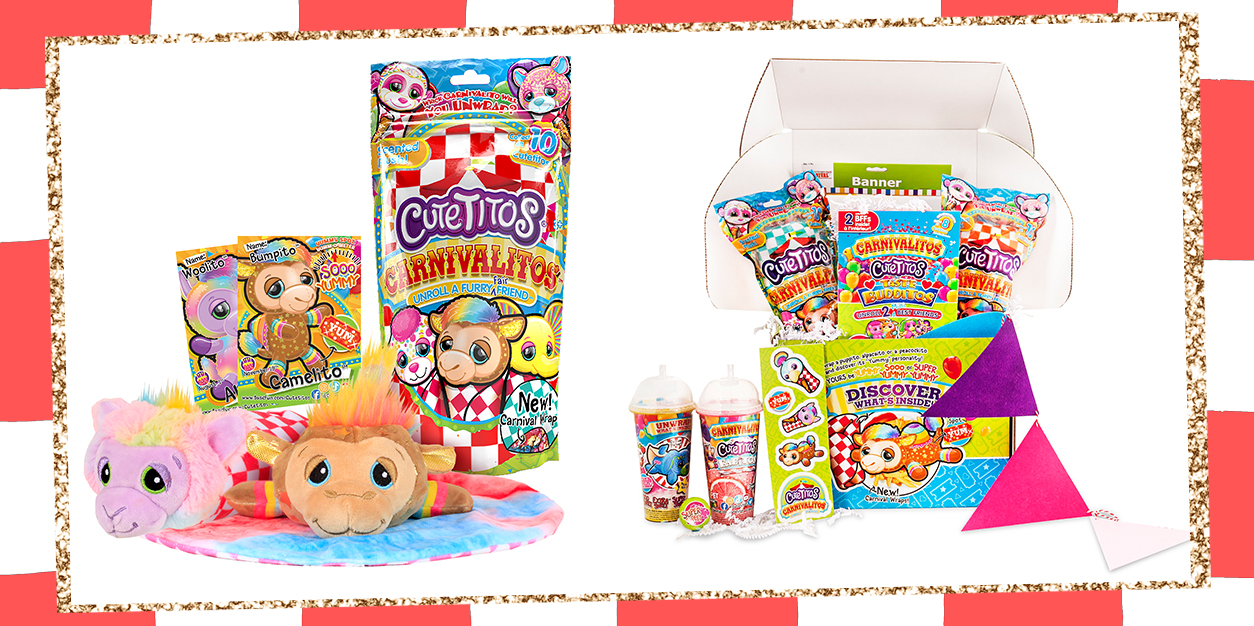 Cutetitos Carnivalitos Celebrate Your Fav Carnival Treats + GIVEAWAY!
NOTE: We teamed up with Basic Fun for this Cutetitos Carnivalitos Giveaway. All opinions are our own; we were under no obligation to give a positive review. Giveaway prizes provided by Basic Fun.
Carnival season is upon us, and we're living for weeks upon weeks of riding rides, playing carnival games, and of course – the food! The first thing you notice when you step foot into the carnival is the flashing lights and the amazing aromas of funnel cakes, french fries, and other mouth-watering treats – and that's what the newest addition to the Cutetitos family, Cutetitos Carnivalitos, are all about!
These new carnival-themed frienditos are the most fun Cutetitos yet, ready to join you on the tilt-a-whirl, help you win the biggest prize, and go for a hayride through a pumpkin patch! Each Carnivalito is inspired by the tasty treats we all love to snack on at our local fairs and carnivals, like cotton candy, churros, and even chicken and waffles! Just like real carnival food, each Cutetito is rolled up inside checkered wraps, slushie cups, and snack boxes and even smells exactly like all your carnival favs. They also have adorable carnival ticket hot spots to show off their rarity! The best part about Carnivalitos? This fun new theme is available in Cutetitos, Babitos, and Taste Budditos, and we've got the scoop on each of these new collections below!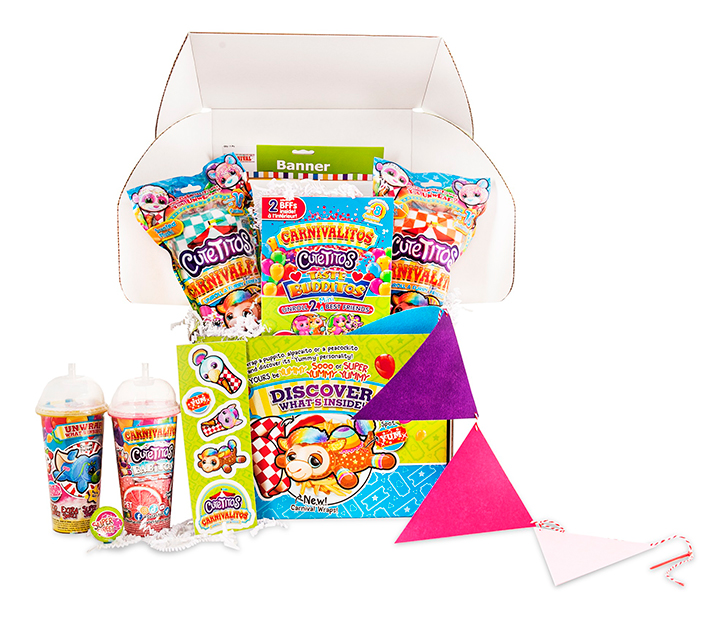 We teamed up with our friends at Basic Fun to bring the magic of the carnival to your living room! Overflowing with Carnivalitos, stickers, and colorful banners, we're giving away a Cutetitos Carnivalitos Influencer Box, so you get the full Carnivalitos experience just your fav influencers like @kendras.sparkly.life and @lovebrielle19! Ready to enter? Grab your favorite adult and have them fill out the form below for your chance to WIN!
Everything You Need to Know About Cutetitos Carnivalitos:
There are a TON of new Carnivalitos to discover and unwrap, so we're breaking down each of these soft, scented cuties for you below!
Cutetitos Carnivalitos: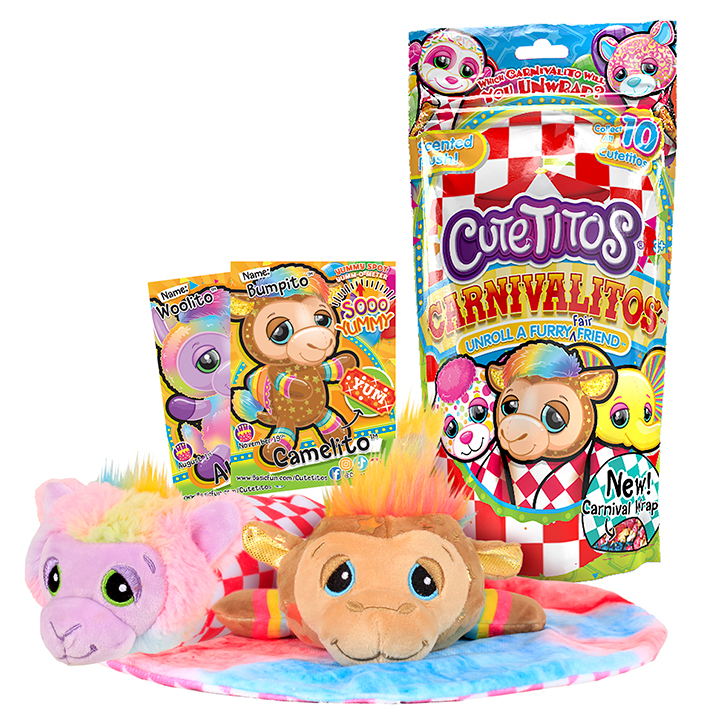 10 brand new animalitos to collect in adorable prints and carnival-inspired food wraps like french fries and cotton candy! New animals include a Dogito, a Slothito, and even a Leopardito. Each Carnivalito includes 1 of 4 unique food-inspired wraps – french fries, popcorn, cotton candy, or funnel cake!
Cutetitos Carnivalitos are adorable, super-soft, stuffed animals wrapped and hidden in food-inspired blankets (like french fries and cotton candy), ready to be unrolled and discovered! Cutetitos are ready to celebrate in style and with great carnival-inspired scents!
To find out if your Cutetito's personality is Yummy, So Yummy, Extra Yummy, or Super Yummy, just check out its "hot spot" – a carnival ticket-shaped icon you can find on its hip! Will you find a SUPER rare?
Cutetitos Carnivalitos Babitos: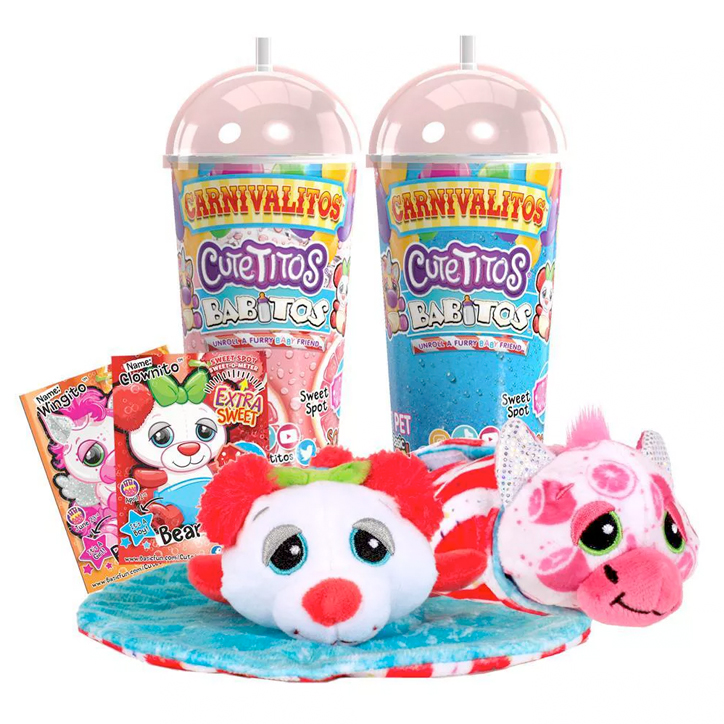 Cutetitos Carnivalitos Babitos are just like regular Cutetitos – but tiny! They're adorable baby stuffed animals wrapped in mini drink-inspired blankets, like lemonade, and stuffed inside a drink cup package to fit with the carnival theme! Too cute!
There are 10 baby animals to collect, from a Mousito to a Ponyito and even a Narwhalito, and they come wearing a pink or blue diaper for a gender-reveal surprise! Check the sweet spot to find out if their personality is sweet, so sweet, extra sweet, or super sweet – it's how you'll know which level of rarity your Babito is!
Each adorable Cutetitos Carnivalitos Babitos comes with a carnival-inspired wrap, a diaper, and a Pet Collector card with additional information about your new friendito, including its species, gender, name, birthday, and sweet level!
Cutetitos Carnivalitos Taste Budditos: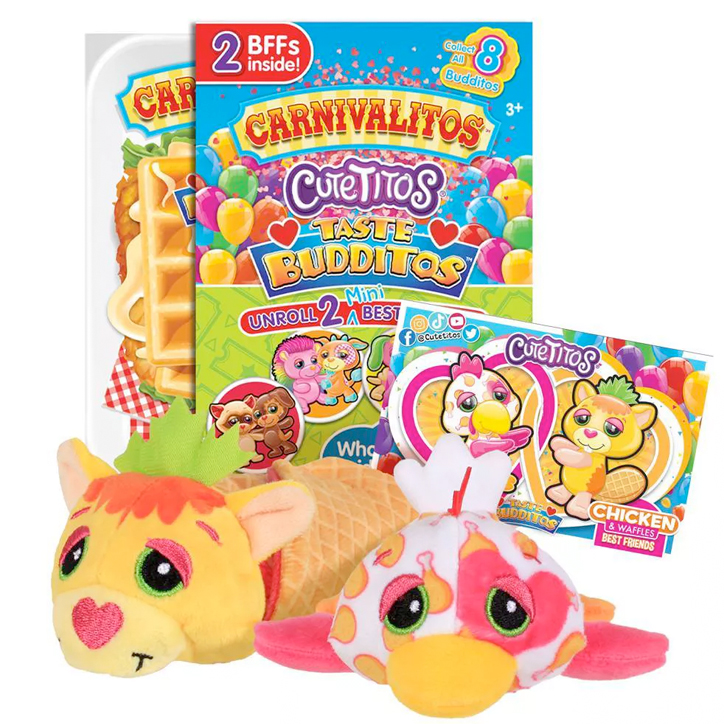 Cutetitos Carnivalitos Taste Budditos come in pairs, perfect for sharing with your besties! There are four new pairs (8 Taste Budditos in total) to discover!
When you open up your snack box, you'll find 2 mini best friends in a 2-piece heart-shaped wrap, inspired by great carnival food pairings! Will yours be a hot dog & mustard, churros & chocolate sauce, chicken & waffles, or yummy cheese fries?
The heart-shaped wrap lets you wrap'em together or alone into 2 pieces, perfect for snuggles!
Cutetitos Carnivalitos Giveaway: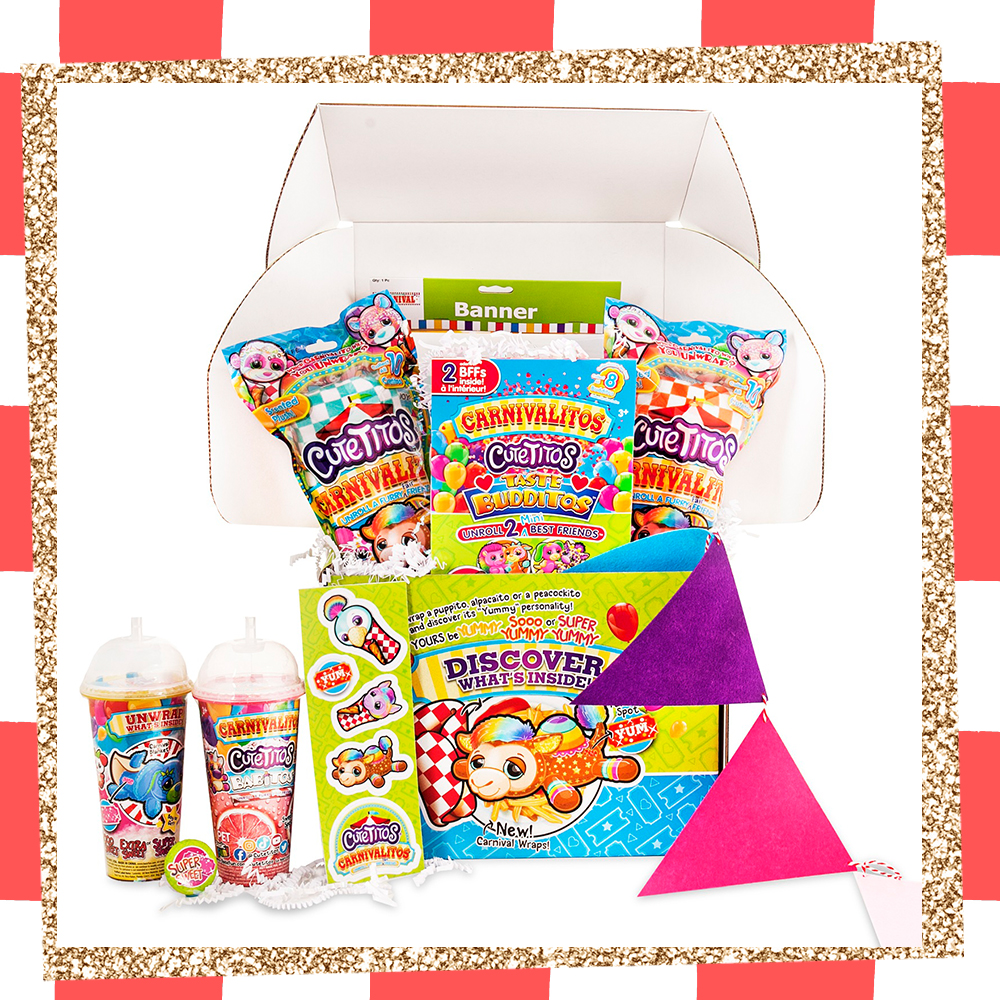 WHAT DO I WIN?:
ONE lucky winner will receive a Cutetitos Carnivalitos Box that includes:
– TWO (2) Cutetitos Carnivalitos
– TWO (2) Cutetitos Carnivalitos Babitos
– ONE (1) Cutetitos Carnivalitos Taste Budditos
– ONE (1) Welcome to the Carnival Banner
– ONE (1) Rainbow Banner
– ONE (1) Sheet of Cutetitos Carnivalitos Stickers
– ONE (1) Cutetitos Carnivalitos Pin
*Prizes generously provided by Basic Fun! Please note: Cutetitos come blind bagged, we cannot guarantee which ones you will receive.
HOW DO I ENTER?:
Grab a parent or guardian and have them fill out the form below by August 18, 2021 at 11:59pm ET.
Giveaway runs from 8/04/21 at 03:00 pm ET through 8/18/21 at 11:59 pm. Open to US residents ONLY. Be sure to read the fully detailed rules HERE before entering.
THIS GIVEAWAY HAS ENDED AND THE WINNER HAS BEEN CONTACTED.
You must be 18 or older to enter. Please, only ONE entry per person. If selected as a winner, we will provide your parent/guardian with an affidavit to confirm that you are a valid winner who has permission to win. They will be REQUIRED to sign and return the affidavit to YAYOMG! to claim your prize. Prizes will not be mailed out without signed parental consent.
Love delicious goodies but aren't hitting up the carnival this year? This easy to bake Confetti Magic Bars recipe is sure to hit the spot!