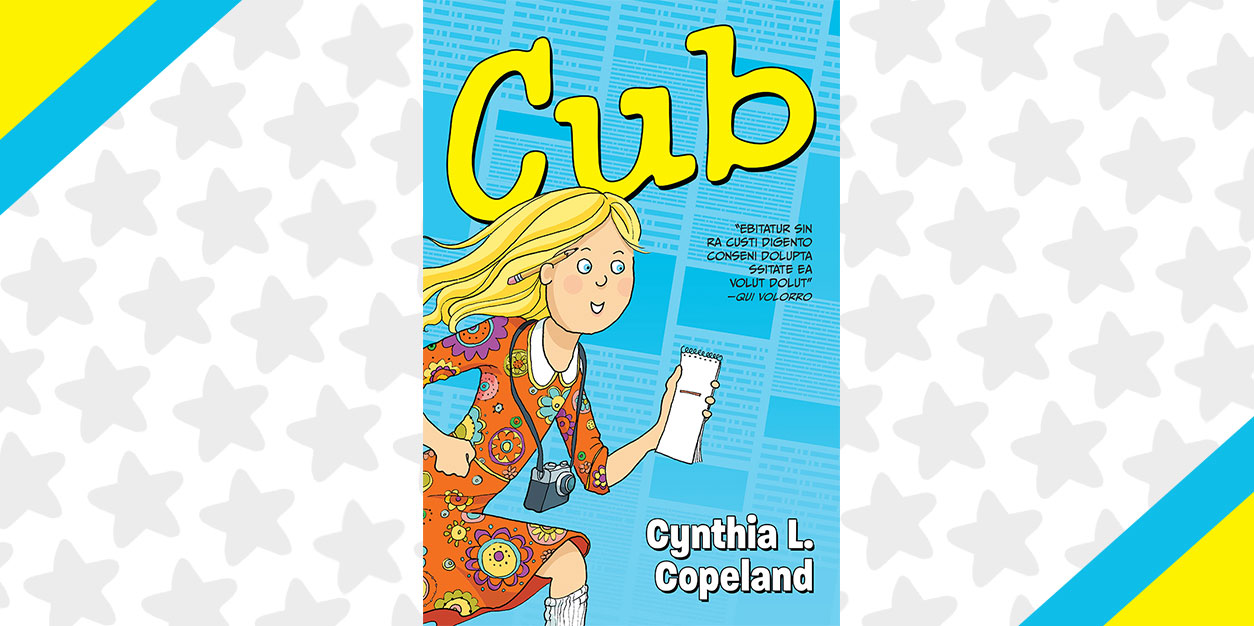 Cynthia Copeland Shares 8 Fun Facts About Cub
Back in May, we revealed the cover for an empowering new graphic novel about a budding investigative journalist on the hunt for a life-changing story. That book is Cub, and you can finally get your hands on this inspiring new read!
As Cindy scours the neighborhood for her next scoop and learns about investigative journalism, she's also tackling the ups and downs of the 7th grade. At school, her life is homework and first crushes and doing her best to dodge bullies. Out in the real world, Cindy is working to find her confidence as a female reporter and make her mark during a time where female journalists were few and far between. Cub will inspire you to follow your own passions, fight back against injustice, and dream big!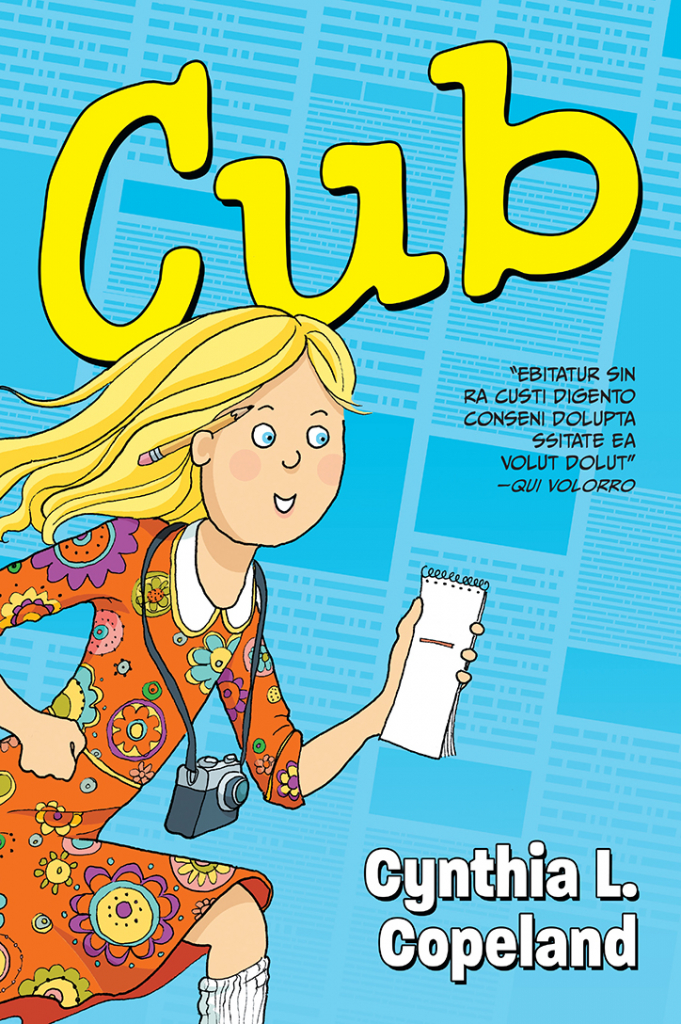 A laugh-out-loud funny and empowering graphic memoir about growing up and finding your voice.
Twelve-year-old Cindy has just dipped a toe into seventh-grade drama—with its complicated friendships, bullies, and cute boys—when she earns an internship as a cub reporter at a local newspaper in the early 1970s. A (rare) young female reporter takes Cindy under her wing, and Cindy soon learns not only how to write a lede, but also how to respectfully question authority, how to assert herself in a world run by men, and—as the Watergate scandal unfolds—how brave reporting and writing can topple a corrupt world leader. Searching for her own scoops, Cindy doesn't always get it right, on paper or in real life. But whether she's writing features about ghost hunters, falling off her bicycle and into her first crush, or navigating shifting friendships, Cindy grows wiser and more confident through every awkward and hilarious mistake.
Cub
AUTHOR: Cynthia L. Copeland
PUBLISHER: Algonquin Young Readers
DATE: January 7, 2020
We love how the illustrations really paint the picture for the 1970's setting. From Cindy's hippie-inspired fashions to Volkswagen Beetles, readers will feel super connected to the relevant story while experiencing a little slice of history.
So much of the story was inspired by the author's own life, which is why Cynthia Copeland is taking you behind the pages of Cub, giving you the scoop into the story behind this graphic memoir.
8 Fun Facts About Cub:
FACT #1:

Cub is based on a true story, though my editor and I shaped the story to make it more readable and relatable. For example, in the book, Cindy meets her first boyfriend, Kevin, when she is startled by a loud noise and falls off her bike. In real life, Kevin was walking through the woods near the field where I was riding my horse, Starflight. He stepped on a branch and spooked Starflight, who reared back and threw me off!

My editor suggested that we change that detail because she felt that kids could relate more easily to falling off a bike than falling off a horse!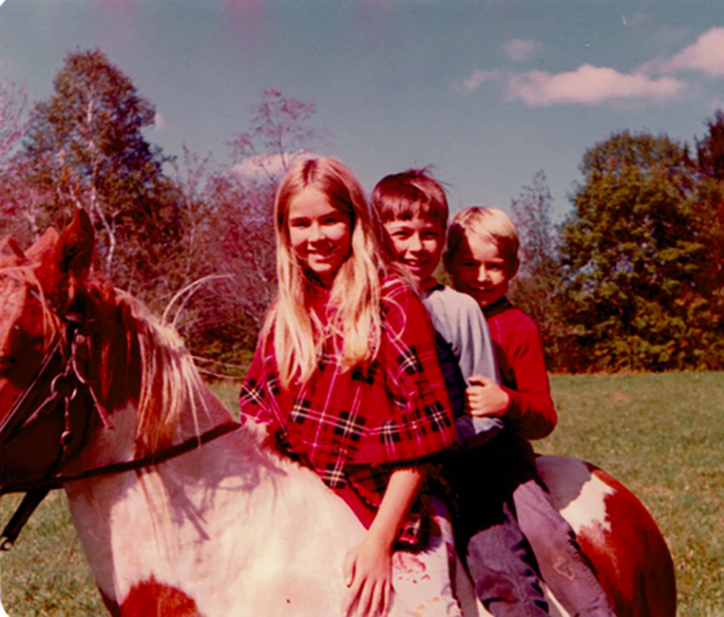 FACT #2:

Cub takes place almost half a century ago! Some things were very different back then: a local farmer delivered milk to us in glass bottles, we had one television set with only four channels, and we were allowed to talk on the family telephone in the kitchen for just 10 minutes each day!

But a lot of things have not changed at all. Students began marching in 1970 because they were concerned about protecting the environment; this year marks the 50th anniversary of Earth Day, and the planet continues to suffer. In 1972, Congress approved the Equal Rights Amendment, which guarantees equal rights for all, regardless of sex. For the ERA to become part of the Constitution, however, 38 states needed to ratify it before the deadline. That didn't happen, and so the ERA is still not part of the Constitution. And who could have imagined that we would be reliving the kind of political upheaval today —including attacks on a free press — that we experienced with Watergate in the early 1970s?
FACT #3:

After I turned in the first draft of Cub, my editor suggested that I cut about 40 pages. I decided to eliminate a story about a musical performance that ended very badly! My best friend, Katie, usually accompanied me on the piano whenever I played the flute. When the band director asked me to play a solo at the holiday concert, however, Katie and I were not getting along. I asked an older lady to accompany me. We started out fine, but in the middle of O Holy Night, in front of the whole school AND all the parents, she got confused and began playing from the wrong sheet of music! The song sounded horrible, but I didn't know what to do, so I just kept going! Yikes!

I also cut a funny story about my family getting the very first microwave oven in our neighborhood. All of the neighbors came over and watched my dad boil a cup of water and cook a strip of bacon in the microwave. Everyone "ooohed" and "aaahed" and was VERY impressed at the magic of microwave cooking!
FACT #4:

Pursuing interests outside of school not only makes Cindy happier, but also makes her a more confident and interesting friend! Through her creative outlets, she finds her voice: she learns to write a great news story and also to speak up for herself.

Outside activities also help Cindy put junior high in perspective: seventh grade drama is not all that consequential when compared to other things that are happening in the world!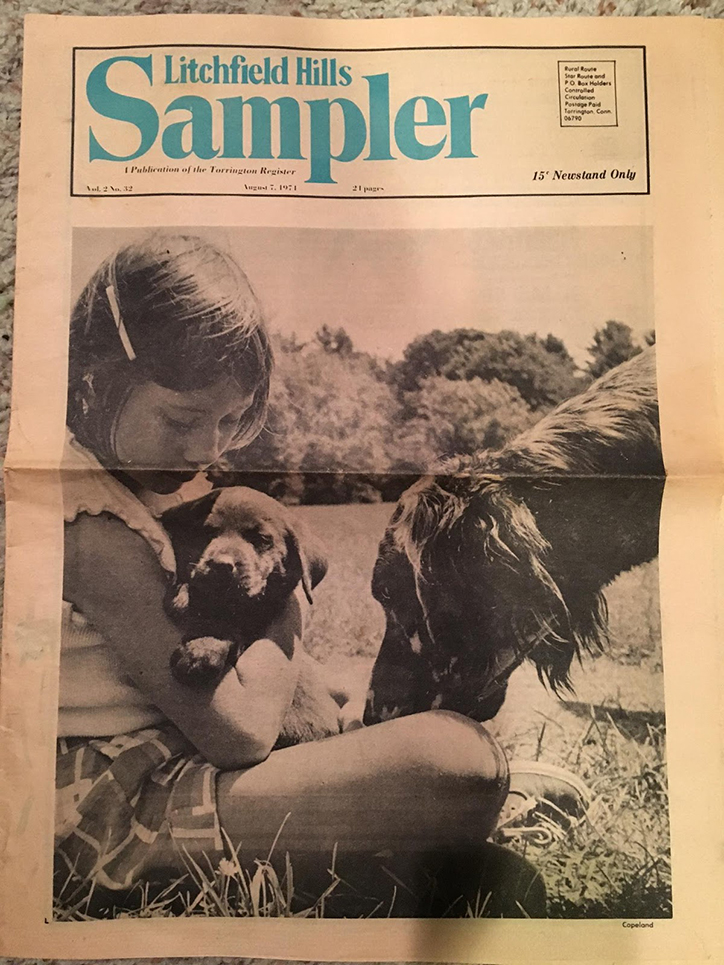 FACT #5:

In order to feel as if I were back in 1972, writing for the Torrington Register, I read through the daily newspapers from that time on microfiche at the Torrington, CT library. It was fascinating to read stories as they were unfolding, knowing, of course, exactly how everything turned out in the end! I not only read the news stories, but studied the ads and letters to the editor, which helped me feel immersed in the early 1970s.
FACT #6:

The biggest challenge of Cub was to make the story feel relevant to kids today while preserving the early 1970s feel. Telling the story visually was a huge help! The graphic novel format enabled me to infuse the pages with a fun, hippie, 1970s vibe without distracting readers from the narrative. I didn't have to keep reminding them that the story took place long ago; I showed it through elements like clothing, cars, and color choices.

Another challenge with any book – but especially with a graphic novel — is consistency. Sometimes I'd wake up in the middle of the night and think, "Oh no! Cindy left her purse at the coffee house!" I'd realize that I had drawn a purse on the table in the restaurant but had not drawn it on Cindy's arm as she left! I'd dash into my office and make a note to redraw that page first thing in the morning!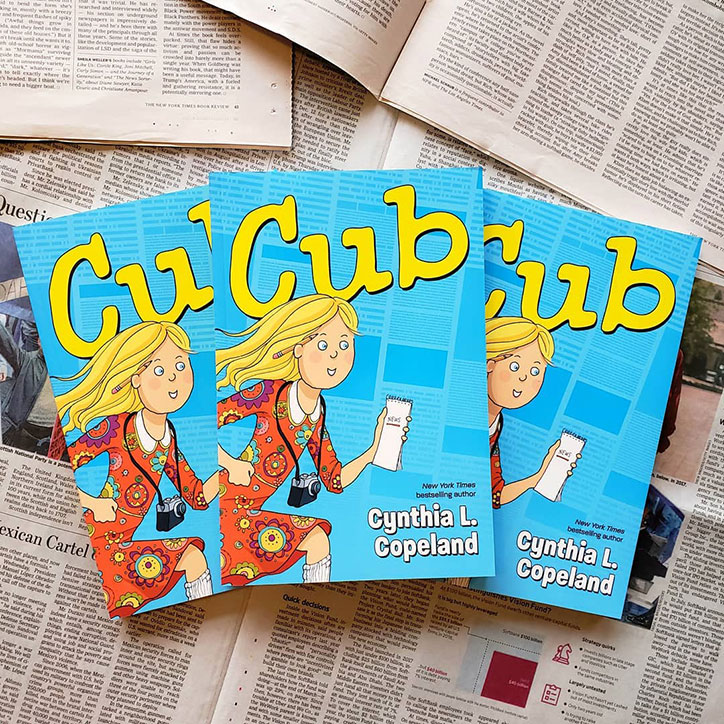 FACT #7:

Because kids had a lot of freedom and independence in the 1970s, stories from that era are genuinely more interesting to tell! Parents didn't arrange playdates or micromanage after-school time — kids were sent outside to play and not expected home until dinnertime. And if kids wanted to find their friends, they got on their bikes and rode around looking for them — which is much more interesting to draw than kids sitting on the couch texting one another!
FACT #8:

After an online search, I located Mrs. Schulz, the English teacher who found a newspaper reporter willing to mentor 12-year old me. She retired years ago and is living in Florida now. She was delighted to get my letter, and responded by saying she'd always wondered if she had made any real impact in her many years of teaching. I assured her that she'd made a huge difference in my life, as I was sure she had in the lives of many other students.

(P.S. Thank your teachers: they will appreciate it more than you can imagine!)
Are you a budding journalist like Cindy in Cub, or are you destined for the theater? Find out by taking our after school activity quiz!