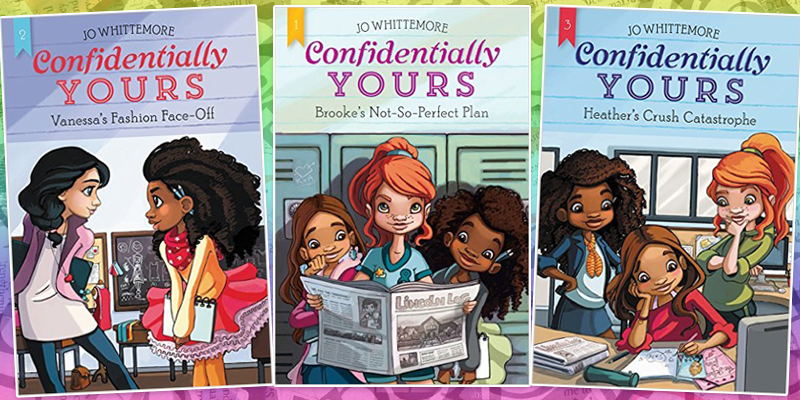 The "Confidentially Yours" Series is Finally Here
We can't lie, we've been impatiently waiting the release of the "Confidentially Yours" book series from Jo Whittemore for awhile now, and the day has finally come. If you're as excited for this series as we are, you're in for a treat, because the first TWO books in the series were released today!
In the "Confidentially Yours" series, best friends Brooke, Heather, and Vanessa are ready to take on their first year of middle school together. The three of them decide to take journalism as their elective, which lands them a spot on the Lincoln Log – their school paper! Heather, Brooke, and Vanessa, along with their new friend Tim, will need to tackle the advice column. Each book in the series follows one of the girls as they navigate middle school life, juggle their responsibilities, argue with friends, and of course, have epic crushes that threaten the very fiber of their friendship and leave it hanging in the balance.
Brooke's Not So Perfect Plan

In Brooke's story, everything seems to be going perfectly at first. She's landed herself a spot on the school paper and the soccer team, along with a bunch of other activities and she's got her two best friends by her side. Brooke slowly realizes that maybe she signed herself up for a few too many activities and is having a difficult time managing all her responsibilities and all of her schoolwork. Will she be able to figure out how she can have it all without giving up the advice column, or will she need to say goodbye to one of her new favorite passions?
Vanessa's Fashion Face-Off

Vanessa Jackson is the biggest fashionista their school has ever seen and has big dreams of becoming a fashion designer someday. It's definitely no surprise that she's taken on the fashion advice section of the Lincoln Logs' advice column. Just when she thinks middle school couldn't possibly get any better, Katie Kestler shows up and almost ruins everything. Katie is Vanessa's new neighbor and a new student at their school. She's stylish, cool, and from Los Angeles, which is basically a triple threat for Vanessa. When an advice-off competition means Vanessa might lose her spot on the paper, she know's she must take down Katie for good.
Heather's Crush Catastrophe
(This one won't be released until May 3rd, but we just had to share the details now. It'd be rude to break up the the trio!)

Heather has a new crush on the dreamy Stefan Marshall and it's starting to interfere with her work on the Lincoln Log, as well as her friendship with Brooke, Vanessa, and Tim. In an effort to find out if Stefan feels the same way about her, she finds out all his favorite things and sets up a movie outing with the rest of the newspaper gang to try and get to know him better. When Heather realizes that her friends don't really like him, she must decide if her crush is worth losing her life-long best friends friends over.
These three books are witty and fun while tackling all the hard stuff that comes along with being in Middle School and growing up. They're around 300 pages or so each, so there's plenty of story to keep you captivated, but they're so fun that you'll find yourself able to tear through them pretty quickly. And who knows, maybe Brooke, Vanessa, and Heather will inspire you to write an advice column of your own or get involved in YOUR school paper! If you find yourself into the series, you can check out Jo Whittemore's other books like Front Page Face-Off (another journalism inspired story), Odd Girl In (a story of prank loving siblings who's antics might just get them sent to private school), and D is For Drama (a dramatic tale about drama club) to hold you over until the 3rd book is released.