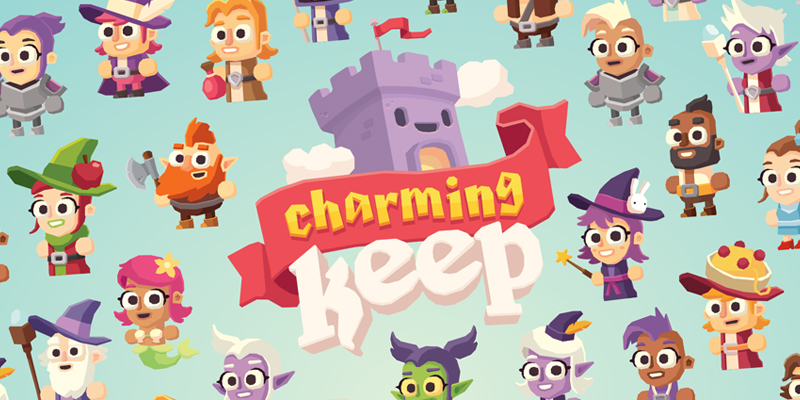 Charming Keep is Magically Good Fun
Charming Keep is a fun new clicker from Mighty Games (Shooty Skies, Disney Crossy Road) that'll have you totally addicted and laughing your butt off. Build a magical tower and help to rescue charming princes who keep getting themselves captured all while earning quadrillions of dollars!
Step into the role of CEO of Charming Keep Inc. and take a look at the trailer to see what you're in for.
Let's pause for a moment to appreciate just how cute these graphics are. They're perfectly pastel. There's castles with little smiles on them. Paired up with enchanting medieval tunes, this game is great before you even make your first tap! In this adorable tower building idle clicker, you're put in charge of building up Keeps (they're basically just little castle towers) in order to earn cash to rescue pesky Princes who keep getting in trouble.
You'll choose a Keeper to help you oversee the operations (Who wouldn't want to unlock Newt Salamander? Yes, that's a Fantastic Beasts reference) and who can learn and cast spells to help you out as you level them up. Each Keeper has their own set of spells they can learn. Try to collect and use them all!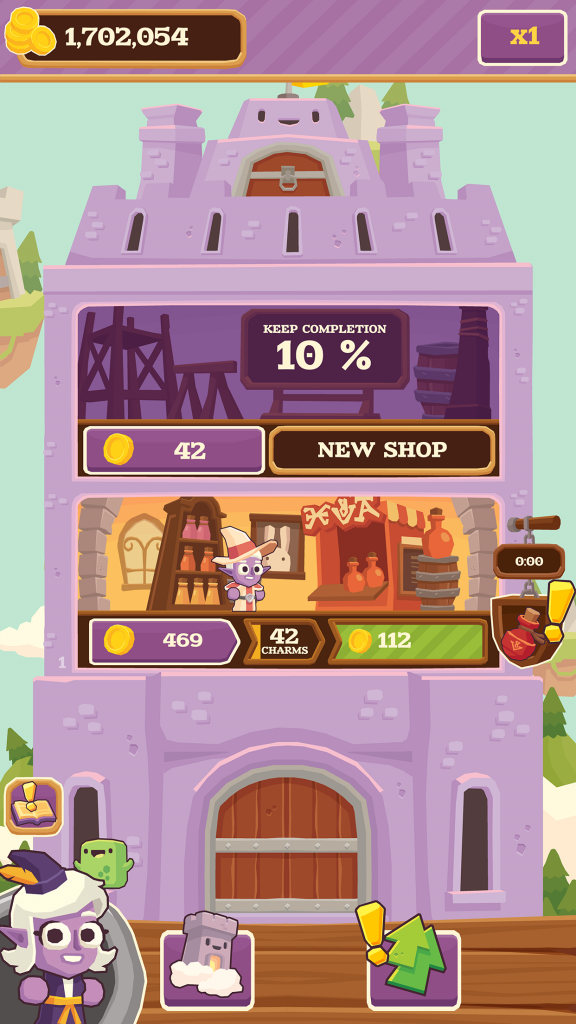 To build out your tower, you'll need to add some cleverly named shops to help you earn coins. Always be on the lookout for rare shops – they're special and will help you earn more profit quickly. Make sure you always read the shop names, there are a ton of hilarious puns and references that'll make you LOL.
You can pick the ones with the funniest names or cutest decor if you'd like, but if you're trying to be strategic, the rare shops are definitely the way to go. As you earn money on each floor, tap the money bags to collect your hard earned cash.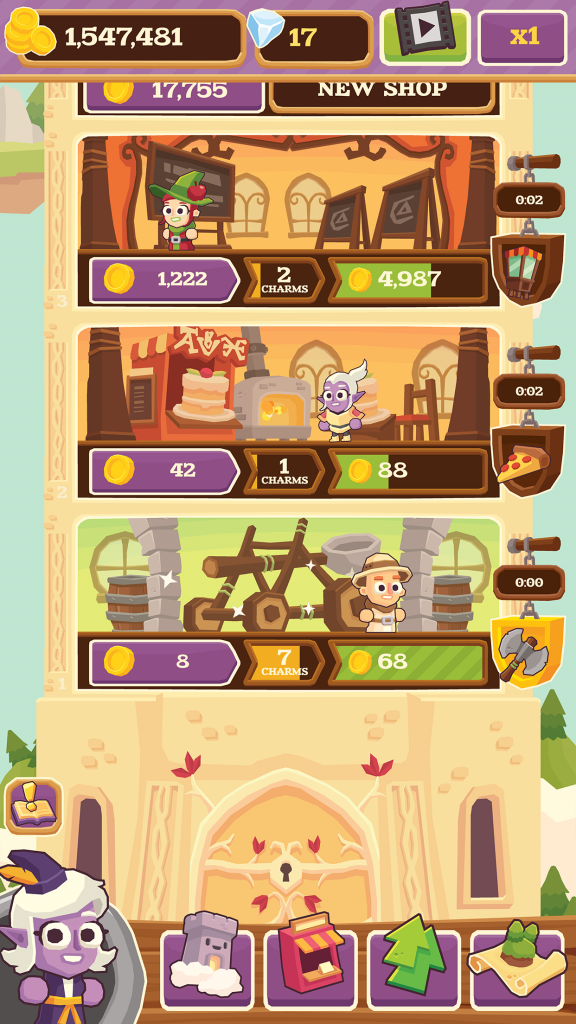 See those little cuties inside each shop? Those are Charmers, and they making your life a heck of a lot easier while playing the game. Hiring the perfect Charmer for your shop is important – you'll want to choose the ones with the highest skill and happiness levels. Some characters are better suited for certain types of shops – but choose carefully. You only get to choose once unless you spend gems for a chance to swap them out. Once you've hired a Charmer, you won't need to manually collect the money bags anymore. The Charmer will do it for you automatically, how nice!
Use the billions, trillions, and quadrillions of coins you earn to buy more floors, level up your shops, and rescue the the Princes. Sometimes you'll need to produce items instead of cash in order to complete quests. As you complete achievements, you'll unlock VIPs who'll give you helpful boosts. You can also set them as your Keeper!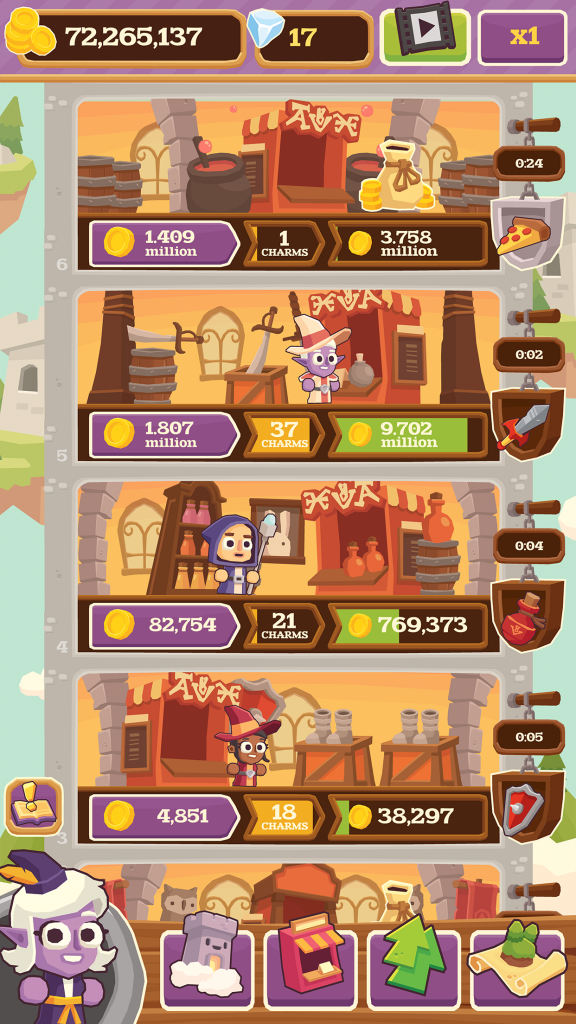 When you've completed building a tower, use your coins to fund Prince rescues. They can get pretty pricey as the game goes on, so you'll always want to strategize and make sure your tower is running as efficiently and earning max profits.
Not earning cash fast enough for your liking? Poke all the adorable creatures running around the bottom of the screen. (See below! Look at all those adorable bunnies we conjured up using a spell!) It'll make you giggle and help you easily earn a bunch of coins. There's also ads available to watch to help double your profits. Props to Mighty Games for implementing ads in such a non-intrusive way.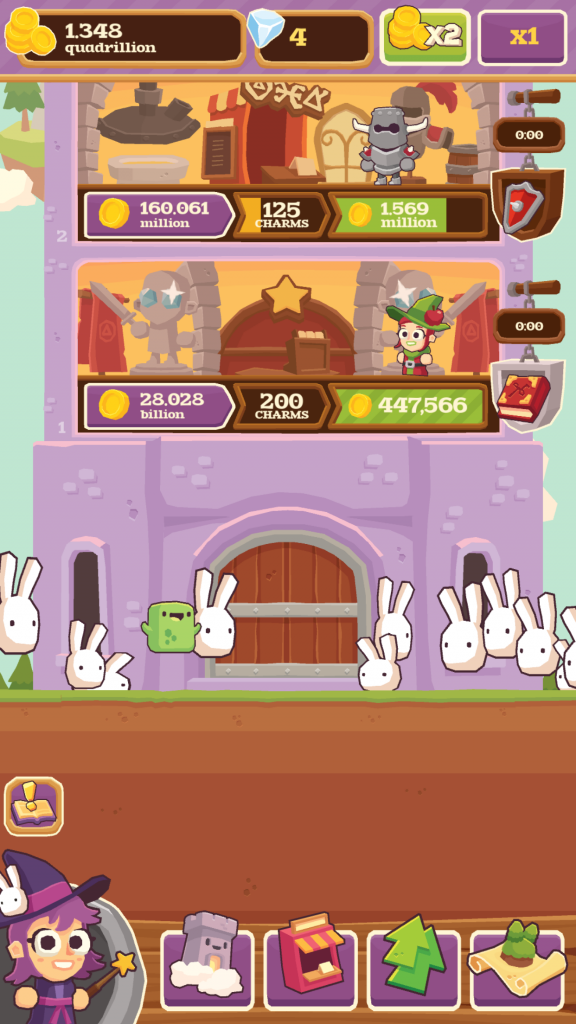 After you've rescued all the Princes in a keep, it will switch into Bonus Mode. In Bonus Mode, each Prince you've rescued counts towards your Princely Profit multiplier, which affects your earnings across all your towers. You'll also be able to unlock a brand new Keep in a new location and start the fun all over again! We like to switch up our strategies each time we unlock a new Keep to see how we can get even better at earning that cold hard cash.
Charming Keep does have in-app purchases in the form of gem bundles, but they're not necessary to completing the game. Gems allow you to cast spells or re-roll your shops and Charmers in hopes of a getting a better one. You do earn some gems while playing, so unless you're spell-crazy or looking for a reason to support the developers, you'll never need to spend real cash. We always like to encourage people to spend a few bucks on free games that they really like. This helps game developers continue updating the game and working on even more fun future games. Always make sure to ask your parents before making an in-app purchase, though!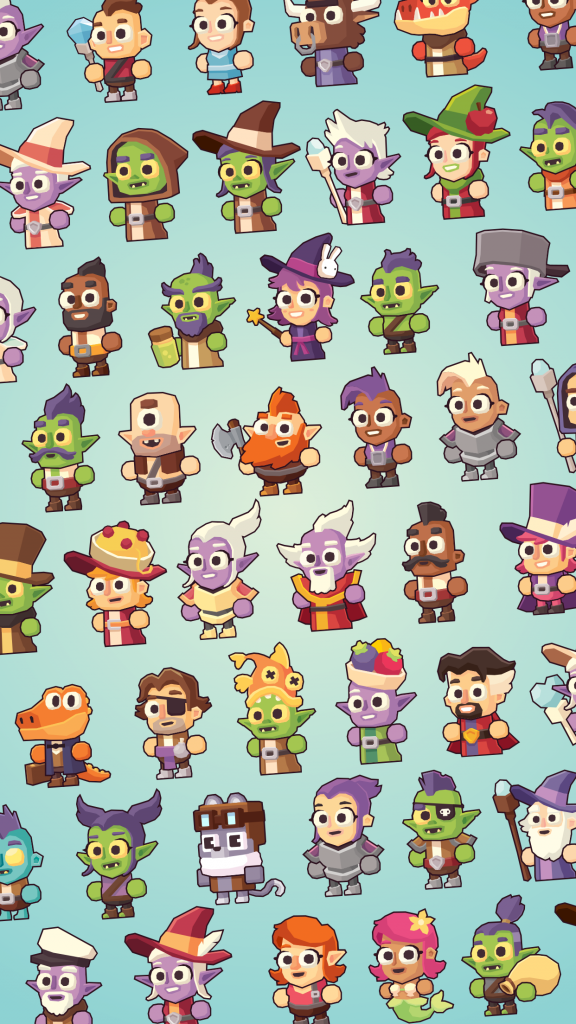 Ready to play? Charming Keep is now available for FREE on both iOS and Android devices. Need more mobile game suggestions? How about these?