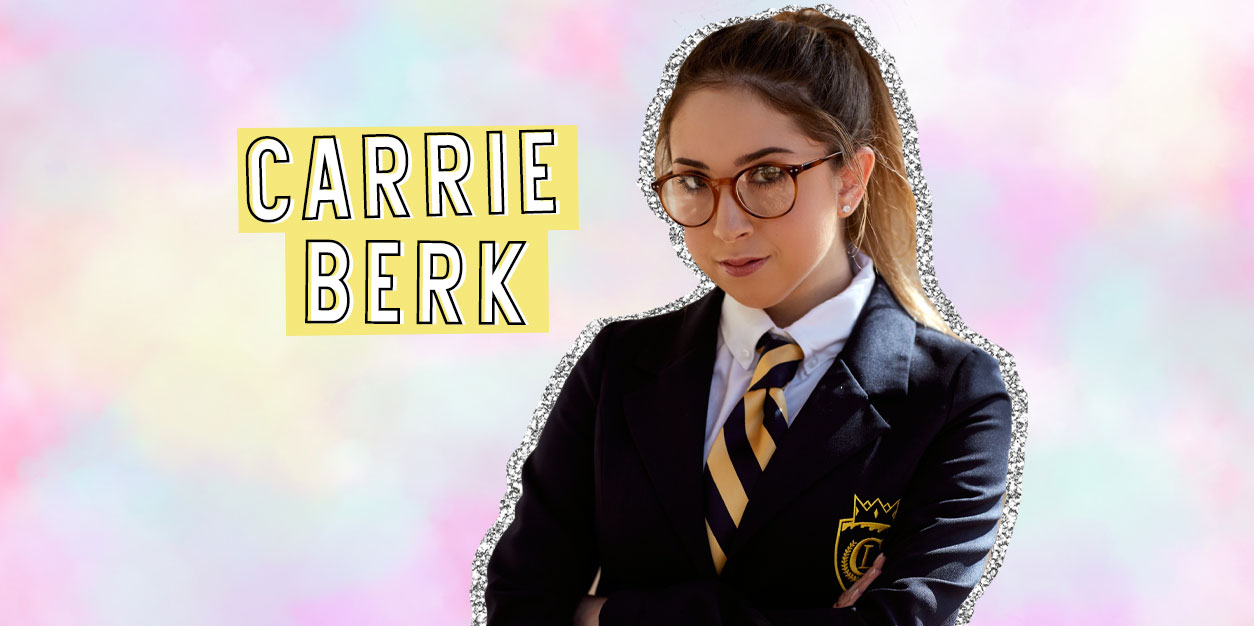 Carrie Berk Dishes on Stage Fright, Brat's Mysterious New Series
Brat's mysterious new series, Stage Fright, drops next Thursday, and Carrie Berk is here to share all the details!
Stage Fright a spin-off of the popular Brat series, Crown Lake, set in the present day. When strange things start happening while working on a production of The Phantom of the Opera, the students will have to piece together the mystery of what's really going down. Carrie stars as Karina, the theater critic for the Crown Lake Chronicle, who'll do just about anything to get a story. As a best-selling author and style empowerment blogger, Carrie was the perfect choice to take on the role of a writer!
Want the scoop on all things Stage Fright? Carrie Berk is taking readers behind the scenes, dishing on the series, her character, and her advice for her fans!
Carrie Berk Dishes on Stage Fright: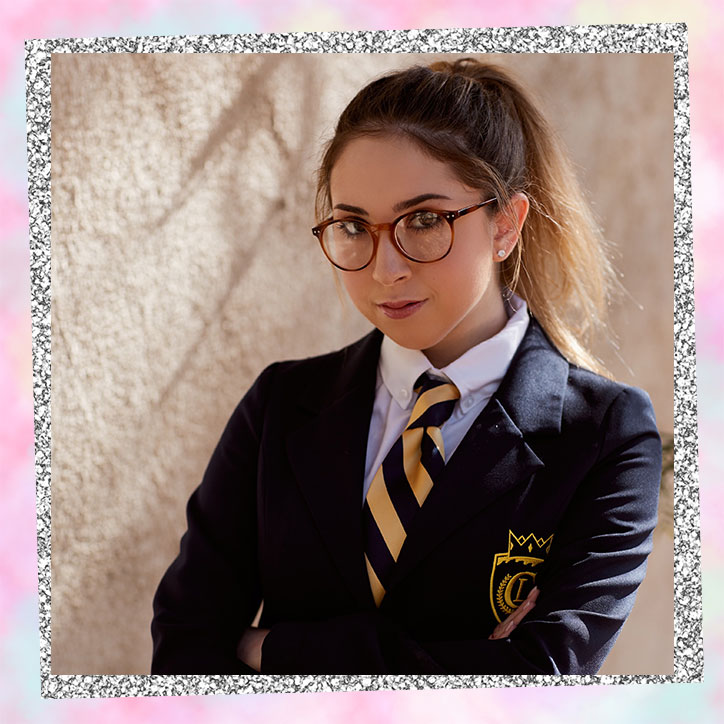 Tell us about your new Brat show, Stage Fright!

CARRIE BERK: Stage Fright is Brat's exciting new mystery series! It's a spin-off of Crown Lake and takes place at the school in the present day. Fans of the show will be surprised to see one of Crown Lake's characters is all grown up and now the school's headmaster.

Students are putting on a production of Phantom of the Opera, and all of a sudden, the chandelier drops and injures the show's lead, Noah. Throughout the course of the show, students are trying to figure out who is responsible – my character, Karina, may not be as innocent as she seems.
How would you describe your character, Karina?

CARRIE: Karina is the theater critic for the school newspaper, The Crown Lake Chronicle. She's super smart, a little intense, and very passionate about her job – she will do whatever it takes to get her story. Her peers wonder if that includes trying to hurt Noah — but you'll just have to watch to find out.

I would call her style "brainy chic." I love that she wears glasses (because I never have!), a messy ponytail, and thigh-high socks with her Crown Lake uniform. She makes the look her own.
Take us behind the scenes a bit – what was it like working on the show?

CARRIE: So much fun! Being on set and tapping into Karina's character was a thrilling experience, especially because her high-intensity persona is so unlike me. I also loved getting to work alongside not just amazing actors, but people who have become my best friends. Even sitting with them at school in the morning (yes, we had an onset classroom!) was always fun. I also loved lunch: we put on our robes (so we didn't stain our costumes), went outside, and sat at long picnic tables. It was when we got to talk, check our phones, relax, and make TikToks between filming scenes.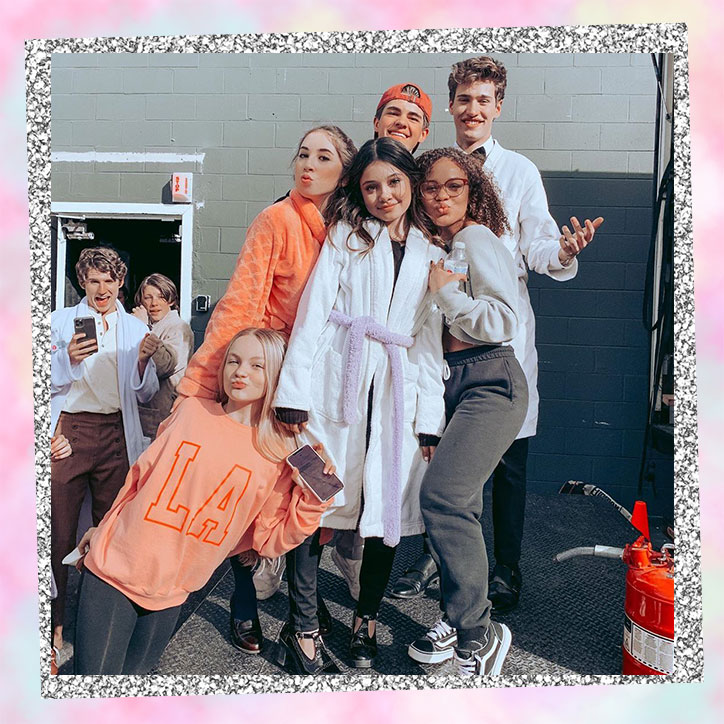 Have you ever performed in a musical or play? Do you have any favorite Broadway shows?

CARRIE: Yes! I was in several Broadway concerts and two off-Broadway shows when I was younger, one of which was an adaptation of my book, Peace, Love, and Cupcakes! I grew up training in musical theater – going to vocal lessons, acting intensives, and dance classes – so I was excited to tap back into that!

My fave Broadway show is Hamilton – there was a period of time when I couldn't stop listening to the soundtrack, LOL. I know every word by heart.
What is something your fans would be surprised to learn about you?

CARRIE: I love boxing, and I box at least once a week. It's not just a great workout, but it helps reduce stress.
From author to style blogger to actress, you're seriously slaying your career. What are you dreaming of doing next?

CARRIE: I'm definitely going to keep writing – that's my endgame. I'd love to be Editor-in-Chief of a magazine one day. But acting is a side hustle that I'd definitely love to explore more, and I'm so grateful that Brat has given me the opportunity to join their family. I found out I got the role on my birthday, and I can't think of a better gift!

Besides that, I am always writing articles for my website (www.carrieschronicles.com) and working on growing my social media and brand (@carrieberkk). I don't ever think you should put a limit on your dreams — who knows what the future might hold.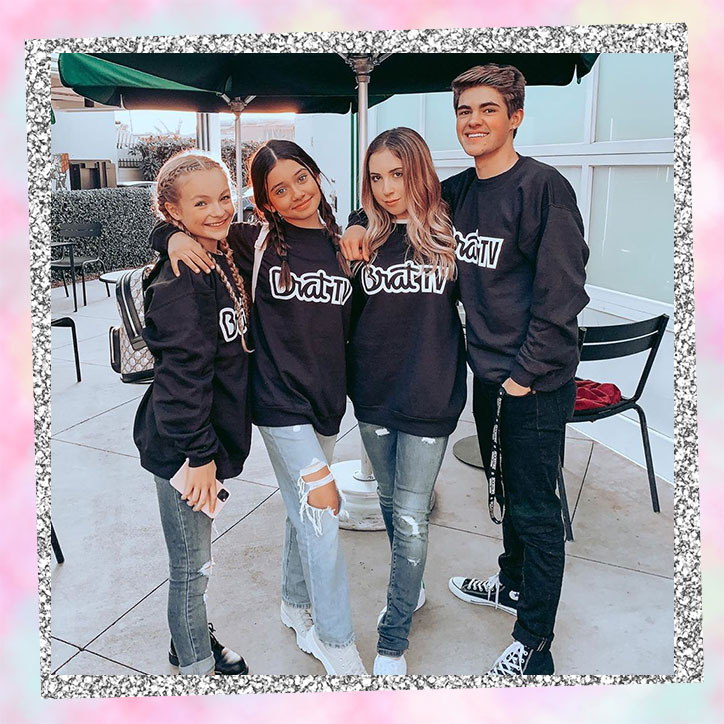 What is a style trend you're loving right now?

CARRIE: Blair Waldorf-esque headbands. Lele Sadoughi makes a bunch of really cute ones with fun patterns and studs! You'll see Sophie wearing them as Lizzie on Stage Fright — they're kind of her thing!
Name 3 things you can't live without:

CARRIE: My family, my phone, writing.
Who inspires you most?

CARRIE: My mom, for sure. I grew up watching her type away at her computer, and she constantly inspires me to be a better writer. I am eternally grateful for her wisdom and guidance as I navigate this industry.
Do you have any advice you'd like to share with your fans?

CARRIE: Keep chasing your dreams, and always stay true to yourself! Embracing your individuality is the key to achieving success — never stop being you-nique!
You can catch Carrie on Stage Fright starting March 26th on Brat's YouTube Channel, as well as across social media @carrieberkk (Insta, TikTok, Snapchat, and Twitter) & Carrie's Chronicles (Pinterest and Facebook.)
Want to get to know her Stage Fight co-star, Sophie Michelle? Click here!