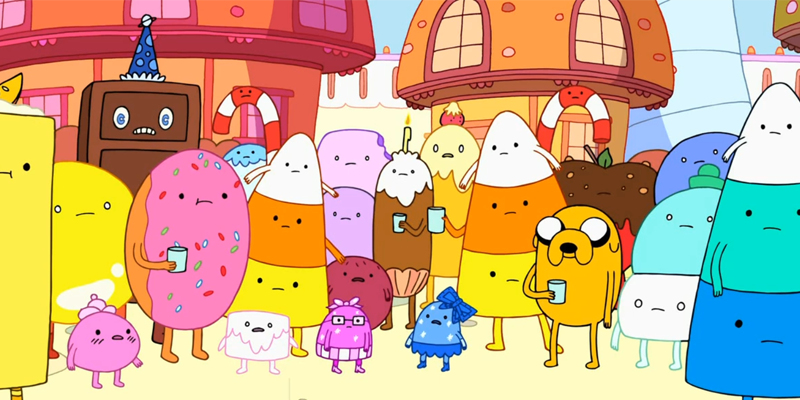 POLL: Who's your favorite Candy Kingdom Character?
June is National Candy Month, so what better way to say goodbye and end the month than with the inhabitants of the Candy Kingdom from Adventure Time?! Here's the rundown on some of the characters from the Candy Kingdom – read all about them and then cast your vote on who's your fav!

Mr. Cupcake
Mr. Cupcake doesn't appear on Adventure Time very often, but he's definitely the buffest person in the Candy Kingdom. He likes to flex his muscles in front of ladies, and one time during a game of Truth or Dare, revealed that he's a chocolate cupcake when he took off his wrapper.

Tree Trunks
Tree Trunks loves baking apple pies. She may be small, but she's super tough and sometimes moody. She is married to Mr. Pig and mom to Sweet P, the giant baby who is actually the Lich.

Starchy
Starchy is the Candy Kingdom grave digger. He's really into magic and the paranormal.

Peppermint Butler
Peppermint Butler is Princess Bubblegum's loyal butler. He is generally a pretty good guy, but seems to have a secret dark past. He can perform dark magic and has a connection to the Land of the Dead.

Cinnamon Bun
Cinnamon Bun used to be pretty childish and kind of a klutz, but once he got baked, he became smarter and his speech changed. He currently spends most of his time in the Flame Kingdom alongside Flame Princess.

Banana Guards
The Banana Guards protect the Candy Kingdom. They are candy people dressed in banana armor. They help with police matters, medical emergencies, and other issues that happen in the Kingdom, but they're usually pretty terrible at their jobs.
Now is the moment of truth, vote in our poll and let us know who YOUR favorite is!
[socialpoll id="2276396″]