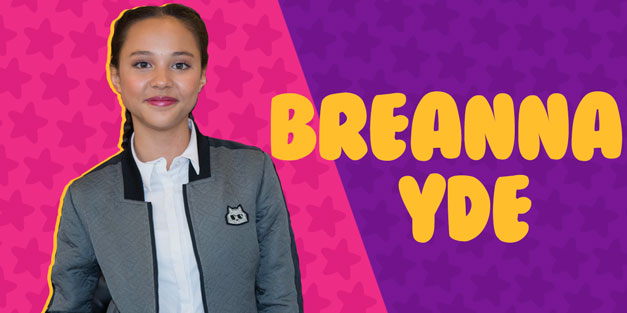 Breanna Yde on Staying Grounded, Her Love of Music, & Escape from Mr. Lemoncello's Library
You probably recognize Breanna Yde from her roles on The Haunted Hathaways and School of Rock or just from her amazing YouTube cover vids. Her new movie, Escape from Mr. Lemoncello's Library, premieres tonight on Nickelodeon. She stars alongside Casey Simpson (Nicky, Ricky, Dicky, and Dawn), Russell Roberts, AJ Rivera, and Klarke Pipkin for a fantastical adventure you don't want to miss!
Based on Chris Grabenstein's best selling book series of the same name, you guys are in a for an adventurous romp through the library! Check out the trailer here.
World-renowned gamemaker Luigi Lemoncello (Russell Roberts) has built his latest creation–a new state-of-the-art library filled with whimsical and eccentric rooms, where hardcover books fly kids to shelves in the sky, and massive doors open into fantastical worlds. Kyle Keeley, Lemoncello's biggest fan, is chosen to be one of the first to experience the fun, along with his best friend Akimi, a bookworm named Sierra (Klarke Pipkin), a goofball named Andrew Peckleman (A.J. Luis Rivera Jr.), his rival Charles Chiltington (Ty Nicolas Consiglio), and others. The kids must use their wits to complete riddles and collect clues that lead them out of this unique playground of imagination. When excitement turns to jeopardy, this world of wonder begins to spiral out of control as literary characters run amok and chaos ensues. It's up to the kids to make everything right again or else they won't be the only ones escaping.
Before you pop the popcorn and plant your butt on the couch for the big event, why not learn a little more on the amazing Breanna Yde?
Get to Know Breanna Yde: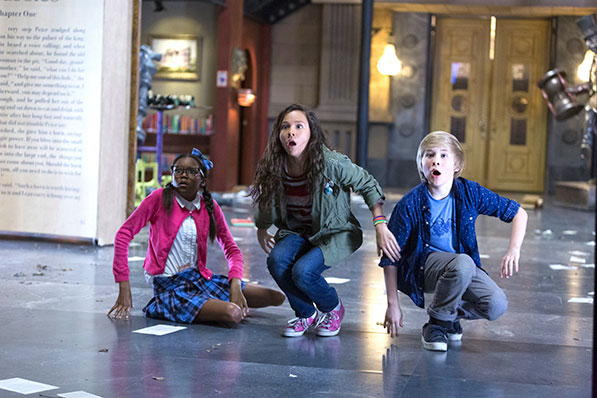 On Escape from Mr. Lemoncello's Library:
Want to know more about the movie? According to Breanna, Escape from Mr. Lemoncello's Library is "A little it bit everything. It's comedy, fiction, horror, and more all in one movie. It's a big adventure, and it's a family movie so you can watch together with your friends and family." She also shared that she's super excited for fans to see how the book comes to life in the movie. When we asked if she had any favorite moments from filming she shared, "Everything was my favorite moment from set. We'd always hang out on set, afterward, and on the weekends, and it was just a great time!"
Since the movie is based on a popular book series, we had to know – what books does Breanna love reading? "My favorite book is probably The Hobbit by J. R. R. Tolkien". Such a classic pick!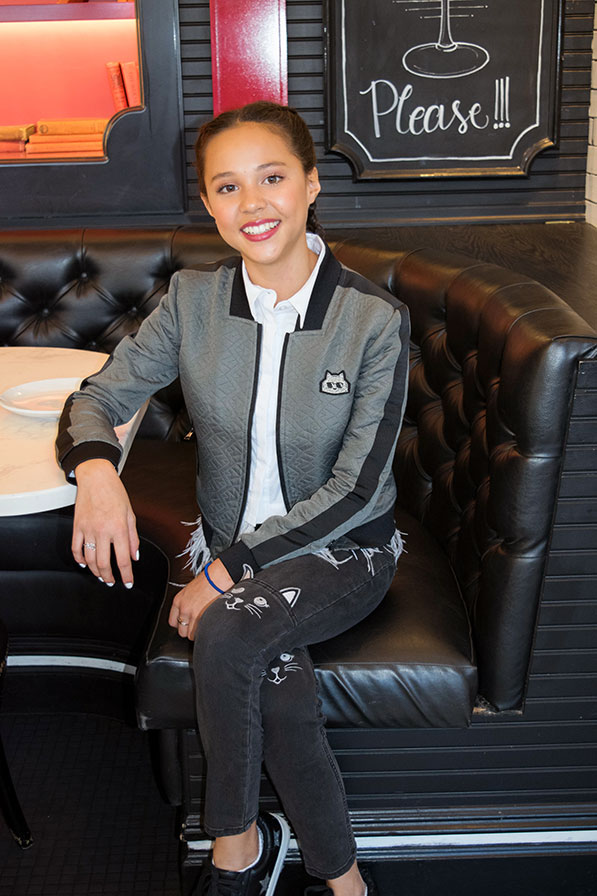 She's seriously talented:
As we arrived at the Sugar Factory in NYC for our chat with Breanna, one thing was for sure. Breanna Yde has a KILLER voice. We've obviously heard her belt it out as Tomika on School of Rock or when she shares Instagram covers, but singing live is a completely different thing, and she totally nailed it! Not only was she live, but she was also in the middle of a crowded restaurant, singing Shawn Mendes and Ed Sheeran covers totally on a whim.
She may have rocked covers of "Shape of You" and "There's Nothin' Holdin' Me Back", but when we asked Breanna her favorite song of the moment she was confident in her answer – "Diamond Heart or Joanne by Lady Gaga". Breanna is a huge fan of Lady Gaga. She even stayed up til midnight the night her new documentary hit Netflix last month! Talk about a die-hard fan!
Breanna plays piano, guitar, bass, drums, and ukulele, starting out when she was just seven years old. She's nowhere near finished learning, though. She says, "I've always wanted to learn the saxophone. I was supposed to go to a regular middle school, but I ended up doing online middle school. I was supposed to do band and I picked saxophone, but I never got to play, so it's still a dream." Judging by her skills at the five instruments she already plays, we have a feeling she'll be great at it!
With tons of covers and School of Rock soundtracks under her belt, we were curious if Breanna ever writes her own songs or hopes to work on an album of her own. "I do write songs, but not as much as I'd like to due to my crazy schedule." She says "I know that for sure that I will (work on an album), I just don't know when and I don't know how good it's gonna be. I just know that I want it to be me."
While on the topic of school, we wondered what subject she likes best. "My favorite subject in school is probably Math. English has exceptions – 'you put a comma here, EXCEPT when this happens.' With Math, you just follow the rules and get an answer, which is what I like best when it comes to school stuff."
Staying grounded and what she's proud of:
With so many accomplishments at such a young age, we asked Breanna what she was most proud of so far. "I think I'm most proud of being able to stay grounded and stay myself as I continue to grow popularity-wise," she says. "I think it's important to have perspective. I was born in Sydney and if my parents didn't decide to move to the states, then I probably wouldn't have this career. So I really think its just all about perspective." We love that Breanna keeps it so real and always tries to her best to just be herself and live life in the moment.
Speaking of her accomplishments, Breanna is currently nominated for "Best Comedy Queen" in the TigerBeat 19 Under 19 Awards. She's up against her School of Rock co-star Jade Pettyjohn as well as Zach Clayton, Lauren Giraldo, and fellow Nickelodeon actress, Madisyn Shipman. Here's what she had to say about her big nomination and a possible win. "I'd be so happy! I work so hard developing my characters on set. I think its really important to find out who your character is rather than just saying your lines, so I work really hard on that. It'd be just awesome to win."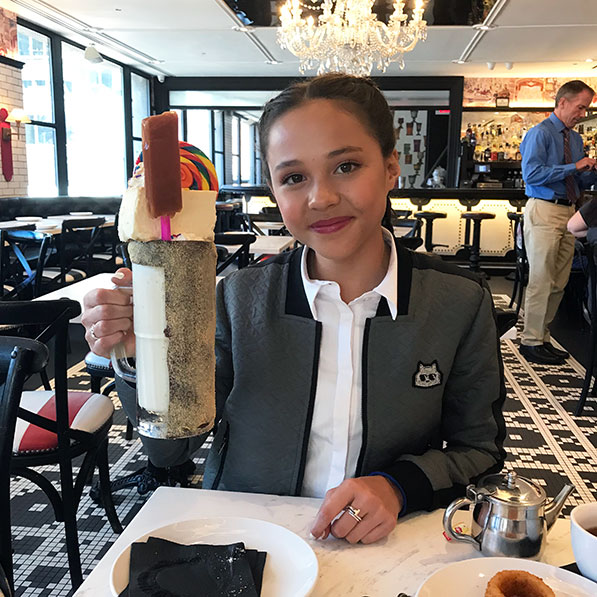 Breanna dreams BIG:
Being a triple threat of actress, musician, and singer, there's not a lot that Breanna hasn't already done. But that doesn't stop her from reaching for the stars. "One of my biggest dreams is to sell out Madison Square Garden. That's a life goal." That's a huge goal, and we'll definitely be first in line for tickets when the big day comes. Madison Square Garden is a great choice because she loves spending time in NYC. "I love coming to the Sugar Factory because I love the candy and the food and the crazy milkshakes. I love wandering around New York City because it's a cool vibe and I just love it here."
Breanna is an inspiring role model to girls all over the world, but she's also extremely down to Earth. "For me, realizing that I'm that person for other people is just crazy!"
When she's not on set or singing her heart out, she loves surfing, spending time with her friends, and gaming. "I really like Overwatch. It's probably my favorite game. I play a lot with my castmates and that's always really fun." She also told us she's looking forward to trying out 2K18 when her schedule frees up.
On School of Rock:
School of Rock returns to Nickelodeon in November, and there's a lot to look forward to as Season 3 wraps up. Breanna couldn't share much about the specifics as a lot of things are still under wraps, but it sounds like it'll be worth the wait. She told YAYOMG! "We have a really awesome grand performance at the end of this season. I can't say WHY, but it's very exciting and it's huge!"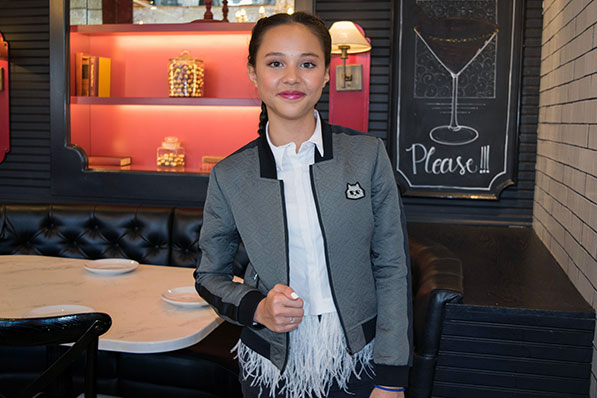 Heartfelt advice for her fans:
"Stay true to you. There's no one else like you and if you're not you, you cant be who you really want to be. Stay true to you and find what you love and continue to pursue it whether people want you to or not. Stay grounded, stay you, and pursue!" Breanna's advice is seriously great and we know that her fans will absolutely take it to heart. If we learned anything about Breanna Yde in the few minutes we spent with her; it's that she's 100% herself.
Breanna Yde is definitely a star on the rise, but she absolutely knows how to keep it real. You can catch her in Escape from Mr. Lemoncello's Library tonight on Nickelodeon at 7 pm ET/PT. Thanks so much to Breanna for taking the time to chat with us!
To get to know even more amazing girls, click here!