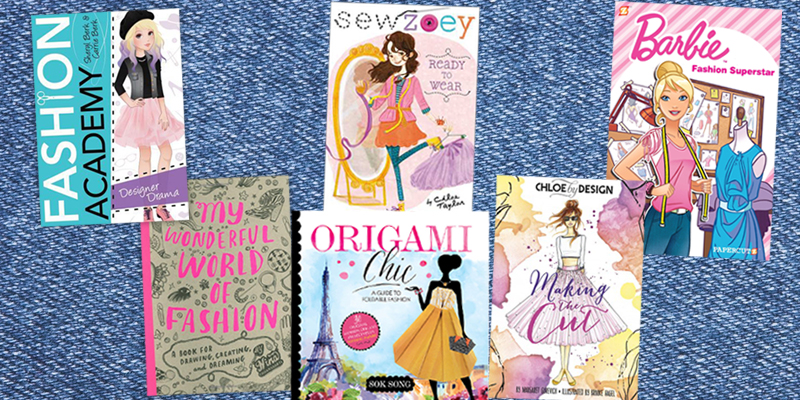 Fashion Week Inspired Reads for Budding Fashionistas
Being based out of New York City during Fashion Week is always an exciting time. While most of the NYFW events take place near Bryant Park, it seems that no matter where you go in the city you see designers, models, photoshoots, and limos plastering the streets. For two weeks every year, the entire city is taken over by fashion fans and the fashion industry alike, making us always lust after the promise of new clothes.
We know a ton of you guys love fashion – whether it's putting together the perfect outfit or sketching outrageous styles that could easily appear on a Fashion Week runway, it's hard to not get swept up in the creativity and glamour of it all. That's why we put together a list of a few of our most favorite books for fashion lovers, that way when you're taking a break from posting your #OOTD or doodling your dream dress, you can lose yourself in these fabulous fashion reads!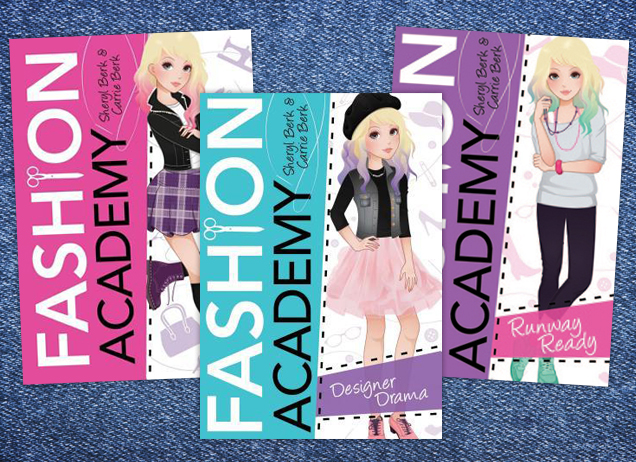 "Fashion Academy" Series by Sheryl and Carrie Berk
The "Fashion Academy" series from Sourcebooks Jabberwocky is one of our favorite fashion inspired reads and it was the reason we decided to make this list and seek out the best of the best fashion books for you guys.
Ever since she was a little girl, Mickey Williams has lived and breathed fashion. She's adored fashion idols like Coco Chanel, Donatella Versace, and Stella McCartney for as long as she can remember. She's always been confident in her abilities from her incredible designs to her infinite knowledge of the fashion world and of course, her own totally fabulous sense of style. That's why when she gets accepted to FAB Middle School (Fashion Academy of Brooklyn), she couldn't be more psyched. FAB is THE place to kickstart your fashion career in NYC and some of it's students have gone on to become the best of the best designers in the world. Unfortunately for Mickey, amazing grades and a killer sense of style aren't all she needs to survive this middle school. The popular A-list girls are totally jealous of her and make her life miserable – and that's just in the first book!
The "Fashion Academy" series is the perfect mix of school-life drama meets fabulous fashion world all rolled into one, tackling issues from demanding clients, discovering who you are, and facing your fears in order to achieve your dreams.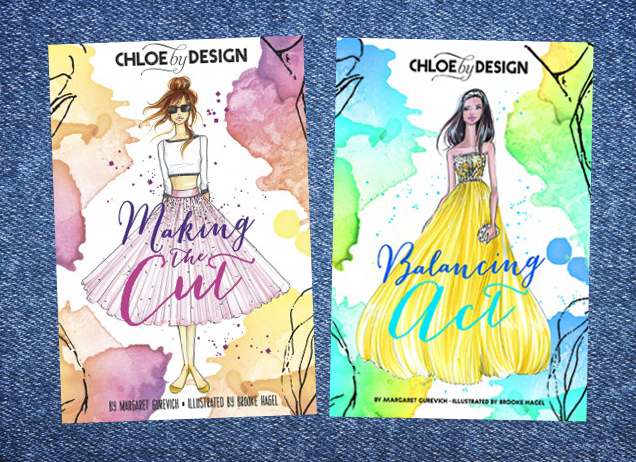 "Chloe by Design" Series by Margaret Gurevich
"My name is Chloe Montgomery, and I am a fashion addict. There, I said it. I mean, I know everyone has hobbies, but mine goes past that – my interest in fashion and design is more like an obsession." –"Making the Cut"

If you read that sentence and were immediately like "OMG. ME TOO!", then this is the series for you! The "Chloe by Design" books follow 16 year old Chloe Montgomery's fashion adventures from being an ordinary high school student to applying for a fashion reality show to an important design internship all the way to Fashion Week and beyond! It sounds totally glamorous, and sometimes it is – but Chloe's rise to the top isn't all glitz and glam. She's faced with tons of competition, drama, mean girls, and of course – crushes.
Each book in the series is filled with pretty watercolor splashes at the beginning of each chapter, as well as full color illustrations of what Chloe has been working on in her sketchbook which really help bring the story to life and help you visualize all of Chloe's designs.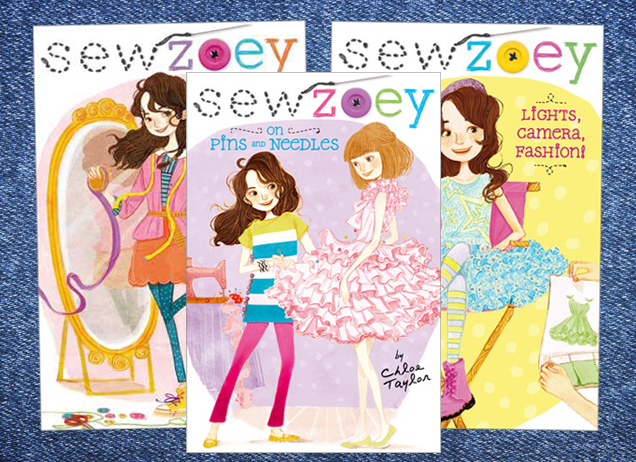 "Sew Zoey" Series by Chloe Taylor
If you live most of your life in front of your sewing machine or fawning over style bloggers and Instagrammers – the "Sew Zoey" series is "SEW" up your alley! You're going to love the quirky and spunky Zoey Webber – she's a little bit middle school misfit, a little bit fashion blogger, and she's got an outstanding eye for design.
The good news? Zoey's middle school is getting rid of school uniforms for the upcoming school year. The bad news? Despite the fact that Zoey has piles and piles of sketchbooks filled with outfit designs, she doesn't have a THING to wear! With the help of her best friends Kate and Priti and her Aunt help her learn how to make her own clothes and start up her own fashion blog, and everything in Zoey's life changes forever. But just because you're internet famous doesn't mean that you'll fit in at school or be able to balance the popularity of your blog with your homework and the upcoming school fashion show fundraiser.
One thing we love about this series is how it helps it's readers understand the world of fashion from the ground up. It explains everything from popular fashion terms to how to sew and start up a fashion empire of your very own. This really makes it stand out from similar books, and is a great to start with if you're looking to get into fashion design.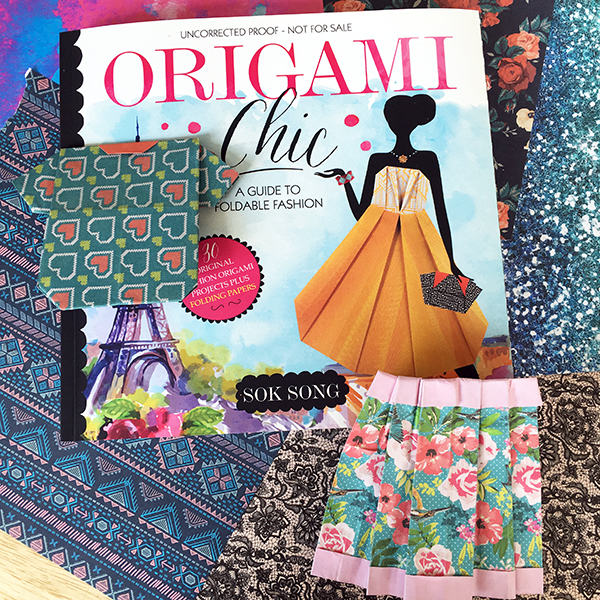 "Origami Chic" by Sok Song
"Origami Chic" teaches you the classic art of origami in a way you can totally understand – through fashion! We loved folding up little outfits, and we know you will too!
We actually just did a full post on "Origami Chic", so we'll make this quick. This great little craft book teaches even the most uncoordinated of DIYers how to create paper versions of their favorite fashions. Fold up everything from skinny jeans to mini skirts and everything in between. If you've never folded origami before – don't fret! A ton of the 30 projects in this book are "Easy" level and made for beginners like you. Once you get the hang of things, you can work you way up through the harder projects and check paper fashionista off your bucket list. "Origami Chic" comes with all sorts of pretty paper tucked in the back, so you won't even need to head to the craft store before you get started.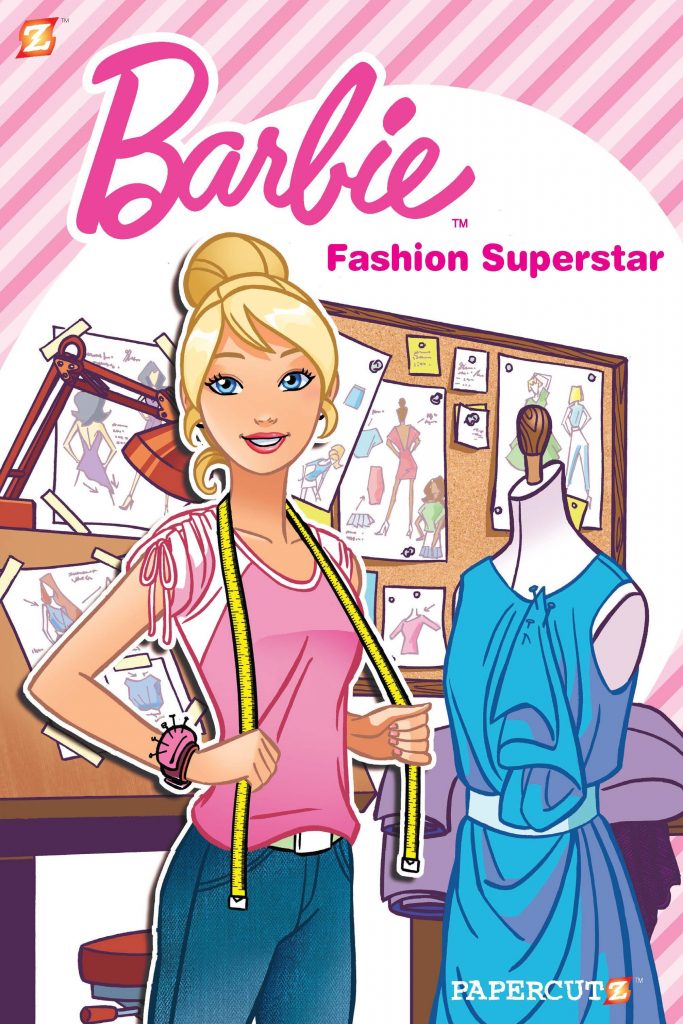 "Barbie: Fashion Superstar" by Sarah Kuhn
What's better than reading a fashion book about the world's most iconic fashionista? Reading a graphic novel! In "Barbie: Fashion Superstar", the world's favorite doll comes to life in her first graphic novel adventure – all about fashion!
Like the rest of us, Barbie is trying to figure out her place in the world. Should she become a doctor? A teacher? A fashion designer? Barbie's love of clothes helps her land a job in the fashion industry, but she's still up against a ton of choices. Should she become a model? A designer? Or maybe she should try another job in the fashion world she never even dreamed of. In this stylish graphic novel from Papercutz, you'll get to follow Barbie through the ups and downs of her fashion career as she makes new friends and tackles every challenge that comes her way, like she always does. If you like this book, you're in luck! This is the first in a line of Barbie graphic novels – covering topics from space adventure to taking care of puppies and everything in between.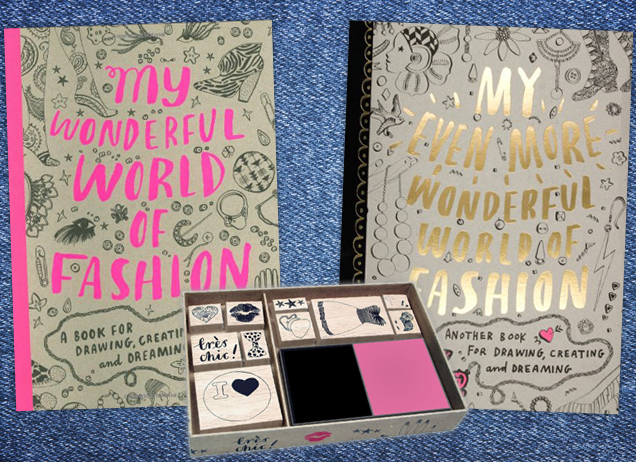 "My Wonderful World of Fashion" by Nina Chakrabarti
"My Wonderful World of Fashion" is a little bit coloring book, a little bit sketchbook, and 100% fashion lovers dream. Even if you're more into wearing clothes than designing them, we think you'll love this fantastic activity book.
Every page of this book is a little bit different. On some pages you'll be connecting the dots to reveal a fabulous pair of sunnies. On the next page, you'll draw your own patch for a jean pocket. You'll design a name necklace and color your way through some of Vivienne Westwood's most glamorous shoe designs. Once you've finished dreaming and creating your way through this book, there's a sequel ("My Even More Wonderful World of Fashion") to keep the creative juices flowing. You can also grab the notebook version which has plenty of blank pages for you to sketch your next big idea on, and a stamp set that can also help you fill up that notebook with style. It's a total must-have for fashion lovers.
If these books aren't enough to tame your inner fashionista, check out our picks for must-have products for future fashionistas! These sketchbooks, fashion diaries, and other products will help you master the craft of designing and get you ready for your future fashion career! Our lookbooks can also help you put together the perfect look for any occasion. We've got you covered!