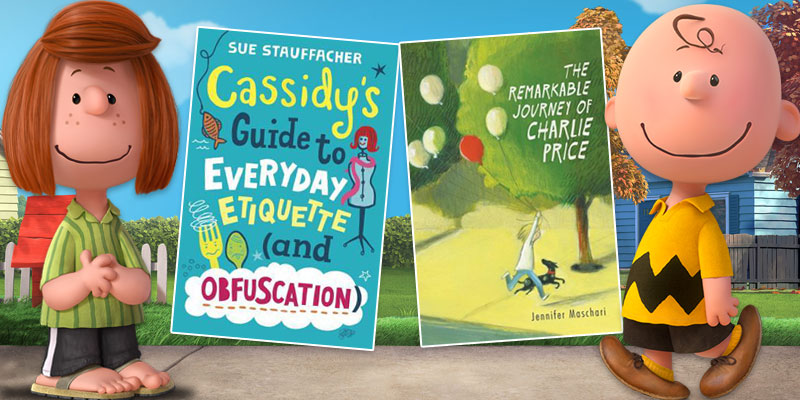 Book Recommendations Based on Your Favorite Peanuts Character
Since the Peanuts Movie was just released for digital download, and the DVD/Blu-Ray are coming out on March 8th, everyone will be infected with Peanuts-fever all over again! If you just can't get enough of these loveable underdogs (and loveable actual dogs!), continue your Peanuts love with these book recommendations. We've selected a book for each of the main Peanuts characters based on their personalities and interests that we think fans of each character might like to read.
Book Recommendations Based on Your Favorite Peanuts Character

If you like: Charlie Brown
You should read: "The Remarkable Journey of Charlie Price" by Jennifer Maschari
Charlie Price's story is a bit more tragic than Charlie Brown's, but there are a lot of similarities between the two Charlies.
Charlie Brown always seems to have the worst luck. He's a bit of an underdog and things never seem to go his way. Charlie Price is also a bit of an underdog, and luck has definitely not been on his side recently. Things have been very different ever since his mom passed away. He used to be on the Mathletes at school and spend Saturday's having scavenger hunts with his family. Now that his mom is gone, his dad is a bit withdrawn and terrible at making dinner. His sister has started acting super weird, and Charlie is forced to go to a grief councelling group that's not really helping. Everything seems to be worse without his mom, until Charlie follows his sister through a secret passageway that leads to a parallel world where his mom is still alive. Hot chocolate, board games, and good times with his family are available to him at any time just by going through the portal. Charlie soon realizes that every time he heads back into the real world that things seem even sadder and more strange than before. Can Charlie figure out the truth about what is happening before his sister never returns to the real world again?

If you like: Linus
You should read: "Crenshaw" by Katherine Applegate
Something about "Crenshaw" just FEELS like Linus. He's so pure of heart and helpful and sweet and wants the best for everyone around him – it gives you a warm, fuzzy feeling inside when you think about what a good kid he is. That's the same warm, fuzzy feeling you get when you read "Crenshaw", so that's why we think fans of Linus are going to love this read!
Jackson and his family are going through a hard time. His parents are jobless, they've received an eviction notice on their house, and there's a chance that him, his little sister, their dog, and his parents are all going to have to live in their minivan. Again. Jackson is confused by the way his parents are handling the situation, with humor and cheer rather than with logic and action, and tries to take matters into his own hands. Like Linus from Peanuts, he's a good hearted kid who'll do anything for the people he loves. When Crenshaw, a 7 foot kinda cynical cat appears (for the second time…he appeared the last time his family went through a similarly rough time), Jackson tries to ignore him. He's a logical kid who believes in facts and science, so he's really not interested in having an imaginary friend. Crenshaw isn't quite warm and fuzzy, but he shows Jackson an important lesson in friendship, family, and realizing that that weight of the world doesn't always need to rest on your shoulders alone.

If you like: Sally
You should read: "Drive Me Crazy" by Terra Elan McVoy
Sally is definitely the girly girl of the Peanuts gang. We can totally see her as the kind of kid who wants a light, fluffy read about a school based story with mean girls and geeks and friendship and probably a first kiss. She doesn't have time for a long, serious book when she's got her Sweet Babboo to lust after. That's why we picked "Drive Me Crazy", it seemed like exactly the kind of story we could see Sally getting into.
Lana and Cassie have only met once before, and it was kind of a disaster. Or maybe an embarrassment? It depends on which one of them you ask. So when they find out that they're about to spend an entire week together crammed in a Subaru with their honeymooning Grandparents, neither of them is thrilled about the idea. They can't be bothered with each other – they both have their own problems to worry about like potentially sick parents and the possibility of losing touch with old friends. The story is told in alternating chapters from each of the girls perspectives, which gives us glimpse into what each of them are thinking as the story progresses. It's a great little read – but you'll have to read it for yourself to find out if they can manage to become friends or if they're destined to be nothing more than acquaintances who occasionally see each other at family functions.

If you like: Lucy
You should read: "Gabby Duran and the Unsittables" by Elise Allen and Daryle Conners
Read this book description and tell us you can't see this exact situation happening to Lucy?
Gabby Duran is a babysitter. Like, the best babysitter in the entire world. She's so good that she even babysits for the children of celebrities! She's earned the title and she's confident in her abilities. So when she's approached by the Association Linking Intergalatics and Earthlings (A.L.I.E.N.) for a new babysitting gig, of course she believes she's the right girl for the job. She's the best of the best, after all! Unfortunately, it turns out that babysitting aliens is much harder than Gabby ever imagined. She needs to help keep their identities protected at school as well as a sea of other secrets that are starting to affect her friendship and her love for playing the French Horn. Will Gabby be able to sort everything out or will she be stuck giving up her life as she knows it in order to become an intergalatically renowned babysitter?
Gabby reminded us of Lucy's tendencies to go into something blindly and over-confident and have it blow up in her face. Gabby has much less of a temper and bossy nature than Lucy does, but we could definitely see this laugh out loud adventure happening to Lucy van Pelt.

If you like: Peppermint Patty
You should read: "Cassidy's Guide to Everyday Etiquette (and Obfuscation)" by Sue Stauffacher
Cassidy basically IS Peppermint Patty. She's the tomboy who'd much rather be outside getting dirty and playing sports than wearing a dress and eating a fancy meal like some kind of princess. If Peppermint Patty's grandmother passed away, and left her a summer's worth of etiquette school as her inheritance, you can imagine she'd be pretty annoyed. That's exactly what happens to Cassidy. If that's not bad enough, her best friend Jack has been spending all his time with the new teenage girl next door instead of Cassidy. Being the spunky, free-spirit that she is, Cassidy takes matters into her own hands and teams up with some of her new friends at etiquette school to pull off a bunch of pranks to try and sabotage the school. Can they pull it off? You'll have to read it to find out!

If you like: Snoopy
You should read: "Write This Book: A Do-It-Yourself Mystery" by Pseudonymous Boch
When you think of Snoopy, you think of an inventive, funny little pup who just loves adventures. His imagination takes him literally all over the world as the Red Baron, which is why we think he'd love writing his own adventure, rather than just reading someone else's.
"Write This Book" is filled with prompts, games, and puzzles that help you create your very own mystery story. It's snarky and funny, just like Snoopy. If Snoopy's spirit could be bottled and then poured into the ink used to print a book, this would absolutely be it. If you're not so much into the idea of writing your own book, try the "Secret Series" by the same author. They're really fun to read and are filled with twists and turns and laugh out loud moments.
We hope you liked these reads! For even more book recommendations, check out our Books section!