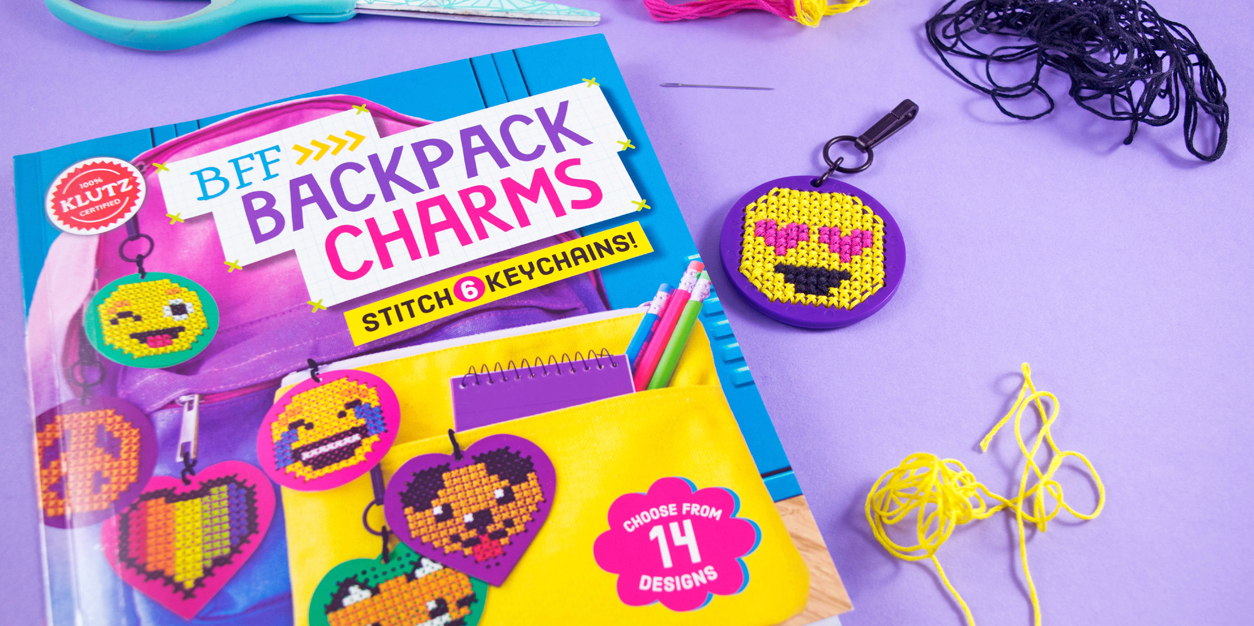 Stitch and Share Your Own Klutz: BFF Backpack Charms + GIVEAWAY!
Note: We received this box for free from Klutz in exchange for a fair and honest review. All opinions are our own; we were under no obligation to give a positive review.

March is National Craft Month, so we teamed up with the awesome team at Klutz for a super crafty giveaway! We're giving away one of their BFF Backpack Charms kits, so after you check out our review of the kit, be sure to enter to win a kit of your own!
The Klutz BFF Backpack Charms Kit is the perfect way to celebrate this month that's all about following your DIY-dreams. These adorable, easy to make backpack charms were designed with friendship in mind. This kit is great for bonding with your bestie as you craft together or just chillin' out on your own to stitch up some charms to share with your squad. The kit comes with everything you need to make 6 backpack charms based on 14 super cute designs. We're usually pretty terrible at cross-stitching, but like all Klutz kits, the instructions are easy enough to follow that even the not-so-crafty types like us can pull them off and create results that are brag-worthy. Let's check it out!
Klutz BFF Backpack Charms Kit: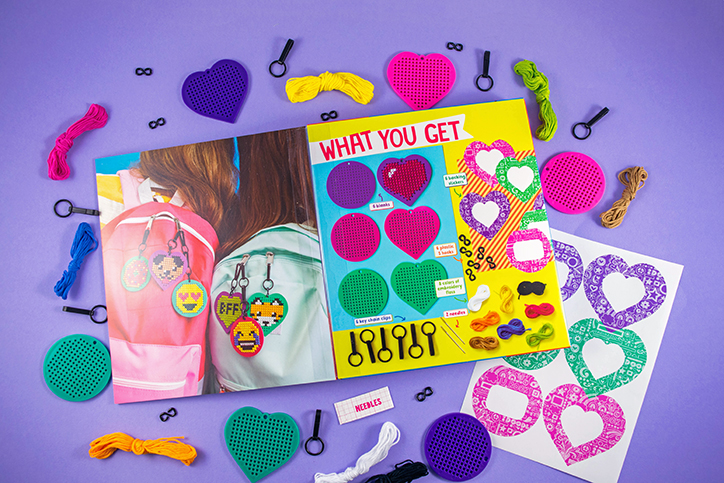 Here's a breakdown of everything that comes inside this colorful, crafty kit. In addition to the 32-page instruction book, you'll receive:
– Charm Blanks – Circle and Heart Shapes
– Keyring clips
– S-hooks
– Backing stickers
– 8 colors of embroidery floss
– 2 cross-stitch needles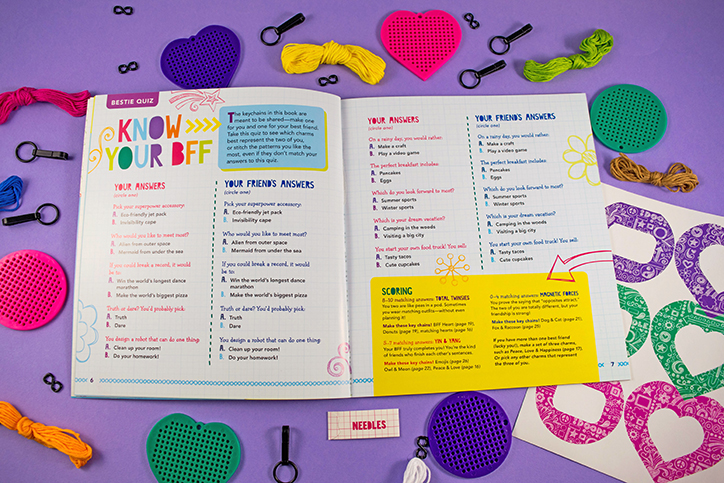 The instruction book also contains a fun quiz to get to know your bestie and help pair you up with the perfect charms that represent your friendship. You can make up to 6 designs, including emoji, peace signs, puppies, kitties, donuts, and more.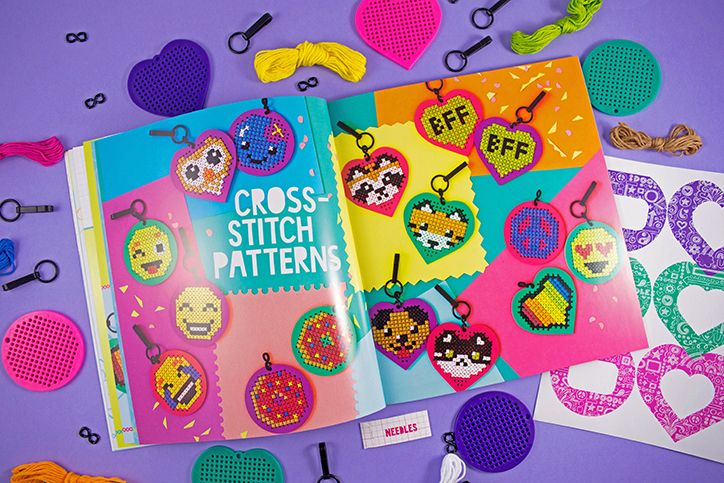 Once you've figured out which charm you want to start with, you'll want to read through the cross-stitch tips. The book teaches you how to make stitches, how to fix mistakes, and pretty much everything else you could ever need to know about cross-stitching. Always start with the stitch in the top left corner and follow along until you're done. For beginners, the peace sign is an excellent choice since it only uses one color. This will help you get the hang of making stitches without having to switch colors, and you'll still end up with a swoon-worthy charm when you're done! We decided to go with the heart face emoji.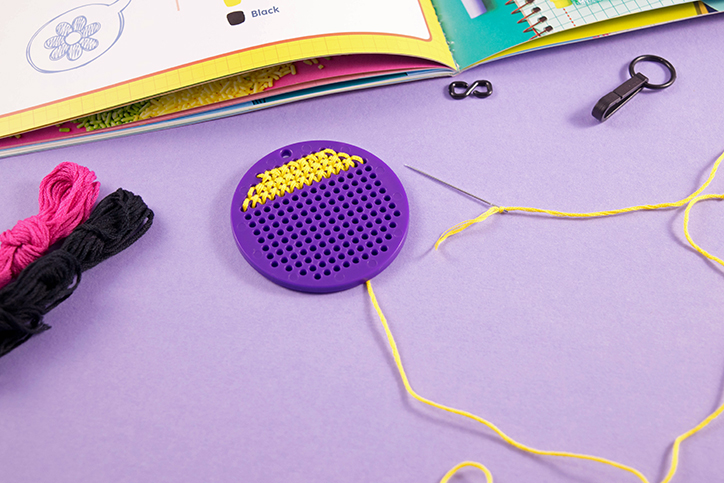 We definitely made a few mistakes along the way, so don't be discouraged if your charm doesn't come out perfectly on the first try. You'll likely end up missing stitches, making pulls, getting knotted up, or fraying your floss a bit. That's okay! Nobody is perfect, and that's the nature of learning something new. Even with a few errors, our charm came out super cute, and we're super excited to rock it on our bag. All of the thread colors are awesomely bright, and when paired with the backing shapes, they make a bold fashion statement that'll turn heads wherever you go.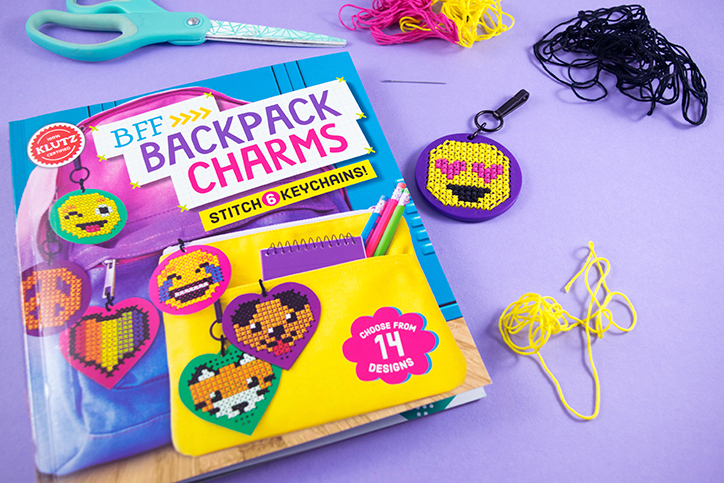 These are called "backpack charms," but they can also be used as zipper pulls, gift tags, or hung from pretty much anywhere you can clip them to. We had a blast working on this kit, it's a great way to spend a chilly not-quite-Spring yet afternoon and would definitely make for a great slumber party activity with your BFF.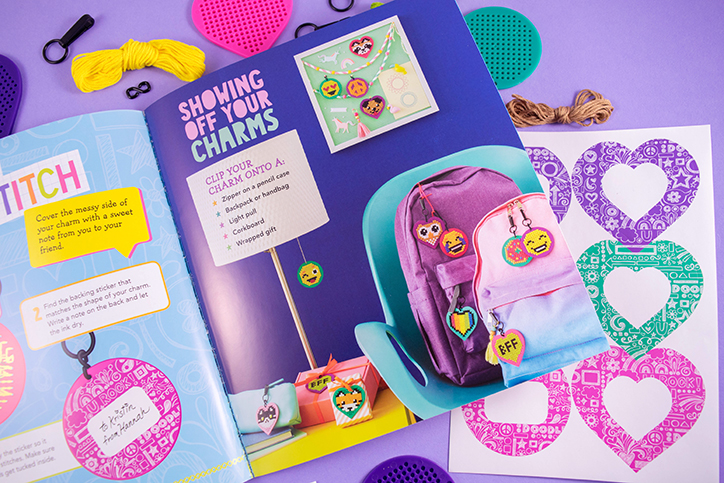 The BFF Backpack Charms kit was a lot of fun! We love how it inspires friendship and creativity, but also teaches you a real skill. If you like crafting with this kit, there are SO many ways to continue your love of cross-stitch and become a total pro, so definitely hit up your local craft store if that's something you're into. The kit costs $19.99 and can be found on the Scholastic website as well as Amazon and other retailers that sell craft kits.
BFF Backpack Charms Craft Kit Giveaway: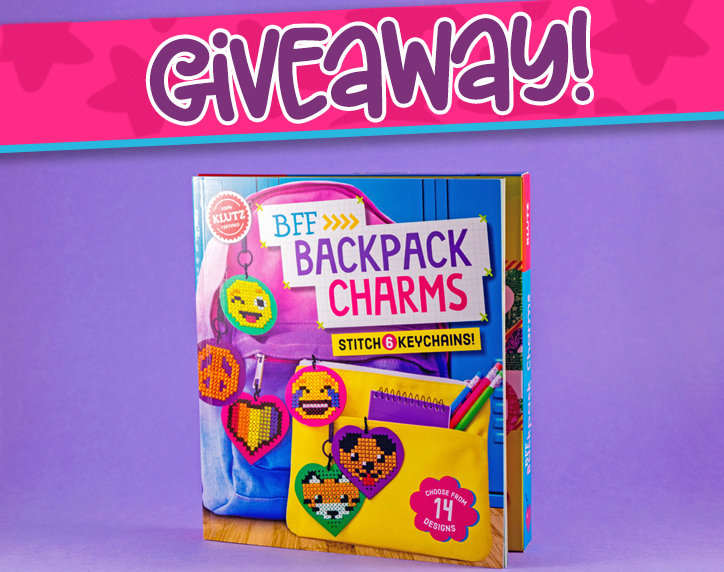 WHAT DO I WIN?:
– One (1) lucky winner will receive a BFF Backpack Charms Kit, provided by Klutz
HOW DO I ENTER?:
Get permission from your parent/guardian and fill out the form below by April 2, 2018! Giveaway begins on March 26, 2018 at 3:00 pm ET and ends on April 2, 2018 at 11:59pm ET.
You must be 18 or older to enter. If you are under 18, you'll need to get permission from your parent/guardian to enter and again if you win. Please provide THEIR email address when entering below. If chosen as a winner, you'll need to provide contact info where we can reach your parent/guardian if you win. They'll need to sign an affidavit permitting us to send your prize. Be sure to read the fully detailed rules HERE before entering. Note: Klutz will be sending your prize, so we will need to share your information with them if you win.

THIS GIVEAWAY HAS ENDED AND THE PRIZE HAS BEEN CLAIMED.
Good luck to everyone who enters, we know you're going to LOVE this kit! Be sure to tag @yayomgofficial and @klutzcertified if you share your designs so we can see all your hard work! For even more fun ways to get in touch with your crafty side, click here!