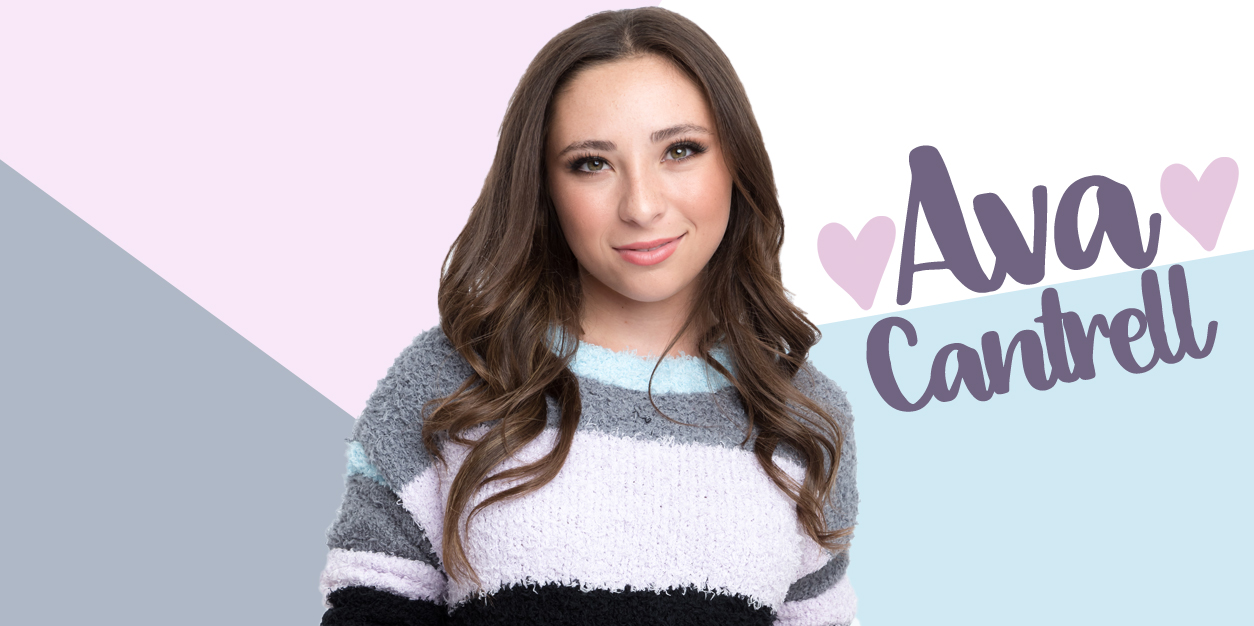 Ava Cantrell on Young Sheldon, Confidence, and her Biggest Dream
Starting out as a competitive dancer and then making the world laugh as the totally over the top Penelope Prittchard on Haunted Hathaways, Ava Cantrell has loved performing since the very beginning. She puts her whole heart into the roles she takes on as well as in her everyday life. She works alongside The LA Mission, Say No Bullying, and Project Wildsong to give back to her community, fight against bullying, and help save the animals. You can currently catch Ava in her recurring role on the CBS series Young Sheldon and her upcoming film, The Fostered.
Ava took over our Instagram Story from the Teen Vogue Summit this past weekend. Be sure to check out our story highlights to see Ava's inspiring day! Get to know her as she dishes on her Haunted Hathaways days, what she loves most about acting, how she's working to achieve her biggest dream!
Get to Know Ava Cantrell:
We know it's been a few years since Haunted Hathaways ended, but there is still such an active fanbase. How has playing the role of Penelope influenced you?
AVA CANTRELL: I landed the role of Penelope by going all out. I went into the audition in a crazy tutu carrying an American Girl doll and didn't hold back. Penelope was such a lovable, bratty character and so much fun to play. I learned that there are some things you just go for it, laying it all out there.
A lot of my fan base actually came before Penelope because I was an award-winning competitive dancer. I would say my fan base is pretty loyal. A lot of my Nickelodeon fans first horror movie was PG-13 rated Lights Out. They have watched me in all of my roles even though they really varied, from Amelia Voss in One Under the Sun – who is a girl with terminal cancer – to recently Young Sheldon!
Do you have any favorite memories from your Haunted Hathaways days?
AVA: Well, it was so much fun to be a part of Nickelodeon, especially at eleven years old. I made some great friendships with the cast members and we had such fun times. I would sleep over at Breanna Yde's house when I was filming and we loved to chase each other with water guns or silly spray on our off times. The connections are still there. My stand-in for Haunted Hathaways was on the Young Sheldon set the last times I worked. Hollywood can be a pretty small town!
You are recurring on Young Sheldon! Tell us a little about your experience working on the show.
AVA: I was so excited to book this show because I am a huge fan of it and Big Bang Theory. It was an added bonus to get to work on both episodes with Jason Alexander in drama club. My first episode was pretty amazing because they added my Rocky 4 monologue on set. I did it in one take after studying lines for about a minute. They loved it and kept it and when I went back everyone was saying "Hey it's Rocky 4 girl!"
You never know what is going to happen on set. I have had scenes cut, and I have had scenes added and you just have to roll with it. I really love the Young Sheldon set because everyone is so talented, professional and amazing. It is an honor to work on that show!
What do you love most about acting and performing?
AVA: The thing I love most about acting is being on set. I love getting to my trailer, getting breakfast, getting into hair and makeup while studying lines. Then filming and vibing with the rest of the cast. It's a blast doing scenes with other actors and seeing what they bring to the role. I always learn so much on set. It is the best training you can get. You have to be able to take direction, make bold choices, and adapt fast. I love the challenge.
What is something you're hoping to accomplish in the future?
AVA: I would love one day to work for National Geographic. Either behind a camera, journalism, or in front of the camera. I love photography, science, animals and writing. I think it would be a dream job, and I am working now towards that goal.
View this post on Instagram

You just attended the annual Instaskate event! Tell us a little about your day!
AVA: Instaskate was super fun! It's no secret that I love Instagram, so I was so excited to be invited to attend. The Ice rink had a giant Christmas tree in the center, and the event had a wonderful holiday feel to it (even though it almost 80 degrees in LA that day.) I did an Instagram Takeover for Sweety High at Instaskate which was super fun. My friends and I loved skating together even though none of us were that great at it. Also: donuts and a beanie with the Instagram logo. I'll tell you what, Instagram sure knows how to throw a party!
What is something you are super passionate about?
AVA: I'm extremely passionate about my dogs and love them so much. I've never gone a day in my life without a dog by my side. We're the type of family that hangs stockings for the dogs at Christmas too because they're just as much family. I'm lucky to have hobbies I'm really passionate about. I love surfing and photography.
How do you embrace your girl power?
AVA: As a girl, I feel the most powerful when I am doing what I love. We as girls are all strikingly unique, powerful, and capable of amazing things. I embrace the life I lead every day and feel happiest and most powerful when I overcome challenges big and small.
When do you feel most confident?
AVA: I feel the most confident when I am not worrying about what other people think of me. When I'm in my own space, doing my own thing is when I feel confident. My confidence comes from the inside, not from others approval.
View this post on Instagram

Are there any words of wisdom you'd like to share with your fans?
AVA: My mom always says "this too shall pass." That has been a guiding phrase for me. I think people get too caught up in negative feelings, and insignificant events. You have to ask yourself: is this going to matter tomorrow? Sometimes you just need to go to bed, get some rest and realize tomorrow is a new day.
Now that you know Ava, we think you'll love getting to know these equally inspiring girls!