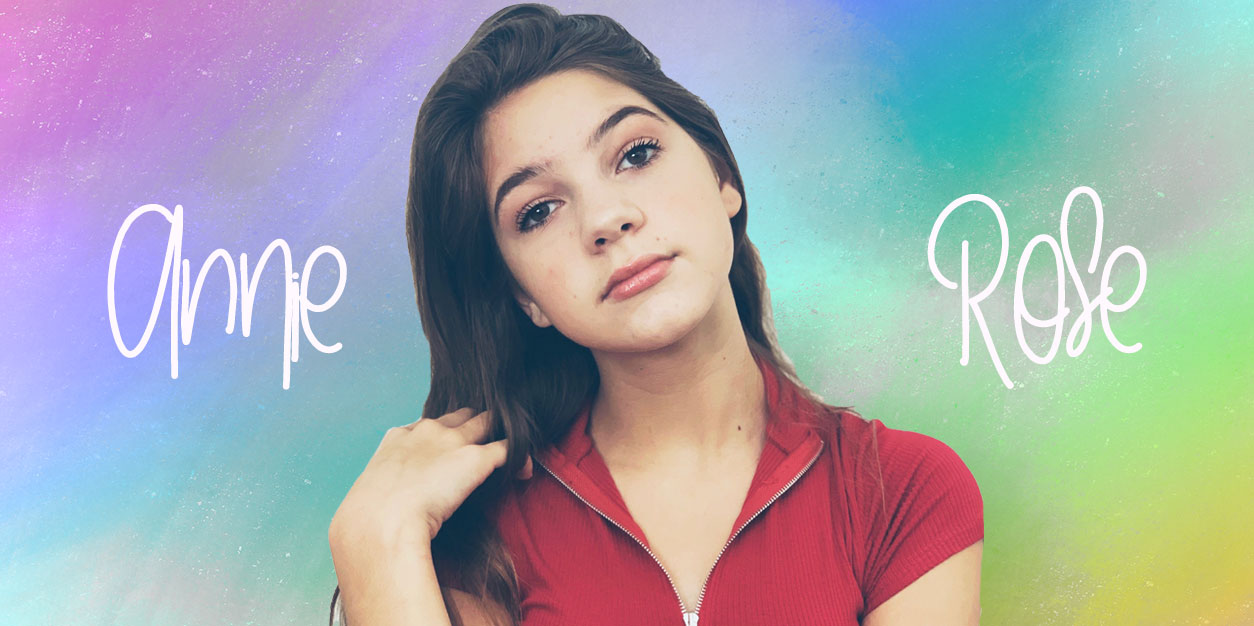 Annie Rose on Songwriting, I Think You're Lying, and Social Media Struggles
Annie Rose is likely one of your favorite YouTubers, but she's recently embarked on an exciting new part of her career – music!
I Think You're Lying is Annie's first single, an emotional ode to teenage self-image struggles. No matter how often we hear that we're worthy or amazing, some days it's just a little harder to believe than others. Annie can relate, having been through similar feelings herself. That's why she is channeling a lot of her personal experiences into her upcoming music. She's hoping to connect with her fans through her raw and relatable lyrics, letting them know that they're not alone.
Annie has always been passionate about writing and singing, but following her musical dreams required confidence she wasn't aware she had. After being inspired by a friend, she attended a music school to help her hone in on her craft and felt empowered to share her songs with the world. You can see the process on Annie's channel, where she shared her journey of becoming a singer-songwriter with her fans.
Get to know Annie Rose as she chats about becoming a singer-songwriter, social media struggles, and her new single, I Think You're Lying.
Get to Know Annie Rose: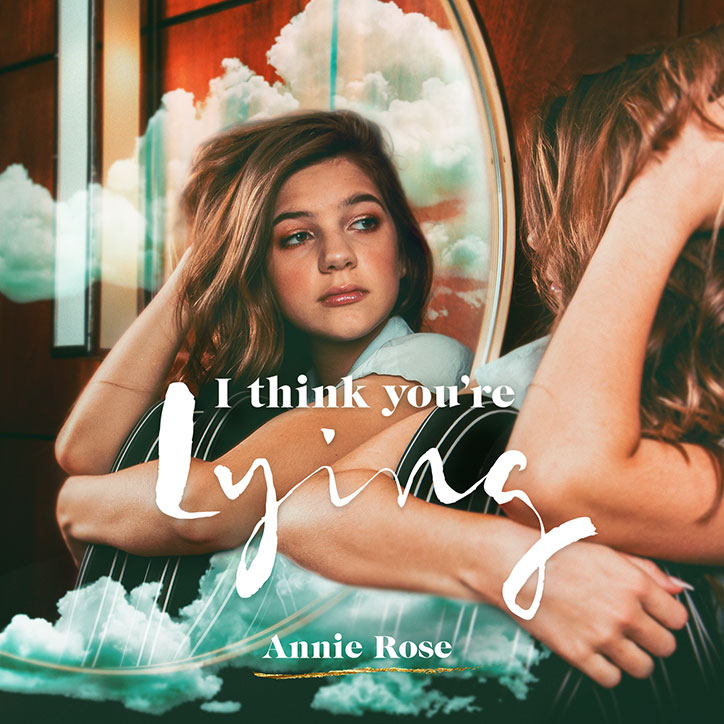 Your new single, I Think You're Lying, is so emotionally raw. Can you share a little about the inspiration behind the song?

ANNIE ROSE: I Think You're Lying is a song about self-image. Often, it doesn't matter what encouraging things people say to you because you still feel alone and not enough. But the song also brings a glimmer of hope because, at the bridge, it says to the listener "don't give up on me, cause maybe tomorrow I will hear what you say".

When we're our lowest, sometimes we simply just need a friend to fight with us. Many of the songs I write are about friendship because my friends have been such an important part of my life. I love that I can sing songs that may inspire other girls who struggle with insecurities.
How did you discover your passion for singing and songwriting?

ANNIE ROSE: I've been passionate about writing stories, journaling, and listening to music since I was little, but I told myself I wasn't good enough to sing outside my own bedroom! It took two years of musical theater voice lessons and watching my best friend Hope Marie step out of her shell and create her own music to inspire me to take the leap.

Hope Marie joined Sarah Kelly School of Music, so I reached out to them too. I went with my song ideas and rough lyrics and they matched me with musicians who helped me shape them in to finished pieces. I Think You're Lying is the first of many songs I'm releasing.
Do you have any other music in the works? What can you share about your sound?

ANNIE ROSE: I have two more songs recorded and about 14 more lyrics written and ready to go into the music process. My second song will release in about 5-6 weeks and the third about six weeks after that. The rest will depend on how the music turns out.

My sound for the next song is a little more upbeat, but number three is more similar to Lying. It is hard to not create music that sounds like yourself even if you don't quite know yet what 'you' sound like!
Who are a few of your musical influences?

ANNIE ROSE: I have a long list of people I am influenced by, but on top of my list right now is Tate McCrae, Lewis Capaldi, Billie Eilish, Sleeping at Last, and Jon Bellion. In the past I have admired Shawn Mendes, Justin Bieber, and Ariana Grande, and personally I am inspired by my friend Jenna Raine.
It seems like you have an extremely busy schedule. What are your favorite ways to relax and take a step back?

ANNIE ROSE: For sure; I like to spend time with my friends. I go to church on Sunday morning and youth group on Sunday night, and I love all my friends there, and I make special time for my best friends Hope and Allie. We love to chill at home or go for long walks and talk and plan our lives!
You're known for your sunny demeanor and positive vibes but being in the spotlight isn't always easy. What are some of the challenges you've faced and how were you able to overcome them?

ANNIE ROSE: I do like to keep positive, but you are right, it is not always easy – I have been cyber bullied weekly since I started doing social media. When it first happened, I was confused by the hate and I learned words I had never heard before! I had knots in my stomach and feared posting my next video or Instagram photo because of the horrible things people would say.

Luckily, my mom helps my social media career, so I am not alone. She takes time to delete and block the really mean comments and has taught me how to ignore bullies! And so, I like to focus instead on the good things in my life and to spend time with positive, real life friends and family.
You've already accomplished so much, but is there anything you dream of doing in the future?

ANNIE ROSE: I want to make tons of music and get better and better at singing. I would like to do a music tour, but one with friends who are part of the show too and together we entertain lots of people! I want to have a store or a line of clothing in a store. I want to live in Texas but also to travel and be happy in the world and with all my close friends and family who support me!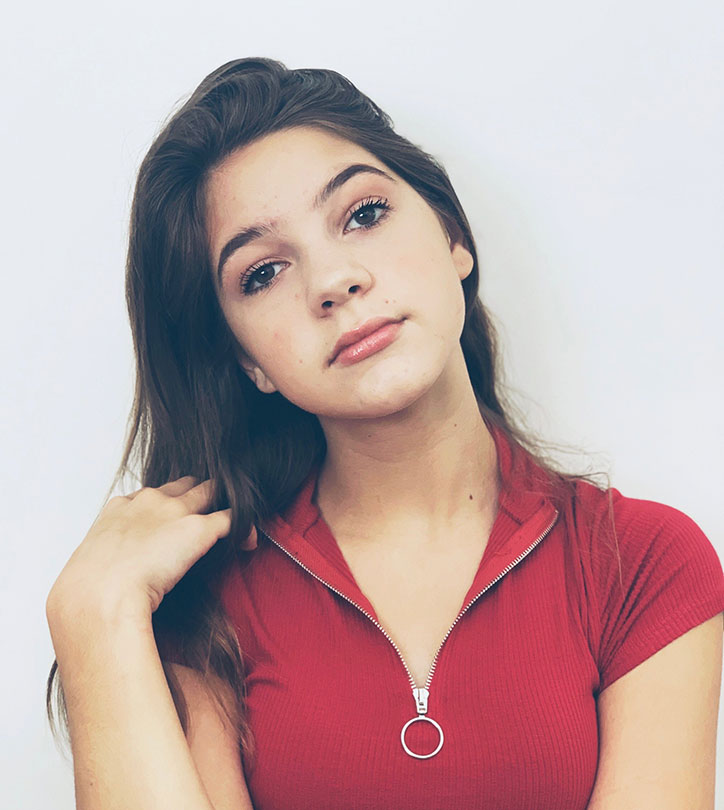 Who is someone you look to for inspiration?

ANNIE ROSE: My dad, he has lots of great ideas, is enthusiastic and fun and he has a good sense of both business and creative things. If he feels good about something, then I do too.
Looking back over the past four years, is there a moment or memory that really stands out for you?

ANNIE ROSE: When I had 50 subscribers we went to Dublin, Ireland to visit family, and we did a meet and greet in a local shopping center. I posted on Instagram that I would be outside a Claire's store at 3:00 PM, and I had no idea what to expect.

The time came, and I was so nervous wondering if one or two people would come. As we went up the escalator, I saw many smiling fans at the top waiting – for me! It turned out that over 60 girls came to meet me! And with their family members the security staff had to form a line! Fans brought handmade cards and gifts for me. It took over an hour to meet everyone! I was 10 years old at the time. I knew then that I wanted to be a 'YouTuber'.
Do you have any advice you'd like to share with your fans and followers?

ANNIE ROSE: I am just like you. Decide what you want to do and then work hard for what YOU want. Don't try to be other people, be you. And work. Day in day out. When I was little every time, I tried to write songs or record myself singing I criticized myself a lot! But ever since I've followed this dream of mine, I've noticed a huge change in my life. I feel 100 times more confident because even though I may not be the best, I know I have put the work in and improved slowly and I am singing from my heart. And things are moving forward. They can for you too.
If you've dealt with bullying on social media, like Annie, anti-bullying advocate Carrie Berk is here to help. Check out her 5 tips for overcoming bullying and finding your strength!