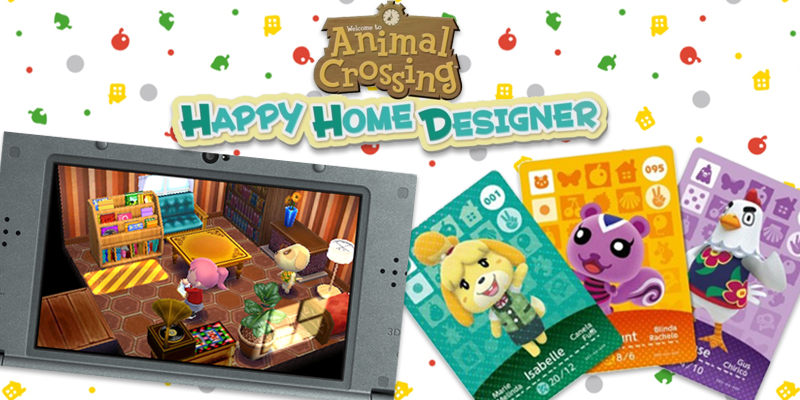 Animal Crossing: Happy Home Designer
Good news, Nintendo fans! A brand new Animal Crossing game is headed our way later this year! (Most likely in the Fall) It's called Animal Crossing: Happy Home Designer, and it's unlike any other Animal Crossing game we've ever seen before.
There's very little info about Animal Crossing: Happy Home Designer right now, but here's what we know about the spin-off so far:
– Instead of the usual open world, full on life simulation, this game will be all about designing homes.
– The game will feature the very first amiibo cards! These will work the same way that amiibo do, – but they'll be cards instead of toys. To use your amiibo cards, you'll tap them to the amiibo base or Nintendo 3DS system, depending on which version of the 3DS you have. Here's some of the cards:

– Depending on which amiibo cards you use, the game will change. So if you tap an Isabelle card, then Isabelle will appear in your game, and ask you to decorate her house with a specific theme. Kind of like in the other Animal Crossing games when the villagers ask you for favors, but even more fun!
The themes can be anything from "Bookworm" or "Sports", and you'll need to design them the perfect home to fit the theme. Once you've completed the task, you can scan in other amiibo cards to let other villagers hang out in the awesome space you just created.

– Each amiibo card you scan will be a different character and a different task for you to complete, so the more cards you have, the more fun the game will be!
That's pretty much all we know about Animal Crossing: Happy Home Designer right now, but we'll make sure to keep you posted when more info is released.