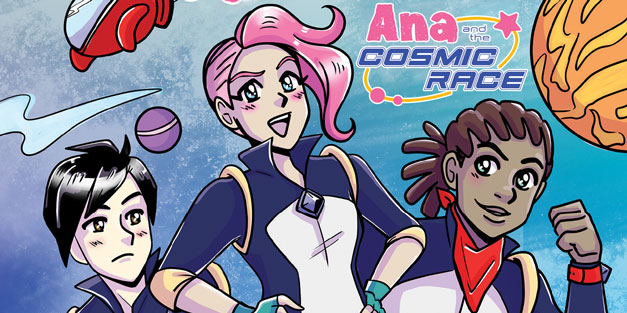 PREVIEW: Ana and the Cosmic Race: The Race Begins
Get ready to hunt for clues across space and time in Ana and the Cosmic Race: The Race Begins! This exciting intergalactic adventure is the first in a brand new graphic novel series from Charmz, the tween-focused imprint from Papercutz. The the story has everything – high school drama, intergalactic exploration, romance, mysterious megaquadrillionaires, and high stakes adventure as the most brilliant students in the galaxy race through the cosmos.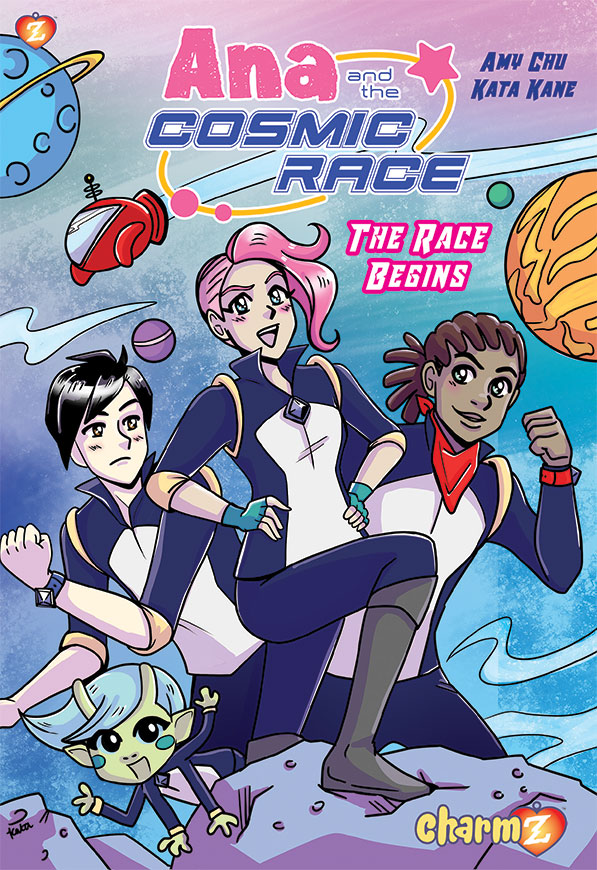 Are you ready to experience life at the Galactic Scholastic Federation? This prestigious school is home to some of the most brilliant minds in all the galaxy, including Ana, a human girl who is trying to win the Cosmic Race. What's the Cosmic Race? It's an annual race across time and space that's basically a high-stakes scavenger hunt.
The contestants hop inside high tech ships and race against other students in order to uncover clues and bring home the prize. This time, they're not just racing after Laslo gems or a trophy. The one lucky student who finds where and when in time the mysterious Dr. Laslo is hiding will inherit his entire megaquadrillion dollar empire. The stakes are high and the race is on! Ready to find out what happens? Take a peek at the preview below for a tour of Ana's life and to meet the students of the Galactic Scholastic Federation.
PREVIEW – Ana and the Cosmic Race: The Race Begins:
You don't have to wait much longer to experience the race for yourself. Ana and the Cosmic Race: The Race Begins hits shelves on September 26th in both hardcover and paperback!
Ana and the Cosmic Race: The Race Begins
Publisher: Charmz, an imprint of Papercutz
Writer: Amy Chu
Artist: Kata Kane
Price: $9.99-$14.99
Page Count: 96 Pages
Synopsis: Mysterious media mogul megaquadrillionaire Dr. Laslo issues a challenge to the best and brightest students in the Galactic Scholastic Federation to a cosmic scavenger hunt. The grand prize – his vast empire. But the clues are hidden across time and space, and only the best and brightest will be able to find them.
Thirteen-year-old super-studious Ana, on a scholarship at Dalton Phillips Prep, is determined to win, for herself and her struggling family back at home. She teams up with the school's 2nd best student, the eccentric alien shape-shifter, Zyx. But the stakes heat up when the competitors, handsome Keio and the enigmatic Ekene, enter the race. Their behavior is confusing—are they competing against Ana or trying to help? And why? Suddenly the competition becomes a lot more complicated…
Love all things outer space? You'll love crafting these space themed string art creations!